A wonderful Welsh adventure
A wonderful Welsh adventure
Jane McGowan explores the wonders of North Wales – from mountains and waterways to pretty villages and medieval castles.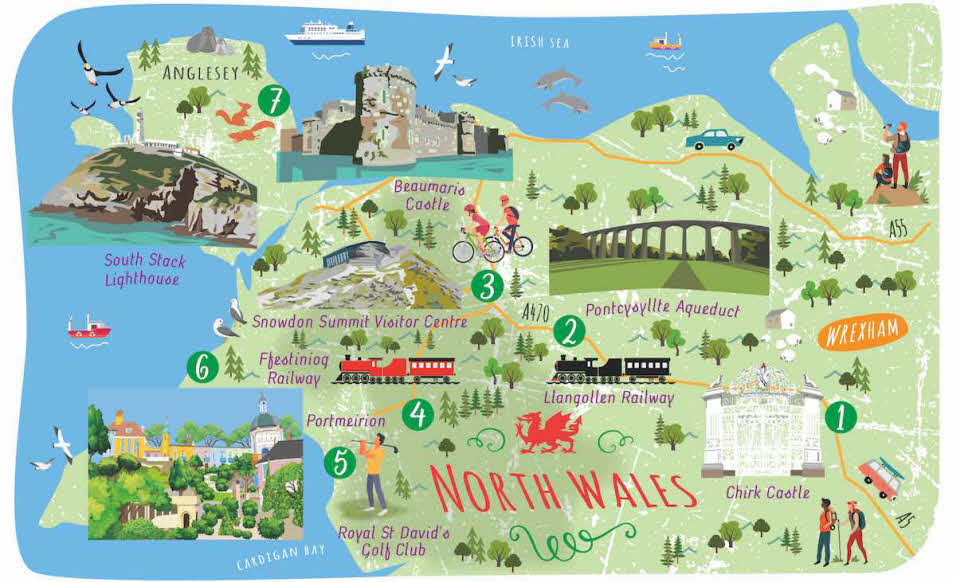 One of the joys of a tour of north Wales is that the journeys between locations are often just as spectacular as the destinations themselves. This seven-stop route snakes through the Snowdonia National Park, offering tourers the chance to make the most of the majestic mountains that crown this historic landscape.
Approaching from the south, my adventure got under way at Lady Margaret's Park Club site – but before we go any further, it is worth noting that the site is undergoing extensive redevelopment in 2022. The re-opening date is under review but, in the meantime, the Love2Stay Affiliated Site (AS) and Chester Fairoaks Club site are good alternatives and both less than 25 miles away.
Go to Lady Margaret's Park Club site
Lady Margaret's Park is situated in Chirk – a 'Marcher' town sat between Wrexham and Oswestry on the Wales/England boundary. The term 'Marcher' dates back to medieval days when English kings bestowed swathes of land on nobles to guard the borders. The striking Club site is on the doorstep of Chirk Castle – the first of several fortresses I encountered on this trip. You can access the estate grounds from the site via a lovely walk through fields and woodland.
Chirk Castle and its beautiful grounds are

conveniently located right next to Lady Margaret's Park Club site Angelo Hornak/Alamy

Now in the care of the National Trust, the castle was constructed by Roger Mortimer de Chirk during the reign of Edward I. It has been owned by a string of notables, including Richard II, and its state-of-the-art defences ensured would-be invaders could be ruthlessly subdued.
Today, visitors can still get a feel for its gory past with a visit to the Adam Tower, which houses two-level dungeons, medieval garderobes (toilets) and murder holes (through which arrows could be fired or rocks thrown downwards). The impressive State Rooms offer a glimpse into the castle's more sedate history, boasting a range of interiors from across the centuries. Visitors can also stroll through five acres of gardens, including a small orchard and Pleasure Ground Wood, a formal area of woodland.
As with most Club sites, there are many wonderful attractions to explore right on the doorstep, but few can compare with Pontcysyllte Aqueduct which, along with an 11-mile stretch of the Llangollen Canal, tunnels, aqueducts and viaducts, has been designated a World Heritage Site. Designed by fabled engineer Thomas Telford, Pontcysyllte – a cast iron trough suspended 38m above the River Dee – was completed in 1805. It has been classified as a 'masterpiece of human creative genius' by UNESCO. Just a two-mile walk from the Club site, there are regular guided canal trips available, or you can walk across the 307m bridge, which provides some truly great views – including of the almost-as-impressive Traphont Cefn Mawr viaduct. (Bear in mind, though, that standing on a narrow path with the canal on one side and a 100+ft drop on the other may not be much fun for anyone remotely scared of heights!)
Plenty of information is on offer at the Trevor Basin Visitor Centre, or you can download maps and a guide at canalrivertrust.org.uk/places-to-visit/pontcysyllte-aqueduct-world-heritage-site.
The majestic Pontcysyllte Aqueduct which has been described as a "masterpiece of human creative genius" by UNESCO Ken Wilkinson/Club member
While you are in the vicinity, a visit to Llangollen comes highly recommended. There is so much to see and do in this traditional valley town. Famous of course for its International Musical Eisteddfod, there are several festivals –covering cycling, comedy and Christmas –to keep you entertained throughout the year.
If you fancy some outdoor adventure, you could try your hand at trail biking, or stand-up paddle boarding on the River Dee. However, for many, the main reason to visit Llangollen is to take a trip on the steam railway. The only standard gauge railway in North Wales situated within an Area of Outstanding Natural Beauty (AONB), it runs alongside the Dee for its entire length, and across a Site of Special Scientific Interest.
It goes without saying that the railway vistas are some of the best you will find in the British Isles. And if it is views you are after, the journey to the second site on the tour, Riverside Touring Park AS, will not disappoint either. I travelled to Riverside along the A5, which meanders through magnificent farmland and past woods and reservoirs, stopping along the way at the outstanding Cernioge Bach Certificated Location (CL).
Go to Cernioge Bach Certificated Location
This spacious five-pitch site is on a working farm (you may find yourself invited to meet the newborn lambs in the spring) and owner Dewi Ellis offered the warmest welcome I think I have ever received. This is the perfect base from which to explore the beaches of Llandudno and, of course, Snowdonia National Park.
Looking down from the summit of Pen yr Ole Wen – the seventh highest mountain in Snowdonia Lee Hudson/Alamy
Riverside Touring Park, meanwhile, is set on the edge of the pretty village of Betws-y-Coed, a popular tourist destination for those wanting to walk, hike and cycle within the National Park. Two not-to-be-missed highlights include Conwy Falls (to the south) and Swallow Falls (to the north), both about 45 minutes' walk from the site.
Betws-y-Coed is home to plenty of cafes and pubs, as well as a smattering of gift shops and boutiques, while, for rail buffs, the Conwy Valley Railway Museum offers rides on a miniature railway and a delightful eatery in a traditional steam train buffet carriage.

I must admit that it was hard to leave this lovely enclave behind, but it was time to move on and head for Coed-y-Llwyn Club site. My visit took place in early autumn, and this tree-covered venue was alight with the auburns and golds of the season.
Coed-y-Llwyn is a very family-friendly location, and the arrival of nearby Zip World Slate Caverns – home to the Titan 2 four-person zip line and the Bounce Below 'underground net adventure' – has no doubt added to its appeal.
While I had braved the aqueduct, I didn't feel quite ready for a high-speed zip experience, opting instead to visit the nearby market town of Bala. Here the River Dee feeds Llyn Tegid (Bala Lake), Wales' largest natural body of water. You will find extensive road and mountain biking routes, guided walks, fishing and white water rafting in this beautiful part of the world.
For the artistically minded, a visit to the Corris Craft Centre in Machynlleth to the south offers a variety of creative workshops across nine design studios, or you can simply browse the artisan products for sale.
The Ffestiniog Railway dates back almost 200 years and is the world's oldest narrow gauge railway line Visit Wales
Whatever you do, make sure you don't miss one of the area's most famous attractions: the Ffestiniog Railway. Dating back almost 200 years, it is the world's oldest narrow gauge line.
The 13.5-mile journey from Blaenau Ffestiniog to the harbour at Porthmadog takes in forests, lakes and waterfalls, not to mention a climb (or descent, depending on where you start) of more than 700ft, and while sections are certainly tranquil, the ascents, twists and turns around the mountain make for a thrilling trip.
Heading south, the next section of the tour took me to Min-y-Don in Harlech. Another AS, Min-y-Don is a great base from which to explore the coastline while remaining under the gaze of Snowdonia's mountains. This spacious site is just 500m from a long stretch of sandy beach, and if you are looking for even more 'seasidey' days out, trains bound for Pwllheli, Criccieth, Barmouth and Aberdovey leave from the station, which is within easy walking distance of the site.
Staying closer to home, the pretty market town of Harlech and its 13th-century castle (which overlooks the whole area), are a 15-minute walk away – although it is quite a climb. Harlech Castle is another of Edward I's fortresses and its position atop a craggy outcrop and 'walls within walls' structure were certainly effective at keeping invaders at bay. Today, visitors (and their canine companions) are warmly welcomed via a clever 'floating bridge' and – at the risk of repeating myself – there really are some wonderful views over the bay to be had from the battlements.
Harlech Castle – another World Heritage Site – is

considered to be one of the finest examples of 13th Century military architecture in Europe Richard Schofield/Club member
For golfers, Royal St David's is a must. A regular entry on lists of the best courses, it was recently ranked second in Golf World's Welsh top-50. This year marks 100 years of championship golf at Harlech, with the club having hosted nearly 80 championships and tournaments of national or international standing. However, visitors are very welcome and a winter round costs £60.
One of the biggest tourist attractions in this part of Wales is Portmeirion. Made famous by the 1960s cult show, The Prisoner, the 'model' town, which takes its cues from the Italian Riviera, was built by Sir Clough Williams-Ellis. Begun in 1925 and finally completed in 1976, it features a traditional piazza alongside a raft of brightly coloured buildings in a classical style. Visitors can enjoy a fabulous day out thanks to a range of shops, restaurants and cafes. If you are looking to really indulge yourself, the Mermaid Spa offers a whole host of ways to relax while drinking in the views over the Dwyryd Estuary.
Portmeirion makes a convenient stopping point en route to my final destination at Cae Mawr Club site, Anglesey. A further break, however, could be enjoyed at the Cappas Lywd Certificated Location. Overlooking Caernarvon Bay, this working farm represents the ultimate escape.
The one-acre grass site offers a beautiful vista across the harbour to Holyhead and the South Stack Lighthouse, and is the perfect place to relax after a day of walking – the CL provides direct access to six hills that promise yet more magnificent views of the Llŷn Peninsula.
Go to Cappas Lywd Certificated Location
And so to the Isle of Anglesey – a fantastic destination for families, thanks to its fabulous beaches and the range of activities on offer. Situated in Marianglas, the pretty Cae Mawr site is the perfect spot for lovers of coastal walks, shoreline horse rides or even a sailing adventure.
Beaumaris, on the Isle of Anglesey, is a great place for coastal walks and a variety of watersports Visit Wales
For a spot of shopping and dining, Beaumaris (a 20-minute drive away) has lovely galleries, craft gift shops, and some eye-catching pastel-painted Georgian architecture to admire. The town's name comes from the Norman 'beau marais', meaning 'fair marshes', and is the setting for yet another of Edward I's castles.
This fortress was Edward's final Welsh stronghold. Intended to be the crowning glory of his portfolio, the formidable structure was accessed via a water-filled moat with its very own dock, but a lack of funds meant it was never finished. However, it remains a true spectacle, earning its place within the Castles and Town Walls of King Edward in Gwynedd World Heritage Site alongside Conwy, Caernarvon and Harlech – all of which can be visited on this trip.
There is so much to see in North Wales that you would need weeks to visit all that is on offer. I met several people on my travels who told me that they 'come here every year', and I can certainly see why. From heritage sites to waterfalls and steam trains to Snowdon, this area more than delivers. I can think of no finer place from which to launch your 2022 touring adventure.