Accessible Touring in the Southwest
Give me Moor!
Karla Baker finds easily accessible locations amid the magnificent landscapes of Devon and Somerset
As the road weaved gently along the brow of the hill, the purple, heather-clad slopes of Exmoor gave way to a patchwork of greens and browns. Stretching out in all directions, the landscape changed character with every cloud that danced across it. It was quite an entrance to an area we had heard so much about.
Arriving at the Exebridge Lakeside Club site a few days earlier, we had chosen from a good selection of grass and hardstanding pitches, settling in as the warm evening sun set behind the hills. Sitting just south of Exmoor National Park, with views across the Exe Valley, it was the perfect place to begin our mini tour of the region, and we couldn't wait to get started.
First up was a trip to the picturesque Wistlandpound Reservoir, which is encircled by a 1.5-mile easy-access trail. The pressed gravel track was ideal for my wheelchair, and took us through woodland – home to countless bees and butterflies – before the trees parted to reveal the still, mirror-like water.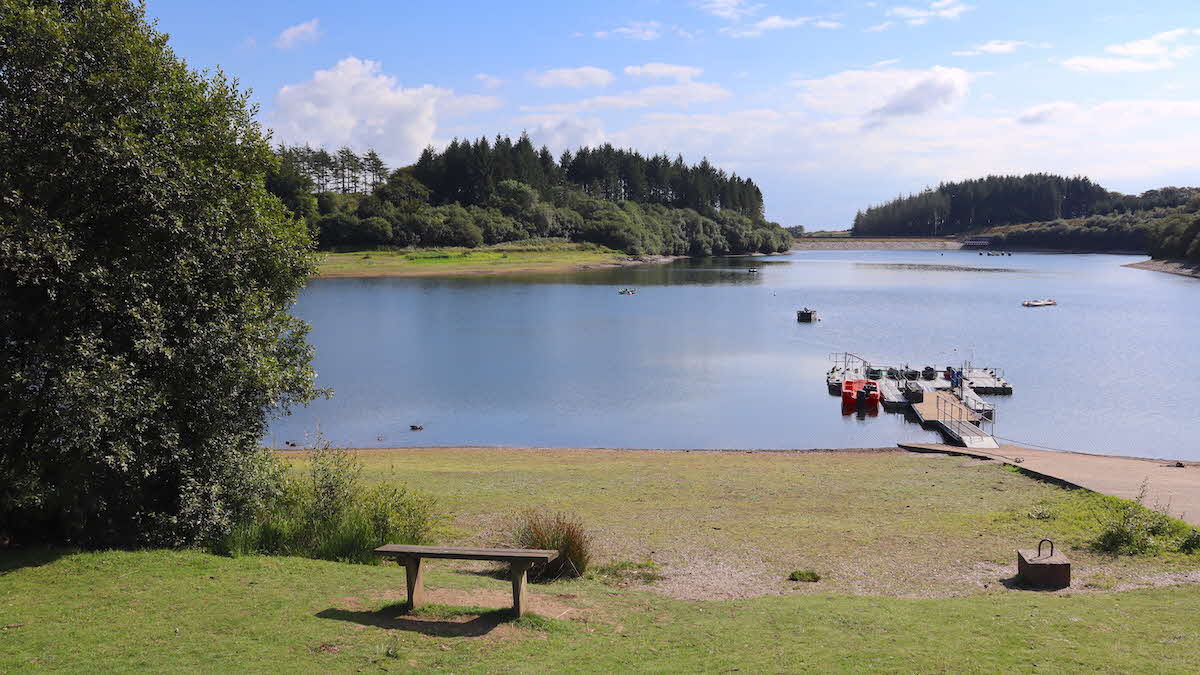 Wistlandpound Reservoir
With the weather still on our side, we decided to drive to the nearby village of Combe Martin for a relaxed evening by the sea. This modest resort sits in a sheltered valley on the North Devon coast, and is surrounded by rugged green cliffs. We found a quiet seat overlooking the cove and watched the paddleboarders and kayakers as we ate our fish and chips.
Tara Very Much
The next morning we were woken by the sound of rain on the caravan roof, so it seemed like the perfect day for a scenic driving tour across the moors. Upon arrival at our first stop, Tarr Steps – an ancient clapper bridge – a break in the rain enabled us to wander among the trees to the soundtrack of the babbling River Barle. Afterwards we headed to the postcard-perfect village of Winsford for refreshment at the Bridge Cottage Tearoom, before finishing up at the highest point on Exmoor, Dunkery Beacon. It may have been a wet day, but that doesn't have to stop play!

Bridge Cottage Tearooms
After a fantastic few days at Exebridge Lakeside, we hitched up the caravan and headed north to Steadway Farm Certificated Location for a relaxing weekend at the highest village on Exmoor, Wheddon Cross. This family-run campsite is in a beautiful rural location, its lack of electricity or facilities adding to the feeling of escapism. Being off-grid poses no problems for us, as our solar panel ensures I can still power my essential equipment.
Thankfully, by now the weather had picked up, so we headed out for one last adventure at the magnificent Valley of Rocks. As we approached, we were struck by the craggy landscape: rocks jutted dramatically out of the deep valley floor, feral goats perching precariously on their tops. Finding a smooth asphalt path, we roamed until we were greeted by the most spectacular view of the jagged coastline and turquoise sea.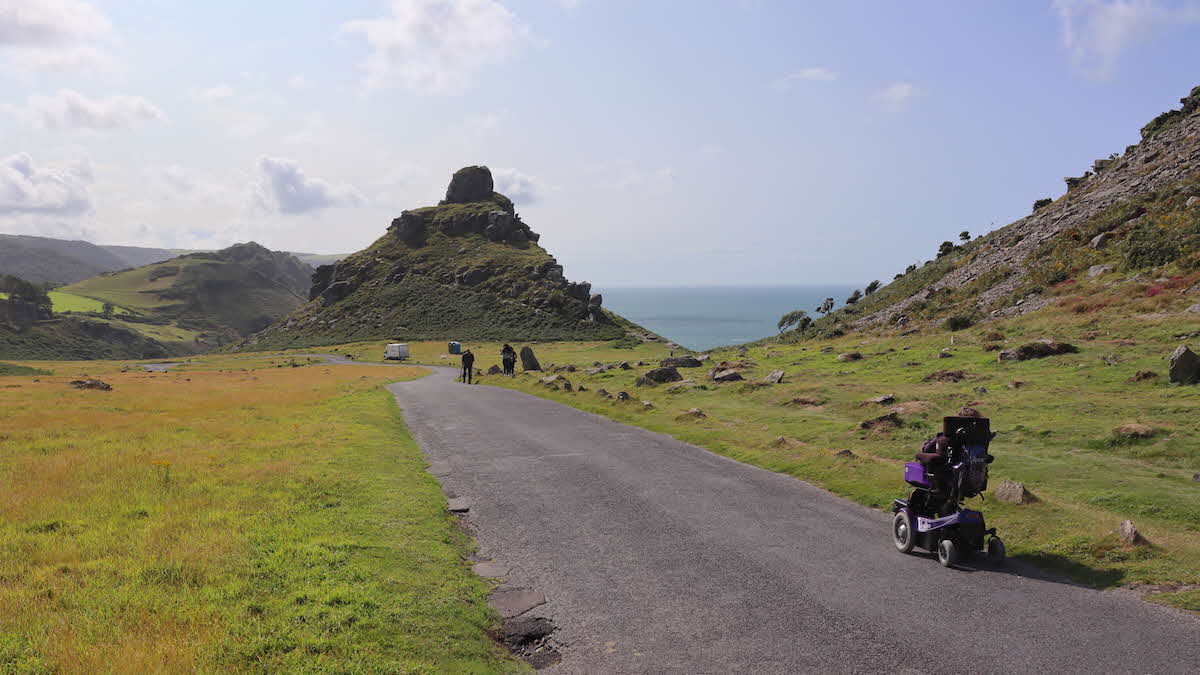 Valley Of Rocks
We went to Exmoor expecting to see those heather-clad hills, but we ended up discovering so much more. It's bursting with different landscapes – from moorland to enchanted woodland and coast – and was easy to explore. We can't wait to return!
Three more accessible attractions around Exmoor
Offering delicious cakes, doughnuts and pies, The Exclusive Cake Company comes highly recommended by both tourists and locals. This family-run bakery sits on the outskirts of Dulverton, and has roadside parking and ramped access at the entrance.
Contact: facebook.com, 01398 324131
Located just seven miles from Exebridge Lakeside Club Campsite, Wimbleball Lake has something for everyone. There is so much to do across this 530-acre site, from scenic strolls to watersports. Easy-access trails and wheelchair-accessible boat hire make this a great choice for visitors with disabilities.
Contact: swlakestrust.org.uk, 01398 371460
The West Somerset Railway is the longest heritage railway in Britain, running over 20 miles through an array of landscapes between Minehead and Bishops Lydeard. Most of the trains are accessible to wheelchair users, and there is varied accessibility at each station.
Contact: west-somerset-railway.co.uk, 01643 704996
Exebridge Lakeside
Somerset
Devon
Take in the natural, rugged beauty of Dartmoor, the stunning sandy beaches of north Devon or visit the many historic castles and settlements – there's quite a few.