The Caravan and Motorhome Club picks up a prestigious RoSPA Award
21/07/2017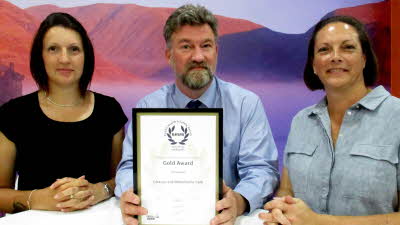 The Caravan and Motorhome Club is delighted to be expanding its trophy cabinet after being awarded the 'RoSPA Gold Award' for health and safety performance for the period of January 01, 2016 to December 31, 2016.
The company, based in East Grinstead, achieved the Gold Award in the prestigious annual scheme run by the Royal Society for the Prevention of Accidents (RoSPA).
They were presented with the award during a ceremony at the ExCeL, London on Tuesday, June 20, 2017. The award was achieved during a special year for family-safety charity RoSPA, as it celebrates its centenary.
Through the RoSPA Awards scheme, which is open to businesses and organisations of all types and sizes from across the UK and overseas, judges consider entrants' overarching occupational health and safety management systems, including practices such as leadership and workforce involvement. The awards are now in its 61st year.
Sean Turner Health and Safety Manager from the Caravan and Motorhome Club said: "It's a real honour to receive this Gold Award from RoSPA. Health and Safety will always be our number one priority and we are very proud of our safety culture and the proactive management of health and safety within the Club."
Julia Small, RoSPA's head of awards and events, said: "The RoSPA Awards are the most prestigious in the world of occupational health and safety, and held in high regard around the world, as winning one demonstrates an organisation's commitment to maintaining an excellent health and safety record. Achieving the standard required is no mean feat.
"This is a special year in the history of RoSPA, and we congratulate all of our winners in this, our centenary year".
The majority of awards are non-competitive and mark achievement at merit, bronze, silver and gold levels. Gold medals, president's awards and orders of distinction are presented to organisations sustaining the high standards of the gold level over consecutive years. For the first time in 2017, the Patron's Award has been presented to those organisations that have achieved consecutive gold awards for 25 years or more.
Competitive awards go to the best entries in 24 industry sectors including construction, healthcare, transport and logistics, engineering, manufacturing and education.
There are specialist awards for occupational health, environmental management and fleet safety, and excellence trophies for the best international, new entry, workforce involvement and organisation operating or based in Scotland. RoSPA's top accolade is the Sir George Earle Trophy.
Headline sponsor of the RoSPA Awards 2017 is NEBOSH – the National Examination Board in Occupational Safety and Health – for the 12th consecutive year.
For more information about the RoSPA Awards visit www.rospa.com/awards
For more information on the Caravan and Motorhome Club, please visit www.camc.com
________________________________________________________________________________
-Ends-
Notes to editors
About the Caravan and Motorhome Club
Champions of the great outdoors, the Caravan and Motorhome Club represents the interests of over one million caravanners, motorhomers and trailer tent owners across the UK. Founded in 1907, the Caravan and Motorhome Club has 110 years' experience and prides itself on offering great value and high quality sites for caravanners and motorhomers.
Caravan and Motorhome Club membership is just £49 per year and provides members with access to over 200 Club sites and 2,500 privately owned places to stay in the UK.
It also offers a choice of 300 sites across Europe including France, Spain and Germany amongst other destinations. All members can take advantage of expert advice, overseas travel services, insurance services and exclusive member offers and discounts. There is no membership requirement for campers who want to pitch up at over 40 Caravan and Motorhome Club sites.
For further information about becoming a member of the Caravan and Motorhome Club please visit www.camc.com or call 01342 318 813.
Media Contacts:
For press information and imagery, please contact Sophie Barnes, Zoe Poulton or Helen Coop or at Four Travel: camc@fourcommunications.com / +44(0) 203 697 4200