The Caravan Club signals a welcome for The Flying Scotsman
20/10/2016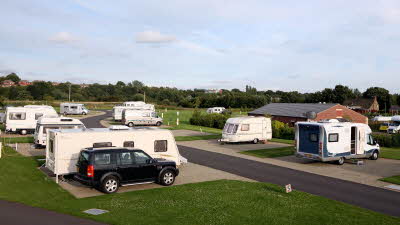 On Thursday 13 October The Caravan Club will extend a warm welcome to a host of special guests including the Mayor of Bury, Councillor Mike Connolly and the celebrated Flying Scotsman when Burrs Country Park station officially opens.
Located within The Caravan Club's own Burrs Country Park site, the station platform can be accessed from a new footpath which has been built to circumnavigate the site. This is in addition to The Caravan Club's £80,000 investment towards the new platform.
As part of the opening ceremony the Mayor of Bury will welcome the Flying Scotsman to Burrs Country Park station following a short journey from Bolton Street station, unveil the plaque and make a welcome speech before school children from the local Woodbank Primary School embark on a short ride up to Burrs along with invited guests.
The Burrs Country Park site is a firm family favourite. Previously an historic mill the site is based around the River Irwell alongside the historic East Lancashire Steam Railway. Fans of the outdoors can enjoy climbing, abseiling and canoeing whilst the bustling Manchester city centre is just a half hour ride away on the Bury Tram link.
The Flying Scotsman is considered a national treasure. Originally built in 1923 in Doncaster it was the first locomotive in the UK to reach speeds of up to 100mph and has returned to the UK's mainline following a £4.2million refurbishment.
Harvey Alexander, director of marketing, The Caravan Club commented:
"This is a special day for our members and visitors. The East Lancashire Steam railway has been a popular attraction for a number of years. We are delighted to be able to support the opening of the new station and welcome such distinguished guests, including the Mayor of Bury and the Flying Scotsman, on this historic day."
– Ends –
---
Contact information

Kate O'Brien
Emma Wayman
Siren Communications
0207 759 1150
caravanclub@sirencomms.com
Nikki Nichol
External Communications and Sponsorship Manager
The Caravan Club
01342 336 797 / 07771 834443
nikki.nichol@caravanclub.co.uk

Notes to editor

Champions of the great outdoors, The Caravan Club represents the interests of over one million caravanners, motorhomers and trailer tent owners across the UK.

The Caravan Club offers its members over 200 Club Sites and 2,500 privately owned places to stay, and provides all members with expert advice, overseas travel services, financial services and exclusive member offers and discounts.
For further information about becoming a member of The Caravan Club please visit www.caravanclub.co.uk or call 01342 318 813.