A two-site trip to northern France
French impressions
Heidi Fuller-Love hits the road for a cultural tour of northern France, beginning with Monet's house at Giverny…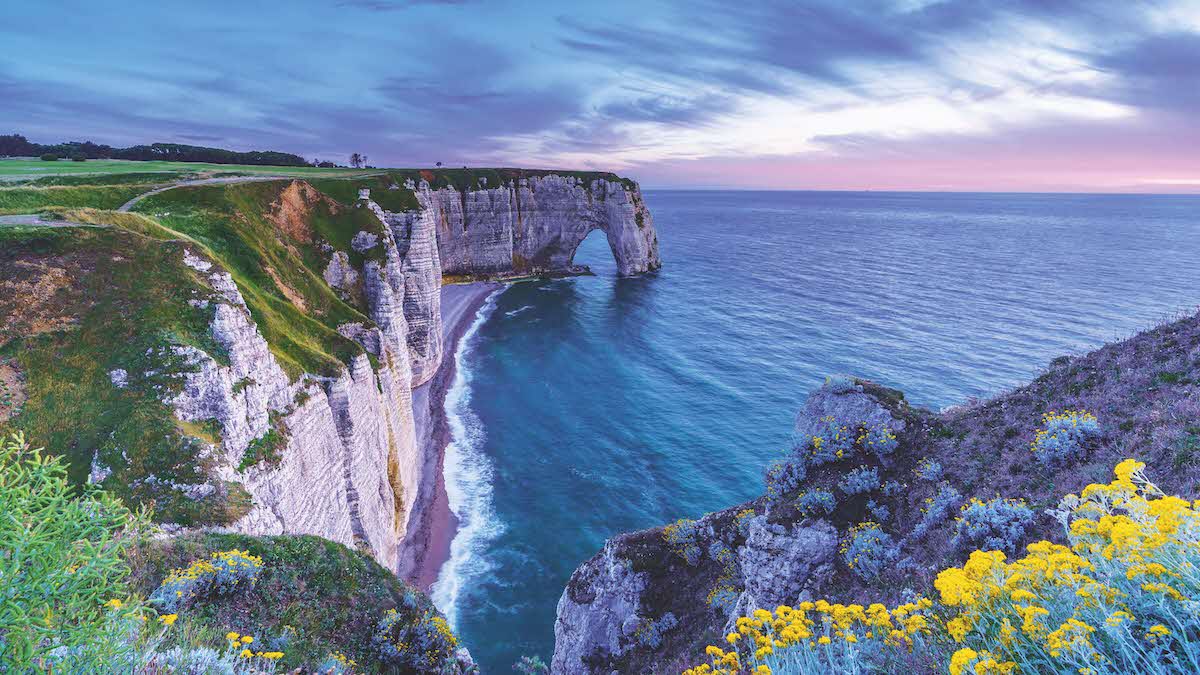 Cliffs of Étretat © Giulio Ercolani / Alamy Stock Photo
From spectacular sandy beaches and sumptuous foodie delights to glorious castles and historic war museums, northern France is littered with fun and interesting things to see and do. Even though I've travelled here in the van many times, I still feel like I've only scratched the surface of this lovely region.
As a big fan of the Impressionists, that groundbreaking group of 19th-century artists who were inspired by the momentary effects of light on colours and forms, I decided to plan an itinerary across Normandy and Brittany that would take in many of the places that they loved.
Heading westwards out of Paris one blue-skied autumn day, our first stop was the house of Claude Monet at Giverny in Normandy, where the great artist lived from 1890 until his death in 1926. It was fascinating to see the house with its studio and blue sitting room, but the best part was wandering in the gardens that inspired so much of his work, including those iconic water lilies.
We arrived at our first site as the sun set in a red mist, a backdrop that reminded me of one of Monet's paintings. To the north of Le Havre and close to Étretat's striking chalk cliffs, L'Aiguille Creuse was the perfect base for exploring Normandy and the numerous loops of the River Seine between Rouen and Le Havre – another location where the Impressionists loved to paint.
Historic Rouen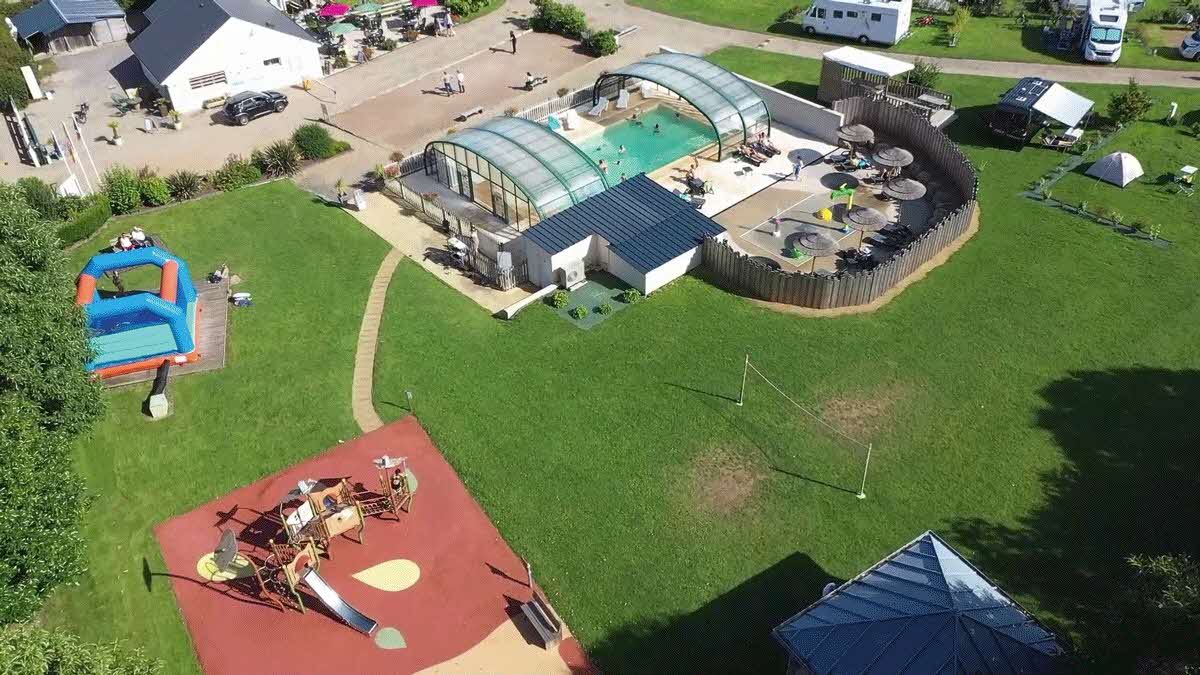 L'Aiguille Creuse
Hopping on the winding D982 the following day we played tag with the Seine as we headed for Rouen. With its half-timbered houses, cobbled streets and Gothic churches, the capital of Normandy bustles with life. Described by The Hunchback of Notre-Dame author Victor Hugo as "the city of a hundred spires", this lively port on the banks of France's most famous river is packed with fascinating museums, including one dedicated to the life of Joan of Arc (the Maid of Orléans was burnt at the stake here in 1431). Rouen is also home to the Museum of Fine Arts, and we spent an absorbing morning enjoying its permanent collection, which includes work by Caravaggio, Van Dyck, Degas and Renoir.
After treating ourselves to a platter of 'Crêpes Mylene' – pancakes stuffed with poached pears and plum brandy – we visited the tomb of Richard the Lionheart in the city's striking cathedral, which is still being restored following damage sustained during the Second World War.
From here we strolled through the Rue de l'Épicerie, a winding street lined with narrow medieval buildings which looks almost exactly the same as it did when Camille Pissarro painted it in 1898. Our next stop was to admire the town's gloriously ornate Gros-Horloge, an astronomical clock slotted into a Renaissance arch.
Of course another major reason to visit Normandy is food: from crisp apple cider to its famously creamy butter, this French department is famed for its gastronomy. We headed for La Couronne – dating back to 1345, this is France's oldest auberge (inn), sitting in a line of half-timbered buildings on Rouen's main square. Once we were seated in this wonderfully cosy spot, with its walls lined with photos of celebrity patrons ranging from Salvador Dalí to John Wayne, we opted for brine-fresh oysters and a deliciously tender side of beef.
Go with the flow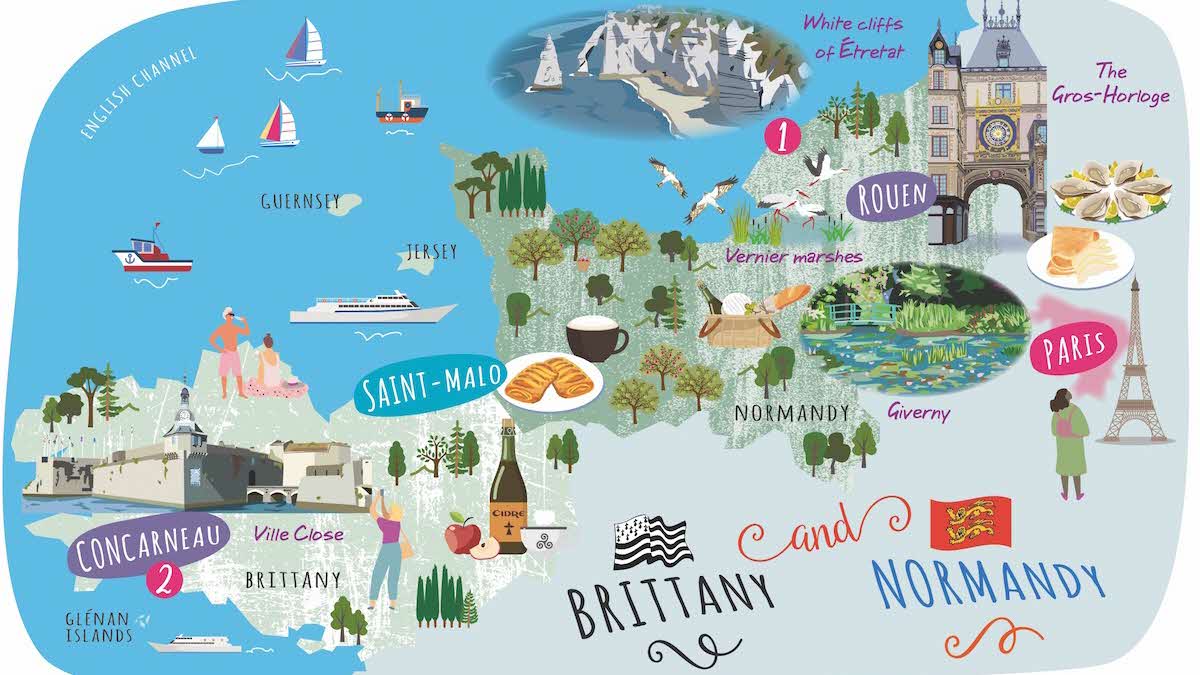 Illustration: Louise Turpin
The next day we packed a picnic lunch – a bottle of cider, a crusty baguette and a creamy local Camembert – and set off to follow La Route des Chaumières. This tiny country road winds its way through the Boucles de La Seine regional natural park, revealing the scenes that the Impressionists loved to paint, and it was like stepping back a century or two.
We drove through tiny thatched-roof hamlets surrounded by vast marshes, lush pastures and endless orchards, stopping to admire breathtaking views to Le Havre and Honfleur from the clifftop Saint-Samson-de-la-Roque lighthouse or watch storks, peregrine falcons and even the occasional osprey soaring over the Vernier marshes.
We'd planned to take a boat trip from Fécamp the following day to see those celebrated white cliffs from the water, but the weather was wild and windy, so we went to Le Havre instead. From the lively Quai Notre-Dame harbour to the Museum of Modern Art André Malraux with its rich collection of Impressionist paintings, this lovely coastal city where Monet grew up kept us enthralled all morning.
Hopping across the estuary on the impressive 215m-high Normandie bridge, we headed for Honfleur, a smaller neighbouring port, in the early afternoon. First stop was Naturospace, a sprawling greenhouse-like attraction which is home to a stunning collection of tropical flora and fauna. Afterwards, we flagged down Honfleur's little white train to take a tour of the main sights, including St Catherine's (a 15th-century church built to resemble the hull of a boat) and the Vieux Bassin (the old port ringed with 17th-century houses that inspired the work of numerous artists).
Malo moments
Le Raguénès-Plage
Although our time was limited, we'd planned to visit Saint-Malo. After a quick stop for breakfast – café au lait and brasillé, the buttery puff pastry treat that was invented in Caen – we spent several hours in this charming walled city, walking the ramparts to admire spectacular views over the seafront before visiting the Maison du Québec to find out more about famed mariner Jacques Cartier. (A good base for exploration would be Le Domaine de la Ville Huchet, a campsite that's just a 10-minute drive from the centre of Saint-Malo.)
We later followed winding country roads via the pretty little fishing port of Saint-Brieuc to Le Raguénès-Plage, our final campsite, situated on an idyllic strip of coastline between Concarneau and Lorient in southern Brittany.
Over the following days we visited Concarneau's 'Ville Close', a medieval settlement set on a rock in the harbour, and hiked along coastal paths that led to a string of pretty hamlets. We even took at boat trip to visit the wild and lovely, uninhabited Glénan islands. Our trip ended at Pont-Aven, where we admired paintings by 19th century Post-Impressionists, including Paul Gauguin, in the town's museum. It was the perfect finale to a five-day, art-filled jaunt from Normandy to Brittany.
If Heidi has inspired you to visit Normandy and Brittany, please visit camc.com/overseas to book the featured campsites (and others). Remember, if you book an overseas site, Eurotunnel or ferry crossing through the Club, you'll get the lowest price – guaranteed. To find out more see camc.com/lowestprice. And if you book a package holiday with us you benefit from ABTA protection. See camc.com/confidence for more information.