Big European Odyssey - Dolomites
Big European Odyssey - Dolomites
Journalist, blogger and vlogger, Marcus Leach, takes his family on a motorhome adventure across Europe over the course of a year. Follow their journey using Caravan and Motorhome Club sites and credited locations across a wide range of countries that they plan to visit.
We are, as the old saying goes, very much creatures of habit, and as much as the Big European Odyssey is about expanding our horizons there's also been an air of familiarity during our time in the Dolomites. Or at least there has for me, having been here twice before.
It was during those previous trips that I fell in love with the Alta Badia region of a mountain range steeped in history and alive with activities for the whole family, not to mention some truly spectacular cycling. I was eager to return for a third visit, this time sharing the beauty and enjoyment with Kim, Harrison and Dorothy.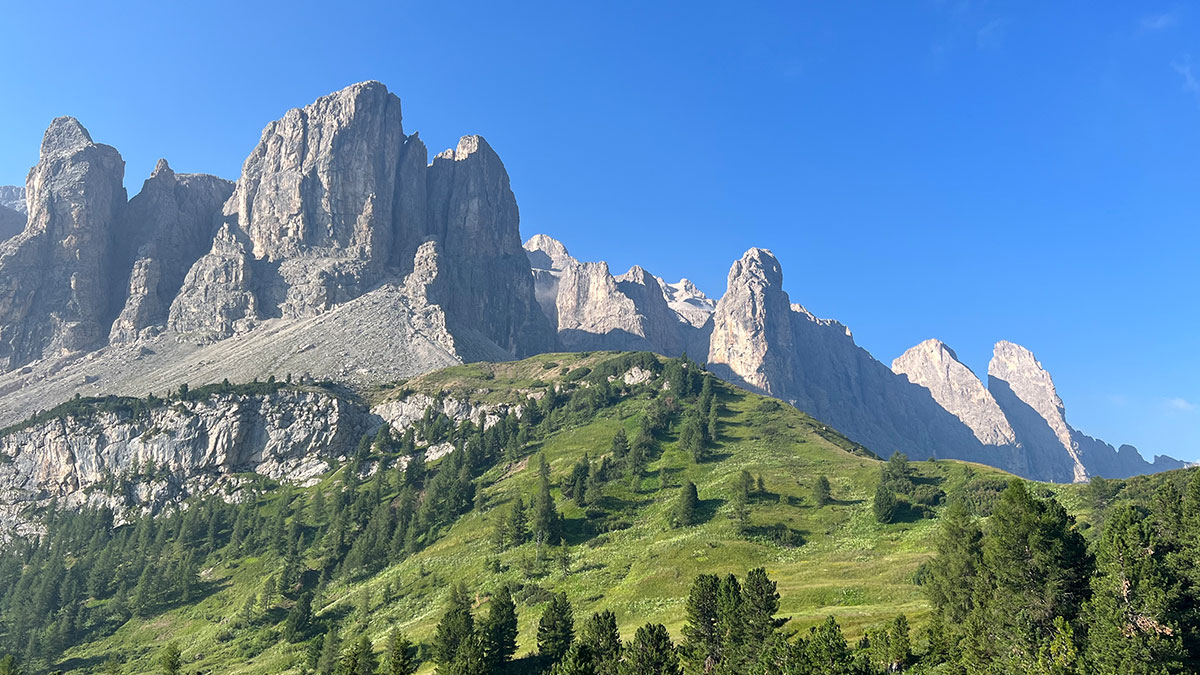 Our original plan had been to spend more time on the Adriatic coast, with the promise of a visit to Venice something we were looking forward to. However, a combination of high temperatures (it was 37 degrees while we were at the Ca' Savio site) and bad timing, (there was a festival on with no boats running across the pontoon) which left us looking at cooler alternatives. Enter the Dolomites, where we spent nine nights camping at an elevation just shy of 1700m, where temperatures were blessedly regularly ten degrees cooler than the coast.
It wasn't just the lower temperatures that appealed to us, the wide variety of hiking, cycling and high altitude adventure parks that the region is home to were enticing as well. It may come as little surprise to those of you that follow our adventures that I spent most early mornings (whilst the rest of the family were still asleep) exploring the region on two wheels, regularly returning with the biggest of smiles on my face for the experiences I had had.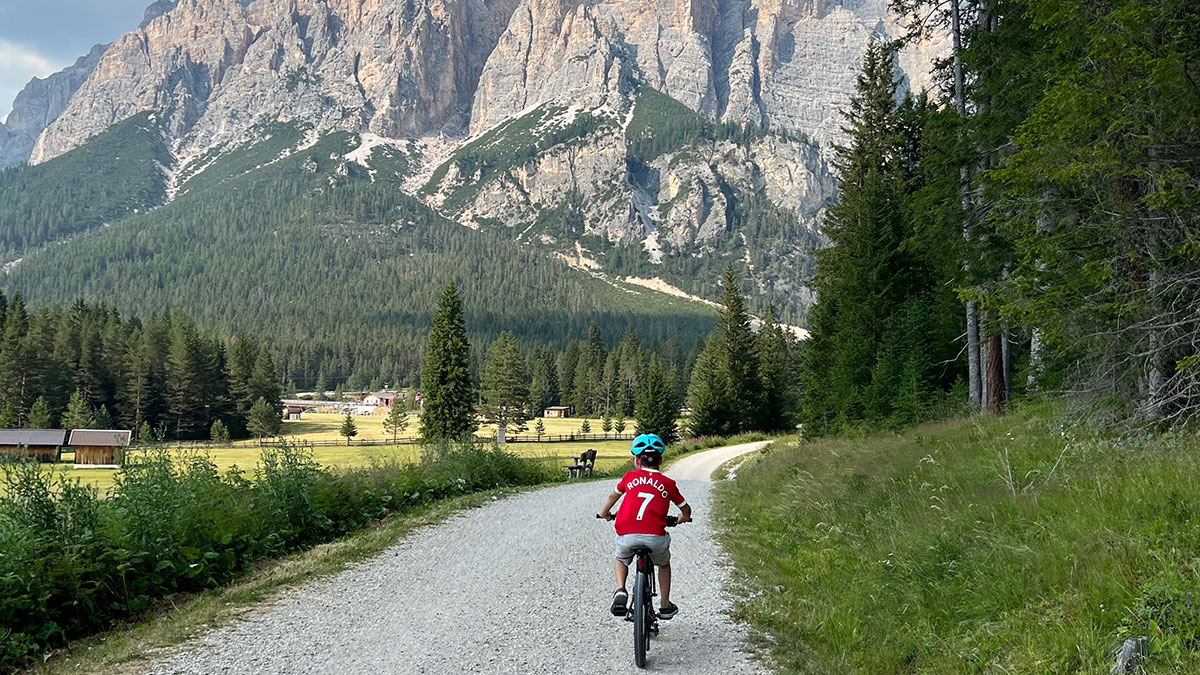 The Alta Badia region of the Dolomites is home to some of the best road cycling climbs in Europe, with many more off-road options for those that way inclined, the crowning glory being the majestic Sella Ronda route. Starting in Corvara this dramatic fifty-two kilometre loop can be ridden in either direction, but I would suggest that it's best tackled clockwise, starting with the Passo Campagnolo and finishing with the Passo Gardena as it has a more gradual start to the climbing. Whichever way you ride it you will be treated to an endless array of jaw-dropping vistas as you wend your way up and over four of the most beautiful mountain passes in the Dolomites.
As with many other mountainous regions Alta Badia has invested money into making the high mountains, which is busy in winter with skiers and snowboarders, an attraction in the summer. This comes in the form of several high altitude adventure parks (plus a network of trails for cycling and hiking up high) aimed at children of all ages against the backdrop of jagged peaks and alpine meadows.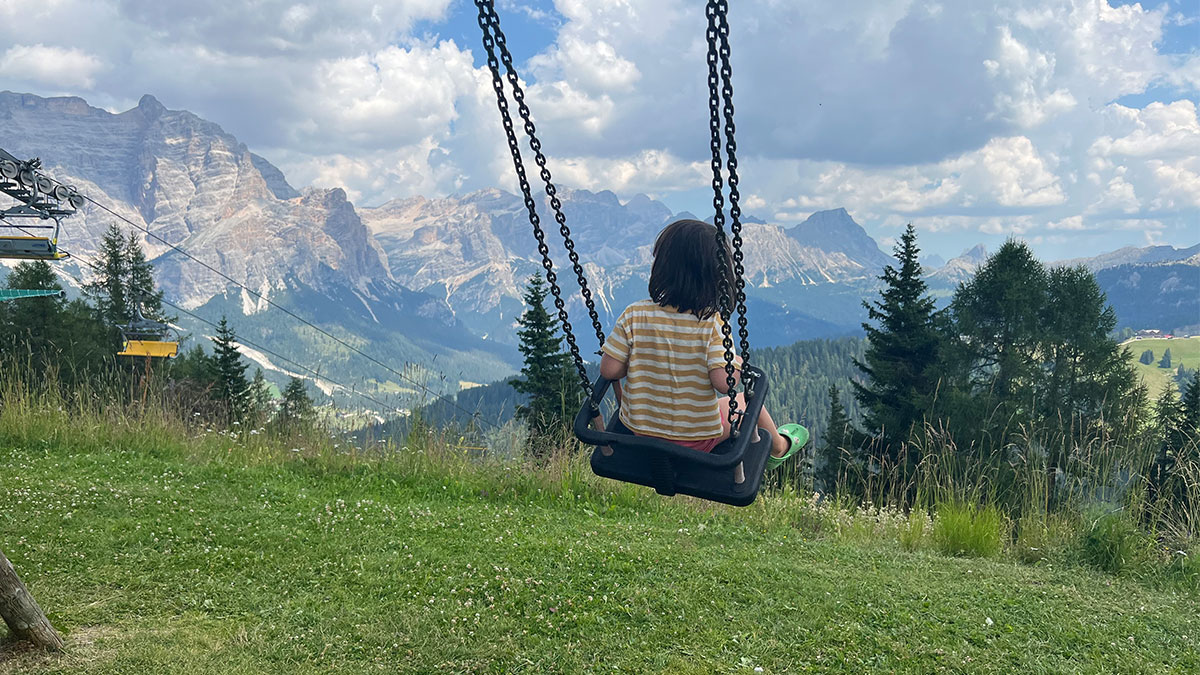 For all of the fun we had during our stay there was one experience that stood out above the rest; a hike that ranks as one of the best we have had anywhere in the world, even though it was only 4km long. So what made it so special? The fact that we were not alone, but rather on a walk with a group of adorable, huggable, loveable alpacas and llamas for Dorothy's fourth birthday, a present that will live long in her memory. She's asked for one for her next birthday.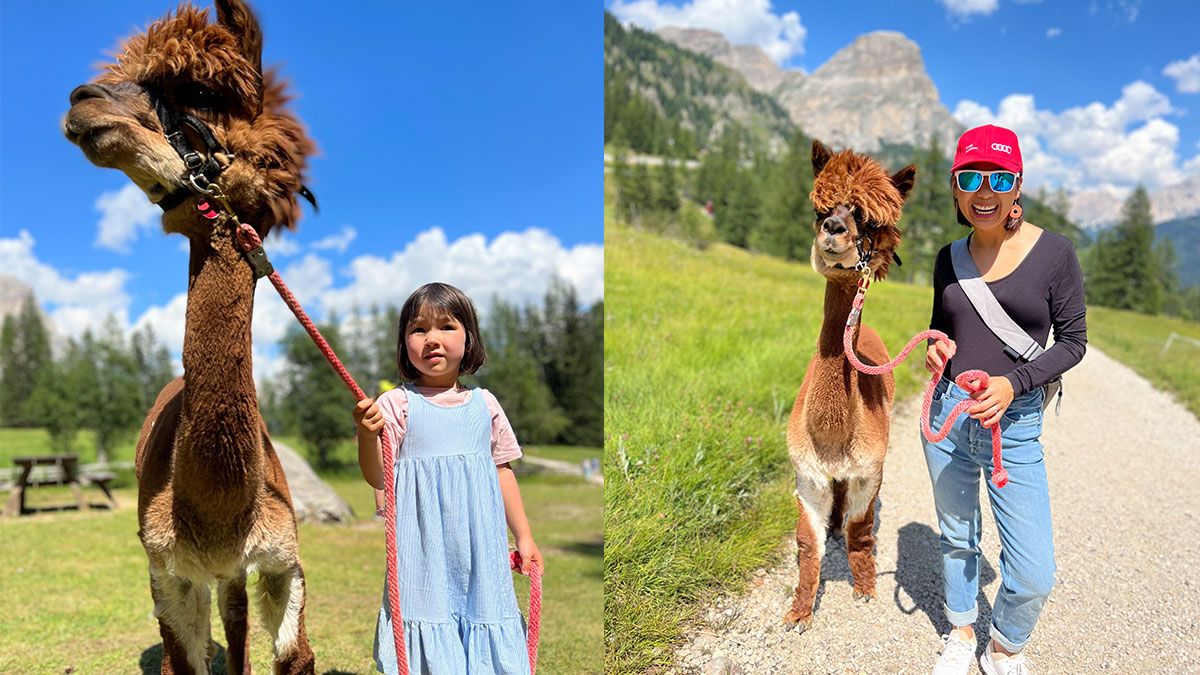 Starting and finishing at the Dolomites Farm in Colfosco, and hosted by affable owner Daniel Fasolo, the walk meanders through meadows and forests against the backdrop of great slabs of rock that form part of the Sella group of mountains. Even if you don't have children we highly recommend a walk with alpacas, animals we quickly fell in love with. Who knows when and where we will settle once our travels are over, but one thing is for certain, we all agree that we would love to have a small herd of them.
As always all good things must come to an end, and so it was that our time in the Dolomites drew to a close, signalling the start of our onward journey towards Croatia, ensuring we don't fall foul of the Schengen Area rules. Despite an element of sadness at leaving such a wonderful place behind we do so with a sense of excitement for what lies ahead as we head once more into the unknown.
Planning Your Visit: We arrived in the Dolomites from the wonderful Ca' Savio site on the southern coast of Italy, close to Venice. Although there's no CAMC site in the Alta Badia region itself, there is a brilliant site further north in the Dolomites, Caravan Park Sexten from which you can explore many of the highlights of Alta Badia from, as well as the wonderful Tre Cime National Park. For those who love hiking be sure to do the circular Tre Cime di Lavaredo circular walk, arguably one of the best one-day hikes in all of Europe.
You can follow our adventures on Instagram (@marcusleachglobal and @our.roaming.odyssey) and on Twitter (@MarcusGLeach) where we will be happy to answer any questions you might have as well.