Discovering glorious Greece
Discovering glorious Greece
Let's talk about Greece. With its abundance of ancient ruins, intriguing mythology, striking blues skies, countless islands, balmy Aegean coast, rich culture, divine cuisine, beguiling mountains and welcoming people. A country that stirs the soul and implores you to delve deep under its skin to discover its true heart.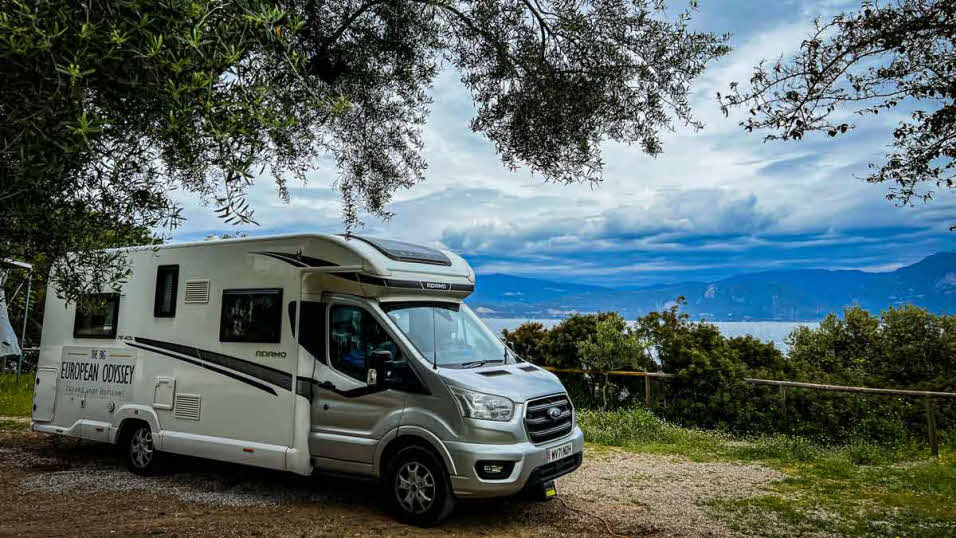 'But it's not on the Caravan and Motorhome Club's European network' I hear you say. Correct, it isn't, however, don't let that stop you from heading east to explore one of the best countries that we have visited so far on The Big European Odyssey. A country that is home to some of the very best sites we have stayed at over the past twelve months, many of which can be found in the Alan Rogers Guide Book - which is a wonderful addition to the Club's extensive European network when it comes to finding sites further afield.
Given that the last installment of our life on the road came from Morocco, you might be wondering how we ended up in Greece, after all the two are not exactly close by. The answer lies in the seas, or at least the excellent network of ferries that service the waters around Northern Africa and Europe. After crossing back from Africa into Spain, and making our way up to Barcelona, we were able to make use of two further ferries to make the voyage across to Italy and then, after whistle-stop tours of Rome and Pompeii, onwards to mainland Greece.
Had it not been for the 90/180 Schengen Area rule we might not have opted for ferries, alas, with our allotted days dwindling our hand was forced, but in it being so we discovered how easy it is to get to Greece without having to drive such long distances. Admittedly it's a long way to go if you only have a few weeks, but for those with the luxury of more time to tour it is certainly an option, one where you don't need to worry about sites and attractions not being on a par with those you're used to closer to home. If anything, in many cases, they are actually better, especially the ancient archeological ruins connected to Ancient Greece.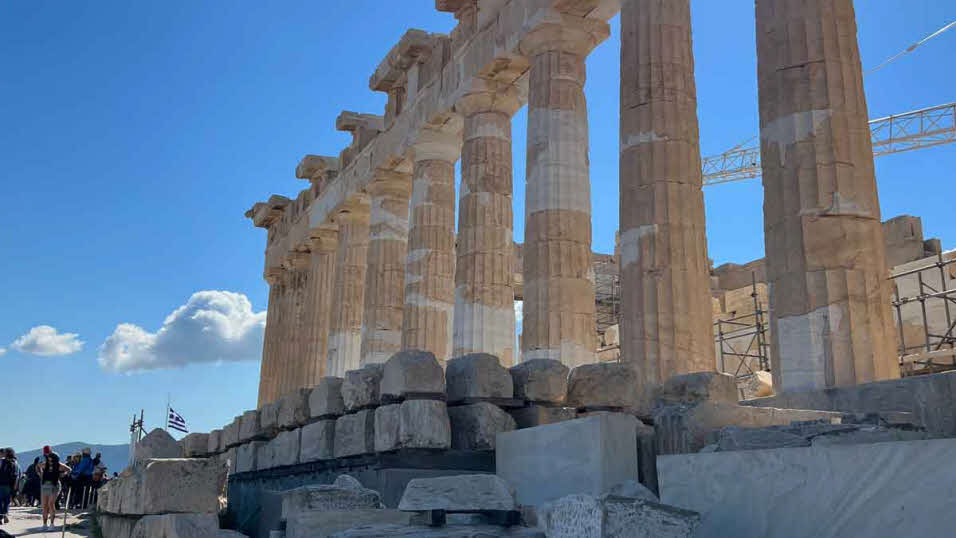 Our route through Greece was dictated by two factors; the main one being our seven-year-old son's fascination with Greek mythology, and the second being our need to exit Greece into a non-Schengen country, with Albania, North Macedonia and Bulgaria being the main contenders on that front. We arrived at the port at Igoumenitsa early on an overcast Sunday morning, excited to begin exploring a country we knew relatively little about. Having been so immersed in the journey to reach Greece we had had scant time to do little more than plot a rough route.
In fact, arriving with no expectations worked in our favour, having previously ended up disappointed by places we'd built up in our minds a long time in advance of getting there - the best example of this being the Leaning Tower of Pisa. Although, that said, even with preconceived expectations the likes of the Parthenon at the Acropolis, the ancient monasteries in Meteora and the views from the top of Mount Olympus would still be special, such is the grandeur and magnificence of these locations. Meteora in particular is a place like no other, a landscape so perfect that it looks as if it could be computer generated.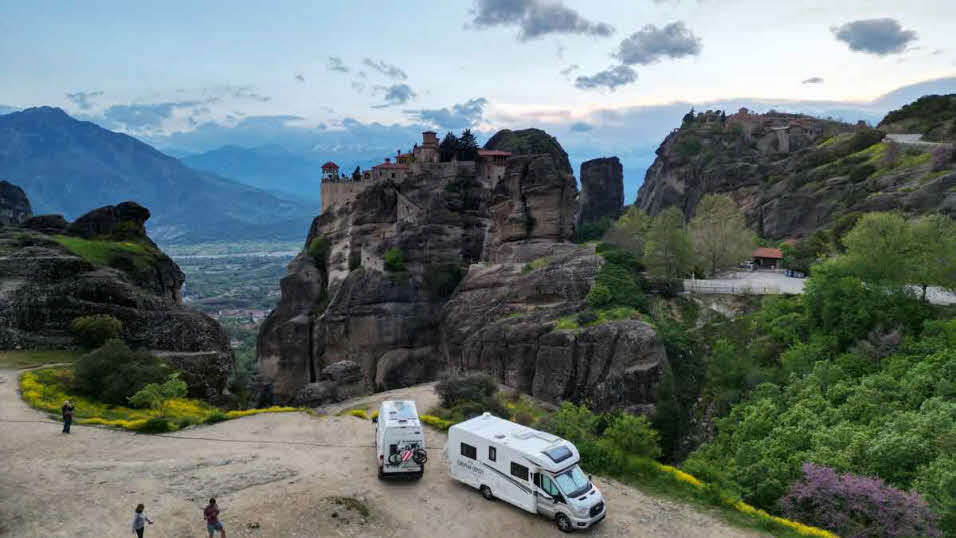 Our time in Greece may have been shorter than we would have liked, especially as with every passing day we felt that there was so much more to the country and its people than we were seeing, but it was long enough to ensure that we will be back at some stage in the future. And we wholeheartedly recommend that, if you haven't already been, Greece should be on your list of potential touring destinations for this summer. As for us, our onward route will see us head into Bulgaria where, being off the Schengen clock, we will have the chance to slow down a little.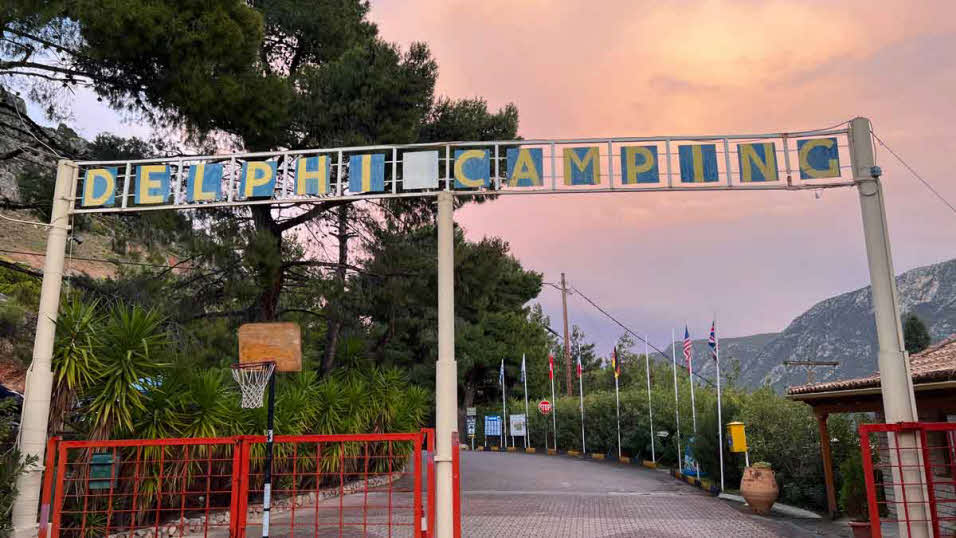 Star Campsite - Delphi Camping: We stayed at a variety of really good campsites in Greece, however, there was a clear stand out for us. Situated on the outskirts of Delphi, and within easy walking distance of the archeological attractions in the town, Delphi Camping is one of the best sites we have stayed on The Big European Odyssey. Not only does it benefit from an incredible location, perched on the side of the mountain looking down over seas of olive trees that lead to the shores of the Gulf of Corinth, but it boasts a superb restaurant, swimming pool and shop that, amongst other things, sells award-winning olive oil. Most of the pitches offer spectacular views, as does the restaurant, and from here you can easily explore the surrounding area and all that it offers.
Proposed Route: While our own route saw us eventually head north to cross into Bulgaria, for those looking for a circular route in Greece we would recommend the following: Igoumenitsa > Patras > Athens > Delphi > Meteora > Mount Olympus > Ioannina > Igoumentisa.
Ferry Information
Spain to Italy: Grimaldi Lines operate daily ferries running from Barcelona to Civitavechchia, with the crossing taking in the region of twenty hours.
Italy to Greece: Grimaldi Lines operate daily ferries from both Ancona and Brindisi to Igoumenitsa and Patras, with crossings taking between eight and twelve hours depending on your chosen route. There's also a less frequent service from Venice to Igoumenitsa, which takes twenty-five hours.