The sights and sites of Morocco
The sights and sites of Morocco
Marcus Leach and his family ventured to Morocco in the Big European Odyssey. Here he shares some of their advice for top sites to stay at and the top sights to see!
With such a diverse range of landscapes and dazzling mix of destinations it can be difficult to know where to start when planning a tour to Morocco.
So, to make life a little easier, we are sharing with you some of our top sites and sights to act not only as inspiration but also help with the practical knowledge required to put together the tour of a lifetime.
Given how big Morocco is, our advice is this; don't try and do everything in one trip, unless you have the luxury of a few months away. Rather focus on an area and really get to know it in detail before moving on.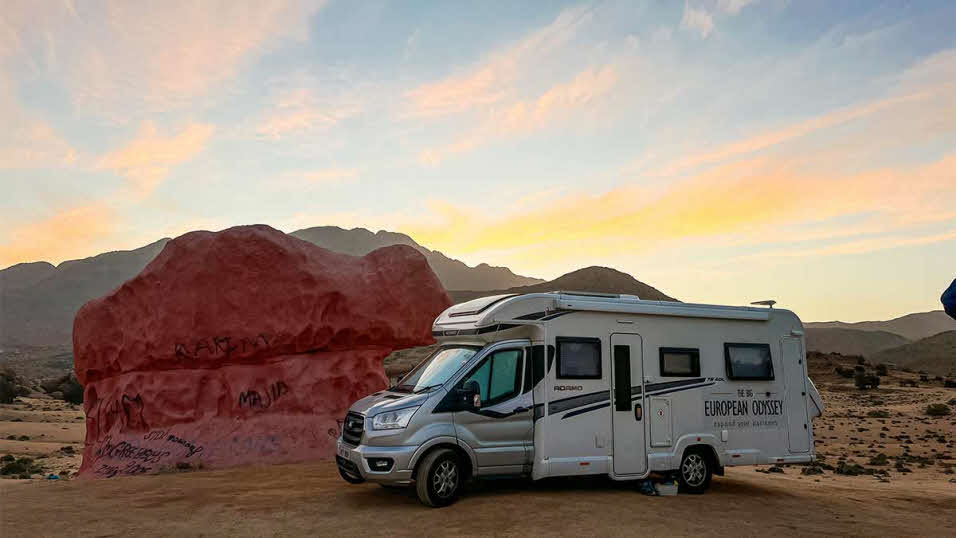 Where To Visit
Tafraout: Visiting Tafraout is like stepping into a parallel world. Set in amongst an incredible mountain scape, and with a forest of palm trees all around it's a little corner of Moroccan magic. What's more, the people here make it even more wonderful. Be it on a campsite or wild camping the friendly locals will stop by and offer all manner of services, from freshly baked goods, home cooked meals, gents barber, motorhome repairs and customisation and practically anything else you might need. However, it's the colossal painted rocks that steal the show and simply must not be missed.
Ait Benhaddou: While Ait Benhaddou is very much a tourist destination (many day trips run from Marrakech), it is one that's well worth visiting for a chance to step back in time. For it is here that you will find the 850-year-old ksar that is a UNESCO World Heritage Site. Built on the hill that sits on the other side of the river from the newer part of town the old fortified tribal village is a prime example of ancient southern Moroccan architecture. The best time to visit is either at sunrise or sunset before the day trippers arrive from Marrakech.
Marrakech: A city that has to be seen, heard, smelt and felt to be truly understood and appreciated. Marrakech is an assault on the senses, it's a whirlwind of all that's great about Morocco and a 'must visit' on any itinerary for those heading over to North Africa. Get lost in the souks, drink mint tea with the locals, treat yourself to a hammam and feast on local delicacies.
Taroudant: Taroudant, with its majestic ramparts, is one of the most beautiful towns in Morocco. If the hustle and bustle of Marrakech is too much for you then this is the place to visit to get a more relaxed city experience, where the locals will treat you as one of their own and the souks overflow with local crafts. It also serves as a great base from which to explore the various surrounding mountains.
Mhamid: Think of Morocco and one of the first images to come to mind is that of the sweeping sand dunes of the Sahara Desert. It's quintessential Morocco and for those prepared to escape the more touristy desert locations and venture to Mhamid you will be rewarded with the absolute best experience. The seas of sand to be found here are worth the effort of the drive. A once in a lifetime experience.
Imlil: The High Atlas Mountains are some of the best in the world and a hiker's paradise at the heart of which is North Africa's highest peak, Jebel Toubkal. For those wanting to conquer all 4167m of it then Imlil is where you need to head to start your trek. Of course you don't have to climb Toubkal to enjoy this quaint village and its majestic surroundings, with many other hikes available, each offering a journey into a different culture and way of life in the mountains.
Chefchaouen: Set on a hillside in the shadows of the Rif Mountains there's a unique vibe in Chefchaouen that makes for an intriguing visit. Recognisable for its blue stonewashed buildings that are something of a photographer's dream, amplified by the many leather and weaving workshops that line its cobbled streets. Mixing Moroccan and Andalusian influences it can make a great starting point on any journey down through Morocco.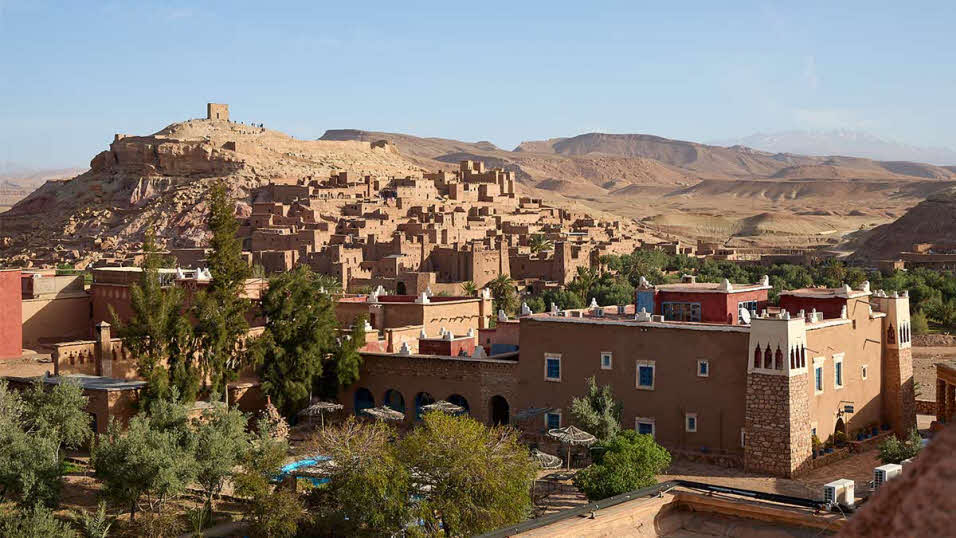 Where To Stay
Before we take a closer look at our favourite sites in Morocco it is important to say this; not all sites are equal, some are truly fantastic while others are at the more basic end of the spectrum. And, as long as you don't expect every site to be on a par with Club sites back home then you won't go far wrong.
Camp Ourika: On the other side of Marrakech from Le Relais this is another European standard site at the heart of which are its peaceful gardens and swimming pool area - there are two pools for good measure. Whether you're coming from the mountains that loom large on the horizon behind it, or looking to escape the hustle and bustle of Marrakech, this is the place to recharge your batteries. Clean facilities with the only downside being it can be a little noisy (given its proximity to the road) in the morning when people are off to work. We paid €20 a night for a family of four with EHU.
La Palmeraie: A heaven of tranquility and luxury on the south side of Agadir, La Palmeraie is an absolute gem and one of the most family friendly sites you could ask for. With its white stone washed buildings, immaculate pool area surrounded by trees and peaceful gardens, as well as an excellent restaurant, this is as good as any site you'll stay at in Europe. A second pool area is open during busier periods, there are three sanitary blocks and even small stone chalets to hire. We paid €15 per night for a family of four with EHU.
Camping L'Ocean Bleu: Depending how far you drive once off the ferry this could well be your first site in Morocco, and it would be a pretty good starting point. Set back from the beach and with plenty of trees providing shade the pitches are well organised, there are simple but clean wash blocks and several shops nearby. It definitely has a summer beach vibe to the place and the friendly owners are always on hand to offer any help when needed. We paid €8 a night for a family of four with EHU.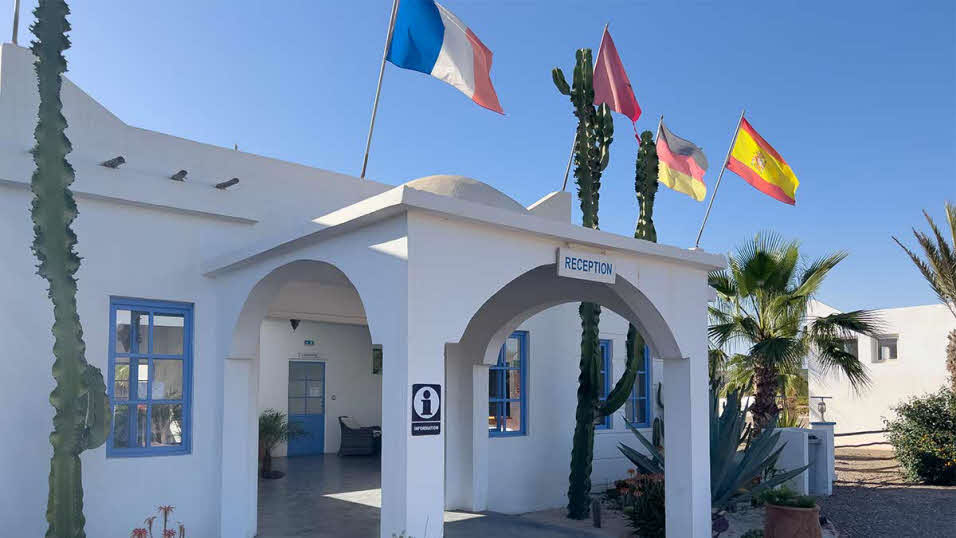 Le Relais de Marrakech: It's hard to pick an absolute favourite site in Morocco, as there were a handful that could all have taken too spot. However, for us Le Relais does take that honour. On the outskirts of Marrakech this charming site has it all, from the beautiful pool area, children's park, restaurant with excellent menu, stylish wash blocks, multiple hammocks and chill out areas, onsite shop and a variety of additional facilities to cater for all needs the owners have thought of everything. We paid €16.50 per night for a family of four with EHU.
Camping Les Trois Palmiers: If you visit Tafraout, which we highly recommend you do, there are two options. Wild camp amongst the palms or a site close to town. We did both and loved both but appreciate wild camping is not for everyone, in which case Camping Les Trois Palmiers is the best of a handful of similar sites in the area. It's set in a stone walled enclosure on a hard standing courtyard area with quite magical views. Simple yet clean it has everything you need from a motorhome service perspective. We paid €8 a night for a family of four with EHU. Hot showers are an extra €2.
Camping du Jardin: Located a short taxi journey, or bike ride if you pedal, from the centre of town this is a prime example of a simple yet clean Moroccan site. Small sanitary blocks are complimented by a motorhome service point and a secure gated entrance to a site that gets busier as the day goes on (it's a first come first served affair). We paid €10 a night for a family of four with EHU.
If you have any questions on touring in Morocco please feel free to contact myself or Kim on Instagram. We can be reached at @MarcusLeachGlobal and @Our.Roaming.Odyssey and will be happy to help where we can.