Rome in a day and a slice of Pisa
Rome in a day and a slice of Pisa
John Rawlings enjoys a contrasting tour of Central Italy and Tuscany as he combines visits to the three fascinating cities of Rome, Lucca and Pisa with relaxing stays on two tranquil sites set in gorgeous surroundings
By John Rawlings | 24 July 2019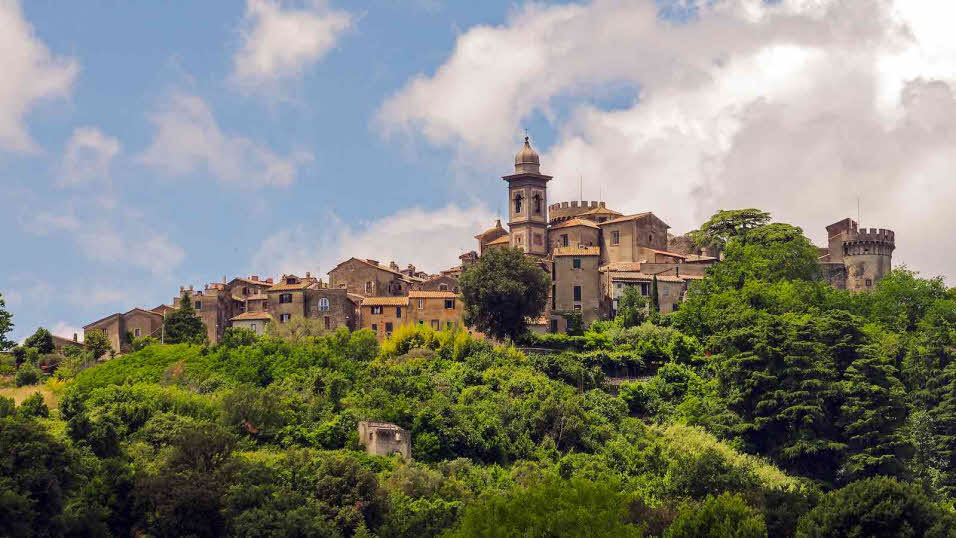 Odescalchi Castle perched on a hill above Lake Bracciano in Central Italy
It is easy to see why Tom Cruise and Katie Holmes chose the little town of Bracciano, near Rome, for their wedding in 2006. The pair tied the knot at the spectacular Odescalchi Castle which overlooks Lake Bracciano and truly is a fairytale setting.
Visitors can enjoy a tour of the 15th century fortress – which once acted as a refuge for Pope Sixtus IV during a plague epidemic – taking in its sumptuous rooms, artworks and fabulous examples of medieval weaponry. If you don't want to go inside the castle, just wander through the quaint streets in the old town surrounding it, and eventually, you'll find the viewpoint over the lake, from which you can see the other two settlements on its shores – Trevignano Romano and Anguillara Sabazia.
Sadly I wasn't staying in the sumptuous castle, but I found a fitting substitute – which also offers fine views over the water – in Camping Roma Flash, about 2.5 miles outside town. This was my first site on a two-stop tour that would take in Rome as well as the Tuscan cities of Pisa and Lucca.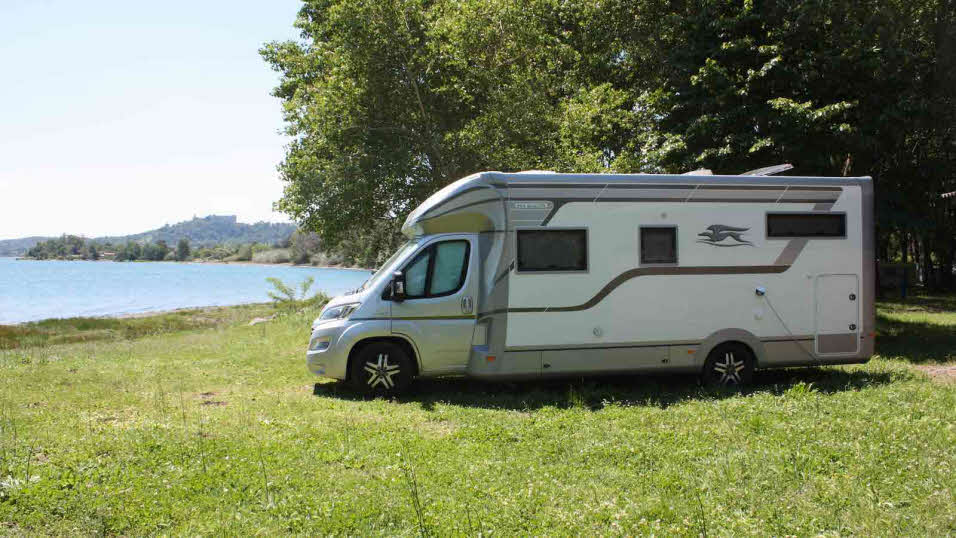 John's lakeside pitch at Roma Flash
A large number of people use Roma Flash as a base for visiting the capital, which is just a one-hour ride on the train from Bracciano. Rome is an unforgettable city which could easily fill a week of your time. If you are on a tighter schedule, my top tip is to get there early. I caught the 7.05am minibus from the campsite to Bracciano and was on a train just after 7.30am.
The Colosseum is a must-see when in Rome
There were already long queues at the Colosseum when I arrived there shortly before 9am. But it was worth every minute of the wait – it's one of those wonders of the world that you can't quite believe you're seeing with your own eyes. This breathtaking structure was completed in AD80, and you can sense what the atmosphere must have been like as 70,000 spectators gasped and cheered during gladiatorial skirmishes.
My favourite building in the capital was the Pantheon. Built around 125AD as a Roman temple, it boasts an incredible domed ceiling. As I walked in, a stream of sunlight beamed down from the opening in the centre of the roof, creating an almost spiritual spotlight on the sculptures and art. Another highlight was the Vatican and St Peter's Basilica. Like the Pantheon, the basilica is free to enter, but expect a long queue to get through security. For an extra-special view of the wonderfully ornate interior, you can pay to climb the dome itself.
The Pantheon is a breathtaking building both inside and out
Rome made a huge impression on me but it was nice to return to the calm of the campsite and its lakeside views.
My next stop-over destination was La Valle Agricampeggio campsite, about a four-hour drive northwards in the shade of the Pisa Hills. This proved to be the perfect base from which to visit both Pisa and the lesser-known Tuscan city of Lucca.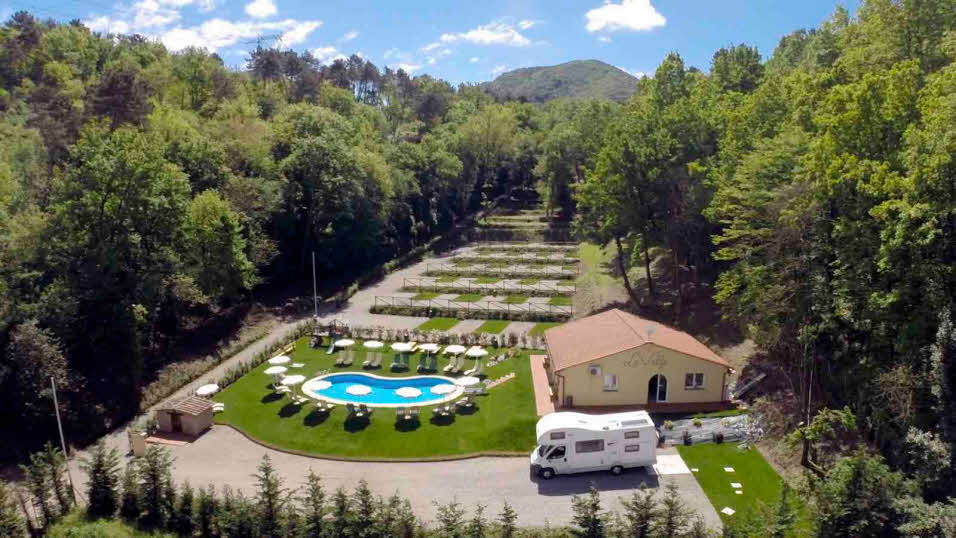 La Valle Agricampeggio is an ideal base for visiting Pisa and Lucca
The latter is about five miles away, the main attraction being the Renaissance-era walls that encircle the old town. It's a beautiful place filled with ornately decorated churches, cobbled streets, shops and restaurants. Make sure you visit the Piazza dell'Anfiteatro, the site of a former Roman amphitheatre. Lucca also has a highly unusual feature – the 45m high Guinigi Tower which has trees growing in its rooftop garden.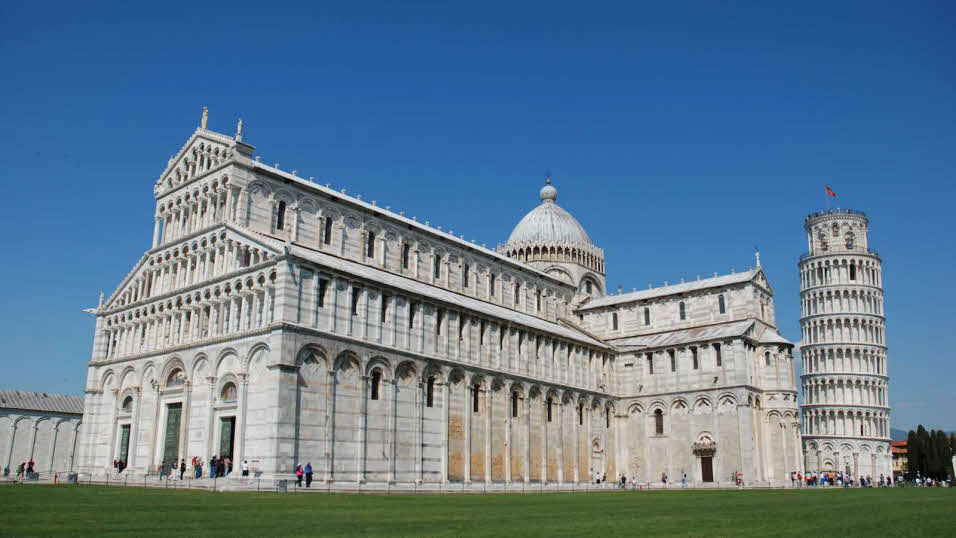 The Tower of Pisa, with its famous lean, is a sight to behold
Just a 20-minute drive to the south of the campsite, Pisa is of course most famous for its lopsided tower. Situated on the Piazza del Duomo (which contains many other architectural marvels), it truly is a sight to behold. Did you know it actually started to lean during construction in 1173 and wasn't finished until 1399? Neither did I. But one thing I do know for certain is that I will be returning very soon to continue my far-too-brief Tuscan adventure.