The Big European Odyssey - The Beauty of the Balkans
The Big European Odyssey - The Beauty of the Balkans
Bosnia Herzegovina in the Balkans is one of Europe's most visually alluring countries, not least because its heart-shaped border invokes a sense of warmth. It is a colourful combination of West and East, effortlessly mixing modern sleek shopping malls in Mostar with rich culture and history in Sarajevo.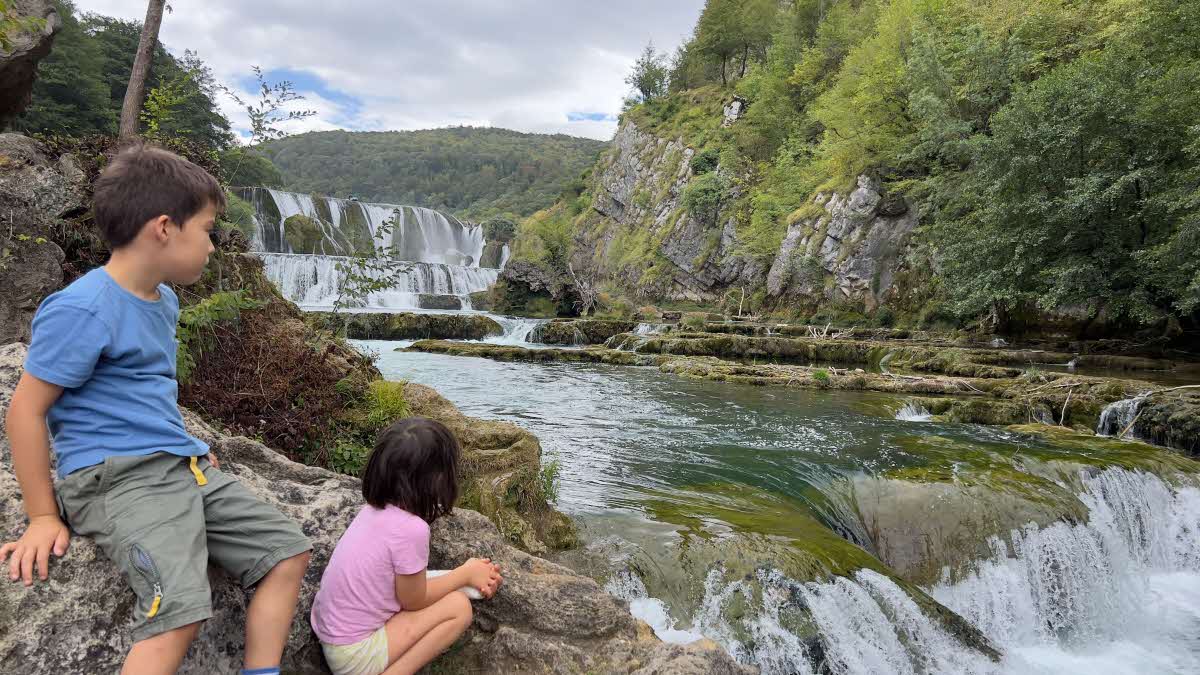 For an inexplicable reason, we feel nervous approaching the border. Are we sure our passports are valid? What if we don't have the correct vehicle documents? Such spurious questions keep popping into my head, which are rather comical considering I triple checked them this morning. When we left the Schengen travel zone and entered Croatia from Slovenia at the end of July, we had the same 'what if?' questions. The physical borders impose a sense of formality.
Our concerns at the border are gratefully unfounded. The border official politely greets us and asks for our passports and vehicle documentation (V5), thoroughly checking them over before glancing at us through his window and kerchunk! 4 heavy stamps and we are waved in with a nod of his head, the barrier clanking down behind us.
Marcus and I look at each other and audibly exhale sighs of relief, finally daring to smile as we search for a cashpoint. Our online research suggested it is a cash country, so we require Bosnian Marks to enable us to buy lunch and drinks which we all so desperately need. I can confirm that cash is the predominant method of accepted payment, aside from in major supermarkets like Bingo (our favourite European supermarket for its variety of quality food at affordable prices) and McDonalds. Some campsites quote Euros, and accept both Euros and local currency.
'There's an ATM at the end of this street, on the right before the crossroads,' I say, looking at Google Maps. Sure enough we spot it and pull over.
Bosnia was one of the countries we were particularly excited about exploring on the Big European Odyssey as it seemed off the beaten path, our only knowledge of it stemming from a fuzzy memory of the war we saw in the news when we were children.
Sitting in a restaurant ordering cevapi and Bosnian coffee, watching the children play in the soft play area, I marvel at how easy things seem to be. The waiter chats happily in English, and his friendly smile is the first of many we receive in this country of azure lakes, churches and mosques.
Our first camp, Camp BUK, near Bihac, on the banks of the River Una is a superb site to introduce us to Bosnian camping. The facilities are clean and basic, with a restaurant overlooking the wonderful view of the river. We enjoy a pitch right on the bank, enabling us to marvel at the vista every morning over coffee and every evening when we sit outside for dinner.
Whilst Bosnia & Herzegovina is not yet on the Caravan and Motorhome Club network of sites, we have the full support of our Red Pennant emergency cover here which gives us a complete sense of ease, knowing that assistance would be forthcoming if we required it.
15km from Camp BUK is a series of picturesque terraced waterfalls called Strbacki Buk. There are viewing platforms at strategic points along the wooden boardwalk, from where the best shots of the waterfalls can be captured, as well as witnessing extreme white water rafters going over the top of the 25m precipice, followed by excited screams from the rafters and gasps of delight from spectators. The final few kilometres leading here is a single track country lane with passing points, and is comfortably accessible in our 7.5m long Bailey Adamo 75-4DL. The car park is a large grassy field which you are directed to after you've paid €3 per adult entry fee.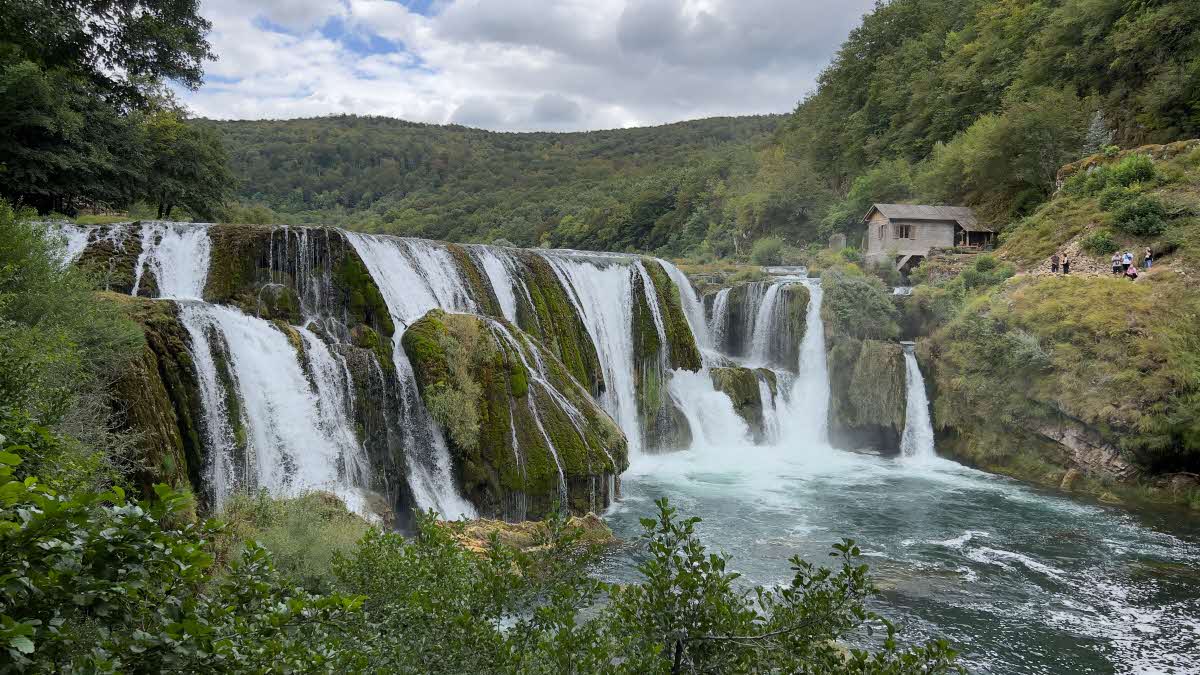 Jajce, a medieval old town in the centre of Bosnia and 160km north of Sarajevo is an often overlooked place for visitors, but it has a charm that is worth exploring. The impressive Pliva waterfalls is located right in the centre of town, visible from the main road with the option of paying for a closer look from the viewing platform. The Old Water Mills, a collection of now-defunct small wooden huts known locally as Mlinčići, are built on an intersection of the Pliva river where the natural force of the water helps rotate the mills that grind wheat into flour. The watermills themselves are free, but the car park costs €1 for 2 hours.
It would be impossible to visit Bosnia & Herzegovina without visiting Sarajevo, a city whose name is synonymous with the Siege that took place from 1992-1995. The war is still fresh in people's minds and our guide, Neno, who was only 8 when it started, informs us what the realities of life inside the city was like. He explains how life carried on as best as it could, with education continuing for him and most other children in the basement of buildings rather than at school. He openly admits he detests fireworks and uses his tour guiding as a form of therapy.
He also introduces us to some typical flavours of Bosnia, including corba, a delightfully tasty vegetable soup served with spongy bread, and burek, a pastry roll filled with meat, potato or cheese, and baked in a coal fired oven. Bosnian coffee is similar to Turkish coffee (no doubt influenced by the centuries it was under the Ottoman rule) in that it's served on a metal tray, with the coffee cooked in a small pot which you pour into the tumbler and enjoy slowly. Neno shows us the correct way to drink - speed dip the corner of a sugar cube in the hot coffee, nibble some, then wash it down with the coffee.
We revel in learning about the history and visit the Tunnel of Hope, a secret 800m long tunnel under the airport and the only safe place in or out of the city during the war. There are two main car parks here and both are manned by eager attendants who wave you into their area. We reject the first place as the corner is too tight for our motorhome to manoeuvre into and instead head to the larger, flatter car park opposite. Don't feel forced to park in a space too tight for your vehicle – you are free to use any car park you like. You pay the waiting attendant once you've left your vehicle.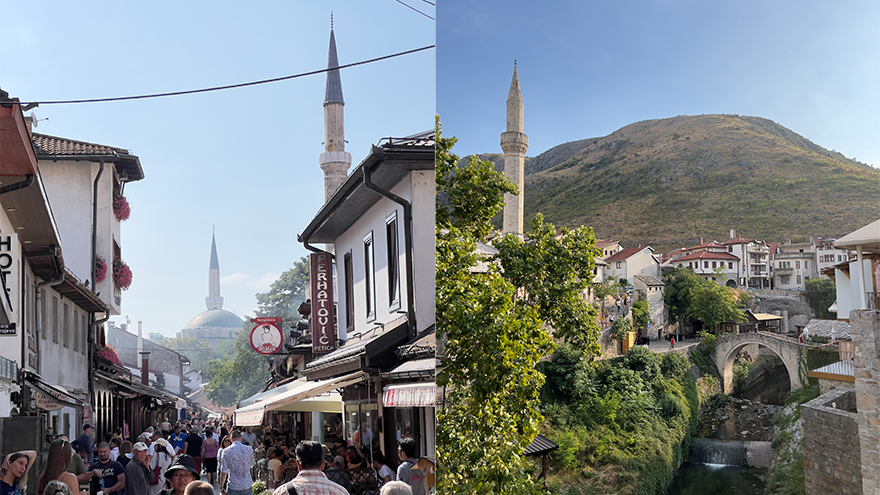 We stay at Camp Sarajevo, a small site 14km away from the city itself and take the impressive punctual, modern, air-conditioned train into town. Children travel for free and the friendly conductor writes out a paper ticket for our return journey, which cost 7.50BAM for both adults (approximately £3.20).
Mostar is famous for the painstakingly reconstructed Old Bridge, which was destroyed in 1993. We narrowly miss the annual diving championships where competitors jump 21m into the cold river Neretva and instead meander through the Old Town noticing how much of a tourists paradise it is, shop fronts stacked with colourful crockery, carpets and general trinkets. Camp Neretva is a great little site along the banks of the river and we head into town via a taxi, as the streets can be narrow with low bridges.
Visiting Bosnia in a motorhome is one of the best ways to slowly explore this beautiful country, and we highly recommend adding it to your itinerary if you plan on extending your visit beyond the club network.
Don't forget you can follow our travels on social media. On Instagram it's @marcusleachglobal and @our.roaming.odyssey while on Twitter it's @MarcusGLeach You can also read our monthly features in Practical Motorhome magazine.