Escape to the Spanish sun
Escape to the Spanish sun
Heidi Fuller-Love escapes the British winter and heads to the Costa del Sol which enjoys 320 days of sunshine a year and also boasts magnificent beaches and fascinating cities to explore
By Heidi Fuller-Love | 23 December 2019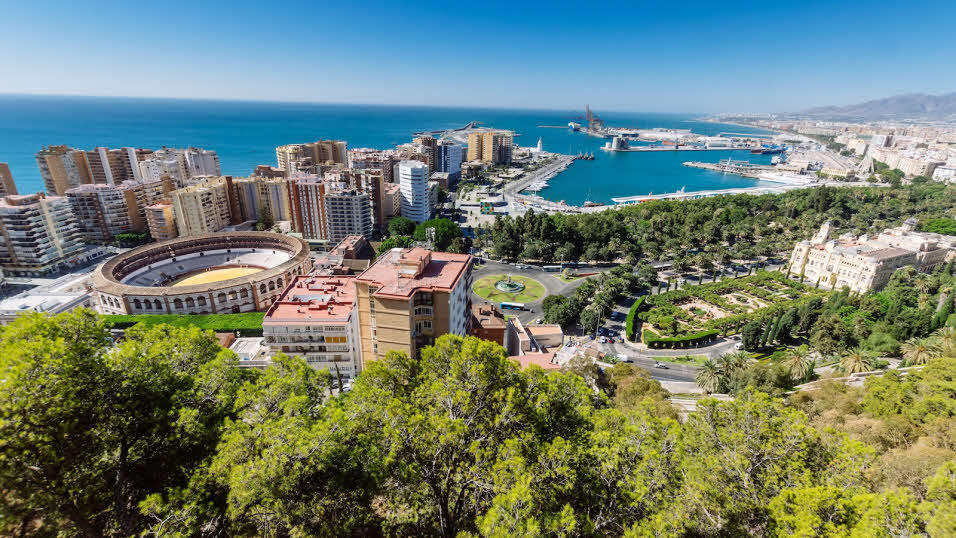 Malaga boasts a number of fascinating museums and a choice of excellent tapas bars
Our toes sunk luxuriously into velvety sand as we strolled towards a beach shack selling espetos – sardines grilled on skewers. The sky was a brilliant blue and it was so hot we were in T-shirts – an ideal start to a week-long winter sun trip along the Costa del Sol, where residents enjoy more than 320 days of sunshine each year.
Our first stop on this jaunt was the city of Málaga, birthplace of artist Pablo Picasso. A happy hour was spent admiring the impressive collection of drawings, sculptures and ceramics at the beautiful Buenavista Palace, home to the Málaga Picasso Museum since 2003.
We then followed the lanes down to the busy port to visit the city's most innovative art museum. Like its famous Parisian parent, the Centre Pompidou Málaga is a quirky building; this modern gallery has a massive, multi-coloured cube sitting on top, while inside marvellous works by the likes of René Magritte and Frida Kahlo hang on the walls.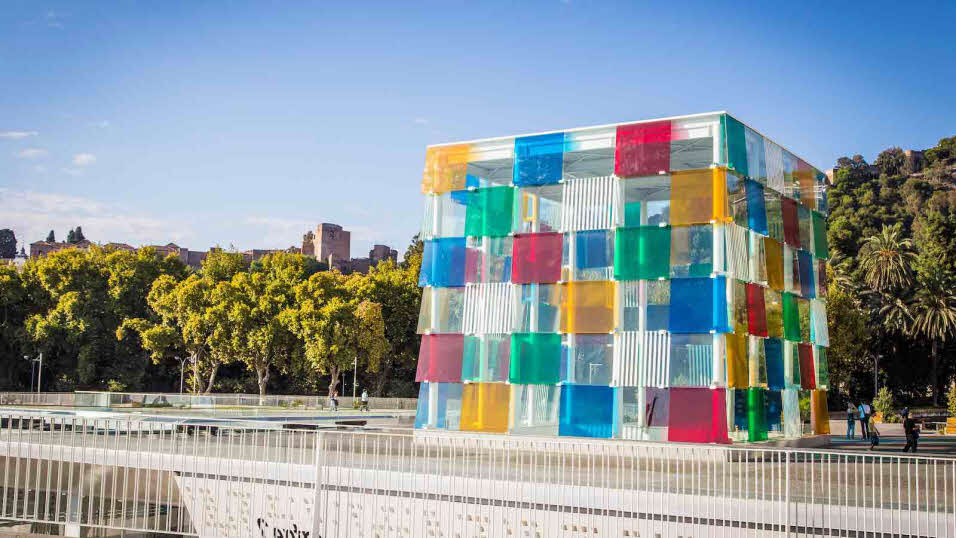 The multi-coloured cube on top of the Centre Pompidou in Malaga
Having bought handmade sombreros at Sombrerería Del Cid (where they've been making the stylish hats for decades) and indulged in massages at the historic Jewish quarter's steamy Hammam Al Ándalus Arab baths, our day ended at Lo Güeno, a backstreet tapas bar where we feasted on gambas al pil pil (flash-fried prawns) and lomo embuchado (sausage skin stuffed with cured pork), washed down with chilled tumblers of sweet Málaga Virgen wine.
At this time of the year, the resorts along the stretch between Málaga and Marbella are quite peaceful. We made our way westwards along this beach-lined coast and stopped at the much-talked-about Bioparc Fuengirola.
A new type of wildlife and safari park with a strong focus on conservation, this vast space is so beautifully landscaped that you feel as if you're walking through tropical forests. The animals – including endangered Sumatran tigers, crocodiles and leopards – live in semi-liberty, contained by natural barriers such as bridges and riverbanks, as opposed to cages. It's an easy day-trip to make from Cabopino, a well-equipped campsite with pine-shaded pitches and friendly staff.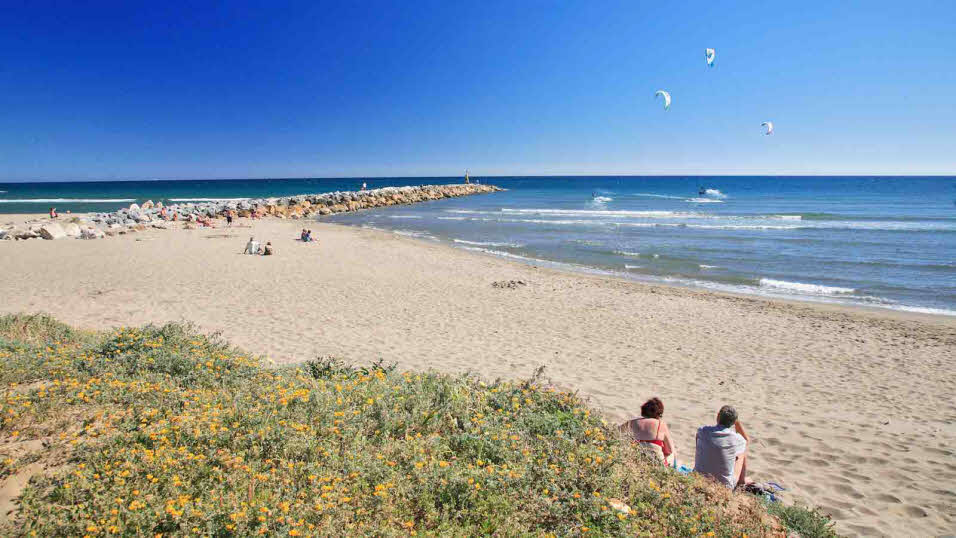 Cabopino is just a short walk from a lovely sandy beach
Cabopino is close to Marbella, where we spent several days strolling through the charming old town, its streets lined with sweet-scented orange trees and chic boutiques. We also visited Puerto Banús – where the rich and famous disembark from giant yachts for dinner and cocktails.
Friends had told us about El Chorro, where steep cliffs and sparkling waters attract mountain bikers, hikers and campers. The drive from the coast into the mountains is along winding roads, fringed with fragrant thyme bushes and sweet-smelling pine trees.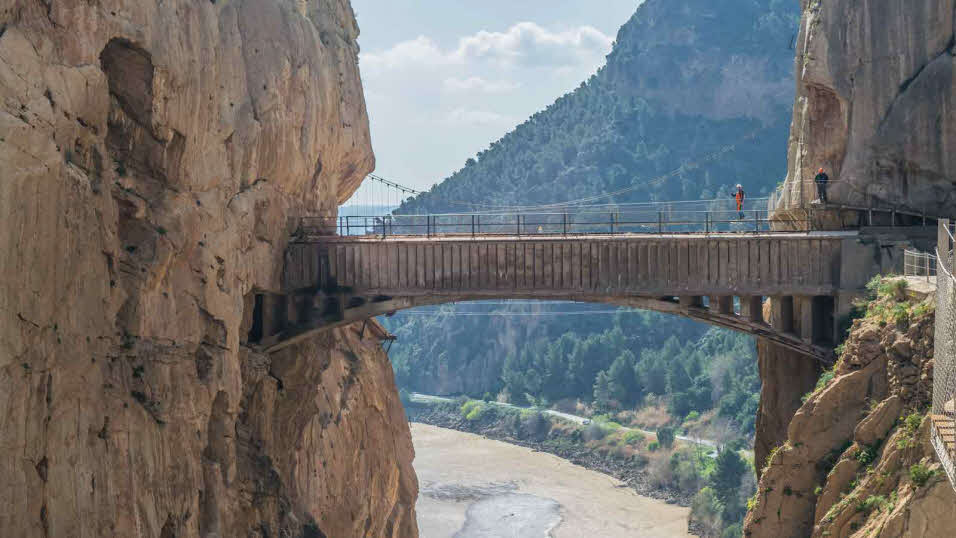 El Caminito del Rey is regarded as one of the world's most dangerous bridges
After an hour we caught our first glimpse of El Caminito del Rey, a breathtaking narrow bridge spanning the Guadalhorce River gorge. Better known as 'The King's Pathway', this three-feet-wide catwalk was constructed for the visit of King Alfonso XIII, who came to celebrate the creation of the region's three artificial lakes in 1921. Today, the terrifying 100m-high walkway is known as one of the world's most dangerous aerial pathways. Unable to resist, we paid our entrance ticket and crossed the bridge, which quivered like jelly (as did we, whenever we glanced down at the waters below).
Our next spot, La Bella Vista, is a friendly, beachfront campsite. It is said that Julius Caesar once wallowed in the hot springs at nearby Manilva, which we visited one afternoon. We also joined a coach trip to see the Barbary apes and other sights on Gibraltar – just over 30 minutes' drive away.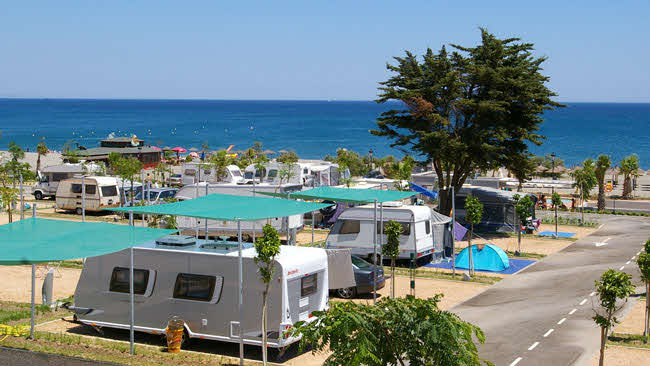 La Bella Vista is in a prime location right next to a sandy beach
Our final day was spent following another spectacular winding road through pine forests to Ronda. This dazzling clifftop town is famed for its 13th-century baths, modelled on those of Granada's Alhambra, and the beautifully conserved 14th-century Mondragón Palace, where Queen Isabella and King Ferdinand once lived. The bells rang out from the town's ornate Santa María la Mayor church later that evening as we sipped wine and watched the sun descend in a blaze of colour... safe in the happy certitude that tomorrow would be another sunny day.