A family holiday in the Alsace
A family holiday in the Alsace
The Daveys found a wonderful mix of cultures, architecture and cuisines when they headed to this unique region of eastern France which borders both Germany and Switzerland in their caravan. Lazy days messing about on picturesque lakes, fishing on sleepy riverbanks, visiting pretty towns and sampling the local wine made for a memorable holiday.
By Lee Davey | 25 December 2019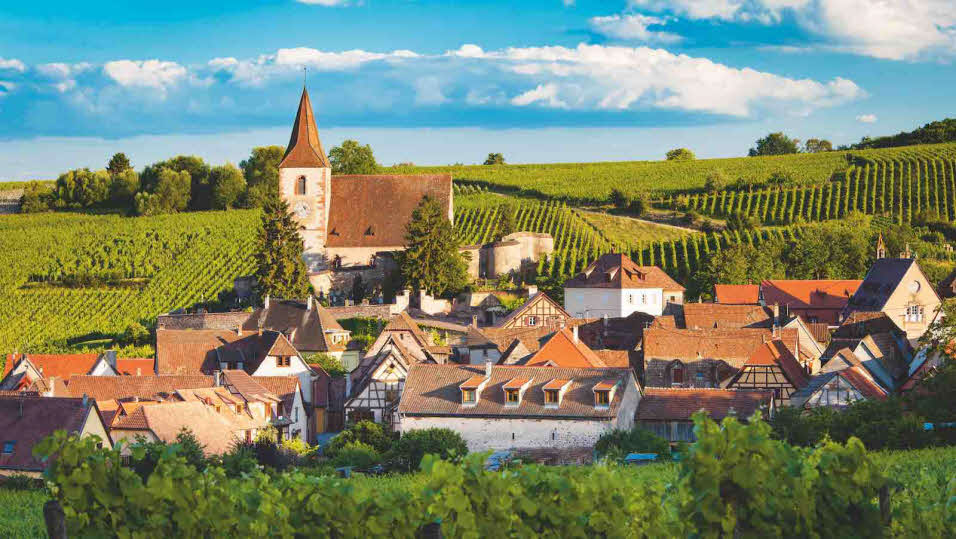 Brian Jannsen/Alamy
Famed for its wine, cuisine and brightly coloured, half-timbered houses, the Alsace region in eastern France borders both Germany and Switzerland. This proximity, combined with centuries of regularly re-drawn partitions, has given rise to a mix of architectural styles across its towns and cities, which lends the area a unique feel. Although I'd passed through before – en route to Germany – this was the first time I'd visited with the family, and we were pleased with the variety of activities near our two campsites.
Unsurprisingly, the Vosges – a range of low mountains – is geographically similar to its near neighbour, the Black Forest. It's an area blessed with many striking views and, as a result, it draws a steady flow of tourists all year round.
When the ski season is in full swing you can choose from around 167km of slopes, with the thriving town of Gérardmer being a hub for winter sports fans. However, during our visit in sunny August, it was hard to imagine a snow-covered landscape as we cruised around Lac de Gérardmer in a hired motorboat. The town stretches down to the lake shore, and from our watery vantage point we could see that the local cafés and shops were doing brisk business.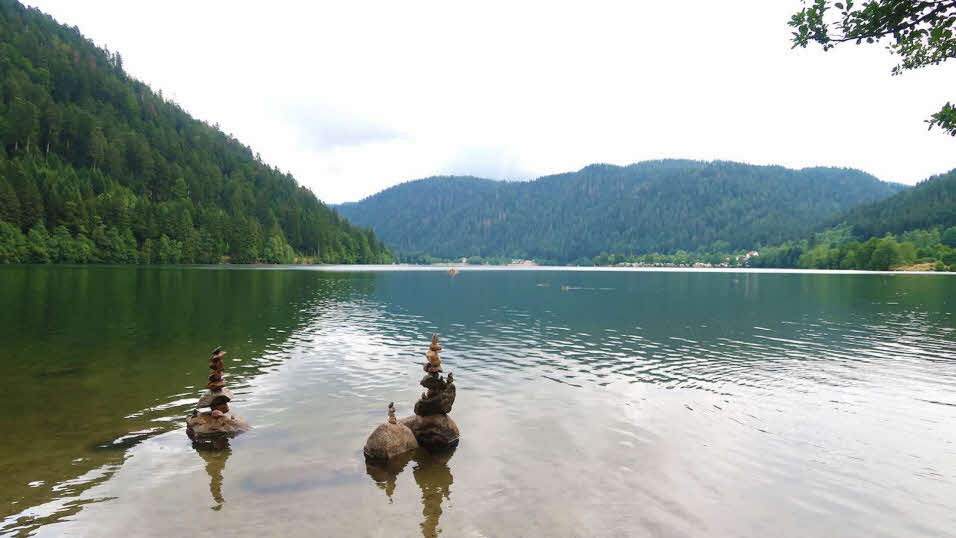 Our jaunt had been recommended by Mike and Pascaline, owners of the Au Clos de la Chaume campsite, which lies to the north of the town. They possess an uncanny ability to tailor tours to specific needs, and, as we were travelling as a family, they suggested we visit the two nearby lakes – Lac de Longemer being the other one.
Longemer is just a short drive from the shores of Gérardmer. Low banks and a gently-sloping bottom make it a popular location for wild swimming, and my son, Charlie, duly obliged with a dip while my wife, Helen, daughter Poppy and I watched a stone sculptor at work.
Back at the site we took the opportunity to explore our immediate surroundings. Au Close de la Chaume possesses a back-to-nature feel, with a stream separating pitches from a 'Quiet Zone', a 'Barefoot Trail' and a footpath that leads to the nearby town of Corcieux.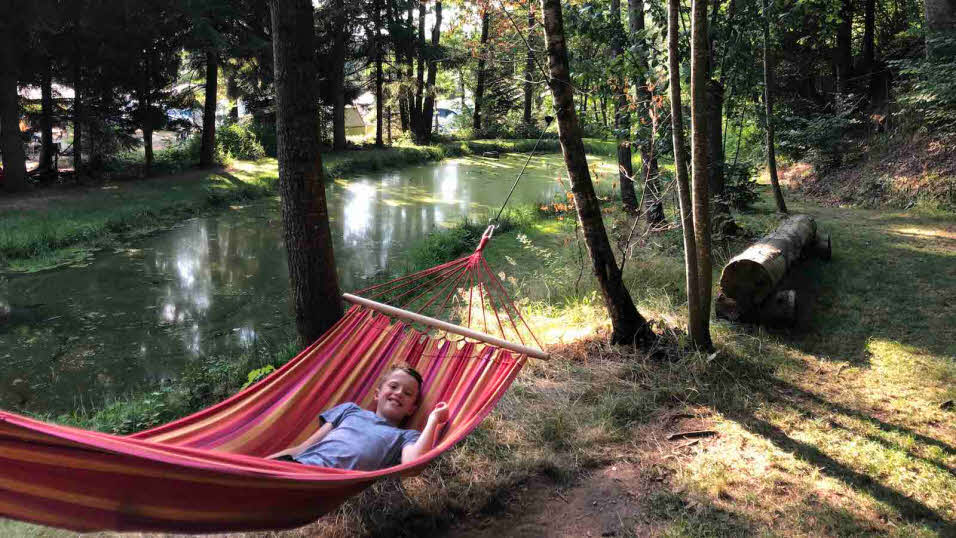 As Mike and Pascaline's first suggestion had gone down well, we sought them out again, keen to take further advantage of their excellent local knowledge. Mike is from Yorkshire originally, and Pascaline's English is excellent, following years spent working in Scotland.
They had plenty of ideas for days out and evening entertainment. For example, 'Wine Tasting Wednesday' (with a local producer) is a firm favourite throughout the summer season. In fact, many people come here while journeying along the Alsace Wine Route, which stretches from Strasbourg in the north to Mulhouse in the south.
Just beyond the midway point of the route – and approximately an hour to the east of Corcieux – lies the city of Colmar.
The outskirts offered few clues as to what lay at Colmar's heart. However, as we made our way towards the 'Little Venice' area, rows of shops suddenly gave way to criss-crossing canals, brightly decorated historic buildings and al fresco restaurants. Colmar's Old Town has suffered relatively little wartime damage over the centuries, and the colours and aromas swirling around are a treat for the senses.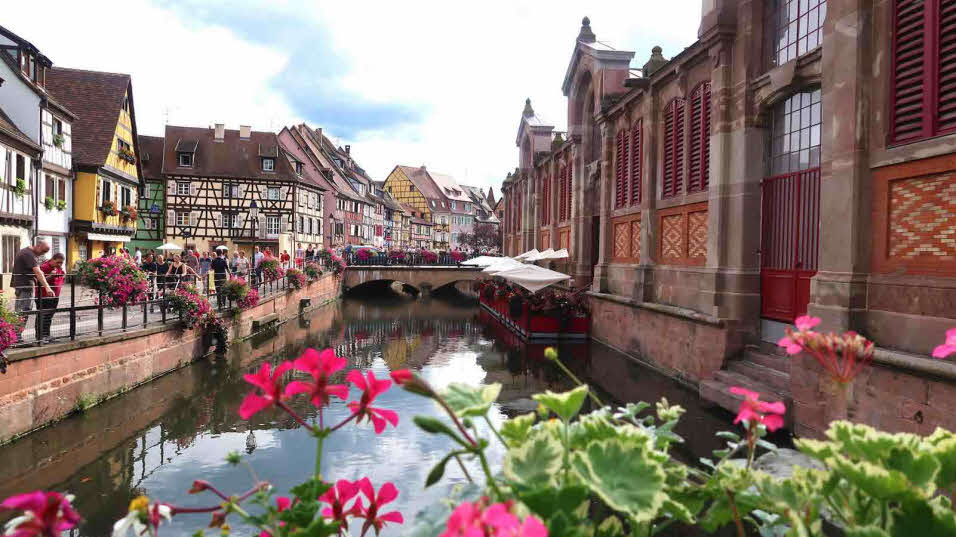 There are fabulous eating and drinking opportunities in this stunning corner of France – we even ticked a gastronomic box by trying snails for the first time. (Charlie had been wondering whether the taste resembled that of his favourite dish: mussels.)
Our second site, Camping de L'Ill Colmar, is nestled on Colmar's eastern fringe; it's a level, 20-minute walk from your pitch into the city centre and, conveniently, a local wine producer visits for tasting evenings, which are free to attend. You get to sit by the River Ill while sampling the excellent offerings – it's hard to resist buying a bottle from the site shop or the chap in charge of the tasting afterwards.
The river is shallow and a surprising number of fish can be seen swimming lazily against the weak current. Fishing licences are available from reception and a rod is always on our kit list, so Charlie spent an afternoon trying to hook a few with whatever 'bait' we could find (mostly off-cuts of bacon and pieces of baguette).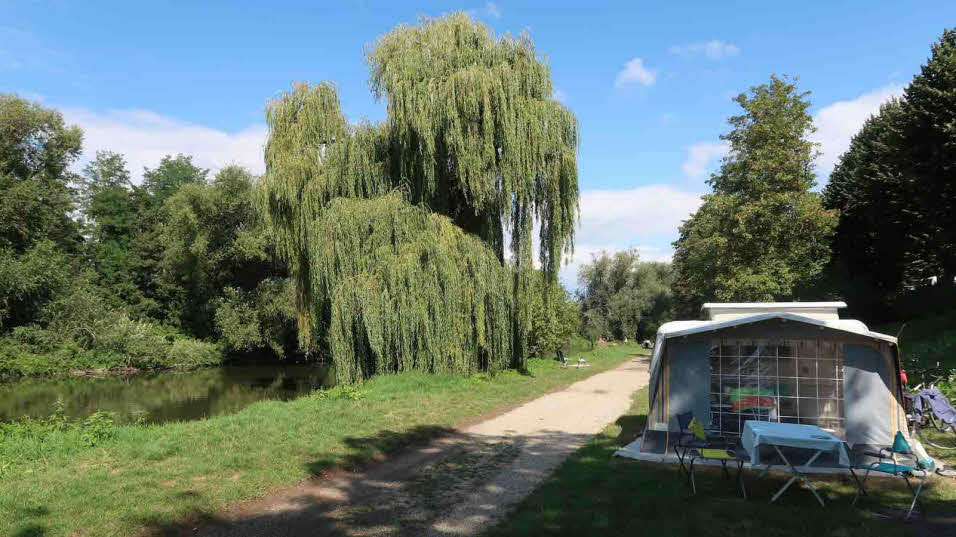 The relaxing surroundings of Camping de l'Ill Colmar
Part of the Huttopia Group, Camping de L'Ill Colmar has benefitted from recent investment, and in addition to the aforementioned shop and reception it has a new wash-block, bar/restaurant and small swimming pool. The pitches are of typically large French proportions, and although it is close to Colmar the site is surprisingly peaceful, both day and night.
Corcieux, Colmar and the surrounding areas are easy to explore, while Alsace's Wine Route is clearly a corker that can turn the most hardened beer drinkers into wine buffs! It is well worth adding to your wish-list of destinations.