From the Alps to the Med
An evening listening to moorhens and fish splashing in the beautiful ponds was the perfect relaxing start for Mel and Ryan Philpott, as they embarked on a 25-night summer adventure to France and the Med.
As a self-confessed mermaid ('salty sea dog' in Ryan's words), my favourite motorhome pitches are within spitting distance of the sea.
But this year we broke with tradition and spent over half our French summer sojourn enjoying mountains and lakes ….. before the force pulled me back to the Med!
Our 25-night trip began with a stopover at Du Vivier Aux Carpes near Saint Quentin. Going to sleep listening to moorhens and fish splashing in the beautiful ponds was the perfect relaxing start. Many jolly Brits were regular visitors to the site, and not just staying overnight like us. After a fresh baguette from the friendly owners, we paid our respects at the Commonwealth war grave just a few minutes from the village before heading south east towards Dijon.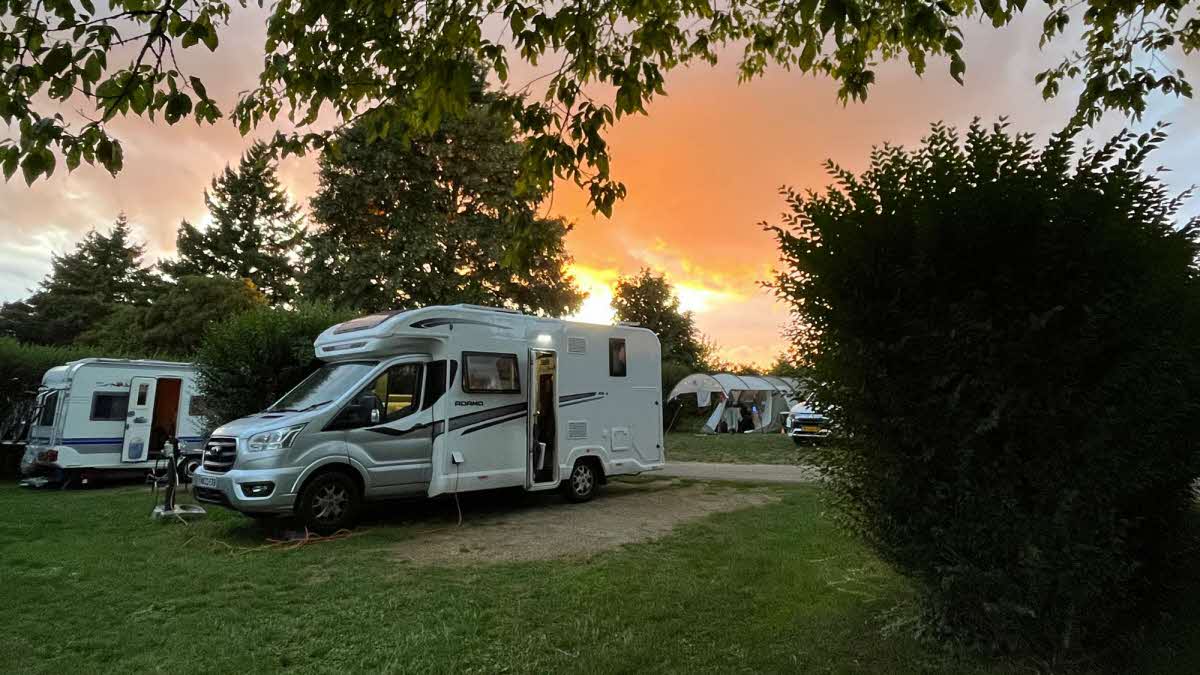 UK weather was following us and arriving at Lac de la Liez near Langres felt like Derbyshire in April. The site has fantastic facilities including a large pool with restaurant and bar overlooking the water sports on the lake. One brave Dutch lad was enjoying a dip (his lips were a little blue), so we donned hoodies and anoraks and headed off to explore the local area. In dry, warm weather it must be stunning, buzzing with kayaks, swimmers and kids enjoying the inflatables. But after a few hours in the cold rain, a bowl of hot soup and dry socks were calling us back to the Bailey.
Leaving the grey skies behind we headed towards the Haute-Savoie region for seven glorious nights at site No. 3, Le Taillefer. Sitting just above Lac d'Annecy it's no exaggeration to say this is the most picturesque area we've visited. Superlatives don't do the views from our pitch justice. Clear turquoise waters, surrounded by spectacular mountains and Annecy town, known as the 'Venice of the Alps', are a photographer's paradise! Our host Brigitte was a font of knowledge and told us the best ways to experience Lac d'Annecy, (on it, in it and above it!)
And experience it we did, cramming in as much as we could in seven days. A guided boat trip took us on the 25km lake circuit, spending a few hours in beautiful Annecy town. A free bus service from outside our site to the chair lift station carried us 2000m above sea level to Mount Sambuy. Paragliders hurl themselves off the Alpine meadows, but we chose to look for butterflies and enjoy the stunning views with a cold beer. I spent hours on my SUP enjoying the aqua marine lake water, said to be the cleanest in Europe. And every night back at our pitch we watched the sun sink over the mountains and listened to the goat bells. Utter bliss.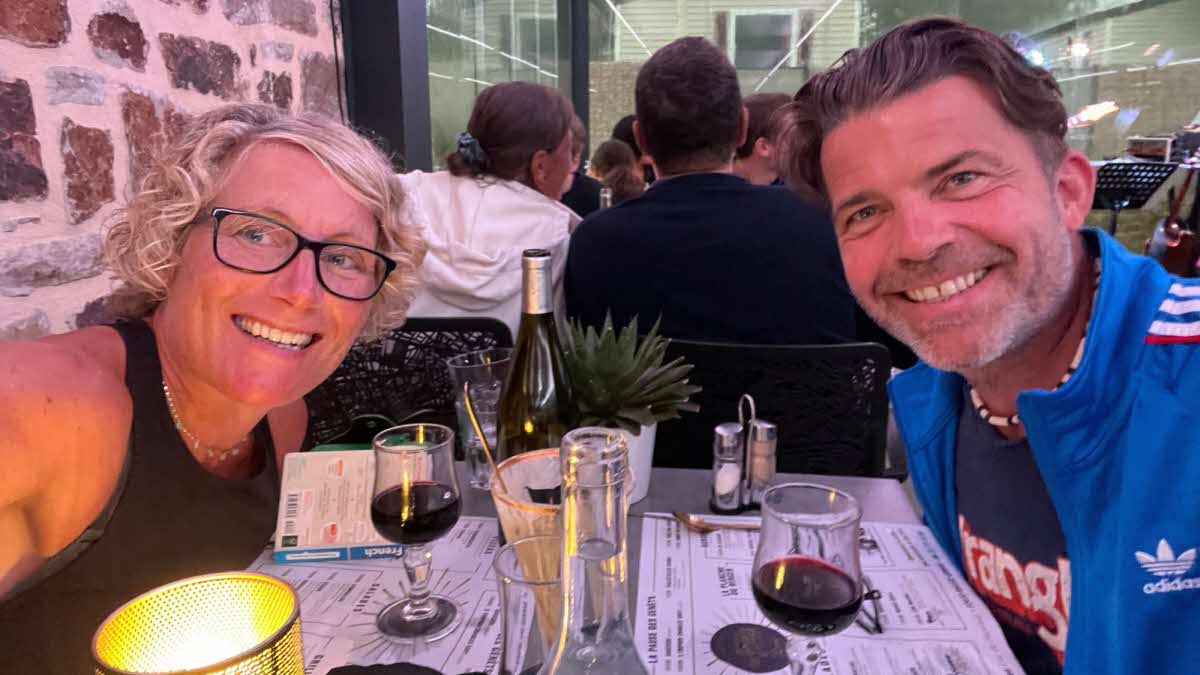 No surprise, we both struggled to leave our mountain haven to head towards the Pyrenees and a heatwave! But stopping over for 2 nights at site No 4, Le Mas de Reilhe near Nimes, was a delight. With the sound of cicadas from surrounding vineyards and forests, we were definitely in the south. Energetic young staff, excellent Caesar salad and pizza and a few ice-cold beers by the pool transported us back to Mediterranean holidays from our youth.
By the time we arrived at Les Criques de Porteils near Perpignan we were in a full-on heat wave ('cannicure'). Luckily, this 5-star site sits above several beautiful coves and has a large pool and spa area. Its coastal position meant we had a cooling sea breeze at night plus the most incredible sunsets over the Med and the Pyranees. The region, just 20 miles from the Spanish border, is rich in history, culture and gastronomy with clear Spanish influences. This faultless site with a restaurant, spa pool, excellent shop and bakery to name a few facilities deserves every one of its 5 stars. It would be easy to just stay put for your whole trip. But a 20 min walk down to Collioure, an exquisitely pretty Medieval French port is well worth visiting. It was impossible not to love every minute of our stay at Les Criques.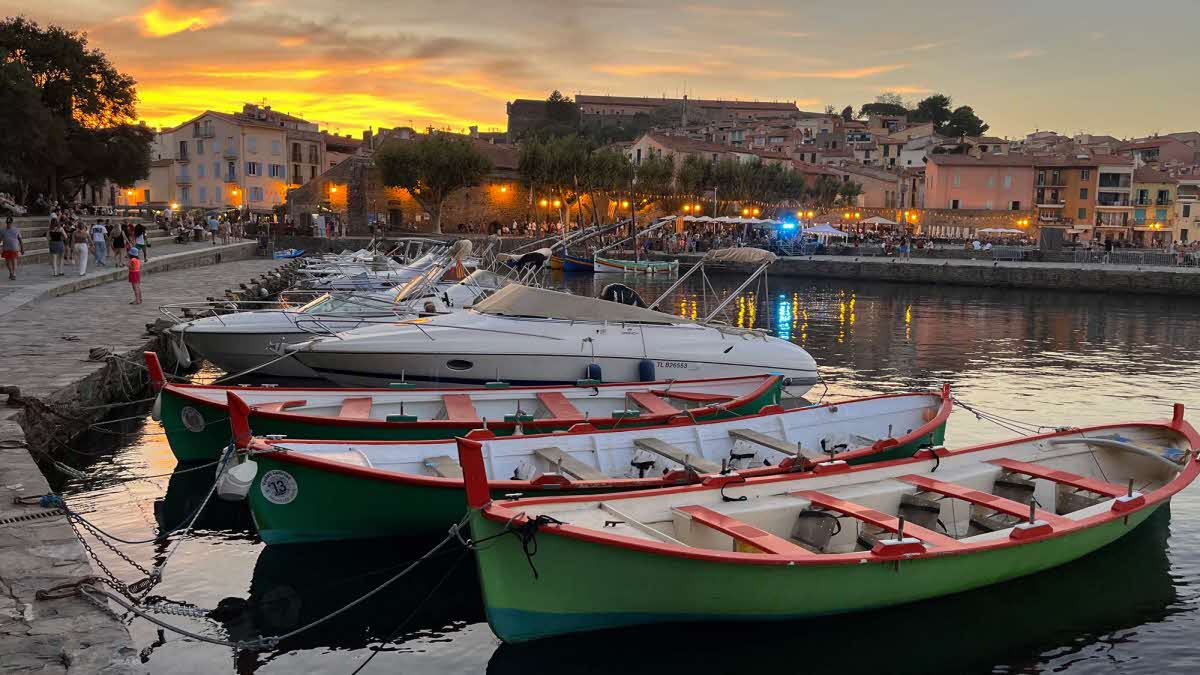 Finally, it was time to begin the long journey home with one more new site to experience en route. Les Genets has been run by the same family for 50 years and they are rightfully proud of their achievements. Recently renovated to a very high standard with touches such as electric car charging and top of the range bathrooms, this is a superb lakeside site. That night, a huge thunderstorm broke the heatwave but didn't dampen anyone's spirits! We enjoyed the best meal of our trip at their traditional Aveyron restaurant, accompanied by live music overlooking the pool. We will definitely return to sample what else this fabulously friendly site has to offer.