Mike and Jane's touring adventures
Mike and Jane's touring adventures
Mike and Jane Townsend once again share their wonderful of experiences of Long Stay Winter Sun touring.
After venturing into the world of caravanning and motorhoming, following their retirement, married couple Mike and Jane Townsend shared their wonderful experience of being new tourers when they travelled in the UK as well as abroad last year. Read about their 2022 tour here.
We caught up with them again to see what adventures they've been enjoying in 2023.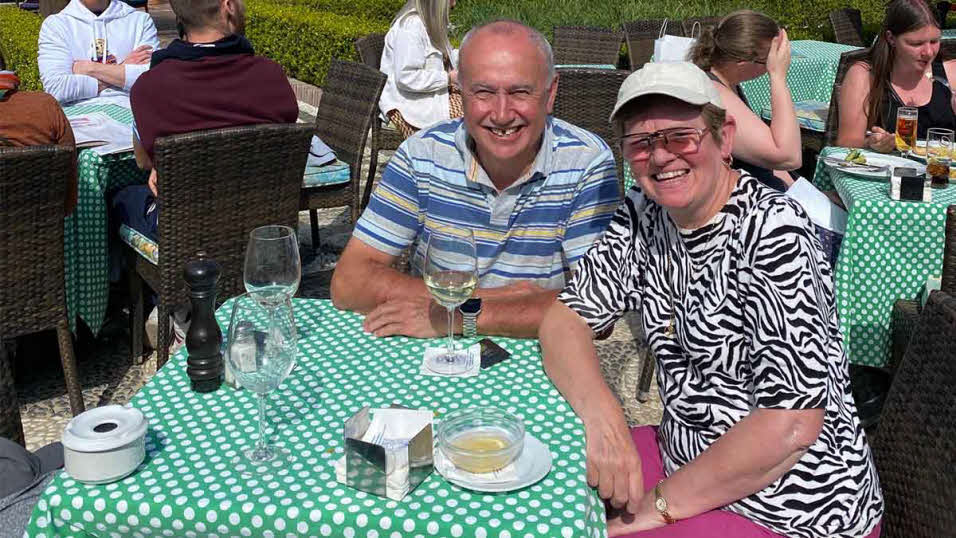 Hi Mike and Jane, what made you want to head out again on a winter tour again?
We surprised ourselves by how much we enjoyed a Long Stay Winter Sun hosted holiday at La Manga in Spain last year, especially when we had thought we'd stick to touring the UK for a few years before venturing further afield once we felt more confident. Happily we booked a trip to Spain with friends and it was so wonderful, we had to go again this year but this time, we included Portugal into the mix!

Tell us how you started your trip.
We decided to travel again to Spain and also to Portugal in our motorhome, all booked through the Club's travel service.
We caught a Brittany Ferry on 13 February from Portsmouth to Santander in Spain, arriving at 8am. From there we drove 250 miles to Camping Regio (E26) on the outskirts of Salamanca. Although a long way, it's a relatively easy drive with no tolls. The next day, we caught a bus from the campsite, which took us directly into Salamanca. It's a beautiful city, known as the "Golden city" due to the sandstone used in the construction of its buildings, and it's well worth a visit.
Image: Salamanca Plaza Mayor
Where did you head to next?
Next we drove further South towards the coast and stayed at the lovely Camping Cabopino (E21), which was busy even in February. It's close to the beach and the marina. There's also a bus route that runs along the coast towards Marbella, and in the opposite direction to Fuengirola. When visiting Marbella, do make sure you check out the "Old Town", with its winding, narrow street and glorious tapas bars!
Image: Marbella Old Town
Did you stay anywhere else in Spain?
Yes, after leaving Camping Cabopino, we had a one night stopover at Camping La Aldea (E24), although we both agreed we should have stayed longer as we didn't have time to check out everything we wanted to in El Rocio, the local town. It's quite an experience in itself, just like a Wild West town, with dirt roads and where horses and cars share the space. It's most famous for its annual Romeria, the Rocio pilgrimage at Pentecost.

When did you get to Portugal?
After El Rocio we headed onward to the Algarve. Watch out for the time difference as Portugal is on WET (Western European Time) which is the same as the UK. We headed for Camping Turiscampo (E07) and joined the Club's Winter Sun Rally. Camping Turiscampo is a fantastic site, very modern and well organised, with a nice bar and restaurant and well stocked mini market. It's a 30 minute walk from Luz and on the main bus route from Lagos to Sagres, this coastal route has many small fishing villages and beautiful beaches.
Image: Turiscampo campsite
Tell us more about the Club Rallies.
The rallies are great as you can join in the activities to whatever degree you wish. There's no pressure at all but you have the knowledge that there are people around you that can help and advise if necessary. Club rally hosts were very helpful and informative, we met other rally members in the bar later that evening and again the following morning at the hosts weekly coffee morning, where they introduced the coming week's organised events.
What was next on your itinerary?
We spent a few weeks on the Algarve and then headed North to visit Lisbon. We stayed at Camping Guincho (E10) at Cascais, which is the nearest Club campsite to the capital city. You can get to Lisbon, by hopping on a short bus ride from the campsite to the Metro station in Cascais, and then enjoying a short scenic rail journey along the coast into Lisbon itself. Lisbon is a lovely city and worth visiting. We'd recommend walking up or taking one of the old trams up to the castle for great views of the area.
Image: Trams in Lisbon
Where else did you visit in Portugal?
After Lisbon, we headed further North towards the city of Porto. We stayed at the Club campsite Angeiras (E31) at Lavra which is just north of Porto and on the coast. Like our stay in Lisbon, it is a bus journey and then the Metro into Porto, from the campsite, but worth the trip! We headed for the old town of Porto and the Port cellar area on the River Douro. It's a wonderful old city and a must-visit for fans of port!
What were your experiences of the campsites en-route?
Both the Camping Guincho (E10) near Lisbon and Angeiras (E31) near Porto were quite different to our stay at Turiscampo (E07) in the Algarve, as they were less busy and some of their facilities were not open due to the low season. Although Guincho had its shop and bar open, at Angeiras there was no shop and the bar/restaurant was closed. At both sites however, the staff were very helpful, with suggestions of the local area and we're sure that each one is completely different in high season.
When did you head for home?
After Porto, we headed east across Portugal into Spain for a one-night stopover at the Club campsite Camping El Astral (E03) in Tordesillas which is situated on the banks of the River Douro. Unfortunately we didn't have time to look around the town, and so regretted not stopping for 2 nights. The next day we drove to Santander and took the 2pm ferry back to England and back home.

Have you got any future plans for more touring?
Yes! We had a fantastic winter holiday, with nearly 6 weeks away from the cold and although we had a busy schedule, we thoroughly enjoyed the trip. So we are now making plans for next winter, looking at the Club rally sites of Camping Vilanova Park (E08W) near Barcelona and Alannia Costa Blanca (W05W), near Alicante. Stay tuned for more of our adventures!
Find out more about our Long Stay Winter Sun hosted holidays
You may also be interested in