A seven-site tour in and around the Peak District
Trails of the Unexpected
Jane McGowan heads off the beaten track in the Peak District and surrounds, encountering wartime history, local legends and more.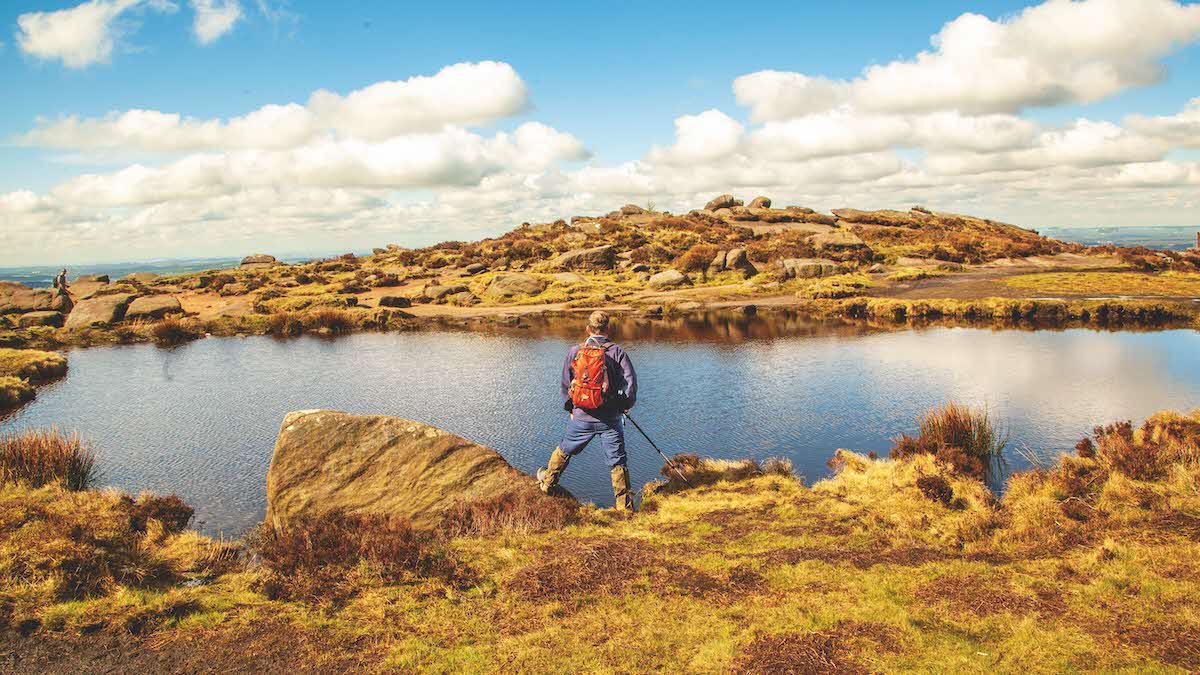 As England's fourth largest National Park, the Peak District is certainly not short of stunning views and opportunities to exercise in fresh air. From walking and hiking to fishing and mountain biking, its rugged landscape represents the very best of the great outdoors. The charm of its villages is world-renowned (Bakewell tart anyone?), while the stately homes in both the Peak District and the wider area – Chatsworth, Shugborough Hall and Hardwick Hall, for example – are some of the finest in the land.
This tour takes us to some of the Peak District's best-known destinations, but also heads off the beaten track to lesser-known attractions, and strays beyond the National Park's border into Staffordshire and Derbyshire, providing an opportunity to visit Club campsites that offer an extra little something – in terms of location or history.
First stop is High Onn Club Campsite near Church Eaton in Staffordshire, where you are guaranteed a very warm welcome from the managers. Travelling in late April, the journey to this picturesque site was a joy in itself, with lanes flanked by acre upon acre of dazzling oil seed rape. As always, please follow the directions in your Sites Directory and Handbook, as rural routes can take some negotiating if you are towing.
The site stands on a former Second World War RAF base. This part of the world has a long-standing affiliation with the service and, for enthusiasts, the Royal Air Force Museum Midlands (which is free to enter) is based in Cosford – just 20 minutes' drive away over the border in Shropshire. High Onn is also a great base for exploring the towpaths of the Shropshire Union Canal. Should you be in need of refreshment, The Hartley Arms in Wheaton Aston sits close to the water's edge and makes for a great place to stop. If you are in the vicinity on a Wednesday or Saturday, then the 20-minute drive to Penkridge Market is well worth it. There you can stock up on a whole host of goodies, from artisan breads and antiques to carpets and personalised pet couture. There is extensive parking available, and take time to explore the village itself, particularly the striking church of St Michael's, once a Chapel Royal (set aside for use by the monarch).
From High Onn, it's a mere 17-minute drive to Stafford Castle – well worth a look en route to our next Club campsite stop in Uttoxeter. Standing on the site of a Roman fortress, the castle was constructed by Robert de Toeni ('Robert of Stafford') following the Norman Conquest and was considered a fine example of the motte and bailey design. Today, the grounds extend across 26 acres and visitors can explore the keep, inner bailey, outer bailey, woodland and herb garden.
Staying furlong?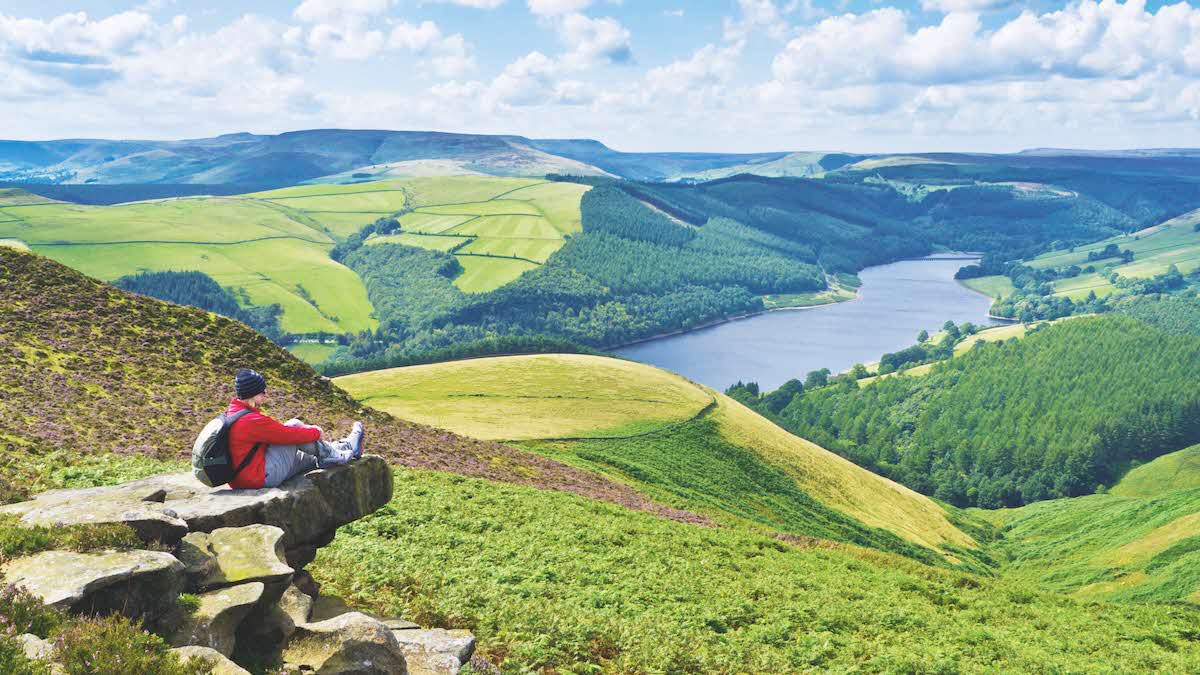 Whinstone Lee Tor
Next stop Uttoxeter Racecourse Club Campsite, where the excitement of race day contrasts with the tranquillity of High Onn. Another of the Club's more compact sites, pitches are situated on the racecourse itself. Twenty-six meetings take place here throughout the year, interspersed with events, concerts and even centre rallies.
While an obvious draw for fans of the sport of kings, the site is also a great base for family days out, particularly at Alton Towers, which has remained one of the nation's most popular theme parks since it opened in 1980. However, for anyone looking for a lower-octane experience, I can highly recommend a visit to the village of Alton itself. You'll find some lovely walks in the vicinity – we headed off along a disused railway line running beside the River Churnet, in search of the mysterious 'Chained Oak'. According to legend, one autumn night in the dim and distant past, the Earl of Shrewsbury was returning home when an old beggar woman appeared in front of his coach. The Earl refused to give her a coin so the woman placed a curse on him – every time a branch fell from the local oak tree, a member of his family would die. That night a violent storm tore a branch from the tree and, sure enough, a relative of the Earl died unexpectedly. From that moment on he demanded that all the branches be chained together to prevent them from falling – you can see the chains to this day.
After listening to a story like that you may be in need of a drink, and fortunately you have a great selection to choose from in Alton – The Bulls Head on the High Street, for example, boasts hearty meals and a range of local ales.
Should you fancy a quieter base that nevertheless offers easy access to the area's many attractions, then just under eight miles from Uttoxeter Racecourse is Aston Heath Farm Certificated Location. Set on an immaculately presented field near the village of Sudbury, the rural setting also offers visitors the perfect spot from which to experience the Derbyshire countryside.
My next main site stop is Blackshaw Moor Club Campsite, which, perched on the south-western edge of the Peak District, introduces the striking landscapes associated with the National Park. This popular, terraced site, which sits just off the A53, also has a fascinating past – not only was
it used as a base for US forces during the Second World War but it also served from 1946 to 1964 as a settlement camp for Polish soldiers and their families. A commemorative plaque was installed by the Club in 2015 and there are various information points around the site, detailing its history and what once stood at particular spots.
A million Bux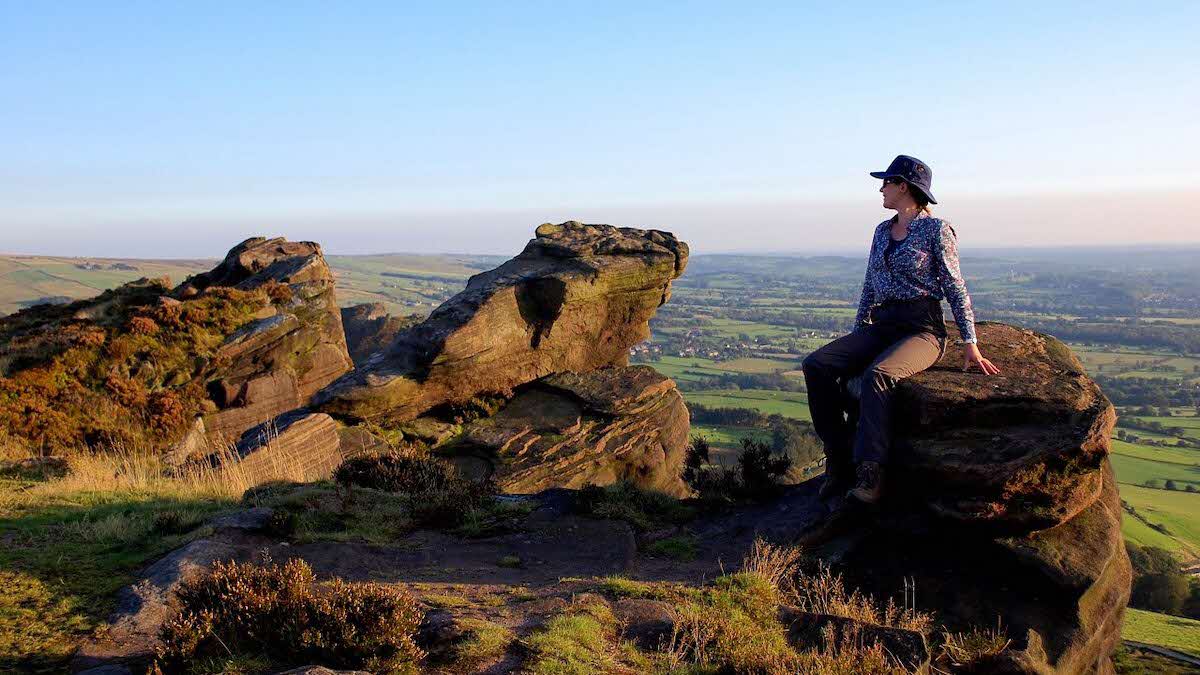 The Roaches by member Fiona Driver
From here it is a short drive into Buxton – where you can sample the spa town's famous water for free at St Ann's Well or enjoy a stately, Bridgerton-style stroll down the sumptuous Crescent, an 18th-century architectural masterpiece designed to turn the East Midlands town into a fashionable resort that would give Bath a run for its money. Visit in July and you can witness the traditional Well Dressing Festival, during which prominent water sources are decorated with pictures made from natural materials. The tradition began in 1840 when water was brought to the Market Place Fountain thanks to the efforts of the Duke of Devonshire's workforce. (Buxton Club Campsite, though not part of this tour, lies to the south-west of the town.)
If the hills are calling, Blackshaw Moor offers plenty of opportunity for serious walkers. An area not to be missed is 'The Roaches' – a rocky ridge that overlooks the town of Leek and Tittesworth Reservoir. It is said that on a clear day Winter Hill in Lancashire and Snowdon in Wales are visible, but the stand-out reason for visiting in my opinion is Doxey Pool. Sitting atop the ridge itself, it comes complete with its own nymph named Jenny Greenteeth – a mythical creature that waits just under the surface, ready to grab children and pull them into the blue...
From Blackshaw Moor, I headed deeper into Derbyshire for a stay at Castleton Club Campsite. The walk into the village itself takes just a few minutes, and once you're there you'll find several cafes, lots of pubs (many dog-friendly) and several gift shops selling 'Blue John'. Also known as Derbyshire Spar, Blue John is a semi-precious mineral cut through with bright purple and yellow bands. Now mined in just two nearby locations – Treak Cliff Cavern and Blue John Cavern – it was once a must-have interior design feature for the most fashionable stately homes. You can see one of the largest Blue John pieces ever made – the Chatsworth Tazza – in the dining room at Chatsworth House.
You can enjoy an hour-long tour at Blue John Cavern – though it is not suitable for everyone as there are 245 steps to negotiate before you reach the inner cave, plus the same number to get out again. Tours and experiences are also available at Treak Cliff Cavern. If that all sounds a bit much, why not browse the jewellery or homewares after enjoying a cup of tea in the Blueberry Café in the village's visitor centre, where you can also discover more about the area and its famous stones.
Last leg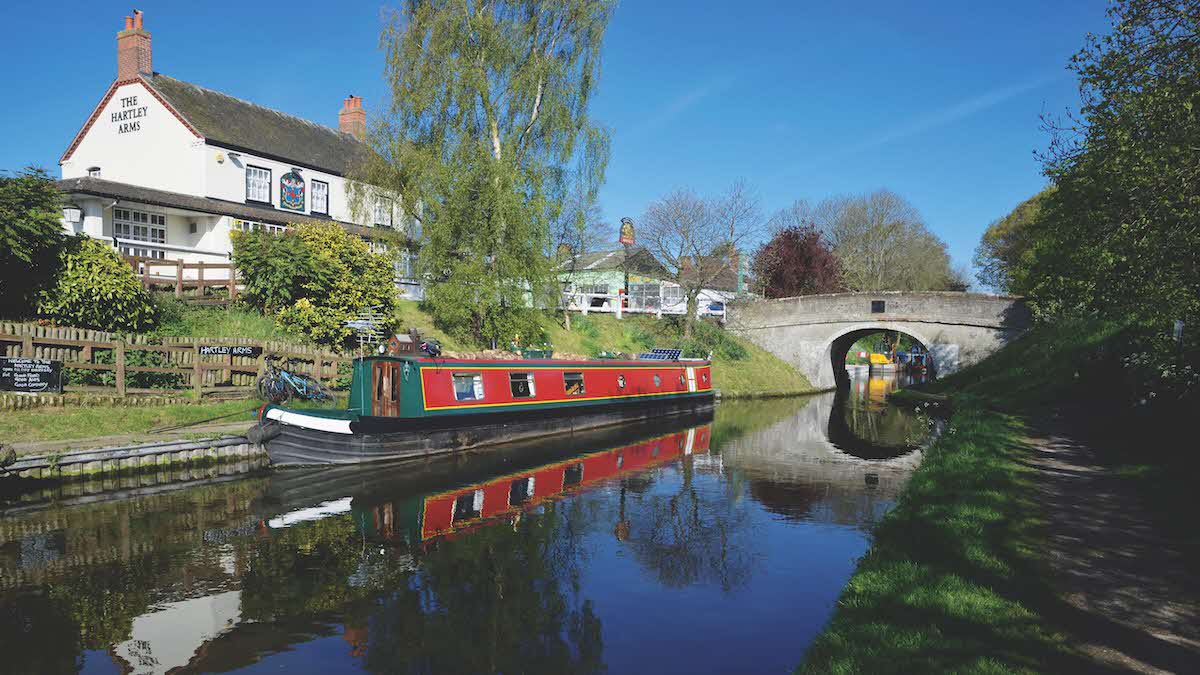 Shropshire Union Canal
Before heading for my final destination, I made a detour to Flagg Hall CL – a truly beautiful spot situated in a picture-perfect Peak District village. Taking in vistas that have remained unchanged for centuries, there was hardly another vehicle on the road as I headed southwards from Castleton. And just as visitors are within touching distance of the racehorses at Uttoxeter, holidaymakers at Flagg Hall have the chance to get up close to the dairy herd as it is led to and from the milking shed on this working farm run by the Mycock family.
The final journey on this tour took me east to Chesterfield and Poolsbrook Country Park Club Campsite. Yet another location with an interesting past, the site is located next to a former colliery. Opened in 1875, at its peak it employed more than 800 men before finally ceasing production in 1988. Nowadays visitors can enjoy access to a country park reclaimed from the spoil heaps, boasting fishing lakes, play areas for children, trails for cycling and horse riding and a cafe.
Not only is the caravan site part of the area's industrial heritage but it is also very much part of the future thanks to a range of eco-friendly systems, including heat pumps and solar panels – it even has its own herb garden. The site also offers direct access to the Trans Pennine Trail, a coast-to-coast route (Southport to Hornsea) that is mostly traffic-free. It can be undertaken in stages on foot or by bike and has many stretches suitable for children or those with limited mobility.
The trail offers the opportunity to discover wonders farther north, but this was the end of our tour. We said farewell to Staffordshire and Derbyshire, reflecting on the hidden gems that we have discovered over a fabulous few days.