A seven-site tour of Hampshire and Dorset
Picture this!
Lee Davey bought his first caravan after researching family holidays in Dorset and Hampshire. Fifteen years later, the region still has so much to offer…
Sunset at East Fleet Farm campsite by member Matt Redgate
Amazingly, some people choose to bypass the UK's central south coast, preferring instead to follow the tourist trail to Devon and Cornwall. But just look at the variety of places of note on offer in Dorset and neighbouring Hampshire – such as the Jurassic Coast, the New Forest and South Downs national parks, buzzing resorts like Weymouth and Bournemouth, as well as the historic maritime cities of Southampton and Portsmouth!
These hot spots do still attract a significant number of holidaymakers during the summer months, but the two counties are ripe for wider exploration. An abundance of picture-postcard villages and Areas of Outstanding Natural Beauty (not forgetting the magnificent Isle of Wight) ensure that time here is time well spent.
Picturing visits to this part of the UK prompted our first caravan purchase some 15 years ago, and the counties remain firm favourites to this day. For this tour we decided to travel west to east, starting at the seaside town of Weymouth and finishing at Hampshire's Hundred Acre Wood, with a detour to the Isle of Wight along the way.
Our journey begins at East Fleet Farm Touring Park, an Affiliated Site on the edge of the Fleet Lagoon, with Chesil Beach lying beyond. This isn't an area for swimming or fishing, although with lots of wildlife around it's perfect for nature lovers, or folk who enjoy walks with spectacular backdrops.
The pitches at this family-favourite are spacious and divided between two fields, with refurbished wash blocks for both. And if you're looking for something decent to eat on site, East Fleet Farm's WhyNot Inn has been rebranded as The Lady of Loretto, boasting indoor and outdoor seating. The seaside town of Weymouth is just three miles away and is understandably popular thanks to its award-winning beach and local amenities. The golden sands attract large numbers during the day, especially if the weather is favourable, while Weymouth Pavilion hosts an impressive array of evening entertainment.
Late afternoon or early evening is a great time to visit, and we enjoyed fish and chips from King Edwards' on The Esplanade (eaten on the sand), followed by dessert from local institution Rossi's Ices. Weymouth is also an excellent place for a family swim; an inflatable kayak accompanies us on most trips, and it has been used many times in Weymouth, particularly if we can grab a space in the nearby Pavilion car park.
Ways to go
Durdle Door by member Steve Woodman
Travelling east through Dorset, we reach Crossways Club Campsite. Set in a disused quarry, the cul-de-sac-style layout works incredibly well, giving the feel of a much smaller site while having all the facilities of a larger one.
Crossways has been another favourite of ours for many years, partly thanks to the abundance of walks and cycle routes nearby – we've often used it for last-minute getaways. It is equidistant between the county town of Dorchester and the 'Jurassic Coast' – a stretch of coastline that is the UK's first wholly natural World Heritage Site, erosion having exposed 185 million years of geological history. Take the time to see the natural coastal arch of Durdle Door, or Lulworth Cove which is famed for its fossils. (Like East Fleet Farm, Crossways can be used as a base for visiting Weymouth.)
If you want to leave the car, camper or motorhome behind, Moreton station is close to the site and trains run west to Dorchester and east to Wareham. Details of walks and cycles near the site can be found in the information room and, should you require a suitable spot from which to plan such activities, The Frampton Arms is a short walk away. But the site itself is also a lovely place in which to relax – deer are frequent visitors, with the woodland and nearby quarry offering convenient refuge.
Continuing east, and skirting Bournemouth, we cross into Hampshire, on the way to the Club's New Forest Centenary campsite. As you'd expect of a New Forest location, there are even more walking and cycle routes nearby, and it's possible to reach the outer edges of the woodland if you have the time and energy.
This area is rich in history. William the Conqueror established the region as a hunting ground in 1079, and the system he set-up to manage and protect it is still in place today. The 'street' names at the site itself also hint at past events. Visitors may pass by unaware of its significance, but a portion of the campsite was once part of a runway used during the Second World War. If you turn left out of the main gate and turn left again, you'll see an ageing concrete section that stretches into the distance. During the war, Spitfires, Hurricanes and B-24 Liberators would have roared through, hoping to return later that day.
Forest fun
New Forest by member Andrew Pattenden
In its modern-day guise, the site is incredibly popular with families, offering a large play area, play park, and seemingly limitless things to do nearby. Perhaps you could try the night-time drive-in movie venue up the road, or venture farther afield to the quay at Lymington or attractions of Beaulieu.
Although we didn't visit on this occasion, Black Knowl Club Campsite is worthy of mention. Also located within the New Forest, it's a popular venue, and we've enjoyed visiting many times, enjoying footpaths and cycle routes that extend far into the forest beyond the various river crossings.
On the Dorset and Hampshire border, at the edge of the New Forest, is Foxhill Farm CL. It is located away from the major routes but close enough to the B3078 to make the journey as stress-free as possible. The site offers hardstanding pitches, electric and water hook-ups, and grey waste drainage. There's also a heated shower block, wetrooms, and a washing machine and tumble dryer.
Many years ago, while working for a local newspaper, I used to cover this part of the UK and, consequently, I know it pretty well. The pretty villages remain unchanged, and the warm welcomes received in pubs, restaurants, and cafes are a constant despite the passing of time. One place that's new to me – and one that I highly recommend – is New Forest Water Park. After spending time on the cable wakeboard I discovered muscles I didn't know existed, while a 'warm down' on the aqua park inflatables zapped any remaining energy. An excellent, if exhausting, time was had by all.
Isle of wonder
Isle Of White Steam Railway
The port town of Lymington, on the southern fringes of the New Forest, has a Wightlink ferry terminal, from which there are regular crossings to the Isle of Wight. It can be an expensive crossing, especially when towing a caravan, but savings can be made by booking through the
Club's travel service. In case you didn't know, the Club books many ferry crossings on behalf of members, with combined site and ferry bookings offering great value (see camc.com/iowoffer for details).
I hadn't visited Southland Club Campsite on the Isle of Wight for several years, but, on arrival, it was like bumping into an old friend. It's a cliché, but true – the island has a different feel from the mainland, and although it's impossible to pinpoint exactly why, it's this feeling that keeps us returning year after year. Perhaps it's because the ferry crossing gives the trip an 'overseas' feel, but one which doesn't require passports, currency exchanges or struggles with another language.
The touring pitches here are divided into several sections, and a handful of safari tents (provided under the Club's Experience Freedom banner) allows folks without a caravan, camper, or motorhome to stay as well.
During our visit, Europe's largest scooter rally was in full flow, and many safari tents had gleaming two-wheeled machines parked outside. The site team couldn't have been friendlier – and should you be stuck for ideas, their knowledge of the island's attractions knows no equal. Regardless, with Amazon World Zoo just up the road and the resorts of Shanklin and Sandown nearby, you shouldn't struggle for things to do.
Shanklin has a good selection of eateries on the front and along the High Street, and days can be whiled away on the beach or at the adventure golf course. Similar can be said of Sandown, where there's also a pier, go-kart track and the Dinosaur Isle museum. If you are feeling fit and energetic it's all walkable from the campsite.
If travelling by bike, the traffic-free Red Squirrel Trail can be picked up from Southland. If you'd like to explore by bus, there is a stop just half a mile away. In the past I have travelled around the island on foot (walking and running), by car, on my motorcycle and by steam train.... next time I'll take the bus to complete the set. I'm told the island's bus network is excellent, with Newport serving as a central hub from which to reach all destinations.
Staying on the Isle of Wight, we headed west for Meadow Lakes Certificated Location. This adults-only, dog-free site is near trout and coarse fishing lakes (tuition, tackle hire and bait are available) with views towards Tennyson Down and The Needles, the famed row of chalk stacks off the coast. This is another fantastic site for nature lovers – you could see swans, little grebes, tufted ducks and Canada geese, while sightings in the wood next door include buzzards, green and spotted woodpeckers, kestrels, long tailed tits and barn owls.
The Isle of Wight has been a firm favourite in my family for many years, and I could fill these pages just by talking about the island alone. It's easy to get around – nowhere is more than an hour away – and there's so much to see and do. I'll finish with a quote from the site staff at Southland: "If you visit a large town in Cornwall or somewhere similar, everyone tends to congregate in the same place. People who visit the Isle of Wight have the whole island to explore."
A look at rook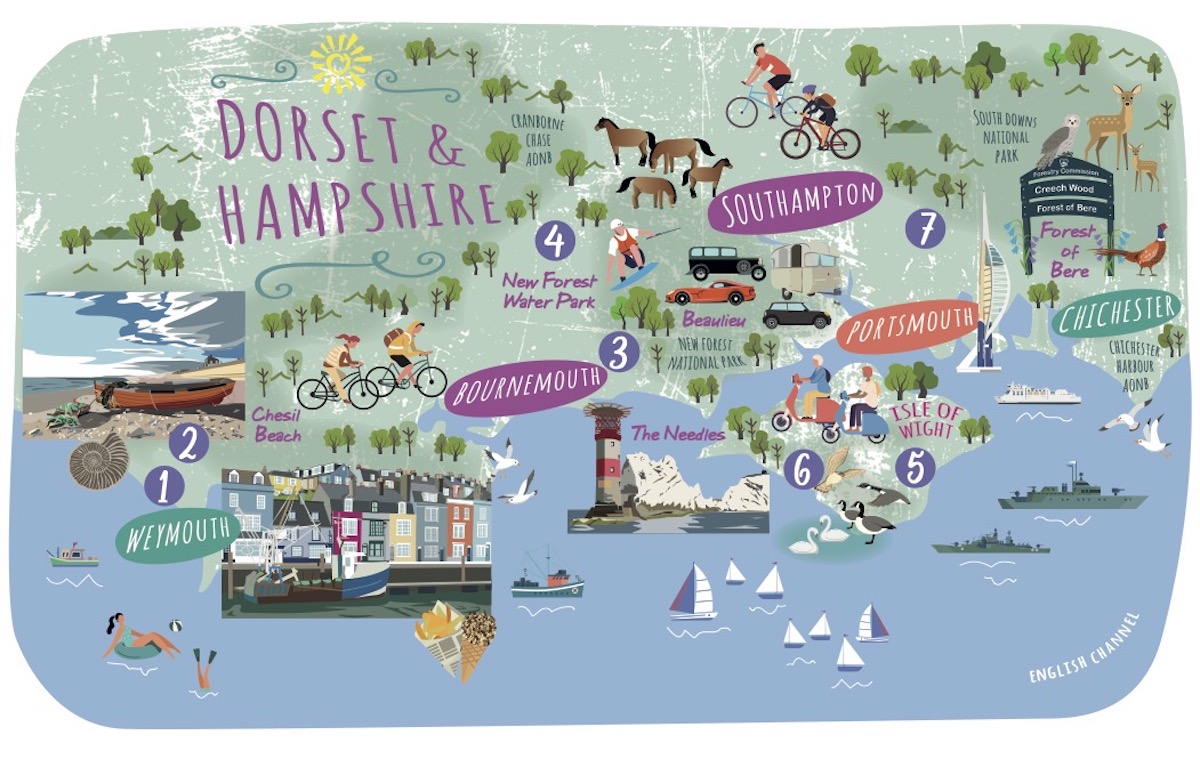 After our return ferry journey, we set off for our final destination – Rookesbury Park Club Campsite in Hampshire.
Perched on the edge of woodland and accessed via a long driveway, Rookesbury Park's location is quiet, with arterial routes just a few miles away. The park that gives the site its name gives you access to the Forest of Bere, home to more owls and buzzards, as well as red kites, the ever-popular pheasants and the occasional deer. No wonder many members choose the campsite because of the furry and feathered neighbours.
Once you have set up and wound down, it's time to explore the surrounding area. The M27 is just six miles away, and can speed you to Southampton and Portsmouth, while the M3 takes you to Winchester and its incredible cathedral or the A27 east links with Chichester and beyond.
Head north-east from Rookesbury Park, however, and you'll move farther into the South Downs National Park. This magnificent region has proven quite the attraction for some 5,000 years – the earliest visitors made their homes on the highest points! Today, it's a mecca for walkers and cyclists, with the occasional classic car or motorcycle rally added for good measure. Should the inclines of the national park trouble younger or older members, Portsmouth's Historic Dockyard and Marwell Zoo proved popular among people I spoke to at Rookesbury Park.
If you're planning to visit the south of England during 2023, remember that Dorset and Hampshire have much to offer, and if you choose your destinations wisely you can even find peace and tranquillity during peak periods. We will be back soon – there is always more to discover.