Strasbourg's Christmas markets
The most wonderful time of the year
Heidi Fuller-Love gets in the festive spirit with a visit to one of Europe's biggest and best Christmas markets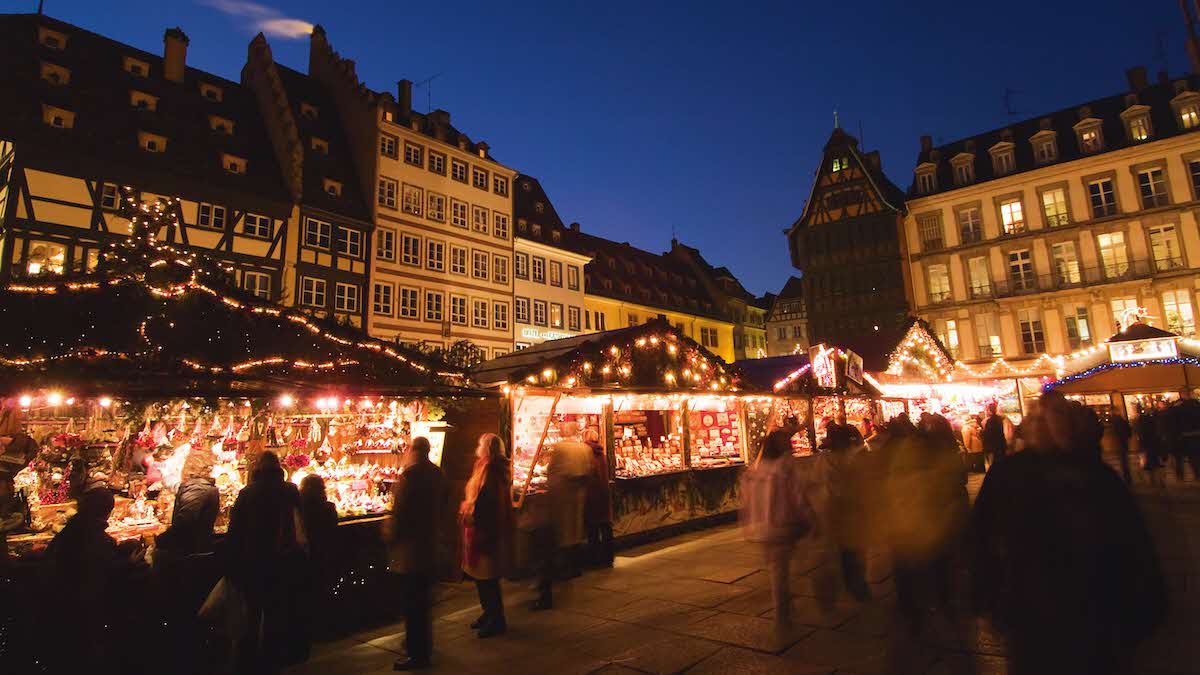 Strasbourg is known as the 'Capital of Christmas' - Photo credit: Alamy
Having safely negotiated Paris' ring road in early morning rush hour traffic, it was a relief to get out on the open road to Reims. This lovely city is the unofficial capital of the Champagne wine-growing region in north-eastern France, so we couldn't resist stopping off to visit one of the celebrated champagne houses with their mushroom-scented crayères (chalk pits dug by the Romans) where the world's best bubbly is stored.
Weighed down with bottles of Ruinart champagne, we paid a visit to Reims' magnificent Gothic cathedral, with its windows designed by the artist Marc Chagall. From here it was an easy stroll to the Boulingrin market, housed in a glorious vaulted building, where we bought rillettes d'oie – tender goose pate – as well as meltingly soft cow's milk Chaource cheese and a crusty baguette. Leaving Reims behind, we stopped off at Der-Chantecoq, France's largest artificial lake, to enjoy our picnic.
This area is renowned for its magnificent wood-built 15th-century chapels so, after our sandwiches, we drove a few miles along the well-signposted Champagne Half-Timbered Church Trail to see some of these architectural gems, before heading for our first campsite.
Just grand
It was dusk by the time we pulled into Camping de Strasbourg; the sun was already low on the horizon, setting a chilly lemon-coloured glow over the river that runs alongside this well-situated site. It is only a 30-minute walk – or a five-minute bus ride – from the centre of Strasbourg. The city is capital of both Alsace and Grand Est, the new French region created in 1996 that comprises Alsace, Champagne-Ardenne and Lorraine.
Alsace is famed for its Christmas markets and most of the area's main towns and villages have their own bazaars in December, but Strasbourg is home to France's oldest winter market. Dating back to 1570, this month-long event (it runs between 24 November and 24 December) has earned Strasbourg the title 'Capital of Christmas' and draws around two million visitors a year.
The following evening we took a bus into town. It was dark by the time we arrived and the air was crisp and cold. Crossing the canal, we headed for Grande-Île, Strasbourg's UNESCO World Heritage-listed old town, where streets lined with tiny wooden chalets thronged with life.
The air was full of festive odours – pine trees, gingerbread and spicy local cake (pain d'épices) – and all around us the shop windows, church steeples and house balconies were strung with lights. It was magical, but it was also a little confusing. Luckily we'd come prepared with a small map of Strasbourg's 15 different Christmas markets.
One of the largest is the Christkindelsmärik near the Hotel de Ville. Buying plastic beakers of mulled wine to warm our hands, we strolled through the narrow streets, browsing stands piled high with small painted statues of Jesus, Mary and other biblical figures that would soon belong to the crèches – the nativity scenes that are found beneath every French Christmas tree.
Towering tree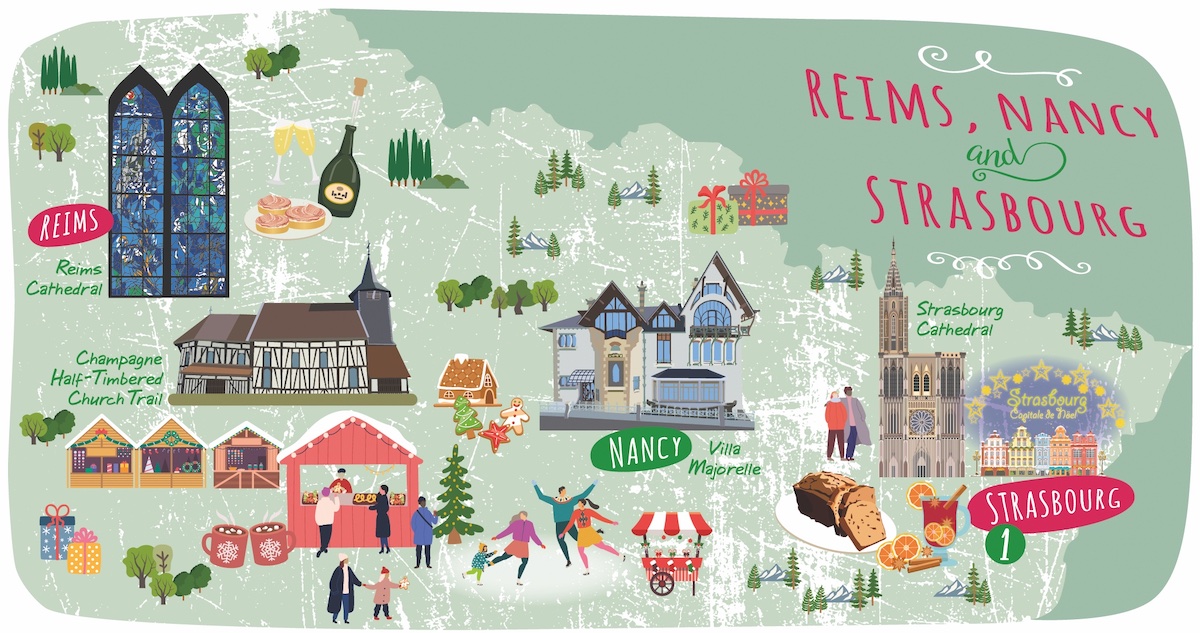 The second largest market clusters around a giant Christmas tree in Place Kléber – it has a minimum height of 30m and weighs between seven and nine tonnes! We browsed stalls selling tinsel, tree decorations, handcrafted wooden goods and beeswax candles.
Wandering over to the 15th-century sandstone cathedral, we bought mugs of hot chocolate and hunks of baguette flambée – bacon, cream and onions spread on a baguette and topped with Gruyère cheese – and enjoyed this tasty local treat while watching children whiz round and round on an old-fashioned carousel.
The following day we returned to Strasbourg in daylight, where we once again headed for the cathedral. We'd timed our visit for noon when miniature figures of Christ and his Apostles pop out of the cathedral's gloriously gilded astronomical clock.
Beneath louring, snow-filled clouds we climbed to the top of the cathedral's 468ft spire (this was the world's tallest building from 1647 to 1874 and it remains the sixth-tallest church in the world) to marvel at spectacular views over the surrounding countryside. Chilled to the bone, we hurried down again and then passed the stone arches and timbered facade of the 13th-century Cerf pharmacy en route to the Petite France district.
Here, among cobblestone streets lined with half-timbered houses and criss-crossed with glittering canals, we found a winstub, one of the region's pub-like bars where they serve decent wine along with hearty, good-value food.
Sat at a table overlooking the canal we enjoyed choucroute garnie (sauerkraut and sausages) and thick slices of bacon and onion pie (flammekueche), before staggering back to our van to sip a glass of bubbly as the sun set.
Festive wonderland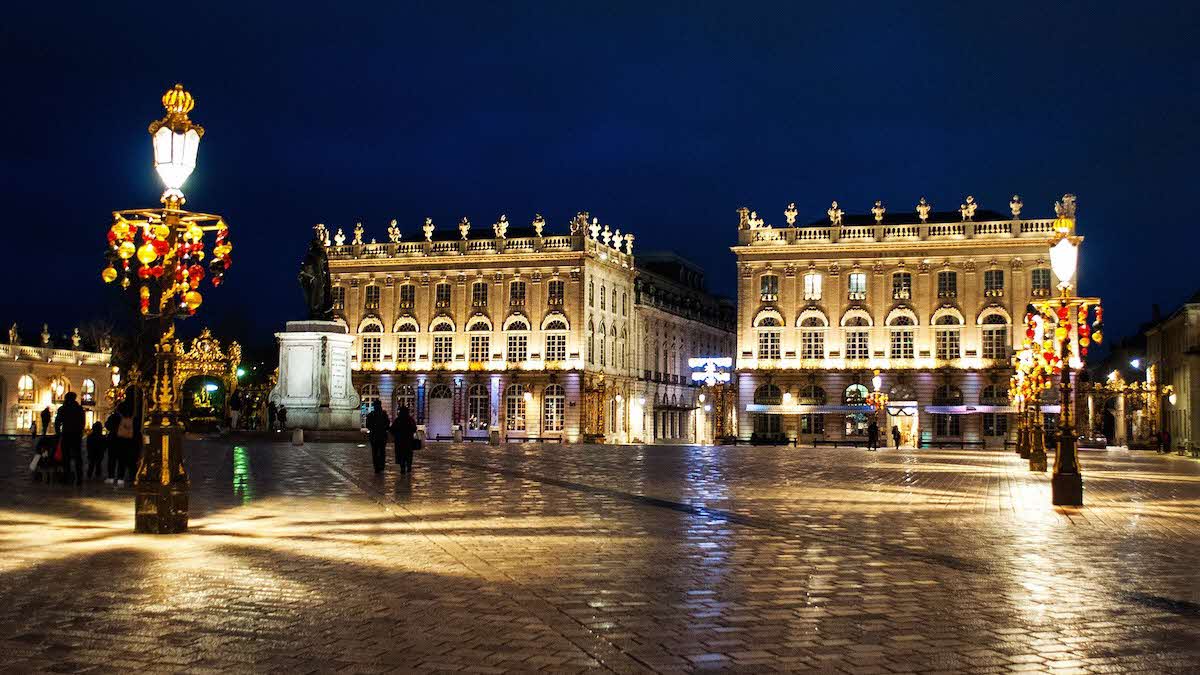 Nancy Christmas market – Photo credit: Tourist Office Alsace
An hour-and-a-half's drive west of Strasbourg, Nancy is a fascinating city that is renowned for its UNESCO-listed 18th-century architecture and Art Nouveau treasures like the Villa Majorelle, a house-turned-museum dedicated to the life and times of furniture designer Louis Majorelle.
Nancy is also famed for its Christmas market, which runs from mid-November to early January, and it was in full swing when we arrived, with the big wheel spinning on Place Stanislas, a children's funfair livening up Place de la Carrière and ice skating on Place Simone Veil. Snacking on local specialities, including Stanislas' Baba, a traditional Polish sponge cake drenched in sweet Tokaji wine, we lingered until evening to watch the city's mesmerising Christmas sound and light show. It was the perfect end to a trip full of festive magic.
Three more festive market destinations
Colmar, France
Nine separate markets mean you are sure to find the perfect gift in Colmar while strolling through the quaint streets. The majority of the markets run from 24 November to 29 December.
Stay: Camping de I'lll Colmar (open until 2 Jan 2023)
Valkenberg, Netherlands
The marlstone corridors of the Gemeentegrot (caves) are transformed into Europe's largest underground Christmas market between 18 November and 30 December (tickets must be bought online in advance), while above ground Valkenburg has Christmas events and stalls running from 18 November to 8 January.
Stay: Camping Valkenberg-Maastricht (Club ref: H24, open until 31 December 2023)
Potsdam, Germany
The markets here celebrate the city's diverse heritage, with themes including Bohemian, Polish and Dutch. They are held during November and December with the main Blauer Lichterglanz (blue light shine) market in the Old Town from 21 November to 29 December.
Stay: Sanssouci zu Potsdam (Club ref: G16, open all year)