The cuisine and culture of western Portugal
A tale of four cities
Heidi Fuller-Love uncovers cultural treats and more in western Portugal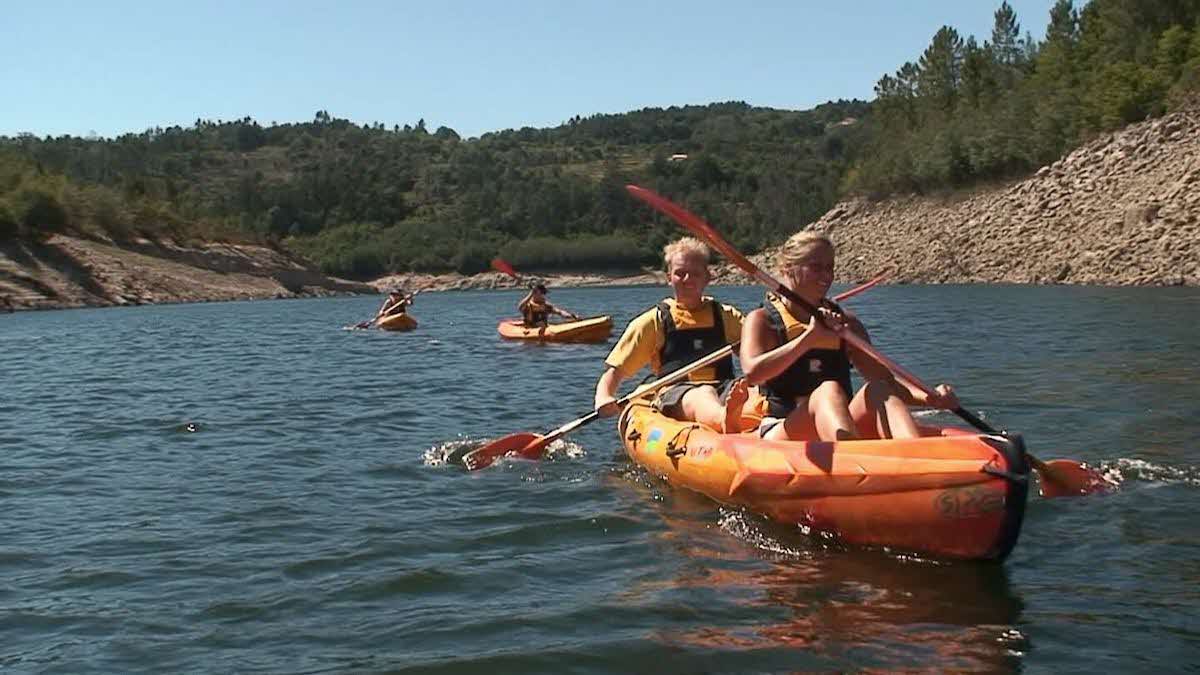 Parque Cerdeira
We'd visited lush and lovely Portugal – famed for fine wine, fabulous beaches and foot-stomping 'fado' – in our van many times before, without ever spending enough time on the west coast. So, on a hot summer's day, we wiggled along the Spanish coast via Vigo and hopped over the border to the Parque Cerdeira campsite.
With its shaded pitches and immaculate lawns surrounding several pools, this site in Peneda-Gerês – the 700km2 UNESCO Biosphere reserve which is Portugal's only national park – is a nature lover's dream, with lots of hiking trails and rolling rivers for fishing and canoeing nearby.
On our first day, we hiked along way-marked trails from the campsite to enjoy spectacular views of the surrounding mountains – home to wolves, eagles and rare plants, including the deep blue Gerês lily, which only grows on these rugged slopes.
The following morning we made a beeline for Braga. We imagined this city – considered to be Portugal's religious centre – would be rather austere, but it's home to several universities, and we passed throngs of young people laughing while sitting at café terraces as we strolled through paved streets. Our destination was the city's twin-towered, 12th century cathedral – a mix of Baroque, Gothic, Manueline, Moorish and Romanesque styles.
After admiring the azulejo tile-lined Capela de São Geraldo ('Chapel of St Gerald') and gaping at the mummified remains of Archbishop D Lourenço Vicente, we climbed aboard a bus to visit the iconic Sanctuary of Bom Jesus do Monte, famed for its wedding cake-style lattice of staircases and panoramic views of Braga.
A return to the city centre gave us the chance to sample the (surprisingly tasty) caramel and dry-cured ham pudding, Pudim Abade de Priscos, at the terrace of historic Café A Brasileira, which opened in 1907.
Porto call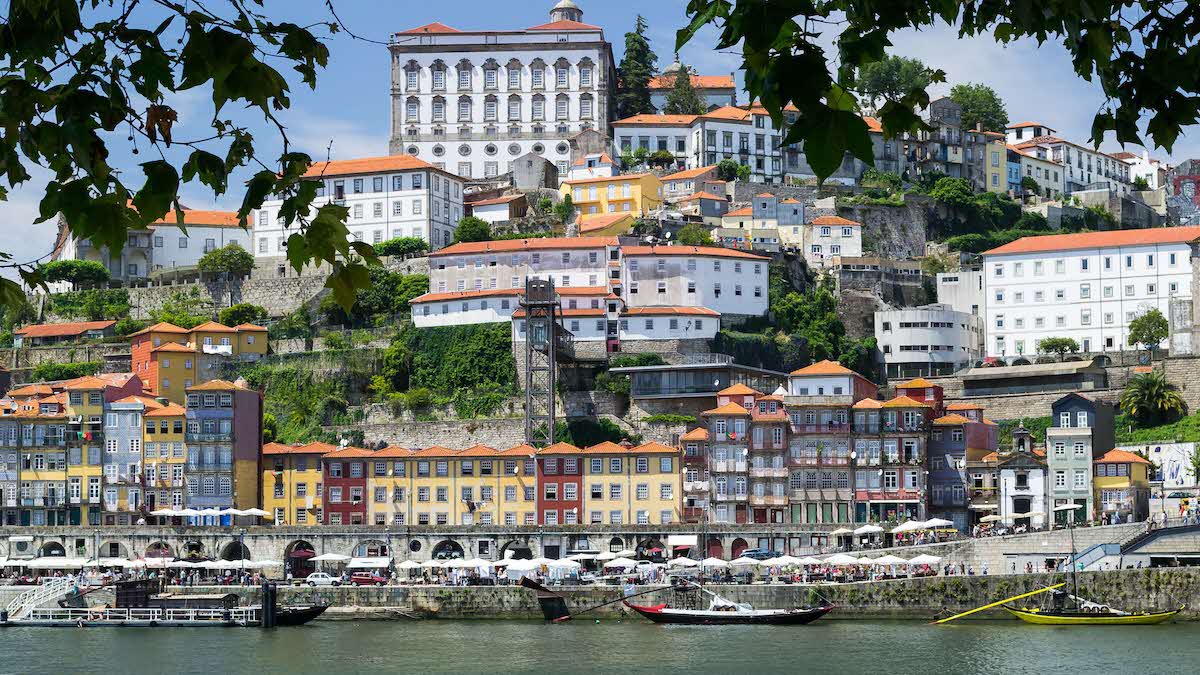 Porto – Nath Segato/Visit Portugal
Parque Cerdeira is an easy two-hour drive from Porto (an alternative option, Angeiras, is closer). Pronounced 'Portu' by locals – and often called 'Oporto' by foreign visitors – Portugal's second largest city straddles the Douro River and features a UNESCO-classed centre, which is one of Europe's oldest. Most people know Porto, however, as the place where sweet fortified port wine was invented.
Hopping onto one of the city's beautifully refurbished century-old trams (a day pass costs €10), we rumbled along to the fascinating hotchpotch of vintage vehicles on display at the Museu do Carro Eléctrico tram museum. Another tram took us to more iconic sights, including the lovely tile-covered interior of the Estação São Bento railway station. From here it was an easy stroll through leafy streets to Livraria Lello – a famously beautiful Art Nouveau bookstore.
By now we were feeling peckish, so we headed back towards the Douro river, browsing the shops housed in 17th and 18th century buildings along the pedestrianised Rua das Flores. After searching the winding cobbled streets of Ribeira, we found family-owned restaurant Escondidinho do Barredo.
This cosy place appears basic, with only one menu shared between tables – but the food is superb. We sipped on crisp white wine from a jug, served with succulent tapas-style snacks called petiscos (cod fritters; fried salt cod in batter; pork blood soup; and fish roe swimming in green sauce).
After our long, lazy lunch we walked off the calories by crossing the double-decked Dom Luis I Bridge to the south bank of the river, noting the rabelos, boats that used to transport port made in the celebrated cellars of Vila Nova de Gaia.
Port has been made by adding distilled grape spirit to wine since the 17th century (only fortified wines produced in the surrounding Douro Valley can actually be labelled as 'port'). Vila Nova de Gaia boasts more than 60 cellars, but as we'd visited several before, we made for the new World Of Wine. This spectacular grape-themed experience includes seven museums, restaurants and shops, all housed in a line of refurbished port warehouses.
Portugal's Venice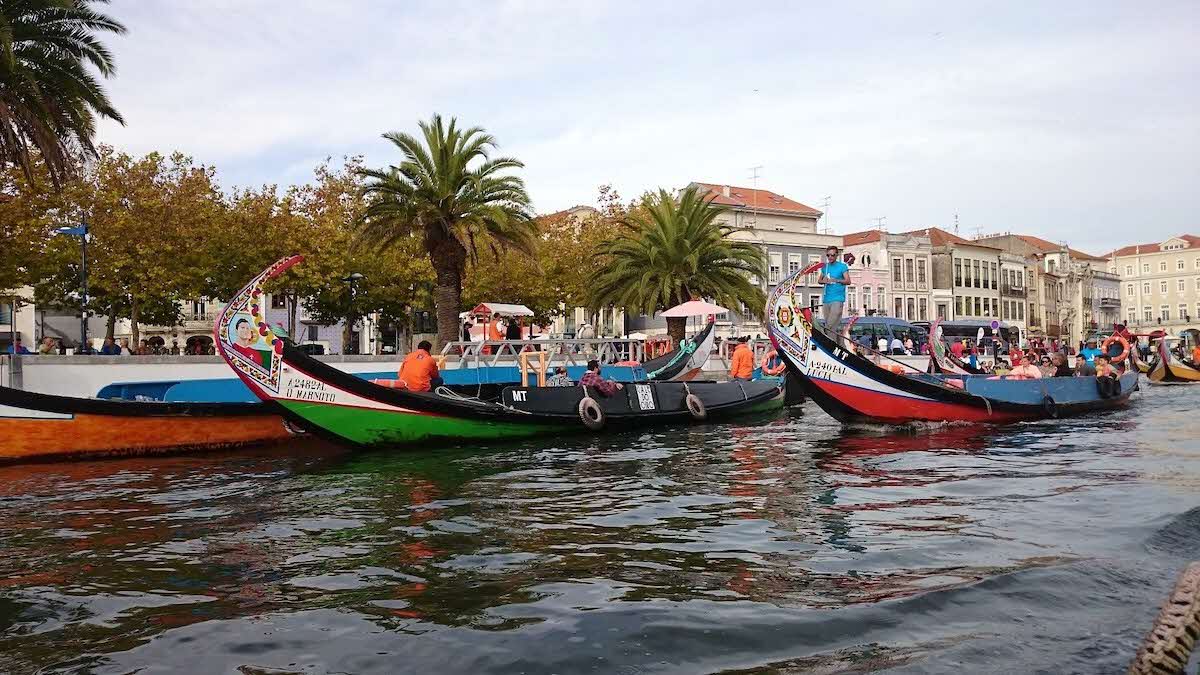 Aveiro – Visit Portugal
Reluctantly, we left our lovely pitch and followed the busy road to Aveiro, south of Porto. Here, winding waterways, ornate architecture and bright-painted moliceiros – boats that were once used for harvesting seaweed – combine to create Portugal's own version of Venice. The peaceful city is flat and has a free bike scheme, so cycling is the perfect way to get around. We followed an Art Nouveau route map from the local tourist office, seeking out the beautiful, ornate buildings that were (mostly) built by locals who'd made their fortunes in Brazil.
Hopping on one of the moliceiros, we headed out to see the glistening flats where salt has been produced for centuries, before making our way to our second campsite – the lovely Parque de Campismo Orbitur Guincho (or simply 'Guincho'). Just half an hour's drive from the capital, Lisbon, it is surrounded by sand dunes and sweet scented parasol pines, overlooking one of the country's most beautiful coastlines.
While staying for three days we visited the fairytale São Jorge Castle and the stocky 16th century Belém Tower, and took selfies on the city's magnificent Ponte 25 de Abril, built in 1966 by the American Bridge Company as a copy of San Francisco's Golden Gate. Being back in Portugal's buzzing capital after visiting some of this country's lesser-known sites was the perfect way to end our trip.
If Heidi has inspired you to visit Portugal, visit camc.com/overseas to book these campsites and more.