Zip-wire thrills in Snowdonia
Zip-wire thrills in Snowdonia
Fancy hurtling through the air at speeds in excess of 100mph? Jonathan Manning enjoys an experience he will never forget by riding the fastest zip-wire in the world in Snowdonia.
Tri, dau, un; three, two, one; tres, dos, uno... whatever the language, there's a uniform response – apprehension followed by alarm and adrenaline. Faced with extreme terror, human beings react in one of two ways; fight or take flight. Suspended hundreds of feet above a slate quarry in Snowdonia, flight is the only option. In fact, the 55 seconds that are to come are as close to flying without an engine as I'm ever likely to get, and as the countdown starts I'm beginning to rue the gung-ho attitude that has now left me silent and quaking in a harness hitched to a 1.5km-long zip-wire.
How did it come to this? The short answer is that all the best holidays have a defining memory that comes to represent the entire break. Three of our family holidays, for example, are catalogued as 'the one with the music festival', 'the one where the dolphins swam next to the boat', and, er, 'the one where I scraped the car and swore' (much to the children's delight).
No disrespect, as footballers like to say in their post-match interviews before belittling the opposition, but our regular tours to stately homes and national parks have never made a deposit in the family memory bank, with one eventually blurring into the next.
All of which is a rambling preamble to explain why I'm stood, ashen-faced, at the top of Penrhyn Quarry near Bethesda in North Wales. As my children have grown older, my desire to create shared memories has grown stronger. So the prospect of us flying, side-by-side, down the fastest zip-wire in the world seemed like a sure-fire winner. Except – and it's a rather troubling exception – none of them cares to join me. My eldest decided that, with the pubs reopening, he'd rather be back at university; my daughter says thrill-seeking activities make her feel sick; and my younger, theme park-loving son reckons the zip-wire is a step too far beyond Alton Towers.
Undeterred, I sign the waiver for Velocity 2, ditching my specs to avoid the small print, grab a pair of goggles and a helmet, and raise my arms in surrender as an instructor straps me into a harness-cum-straitjacket. The instructor suggests there may be an element of skill in what follows, but gravity does all the work.
The zip-wire's vital statistics say it all. It stretches for 1.55km and descents at up to 100mph are possible. This is the fastest zip-line in the world. The maximum weight of 120kg (just under 19 stone) brings back memories of a school abseiling trip, when an instructor told us the ropes were strong enough to hold a Ford Escort and a packet of mints. Needless to say, we all emptied our pockets of confectionery.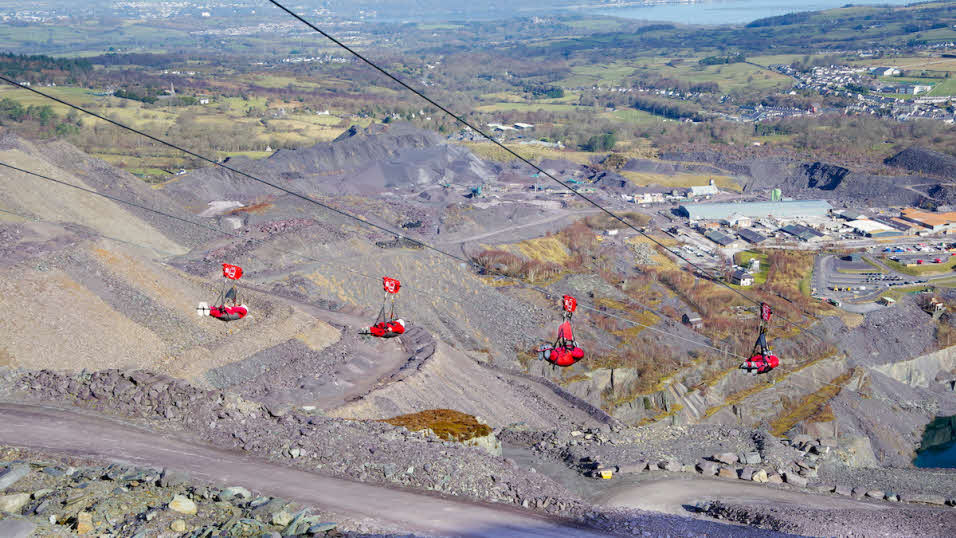 Standing by the visitor centre, I watch people plummet along two different zip-lines. I had expected crowds of gap year students, but the ages of most participants range from late-20s to 50s. First up for everyone is the baby line, about 500m long and a chance to get a feel for the process and excitement. Reassuringly, safety is top of the agenda; our harnesses are inspected by an instructor, and once we have been attached to the zip-wire a second instructor double-checks the fastenings. Suddenly we're hanging face down and prone, peering nervously at the turquoise lagoon below, before a chorus of "Tri, dau, un!" (Welsh for "Three, two, one!") sets us on our way.
The initial acceleration is unsettling, the slate cliff disappearing in an instant as we 'fly' four abreast across Penrhyn Quarry. There's barely a chance to take it all in before we slam into the brakes at the far end, like fighter jets hooking onto the arresting gear on the flight deck of an aircraft carrier. And breathe... I realise I've been holding my breath since the ride started.
Taster session over, it's time to clamber on board a rugged red truck for a slow chug to the top of the mountain. The seats are wooden and hard, the frame appears to be made of scaffolding poles, and clouds of dust billow everywhere. It takes about 15 minutes for the truck to rumble to the top of the quarry, where a Bond-like launchpad delivers outstanding views to Anglesey. It's an obvious spot for a selfie, even if the image feels like recording a last will and testament.
The queue advances distressingly quickly, and within a few minutes I have a video camera clipped to my helmet to record my ordeal in HD. Seconds later I'm suspended, gazing down at a nail-biting drop.
Tri, dau, un... four of us hurtle along the wire. Initial terror transforms into sheer exhilaration as I zoom over the quarry, my screams and shouts muffled by the deafening noise in my ears, before the arrester brakes me from 100mph to zero in just a few metres. It takes about 55 seconds to cover the distance, but it feels more like 10. Unclipped from the wire, I find my hands trembling, my knees wobbling and my pulse thumping.
At £75 for the ride (£99 at weekends) Velocity 2 is not a cheap thrill, but it is both magnificent and unforgettable. What's more, I now have a defining memory for this holiday, which from now on will be known as 'the one where the children chickened out'!