Gold star: an interview with paracanoeist Emma Wiggs MBE
Gold star: an interview with paracanoeist Emma Wiggs MBE
We catch up with Paralympic double gold-medal winning canoeist Emma Wiggs MBE
You recently stayed in our Experience Freedom accommodation – could you tell us how you found it?
Yes – we went to Cayton Village and tried out one of the universally accessible pods there. We were blown away to be honest. As a person with a disability, one of my biggest sadnesses has been the loss of freedom in the outdoors. I can get into the outdoors – but it's not as easy. I can't just go for a hike at the weekend over the hills. We have done camping but camping in a wheelchair is slightly more challenging… So to be able to go somewhere like Cayton where there was an accessible pod (which first and foremost didn't 'look accessible' which I think can be a bit of a bugbear for people with a disability) was amazing. I love the concept of it being 'universally accessible'. It's not saying 'this is for people with disabilities', [it's saying] this is for anybody. It was just brilliant. Cayton is near an incredible beach that my father-in-law had told us about. I love the beach and the sea but I've not been on it for 20 years because sand and a wheelchair just doesn't work! But this beach was really hard at low tide. It was incredible. It made me cry – it blew my mind to be on a beach walking up and down for an hour with the dog. It was more than just a weekend away in a lovely pod.
Do you have plans to visit any more of our EF sites?
Yes – Troutbeck Head in the Lake District, which has UA (universally accessible) accommodation. I'm hopefully going to get some dates sorted – I have to negotiate with my coach but we do get a weekend off every now and again!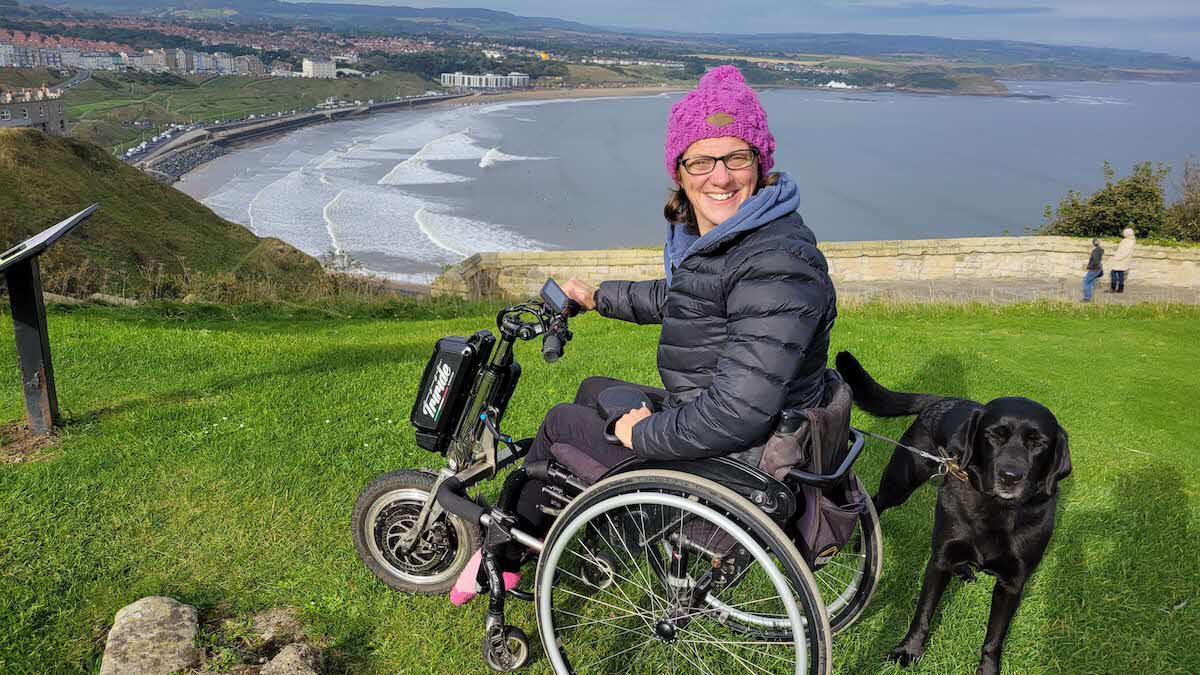 Didn't you actually start your Paralympic career in sitting volleyball?
To give you a bit of context, I was able-bodied until I was 18. My life really changed when I was in Australia on a gap year [when I contracted a virus]. I guess I have been in love with the outdoors for my whole life because my gap year was focused on 'how can I be outside somewhere beautiful?' Australia ticked the box. Life presents moments, doesn't it, where you have to face a challenge or a choice. And my choice was not to let [my disability] limit me and still try to do the things I wanted to do. And then I found Paralympic sport, and again, in a moment, it changed my life in a more positive way. Before London 2012 they were looking for people that might have had disabilities and sporting talent but hadn't worked out [that they had the potential to represent the country]. So I went along to this day. Honestly, I only went to keep my brother and my friend quiet because they were both hassling me to go. It turned out that I joined the sitting volleyball team. We basically had two-and-a-half years to try and get to a standard where we could compete at London 2012. It was an amazing experience – to go to a home Paralympic Games. There was a real momentum shift in how people perceived people with disabilities and how they perceived Paralympic sport.
How did the canoeing come about?
To get to the Games was an amazing opportunity but I guess I wanted to see whether I had anything more to give. A couple of sports approached me after the games [rowing, triathlon and canoeing] and it just happened that a windy day in Nottingham came up first. I got in a canoe and just fell in love with it immediately – the freedom of being on the water, moving fast across the water without a wheelchair, against the elements. The coaching staff sat me down and said, 'We think you could be a world champion and you could go to Rio and win gold.' I thought, 'They're just being nice because I'm in a wheelchair'. That's what people do! But it turned out that they weren't. They set a programme and I followed it and we've ended up here. We won the World Championships in the August of that first year and we did that every year before winning the [Paralympic] gold in the KL2 [kayak] in Rio in 2016.
What inspired you to keep going?
The first thing that people ask you when you cross the line is, 'Are you going to retire?' And I was like, 'No!' I knew I could make the boat faster and there was also the chance of the other boat – the canoe [Va'a] – being put in for Tokyo. [Wiggs won World Championship titles in this boat in 2018 and 2019.] I just thought, 'I'm not done yet. I'm not as fast as I think I can go, and this is an incredible thing to call a job.' I made my life twice as hard by trying to do two boats but we got there in the end [Wiggs was to claim a silver and a gold at the Paralympics in Japan in 2021].
Emma Wiggs MBE at the 2021 'Caravanning in the Sky' event, London
What did it feel like to be made an MBE in 2017?
Amazing. I can still remember getting the letter. I came home from training – in the November I think it was – and I was freezing and tired and there was this letter on the doormat and I thought 'Oh no – I've got a speeding fine.' I opened it and it was an MBE. It is so overwhelming to think that something I feel so lucky to do can have an impact on other people to that sort of degree. I think that's an incredible privilege.
Are you hoping to compete in the next Paralympics in Paris?
Yes, that's the plan. Obviously I have to go through selection and all the rest of it and I have agreed with my wife that we will take it a year at a time. But Paris is only three years away. It's a case of staying fit and staying healthy. As long as I can make the boats go faster – that may not be fast enough to win gold medals – or any medals. The sport is progressing at such a rate - young athletes are coming through (my team-mate Charlotte [Henshaw] came through and got the gold in the kayak [in Tokyo])… So who knows? But for me, at the grand old age of 42, I've realised it's about doing something that makes you proud and doing it to the best of your ability.