Canoeing in Northamptonshire
Canoeing in Northamptonshire
Jonathan Manning enjoys a paddle along the River Nene, where each meander reveals a new feast for the senses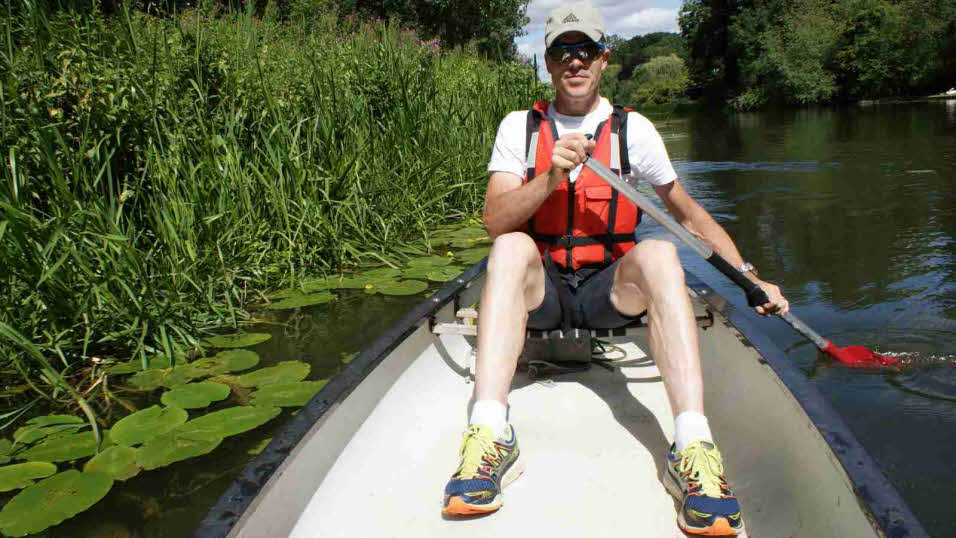 Years ago, waiting for a dentist appointment, I opened a well-thumbed copy of National Geographic and saw a photograph of a canoe gliding along the River Yukon in Canada. Rays of sunshine pierced powder puffs of mist above a spruce forest. Snow dazzled on the mountains beyond. In the shallows a grizzly bear fished for salmon. It was an image that absolutely captured my imagination – the space, the serenity and the idea of being completely immersed in nature.
That same sense of wonder fills me as I paddle around a meander of the River Nene in Northamptonshire. I've set off from the market town of Oundle, and while there are no grizzlies, conifers or snow-capped peaks beyond, there are enormous willows ash trees, regattas of swans and the occasional splashes of fish breaking the water's surface. More importantly, there's the same overwhelming sense of peace.
The open-decked Canadian canoe that I've hired feels as reassuringly stable as a rowing boat, so I have no concerns about rolling underwater for a mouthful of duckweed. Perched on a bench in the bow, my daughter paddles to the right of the canoe, while I'm sat in the stern, paddling to the left. We're not synchronised in either timing nor power, so we advance in zigzag fashion, surprised at how the slightest gust of wind or hint of an eddy redirects us into the reeds or midstream.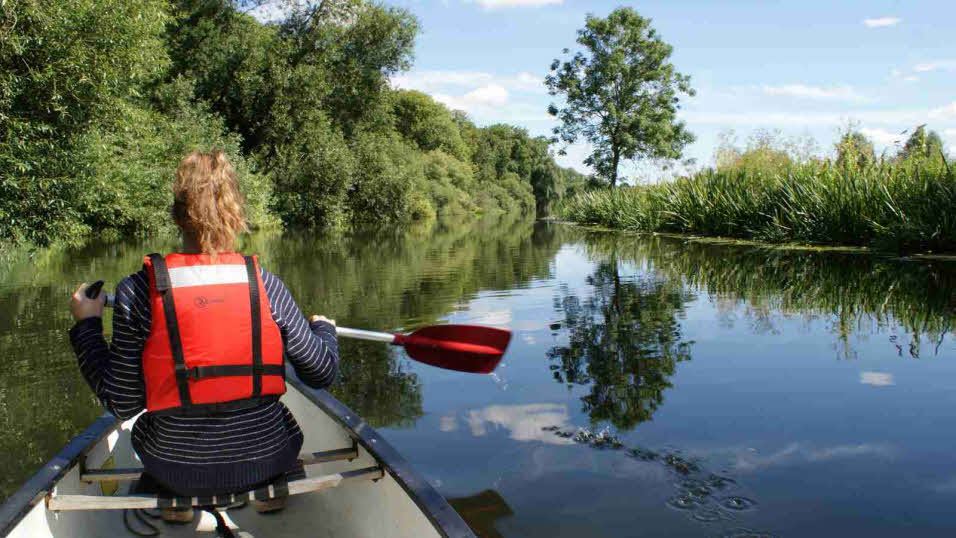 Spending time on a river can be very relaxing
But 20 minutes into the trip we're progressing more smoothly in a relatively straight line, silently pointing at buzzards and red kites scavenging over the meadows on either side of the river and watching swifts swoop for insects.
Turquoise dragonflies, as dazzling as the neon of Piccadilly Circus, flit above lily pads, and little fish swim close to the water's surface as if trying to avoid the tickles of weed below. Rounding a bend, a bankside woodland kills the breeze and the river's ripples turn to a mirror finish, offering a flawless reflection of treetops and white clouds scudding across the sky. Peering into the water, the river changes from thigh-deep to dark, hidden depths.
Swanning along
We pull into the rushes by the bank to give a family of swans right of way down the central channel, the dazzling-white cob and pen protectively flanking darker cygnets. Their formation reminds me of how we used to line up as a family to cross a road when the children were little, before teenage boys outgrew and out-muscled us.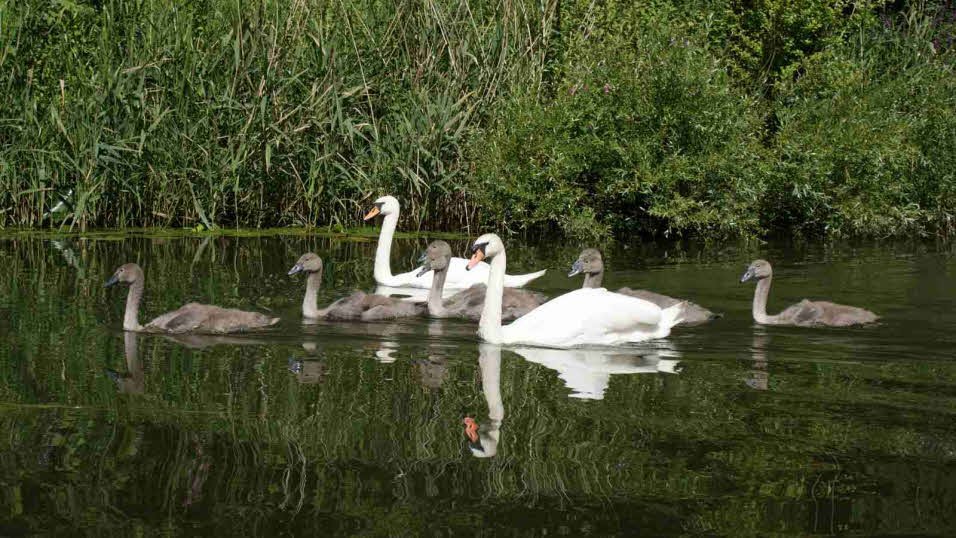 A bevy of swans and cygnets on the Nene
Their brawn would be welcome at Cotterstock Weir, where a short, sharp drop of water forces us to climb out of the canoe, lift it across a short patch of grass, and set it down on the lower stretch once again. The boat turns out to be heavier than expected, and while the 'portage' sign shows a pair of canoeists with a boat above their heads, we tow ours through the meadow. Climbing back into the boat is the only time a wobble causes me a flutter of anxiety.
Although this area is designated as the 'Nene Valley', there's no gorge or canyon – sturdy tree trunks provide the only vertical edge. In most parts, though, there's nothing to see from the canoe but a vast sky above the reeds and rushes. We're below the height of the banks, enjoying a different perspective on the world and a different pace at which to explore it. It's a welcome reminder that adventure doesn't demand adrenaline.
And it does feel genuinely adventurous, each curve of the river obscuring what lies ahead. We turn a corner and spook a cow that's standing in the shallows for a drink. We cruise past the ancient church at Cotterstock, and try to catch a glimpse of the church at Tansor through a dense canopy of willow branches. We sneak a nosy parker's view of the backs of dreamy riverside houses. Our stealthy approach prompts a kestrel to leave its riverside perch. On this perfect midsummer's day, we're treated to the widest possible palette of greens, topped by blue sky and candyfloss clouds. It's bliss.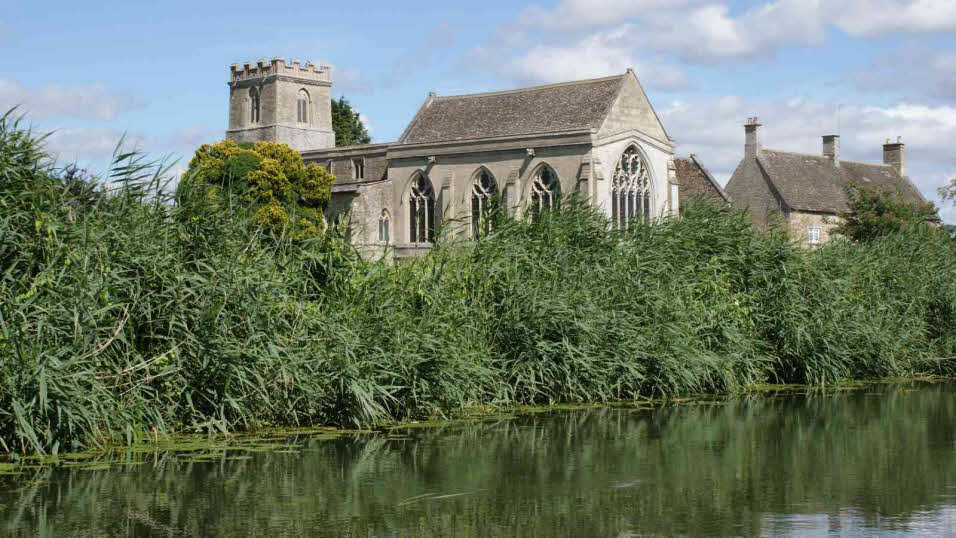 Church of St. Andrew, Cotterstock
What's more, turning back for base, it seems as if every perspective changes; what was in black shadow is now perfectly illuminated; features that were sunlit are now impenetrably dark. On another river on another day it would have been a smarter move to paddle upstream first, to make the return easier. But the Nene is lazy today, the slight drift of underwater weed tendrils the only indicator of current. Plus, 90 minutes into the adventure, we're starting to master our paddling technique, managing a more direct line as we safely pass the only other boat we see port-to-port (the opposite of 'driving on the left' road etiquette).
The arches of a stone bridge guide us back to the hire centre, where the Nene Valley Brewery sits next to the Tap and Kitchen restaurant and bar by the waterside. It's the perfect ending to a perfect adventure.
Useful information
A two-man canoe costs £20 per hour to hire from Nene Extreme.
Contact: neneextreme.co.uk, 01832 272050
Stay at: Ferry Meadows Caravan and Motorhome Club Site
If you would like to try kayaking, canoeing or stand up paddleboarding (SUP) then British Canoeing's Go Paddling website is a great place to begin. These pastimes enable you to relax and enjoy beautiful views while you're away on your holidays, and with a vast array of suitable rivers, lakes, canals and other waterways across Britain, there's bound to be somewhere for you to try near a Club site. You can see some suggestions here, and more below.
The Go Paddling website includes over 150 paddling trails and PaddlePoints (an interactive trip-planning map); useful tips on how and where to get involved; a search function for introductory courses and places to hire kayaks, canoes and stand up paddleboards; and Rapid Join - a fast way to purchase a waterways licence and insurance to ensure you're paddling responsibly.
More places to canoe
Check out these alternative canoeing venues...
Martham Boats, Cess Road, Martham, Great Yarmouth NR29 4RF
Paddle down the River Thurne to reach the stunning waterscapes of Horsey and Hickling Broads.
Contact: marthamboats.com
Stay: Norfolk Broads Caravan and Motorhome Club Site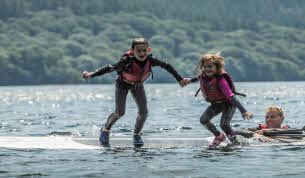 Coniston Boating Centre, Lake Road, Coniston LA21 8AN
Canoe on Coniston Water (pictured), which is flanked by mountain, forest and moorland.
Contact: conistonboatingcentre.co.uk
Stay: Coniston Park Coppice Club site
In Your Element, Fort Augustus, Loch Ness
Enjoy a canoe tour on the waters of Loch Ness and keep your eyes peeled for... magnificent views of the Highlands. Super-keen paddlers can attempt a five-day expedition along the Great Glen.
Contact: iye.scot
Stay: Culloden Moor Caravan and Motorhome Club Site
Please check with all venues in advance with regard to opening restrictions and follow official government guidelines related to coronavirus at all times (gov.uk).