Family fun playing footgolf
Family fun playing footgolf
Looking for something slightly different to do as a family while on tour? The Manning family gave the growing craze of footgolf a try and loved every minute of it.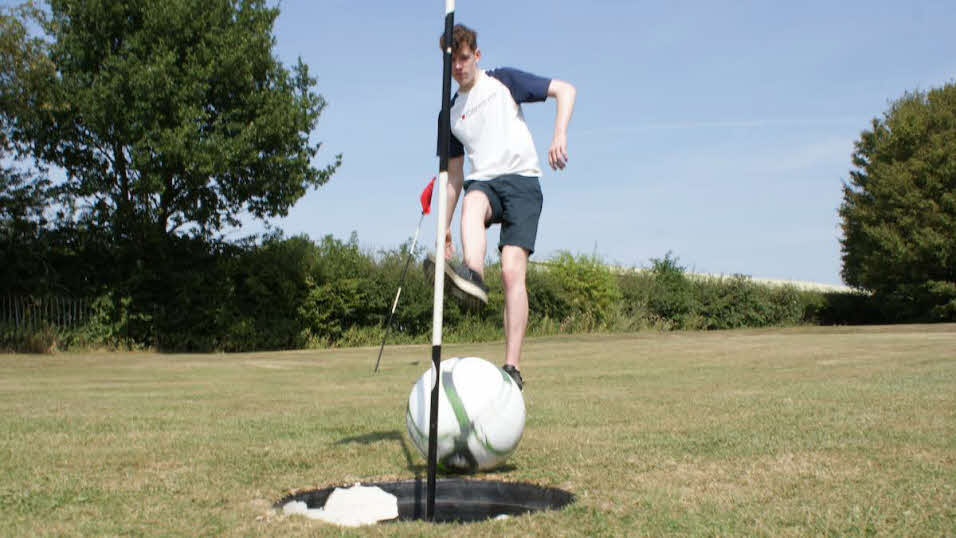 Joe Manning rolls home a 'putt' during his round with dad Jonathan and twin sister Tilly
A shiver of anxiety runs down my spine on the path to the clubhouse. Am I dressed appropriately? Golf club etiquette is notoriously strict, and it's fair to say that neither myself nor my fellow 'golfers' are wearing any clothing likely to feature in photos on the walls of St Andrews or Carnoustie.
Conveniently only a 27-minute drive from Clumber Park campsite in Worksop, happily, there's a relaxed atmosphere at Newark Golf Centre, where we're greeted by a dab of hand sanitiser, a warm smile, and tubs of footballs. 'Footgolf' is the game on this occasion, and 10 minutes later we're standing on the first tee, gazing at a distant blue flag.
Footgolf is exactly what it says on the tin. Kick a football from tee to green; the player who takes the fewest kicks to sink the ball in the hole is the winner. It's played on a proper golf course, akin to a 'pitch and putt', so there are fairways, bunkers, rough areas and greens.
Aficionados boast that footgolf is one of the fastest-growing sports, with its own leagues, championships and prize money – although the only thing at stake during today's 18-hole round is family honour.
My fellow players are my 15-year-old twins, Joe and Tilly. Both are sporty; Joe plays football at an elite level, while Tilly played club football before focusing on running. My own soccer history ended about a decade ago when injuries forced me to hang up my boots. Bookies should have had no trouble establishing odds for this family match, and yet it didn't quite work out that way.
A blue flag snaps in the wind about 150m from the first tee box. It somehow appears beguilingly close yet alarmingly distant at the same time.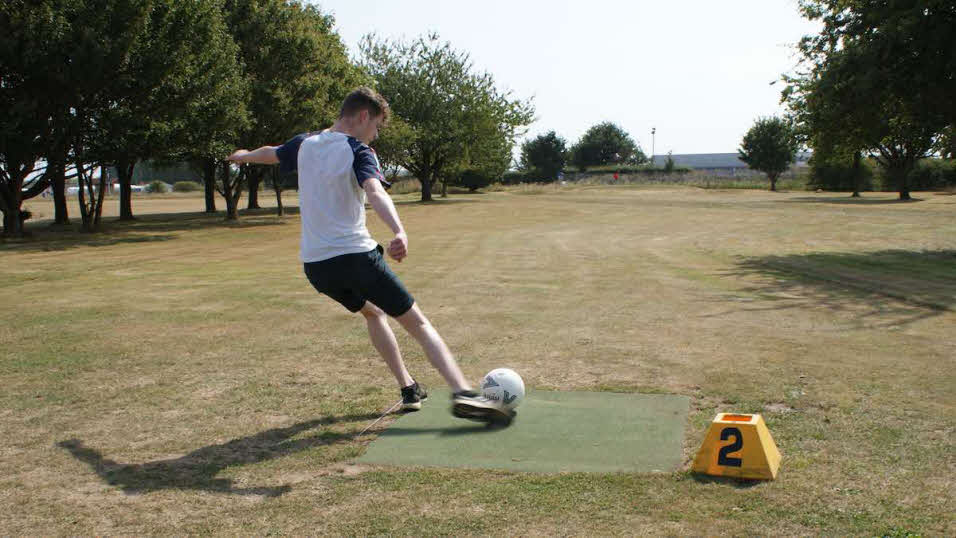 Joe Manning launches a tee shot at Newark Golf Centre
Joe takes two strides then launches his football skywards. The distance is impressive, but the hardness and speed of the summer-baked fairway see his ball arc towards the longer grass. Tilly places her football and swings her leg carefully, favouring accuracy over distance as her ball rolls in a straight line towards the hole. Anyone who believes twins think and act alike should watch this case study of brawn vs brains. As genetics would seem to pre-determine, my own ball ends up somewhere between those of my two offspring.
Shots two and three approach the hole, before we all sink our footballs on shot four. It soon becomes apparent that what proper golfers would refer to as the 'short game' – when balls are close to and on the green – is going to determine success or failure here
Power and distance from the tee are illusory advantages compared to precision on a course where holes are typically about 100 to 150m long. In the entire round, Tilly is the only one of us who manages a hole-in-two. I, meanwhile, carry off the trophy for the most highest score on a hole, yo-yoing backwards and forwards across one green, from bunker to rough, for six shots.
As we walk up the fairway towards the halfway mark, the only spectators are a pair of buzzards wheeling in the pale 
blue sky. The rumble of traffic from the neighbouring A1 and A46 is a constant companion, but we barely notice it as we chat between shots. And, frankly, this is one of the highlights of the day. Walking three abreast on footpaths is rarely possible, but here we can saunter, tease, laugh and joke, distracted by a common game into far broader conversations.
After nine holes Joe changes tactics to copy his sister's approach (a move he naturally denies). Instead of thumping the ball skywards, he starts to drive the ball along the ground, sacrificing distance in return for accuracy. He also devises a new 'putting' stroke, rolling the sole of his foot across the top of his football to steer it towards the hole. Tilly maintains her steady, slide-rule approach, while I'm vaguely aware of a twinge in my right hamstring, and start to worry about the dinnertime ribbing I'll suffer if I injure myself playing footgolf. Slowly but surely I drop out of contention. Tilly's two-shot 'eagle' briefly catapults her to the top of the leaderboard before a disastrous hole restores her brother's lead.
"They think it's all over... it is now," I say as Joe sinks his final foot-putt on hole 18, prompting both twins to look at me blankly.
It takes us little over an hour to complete 18 holes, rather than the half-day required for proper golf. We've needed no special equipment or skills, we've not had to honour any dress code, and we've had a bundle of fun. Footgolf could become a regular family holiday activity.