Wakeboarding in Kent
Andrew Ditton had watched waterskiers with fascination during caravanning holidays as a child. He had never realised his dream of trying the sport until an opportunity to learn how to wakeboard - waterskiing but with a board rather than skis - came up during a stay at Daleacres Club site in Kent
Andrew Ditton dons his wetsuit again to experience another water-based pursuit
By: Andrew Ditton | 24 May 2019, 1:02pm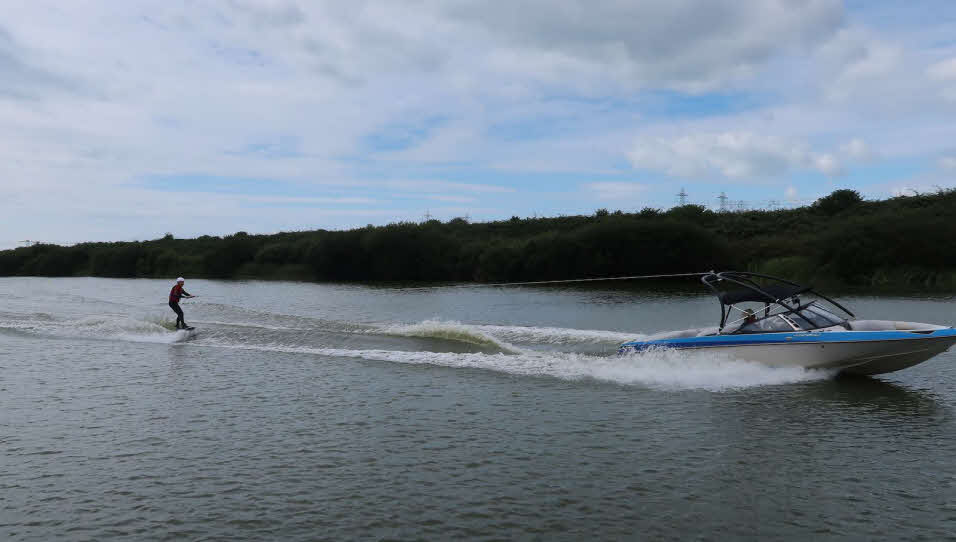 As a child I spent every summer caravanning near Whitstable in Kent and would watch the waterskiers on the sea in a state of awe. It was the coolest thing I'd ever seen and I wondered if I would ever get the chance to give this amazing sport a go.
Fast forward 40 years and my hopes were finally going to be realised as I returned to Action Watersports in Lydd, near the border of Kent and East Sussex and conveniently located mid-way between Daleacres Club site and Fairlight Wood Club site.
Look up Daleacres Club Site or Fairlight Wood Club Site
I had been to Action Watersports before, when I experienced the gloriously eccentric sport of flyboarding. During that visit I had witnessed entire generations, from children to pensioners, whizzing around the lake behind a speedboat, whooping with delight on a pair of waterskis. Now as someone who comes from a boarding background - from windsurfing to kitesurfing via snowboarding - the thought of separate planks strapped to each foot sends me into a blind panic. Which is why I opted to try my hand at 'wakeboarding' instead. While it's a bit like waterskiing, a single board is ridden in place of skis. As the wakeboard is similar to a kiteboard I felt right at home.
My friendly instructor, Joe, showed me around the centre and kitted me out with a wetsuit, buoyancy aid and helmet that incorporated a receiver, allowing him to speak to me from the boat. All you need to bring is a towel and swimming costume.
Training begins by learning the correct technique on dry land
Once I was suited up, the training began. Joe talked me through the in-water starting process and riding techniques before physically acting them out on dry land. Once we were both happy, it was time to head to the jetty and attach the board. When the board is secured, it is impossible to move your feet, so getting into a sitting position on the jetty's edge became an impossible – and hilarious – task. As if by magic, the lovely Di (centre manager) appeared and helped lower me down, sparing me any blushes or bruises.
Joe took up his position in the powerboat and, with great skill, brought the boat alongside, so that I could easily grab on to the training boom – a horizontal pole that you can hang on to as you are towed alongside.
Employing the techniques that we had rehearsed, I pulled myself up into a crouching position as Joe gently increased the speed of the boat. As I completed each stage successfully, Joe would go faster and tell me through the intercom system what I needed to do next. By sheer fluke I managed to stand up and ride on my very first attempt. I was, as the cool kids might say, 'stoked!'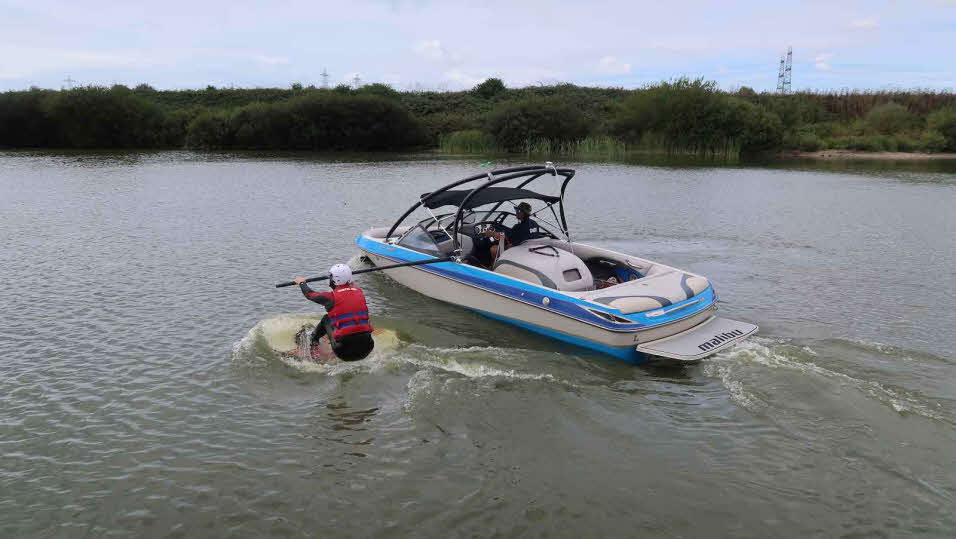 Andrew managed to stand up using the training boom on his first attempt
Joe felt I was ready to try the towline proper. I was towed in the wake of the boat, riding the waves and having an absolute blast. However, all too soon my arms started to feel the burn and Joe suggested a break.
Having recovered I was soon back on the water and riding the wake with a ridiculous grin plastered across my face. At one point, I tripped up and let go of the towing line, and as I tumbled the board slipped off my feet. My final anxiety had been banished, as I had originally suspected that the bindings attaching my feet to the board might cause injury. "Not at all!" called Joe reassuringly as he brought the boat back alongside and fed me the tow handle. "The boards are designed to come off when necessary."
After a few more lengths blasting up and down the lake, with Joe constantly challenging me to try new techniques and tricks, my tiredeness led to some basic errors and I ended up calling it a day.
My experience on the water had been thrilling. While I admit to having a few board skills already, this was my first time being towed and not using a harness. As I relaxed on the water's edge after my session, I watched a mother and her two young children have a go at waterskiing, and they did magnificently. If you are physically able to try these exciting activities, you really should give them a go.
Alternative venues for wakeboarding:
Kernow Adventure Park, Cornwall
Cable-towed wakeboarding in a former quarry, with the added attraction of a cafe for spectators. Info: kernowadventurepark.com
Stay at: Merrose Farm Club Site
Glasgow Wake Park
A funky urban wakeboarding experience on the Clyde and Forth Canal. Info:glasgowwakepark.com
Stay at: Strathclyde Country Park Club Site
Glasfryn Park, Gwynedd
A dedicated lake for beginners makes for a relaxed learning session at this park near Pwllheli. Info: glasfryn.co.uk
Stay at: Coed-Y-Llwyn Club site