Photo walking
Fancy adding a new dimension to your daily stroll? Andrew Ditton discovers that taking a camera along with you on a walk can transform it into a completely different – and rewarding – experience.
Fancy a walk with a difference? Andrew Ditton discovers that taking your camera with you on a stroll can add a whole new dimension to the experience
By Andrew Ditton | 24 September 2019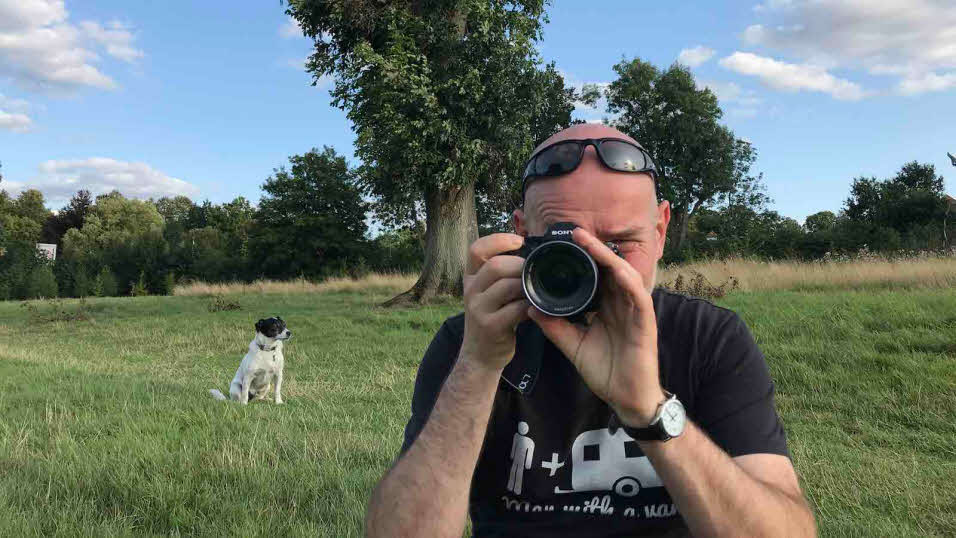 Taking a camera on a walk with you can turn it into a whole new experience, as Andrew Ditton discovered
Walking is just about the best exercise you can get, both physically and mentally. It's gentle on the body yet gets the blood moving, and, even more importantly, it gets us out into the fresh air.
Sometimes we all need a little push to venture into the great outdoors, especially if the weather is less than perfect. For many of us that push comes from a four-legged friend. However, there is another companion that can give you the necessary motivation to pull on your walking boots – your camera. You don't have to invest in a complicated piece of kit – you can simply use the camera on your phone, so photography can be a surprisingly inexpensive hobby.
Photo walking can be experienced in a group, led by a guide who can show you some great locations and offer hints and tips, or you can enjoy the hobby on your own or with a partner. It's a pastime that improves your mood through exercise, mindfulness and a connection with your immediate environment, as I discovered when I gave it a try.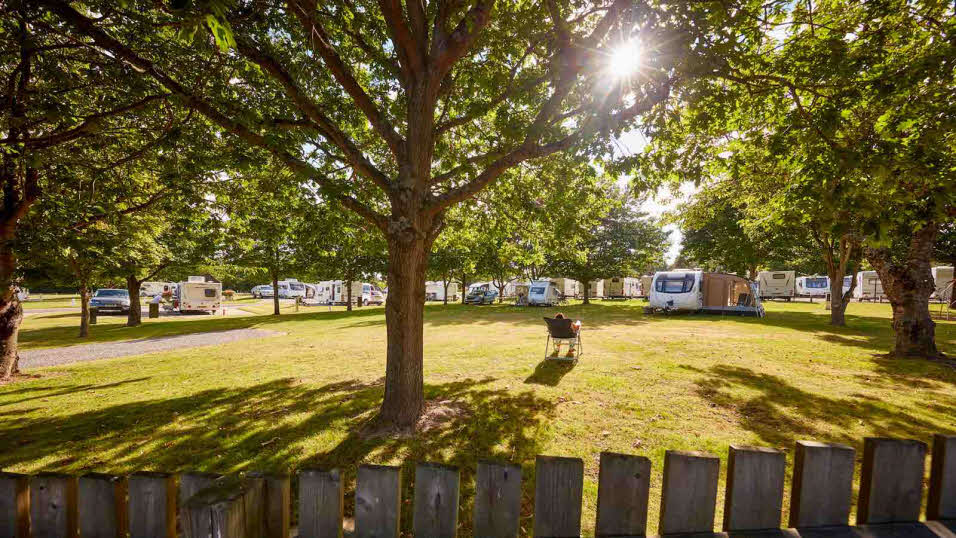 Andrew Ditton used Bearsted Club site as a base for his photo walk
You can go on a photo walk from absolutely any Club site or Certificated Location, be it in a green and rural location such as Altnaharra or Gwern-Y-Bwlch, or in the heart of an urban cityscape such as Baltic Wharf or Crystal Palace. I headed to an old favourite of mine – Bearsted Club site in Kent.
Despite having visited Bearsted many times, planning a photo walk allowed me to see the surroundings through fresh eyes. When checking in, I shared my mission with the friendly site staff who immediately knew just the place that would fit the bill – the Bearsted Woodland Trust area, a 15-minute stroll from the site.
It's a good idea to set a theme or specific challenge for your photo walk. If you are new to photography, it could be experimenting with light and composition, or simply getting to grips with the camera on your phone.
The more experienced can play around with fixed focal lengths or by deliberately breaking composition rules. I decided that my photos simply had to be different from the kind I usually took. That meant shooting into the light, using manual focus only and creating images that might not tell the entire story in one quick glance.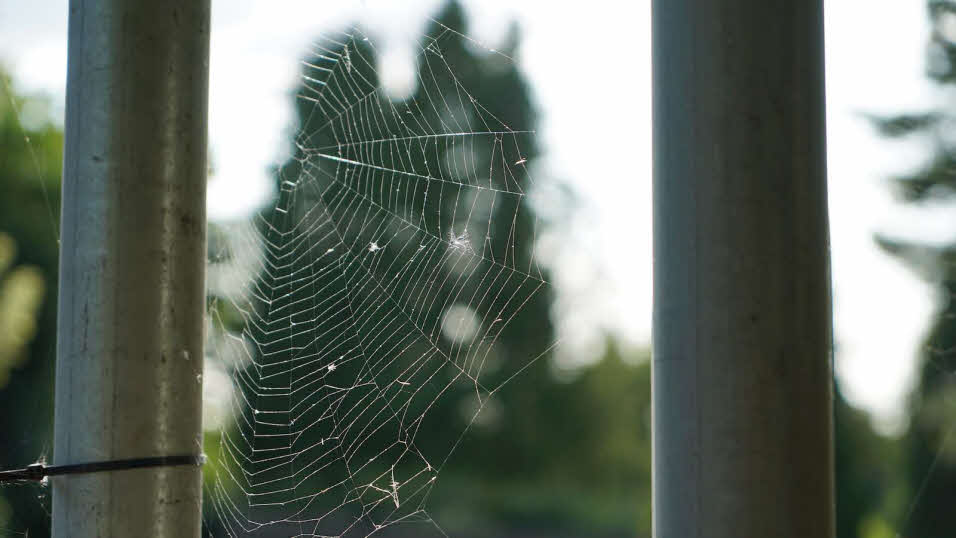 The first picture Andrew took was of a cobweb glinting in the sun
Even before setting off, I noticed a cobweb dancing in the sun beneath a road sign – a wonderful juxtaposition of the delicate beauty of nature decorating a functional, man-made structure. I attempted my first capture, deliberately shooting into the light.
Arriving at the Woodland Trust area I was immediately attracted to a majestic tree standing on its own. Rather than take the predictable pretty portrait picture, I got up close and personal with the rough, textured bark and concentrated on that. Already, I was seeing nature through fresh eyes and with a deeper appreciation than if I had simply gone 'snap' and hurried on.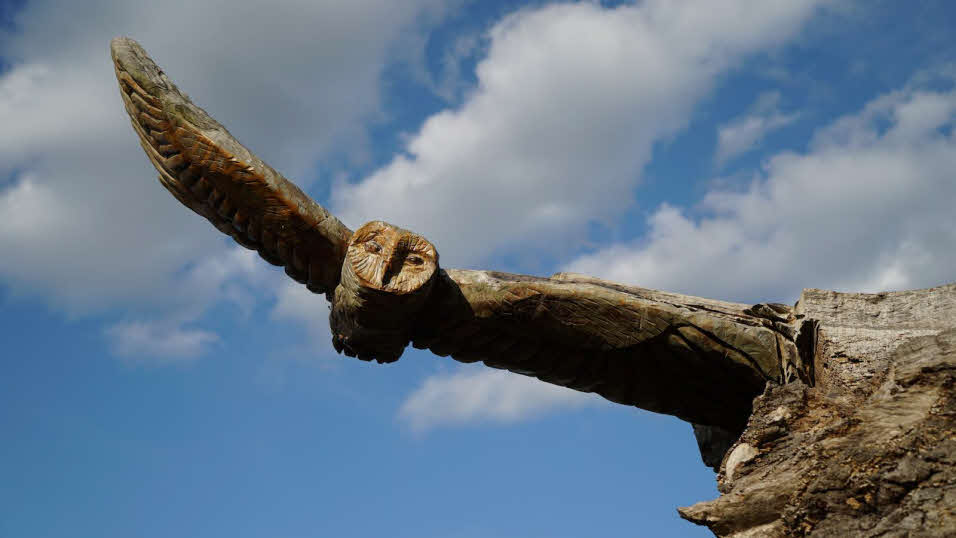 An elaborate carving of an owl which Andrew spotted while photographing a broken tree
Next, I saw a broken tree and had the idea of shooting it with the sun glinting behind, almost like a welder's torch in the break. Rather than walk past the tree, I walked right up to it, and as I did so I noticed elaborate and beautiful carvings that I would otherwise have missed.
Even the 'selfie' that I took with my phone to illustrate this feature had to be something a little different, so I came up with a couple of alternative ideas including an amusing composition featuring my disinterested dog, Dougal, sat in a position that would give the image additional depth.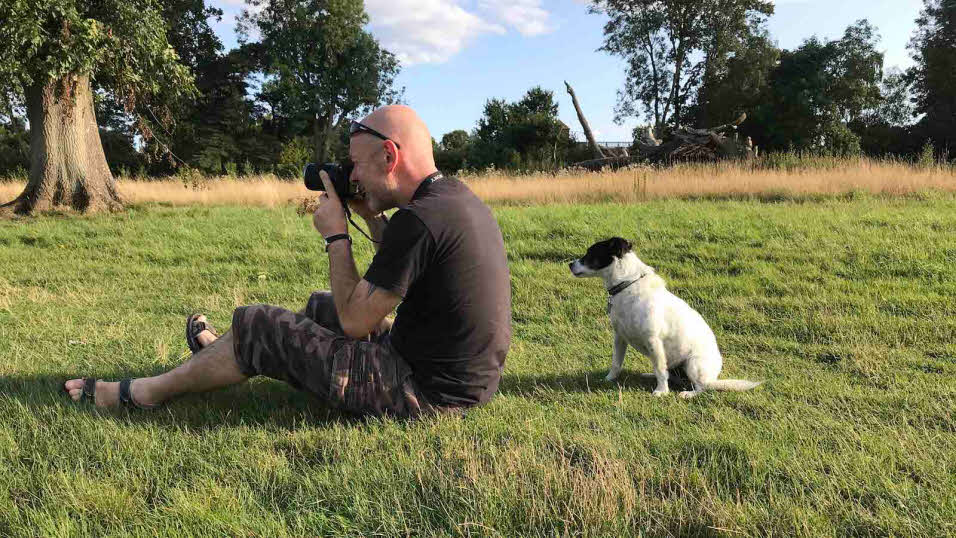 Dougal looks on patiently as Andrew focusses on composing another photo
What would have been an hour's excursion turned into a two-hour walk and the fun continued back at the caravan as I set about downloading and appraising each image. There were disappointments and there were pleasant surprises. Some techniques worked and others didn't – but it is only by pushing boundaries that you can improve your skills.
One final challenge from your photo walk is to select one, and only one, image to share on social media. After much deliberation, I went with the selfie I took with my phone as I liked the humour of it more than the considered shots taken with my 'serious' camera.
As I relived the walk through the images, I reflected on how much I had enjoyed it, and taking the camera with me played a huge part in that. Rather than just being the usual frog-march in order to exercise the dog, it had become a time of reflection, appreciation of the natural world and a real mood enhancer.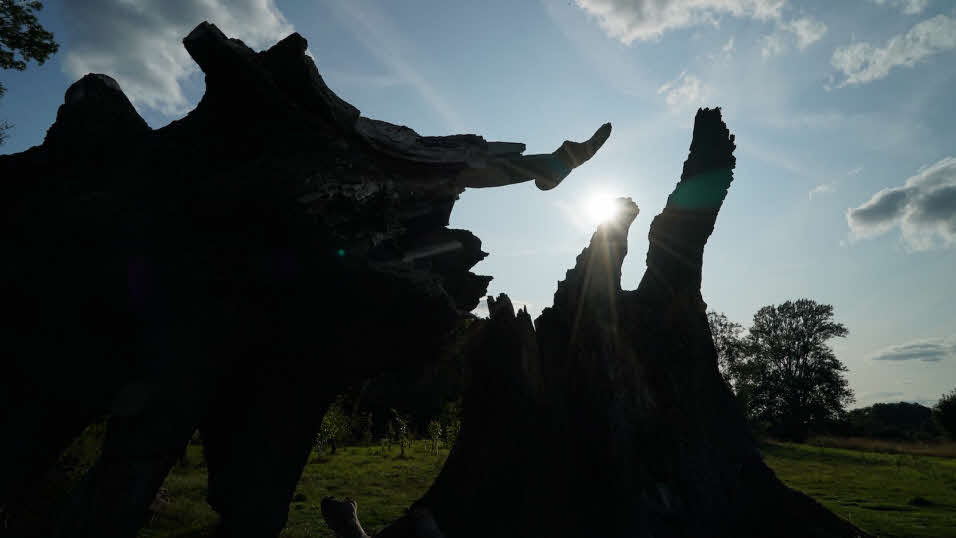 An 'arty' shot of the sun shining behind a broken tree on the land managed by Bearsted Woodland Trust
Searching for compositions and considering camera settings fills your brain with what is around you and pushes the worries and frustrations of everyday life out of the frame for a while.
Photography can be a great incentive to get out in the caravan or motorhome and discover a new locale. Anyone can do it, so why not give it a go on your next trip?