Quad biking in Somerset
Jonathan Manning loves cruising along quiet country lanes on his road bike but wanted to try something with a bit more of a 'wow-factor'. He found precisely that when he jumped on a quad bike and hurtled around a purpose-built course on a Somerset farm.
By Jonathan Manning | 24 October 2019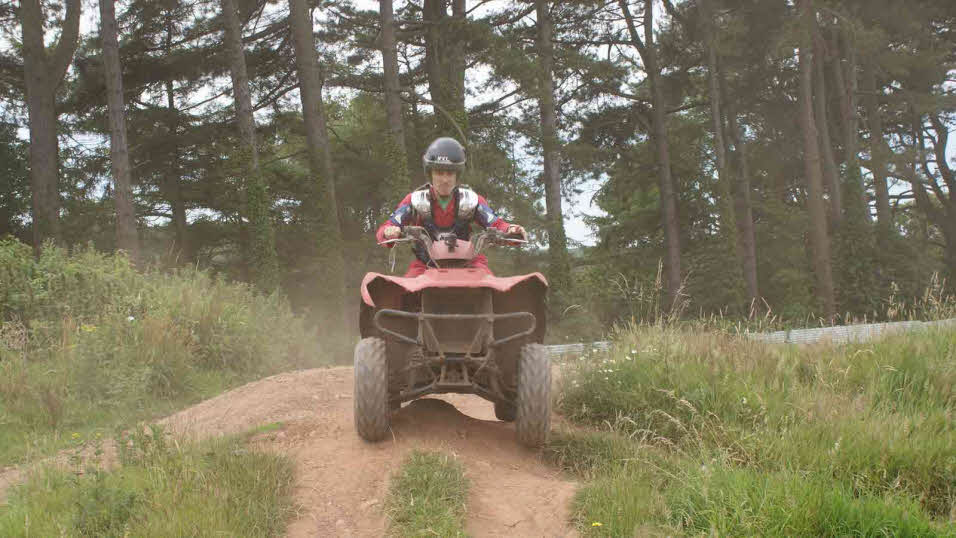 Jonathan Manning hurtles down a hill
To my right, the River Severn follows its twice-daily rise and fall. In the sky, a lone buzzard mews. With apologies to the birds, bees and butterflies of this Portishead farm, it's time to well and truly shatter the peace.
I'm about to embark on an unforgettable adventure with a 300cc Kawasaki quad bike. My instructor John guides me through the bike's controls and then with a quick flick of the ignition dial the engine burbles into life and I kangaroo towards an initiation test, where I will weave between poles, reverse into a makeshift bay, then build speed on a small oval. If only my driving test had been this much fun!
Weston Lodge allows a maximum of six riders per trail session and imposes a minimum age of 18 for an activity that's clearly popular with stag parties. But it's mid-week – so now it is just me, John, and several hectares of West Country farmland.
Go to nearest Club site – Baltic Wharf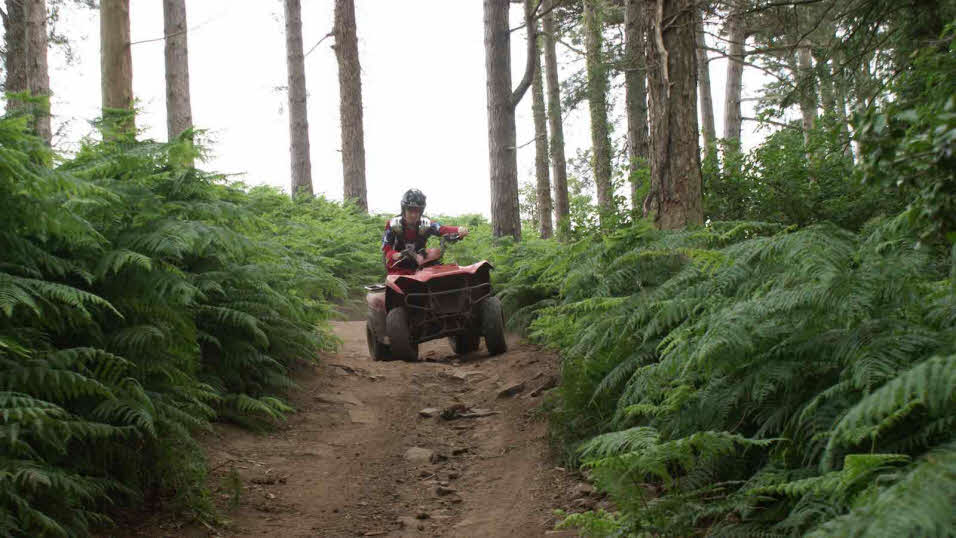 Quad biking is an exhilirating activity
Reassured that I'm not going to do his bike or myself any serious damage, John tells me to switch the gears into the lower ratio before we dive down a steep incline into a wood. The low-pressure tyres grip convincingly as I plunge down the contours into the dappled shade, fronds of bracken tugging at my sleeves. It's the middle of a dry spell, and John's bike kicks up clouds of dust as we bounce along a rutted track before he gives the throttle a bit more welly to swoop up the hillside.
I follow him on circuit after circuit of the wood, the turns getting tighter, the slopes steeper, and the tracks rockier and more rutted. The Kawasaki never flinches. It's an astonishing piece of engineering, capable of flying up hills that would make serious four-by-fours blanch, yet able to manoeuvre with the precision of a ballroom dancer (albeit a very noisy one). Truth be told, I'd normally be one of those walkers who tuts at the high-revving cacophony of trail bikes, but with the boot on the other foot I find my adrenaline flowing and the experience intoxicating.
Then reality bites. After an over-enthusiastic dab of the throttle, I lurch forward and I'm on the brink of a forward flip into the undergrowth before I bring the bike back under control. There's a genuine sense of jeopardy riding this beast of a machine. It's utterly exhilarating.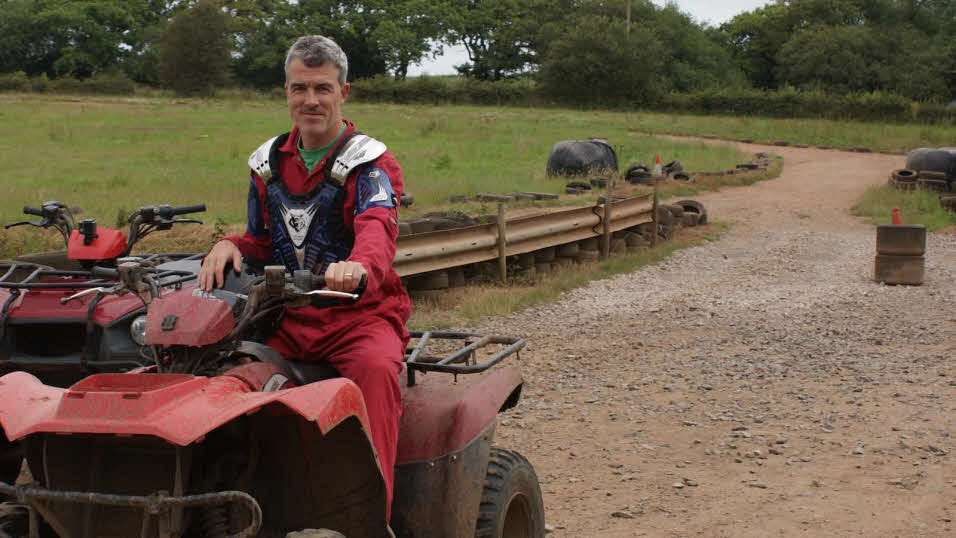 Jonathan is exhausted but happy after his quad biking session
Emerging from the wood, my forearms are trembling. I've been clutching the handlebars so tightly that my muscles are starting to spasm so I try to relax for the final four-wheeled challenges, using my balance rather than grip to stay on the bike. I stand out of the saddle to surf steep dirt mounds, go with the flow over barriers of railway sleepers, and take a deep breath while negotiating a hump designed to unsettle any rider.
Finally reassured that he won't have to whisk me to the nearest A&E, John de-restricts the throttle on my bike for a last blast along a smooth farm track. It's a chance to fly and I seize it, bombing past hawthorn and Scots pine, the smile on my face as broad as the Severn estuary.
Unclipping my helmet and removing my armour and overalls, I discover my T-shirt drenched in sweat, the combination of 40 minutes' physical effort, excitement and visceral fear having taken its toll. All I really want, though, is to do it all over again!
Club members can save 10% on quad biking at Quad Nation venues across the UK. See our Great Savings Guide for details