Dolphin spotting in Wales
Dolphin spotting in Wales
Cardigan Bay in west Wales is one of the best places in the UK to spot dolphins. Andrew Ditton joins a special boat trip from New Quay near our Shawsmead Club site and is thrilled by the experience of getting up close and personal with such fascinating and playful sea creatures.
Andrew Ditton gets a close encounter with the playful sea creatures
By Andrew Ditton | 26 Jun 2019, 5.13am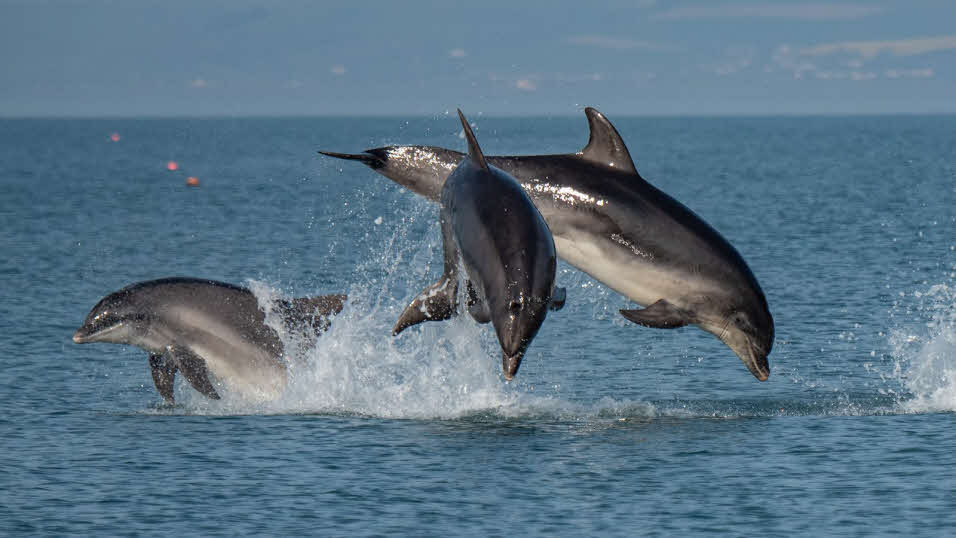 Dolphins playing in Cardigan Bay
One of the best places in the UK to spot dolphins is Cardigan Bay in west Wales. Shawsmead Club site is conveniently located a few miles from the seaside village of New Quay, from where many dolphin-spotting trips depart. I booked myself on a two-hour excursion with New Quay Boat Trips which offers Club members a 20% discount.
After checking in at the office, boarding the boat is done directly from the jetty if the tide is favourable – otherwise it's via dinghy transfer. Well-behaved dogs are welcome, so my faithful companion, Dougal, and I took a seat under the sun canopy aboard the open-sided Ermol V on a gloriously sunny spring day.
Jonathan, our enthusiastic skipper, introduced himself, did the necessary safety briefing, and explained how the Marine Code of Conduct would be influencing our experience. In order not to disturb any dolphin behaviour, all boats have to stick to a set itinerary and are not allowed to deviate even if the creatures are spotted.
Andrew and faithful friend Dougal on the boat
As Jonathan returned to the important business of navigation, he handed over to Sarah who kept us informed and entertained throughout the journey. For younger members of the family, the crew had provided colouring books and crayons – dolphin themed, of course!
Within 10 minutes a few of us were sure we had seen dolphins but it turned out to be a flock of razorbills or guillemots that were fooling us – their white sides reflected in the distance as they bobbed about on the ocean.
The two-hour trip took us four miles down the coast. It is worth remembering that it's always cooler at sea and the open sides of the boat allow sea spray to splash up on occasion. I was glad of my pullover and jacket.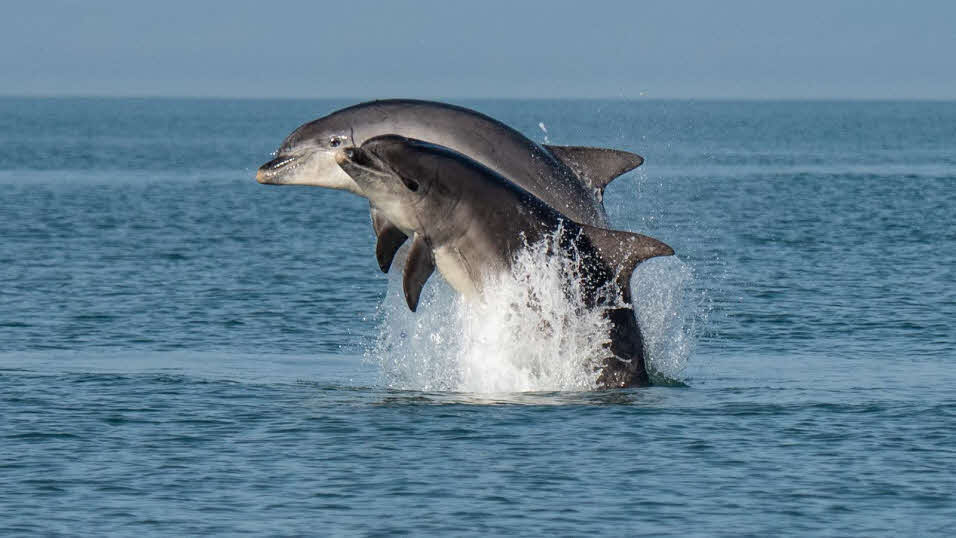 Andrew was treated to a number of 'shows' by a pod of dolphins during his trip
"Dolphin!" shouted Jonathan almost an hour into the trip. Suddenly one emerged about five metres in front of me, flashing his fin as if to make sure he or she was being photographed. It was an utterly thrilling experience. Over the next five minutes we stared intently to sea and occasionally saw more dolphins around us. The anticipation and excitement bonded everyone on board (about 20 of us) and with the dolphins having broken the ice, everyone started chatting to each other.
As the pod swam off, we made our way back along the coast, and were soon rewarded with a couple of seal sightings. It always makes me smile to see a seal pop its head out of the water, as if to say: "Yes, may I help you?" Meanwhile, the ledges and sea were awash with kittiwakes, guillemots, cormorants and shags. "We've even seen peregrine falcons on occasion," Sarah told me.
As we approached New Quay, the dolphins decided to put on one last show for us, literally dancing around the boat. The atmosphere on board was one of pure joy. Everyone disembarked with a deeper appreciation of the natural world. Even if you don't actually spot a dolphin (sightings are not guaranteed), the two-hour cruise is a superb way to see the coastline from a new perspective – both literally and physically.
Find out more about the special member offer on New Quay Boat Trips