Game, set and pitch: an interview with Johanna Konta
Game, set and pitch: an interview with Johanna Konta
We chat with recently-retired tennis star Johanna Konta – a former world number four and Wimbledon semi-finalist – about her new-found love of caravanning

Photo by 2Tone Creative
Hi Johanna. What outfit do you have?
We have a Coachman 520 VIP. It's a three-berth and it has a lovely bathroom in the rear. The one with the little bowl sink – I was really excited about the bowl sink!
What attracted you to the idea of caravanning in the first place?
At the back end of 2019, I think, I was scrolling through Instagram, as you do, and I saw these amazing photos of people who have converted a campervan or gone out on the road. I saw a photo of a little campervan, and the owner had woken up in the middle of a field and there were Highland cattle there. I remember calling [husband] Jackson and saying, "I want to wake up like that." Jackson's very well versed in caravanning and camping – his family has been doing it since he was very young.
What's the best place you have visited so far?
That has got to be when we went to the Lakes. We took the two dogs and it was just wonderful. It was so nice – we stayed at Troutbeck Head [Club Campsite]. It was really dark when we arrived and it was pouring down with rain. We ended up going to the top bit, which we then realised was next to this gushing river. It really felt like we were in the middle of the wilderness. The wind was howling to the point where the caravan was rocking. I'm the sort of person who gets lulled to sleep on a plane when there's turbulence – so for me it was wonderful! Obviously I've always [done a lot of] travelling, going to tournaments and staying in hotels and so on – but I had never experienced being able to take a bit of 'home' with me.
Do you appreciate being able to do things at your own pace now you're not on tour?
Yes – to be honest that was the whole point of buying the caravan. To be able to go and have some time off but not have to 'leave', if you know what I mean. To not have to properly pack a suitcase, go to the airport, check-in and fly somewhere. To be able to disconnect – but not go far away!
That said, do you think you would take the caravan overseas?
I think I would. Especially now that I have stopped travelling [for tennis]. I've stopped that kind of life where being abroad is part of the job. Now [when I travel] it's going to become more like a holiday! But there are so many areas in the UK that we still want to discover. I'm dying to go to Norfolk and Devon and Cornwall.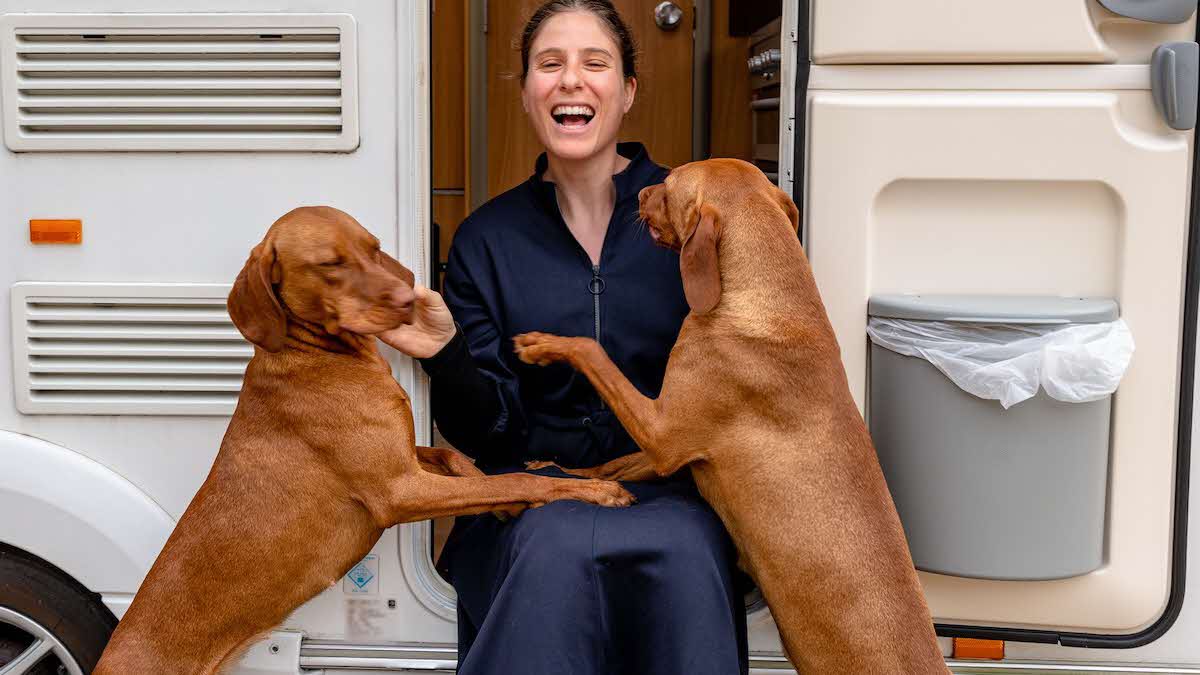 Photo by 2Tone Creative
Did you enjoy seeing different parts of the world while you were on tour?
When I was younger I was much more regimented – I was like, 'I'm playing, eating, sleeping, playing.' So when I went away, I didn't really have the desire to explore too much. But as I got older I definitely became more interested in doing things while I was in these places. Because you realise it's quite a privilege [to experience different countries]. And, for me, food was always a massive part of my enjoyment when I was travelling – so I really tried to find good restaurants. That became a big part of the discovery [process].
What are your plans now you have retired [as a profesional tour player]? Would you like to remain in the tennis industry?
I would love to. I would love to be involved in the sport here at home and try to find where I could be of use. I didn't stop playing because I stopped loving tennis.
Was it a wrench to to say 'that's it' as far as playing was concerned?
One hundred percent. It was saying goodbye to the person that I was for my whole life. It was so intertwined with me – all I knew… since I was about seven or eight years old. It was very difficult because it meant coming out from that bubble into something that was completely unknown. It was not a decision taken quickly. It was made as a result of many little choices, many little decisions, many little realisations over the course of a year or so.
Do you have a proudest career moment and a proudest moment from life?
You know what [in terms of career], all of it in a way – I am incredibly proud of the simple fact that I had a career. Because a lot of athletes don't even get that chance to have a career. The Rio Olympic Games – that was an incredible highlight for me. To be surrounded by other athletes. To be a part of something that was so much bigger than… my whole sport. That was immensely fulfilling. The thing I'm most proud of in my life? Until now my life has been my career. [So] that's still in the making. Hopefully one day I'll be really proud of my children that my husband and I raise! I'm really proud of the dogs my dogs have become – they're very well mannered, sweet dogs!