Cycle route from Hawes Club site
Cycle route from Hawes Club site
A relatively short but nonetheless testing ride through the beautiful Yorkshire Dales from Hawes Club site.
There are few places as beautiful, peaceful and challenging to cycle as the Yorkshire Dales. This stunning route through Wensleydale offers glimpses into Raydale, Bardale and Cragdale as it climbs on quiet roads flanked by drystone walls, past grazing pastures peppered with barns. Persil-white lambs frolic behind gates, watched by ewes the colour of dirty dishcloths and as shaggy as the post-lockdown queues outside hairdressers.
There's no fixed line where the grass and wildflower meadows end and the higher moorland starts, and in late spring the entire area echoes to the calls of lapwing, oystercatcher and curlew. Be warned, however, that amid this rural idyll are long, steep ascents, with signs warning of gradients as steep as 25% – although as with the value of stocks and shares, what goes up can also tends to go down.
The shore of Semerwater is a pretty spot to break the ride, but you'll have to keep pedalling to Bainbridge to find a drink. The last few miles from Bainbridge back to Hawes Club site are much easier, and just as pretty as fields and barns and rocky outcrops stretch westwards to the head of Wensleydale. At just 12 miles this may appear a short route but thanks to its 369m (1,211 feet) of ascent, your legs will know they've been for a ride!.
You can download this route from our dedicated Strava page here.
Directions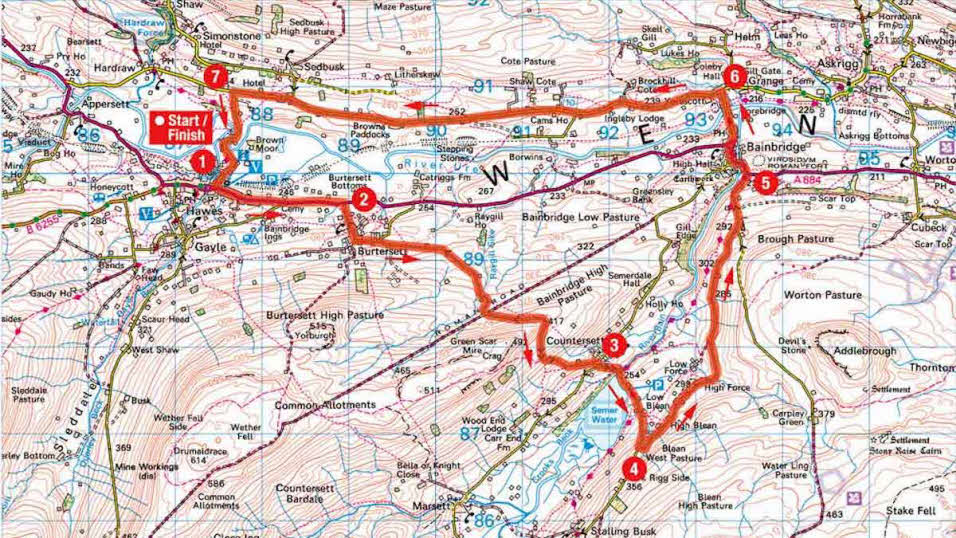 1 From the driveway to Hawes Club site turn left towards Hawes. Continue for 350m to a crossroads with a war memorial in the middle. Turn left and cycle for 1.5km on the A684, looking for a road on the right (ignore the first turning to Gayle).
2 1.8km – Turn right, signposted to Burtersett, and begin a long ascent followed by a steep descent as Semerwater eventually comes into view. Continue to an offset crossroads.
3 6.3km – Go diagonally right across the crossroads, signposted to Stalling Busk and Raydale Preserves, and passing the 25% gradient sign – check your brakes! Continue down the slope and over a stone bridge to reach Semerwater, then start the long climb away from the lake, looking out for a turn on the left in around 1km as you approach the top of the hill. (Confident mountain bikers can turn right at point 3 and follow signs to Marsett. At the red phone box in Marsett turn left, and in 100m follow the bridleway signposted to Stalling Busk, following the track alongside the stream. The track bed is nothing but fist-sized stones for the first section and when water levels rise there is a series of fords to cross or negotiate. In around 1km reach Stalling Busk and turn left along the road, and in 1km turn right at Point 4).
4 7.5km – Turn left, signposted to Bainbridge, and continue on this road to a T-junction with the A684.
5 11.3km – Turn left at the T-junction, signposted to Bainbridge and Hawes, and cross the bridge into Bainbridge. At the end of the village green, take the right turn to Askrigg, cross the River Ure and continue to a T-junction.
6 12.6km – Turn left at the junction, signposted to Hardraw. Continue ahead through beautiful Wensleydale for nearly 6km. About 800m after passing a road on the right to Sedbusk, look out for a left turn, signposted to Hawes.
7 18.4k – Turn left at the junction, signposted to Hawes. Continue on this road , crossing back over the River Ure, and in 1km turn left into the Club site.
About the route
Start/finish: Hawes Club site, Brunt Acres Road, Hawes, North Yorkshire DL8 3PS.
Distance: 12 miles/19.3km.
Time: 90 minutes (without stops).
Level: Suitable for fitter cyclists and e-bikers. The route is relatively short but very hilly, with steep, sustained climbs in places.
Terrain: Asphalt all the way (if following main route). A hybrid, road or e-bike is ideal – or a mountain bike for the optional Marsett section. Low gears and good brakes are essential.

Landscape: Dales of grazing pastures and moorland, with drystone walls and barns.

Refreshments:

Cornmill tea Room, Bainbridge; Rose & Crown, Bainbridge; Green Dragon Inn, Hardraw.