Cycle route from Norfolk Broads Club site
Cycle route from Norfolk Broads Club site
A flat, largely traffic-free route through the beautiful Norfolk countryside from Norfolk Broads Club site which includes a visit to Horsey Windpump.
The Norfolk Broads offers flat, quiet roads, giant skies and peaceful water everywhere. From dykes to rivers to the vast Broads themselves, there's a blissful calm to the area, which is perfect for landlubbers to explore on two wheels.
On a sunny day out of season it's hard to think of an easier or more beautiful place to cycle. This route explores quiet landscapes, visits two National Nature Reserves, sails past a host of windmills in various states of repair, offers short diversions to waterside pubs and cafés, and even dips its toe in the sea.
The Pleasure Boat Inn at Hickling deserves a special mention for its fabulous location with a brilliant beer garden gazing out across the reeds and waterscape of Hickling Broad. At the halfway mark, just outside Horsey, there's an excellent 1940s-themed café, Poppylands, with Second World War memorabilia and huge cakes that would each have required an entire village's ration books to bake.
Just around the corner, the sails of the newly restored Horsey Windpump, run by the National Trust, turned for the first time since 1944 last year, and a clamber up its 61 steps leads to a panorama that shows how water defines this landscape. The pump kept water flowing towards the sea, and there's an amusing pair of benches by its small café – one says 'This was sea level' and the other says 'Now it's tea level'!
With no hills, this is a ride that's accessible to all. Out of season the traffic is exceptionally light, but the Broads attract 8 million visitors a year, so the roads will undoubtedly feel busier in summer. For those who prefer quieter rides, the first half of the route, as far as Horsey Windpump, is notably quieter than the second, so an out-and-back approach may be better.
Download a gpx file for this route and check out other routes from Club sites at our Strava page here.
Directions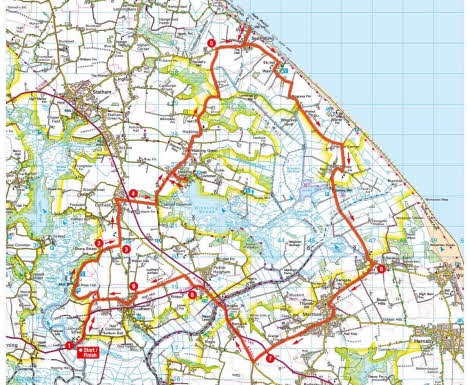 1 From the Norfolk Broads Club site turn right and continue for 1km to a sharp right bend. Turn left here, along School Lane, signposted to How Hill. Take the second left, after 660m, signposted to How Hill. Continue, passing windmills on either side of the road at How Hill National Nature Reserve, to a T-junction.
2 4.7km – Turn right and in 600m reach another T-junction.
3 5.3km – Turn left, signposted to Catfield. At the next T-junction turn left to Sutton and Stalham. Enter Catfield and look for a right turn along New Road, signposted to Catfield Common. Turn right and continue to an offset crossroads.
4 7.4km – Go straight over the crossroads (crossing the A149) and continue on New Road, signposted to Hickling. Keep going for 1km to a T-junction and turn left to Hickling. For an out-and-back diversion to the Pleasure Boat Inn, turn right in Hickling along Staithe Road, signposted to Hickling Broad. Then return to Hickling and turn right. Continue for 5km to a T-junction.
5 15.7km – Turn right at the T-junction, signposted to Waxham, Horsey and Great Yarmouth. Enter Sea Palling and in 1km turn left along Beach Road to reach a sandy beach (there are plenty of places for refreshments), before returning to the main road. Turn left along the main road, following your original direction. In 5km, just after passing a sign to Horsey Gap on the left, look out for the lovely Poppylands Tearoom on the right. Keep going, passing Horsey Windpump, to Somerton.
6 27.6km – In Somerton, when the road bends sharply to the left by The Lion pub, turn right along Martham Road, signposted to Great Yarmouth and Martham. Stay on this road through Martham until you reach an offset crossroads with the A149.
7 32.6km – Cross the crossroads, signposted to Clippesby, and continue to a T-junction in 600m. Turn right and in 1km turn left along the A149 into Repps with Bastwick, signposted to Cromer, North Walsham and Potter Heigham. After leaving the village, turn left to Potter Heigham Bridge. Cross the bridge and ride through Potter Heigham. After leaving the village look out for a turn on the right.
8 36.6km – Turn right on Market Road, and in 500m turn left along Fritton Road. Continue for 1.8km to a crossroads (you have right of way), and turn left to Ludham. In 500m reach another crossroads.
9 39.3km – Cross the crossroads, signposted to How Hill. Continue for 1.7km to a T-junction. Turn right and in 1km the Club site is on your right.
About the route
Start/finish: Norfolk Broads Club site, Johnson Street, Ludham, Great Yarmouth NR29 5NY. Distance: 26.25 miles/ 42km.
Time: 2.5 hours (without stops).
Level: Suitable for all adult cyclists. This is a flat route but there is some traffic on the A roads.
Terrain: Asphalt all the way, although it can be muddy in places. A hybrid, road or e-bike is ideal.
Landscape: Vast arable fields, salt marsh, dykes and Broads, with the occasional pocket of woodland and leafy lanes.
Refreshments: The Pleasure Boat Inn, Hickling Broad; The Greyhound, Hickling Green; lots of choices in Sea Palling; Poppylands Teashop near Horsey; National Trust café at Horsey Windpump.