Cycle route from Poolsbrook Country Park Club site
Cycle route from Poolsbrook Country Park Club site
A traffic-free and easy-going ride along a former railway line from Poolsbrook Country Park Club site to Rother Valley Country Park.
Dr Beeching may have been the scourge of the railways, closing lines and stations, but underneath his three-piece suit perhaps beat the heart of a cyclist. Why? Because the old trackbeds of the network Beeching is credited with 'reshaping' have been turned into the most amazing trails for biking.
Flat, even and traffic-free they spread like veins through the countryside. The Trans Pennine Trail utilises these old railway lines, as well as canal towpaths and minor roads to create a coast to coast route that stretches from Southport on the Irish Sea to Hornsea in East Yorkshire, with 'branch lines' to Leeds, York, Sheffield and Chesterfield.
This ride follows the trail from Poolsbrook Country Park Club site to Rother Valley Country Park along National Cycle Route 67, and its only brush with traffic is a single road crossing. Elsewhere it's a peaceful bridleway that's broad and flat and easily accessible even after weeks of torrential rain; only a few large puddles hinted at the biblical deluges that had hit the region prior to my ride.
In some places the former station platforms are still in evidence, as are a number of bridges and embankment walls, but for the most part it's flanked by bushes and trees. In summer, the leafy branches interlock to create tunnels of green that cast dappled shade across the trail.
Rother Valley Country Park sits half way along the route, with sparkling reservoirs and noisy waterskiers and jetskis, as well as an excellent café in the courtyard of the visitor centre.
As is customary with railway route rides, this is an out-and-back course, which makes the return even simpler to navigate as you retrace your tyre tracks. It's a great opportunity to ride, chat and enjoy the relaxation that comes with never having to worry about traffic.
You can download this route from our dedicated Strava page here.
Directions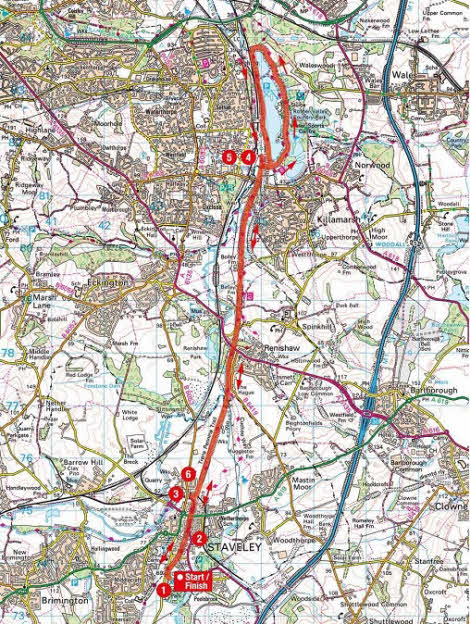 1 From the barriers of the Club site head towards Poolsbrook Country Park and in barely 20m turn left, back on yourself, along the track marked Trans Pennine Trail. Continue for 370m to a T-junction and then turn right along the course of the old railway line, signposted to Staveley and Chesterfield (via canal towpath). Continue to a pedestrian crossing.
2 1.4km – Cross the road at the pedestrian crossing and then turn left along the public bridleway. Continue to a T-junction of tracks.
3 2.1km – Turn right at the junction, signposted to Renishaw and Sheffield. Continue, eventually descending into a small dip with a car park on the left after 3km. Stick to the track, following the sign to Rother Valley Country Park and Sheffield. Continue for a further 3.5km to a three-way sign on the right.
4 8.7km – Turn right, descending back in the direction from which you have come, following the sign for Rother Valley Country Park. Continue to the lake in the country park and turn left. Follow the track around the two lakes – the visitor centre and café are on the far side. Keep going until you return to the spot where you first met the lake, and turn left, soon climbing the small slope back to a T-junction with the track.
5 13.9km – Turn left, signposted to Killamarsh, Halfway Supertram and Chesterfield. Continue for 6.6km to a fork in the trail.
6 20.6km – Turn right at the fork, signposted to Poolsbrook Country Park and Chesterfield. Stay on the trail, soon crossing a bridge, then turn left, signposted to Poolsbrook Country Park and Chesterfield via bridleway route. Continue for 1.6km until you see football pitches on the right, at which point turn left, signposted to Poolsbrook Country Park (brown sign), retracing your route to the driveway of the Club site.
About the route
Start/finish: Poolsbrook Country Park Club site, Pavilion Drive, Staveley, Chesterfield S43 3WL.
Distance: 14.4 miles /23km.
Time: 2 hours.
Level: Suitable for all cyclists. This is a flat, level route with no traffic.
Terrain: Hard trail all the way. A hybrid, mountain or e-bike is ideal. Puddles and pebbles mean a road bike is not ideal.
Landscape: A leafy, former railway trackbed with a country park and reservoir at the far end.
Refreshments: The Old Mill and Stables Café at Rother Valley Country Park.