Cycle from White House Beach Club Campsite
Heavenly inspiration
Characterful churches catch Jonathan Manning's eye on this flat, peaceful ride
A church crawl may not have the same ring to it as a pub crawl but the religous buildings on this ride are so characterful that they are genuinely worth the effort to visit.
Beginning and ending at White House Beach Club Campsite, this route explores inland, rural Suffolk, a landscape of prairie- like arable fields, occasional livestock, thick hedgerows and small patches of woodland. The crowds of the popular coastline instantly give way to roads as quiet as exam halls, linking villages that seem to be playing a game of Top Trumps with their places of worship. Does a round tower beat a square tower, thatch beat tiles, an octagonal floorplan defeat the traditional rectangle?
The inter-church competition starts with the tall flint tower of St Edmund's in Kessingland, a landmark that stands proud of its surroundings. St Michael's in Rushmere, with its round tower and thatched roof, arguably wins on age – it's so old it had a makeover in the 14th century! A little farther, 12th-century St Andrews in Mutford has a round tower capped by an octagonal belfry.And the recently-restored Sotterley Chapel goes one better with the eight-sided approach, adopting it for its overall design.
The unusual round towers on some of the churches are due to the building materials available in the area. Square towers with sharp corners require strong, dressed stone, which is hard to find in this region of Suffolk, but beach- and field-collected flints, cut in half so their interior glass-like face can be set in mortar, offer an alternative weather-resistant barrier to the elements.
Many of the churches also have Commonwealth War Graves in their graveyards, a reminder thatthetendrilsof conflict reached right into the quietest areas of the country.
Beyond crossing one large A-road roundabout, this is easy cycling: flat roads with little traffic and pretty countryside for company. There are no pubs along the way until the very end, next to White House Beach Club Campsite, where the Sailor's Home offers a glimpse of the beach and the chance to raise a glass to all those responsible for building such beautiful churches.
You can download this route from our dedicated Strava page here.
Directions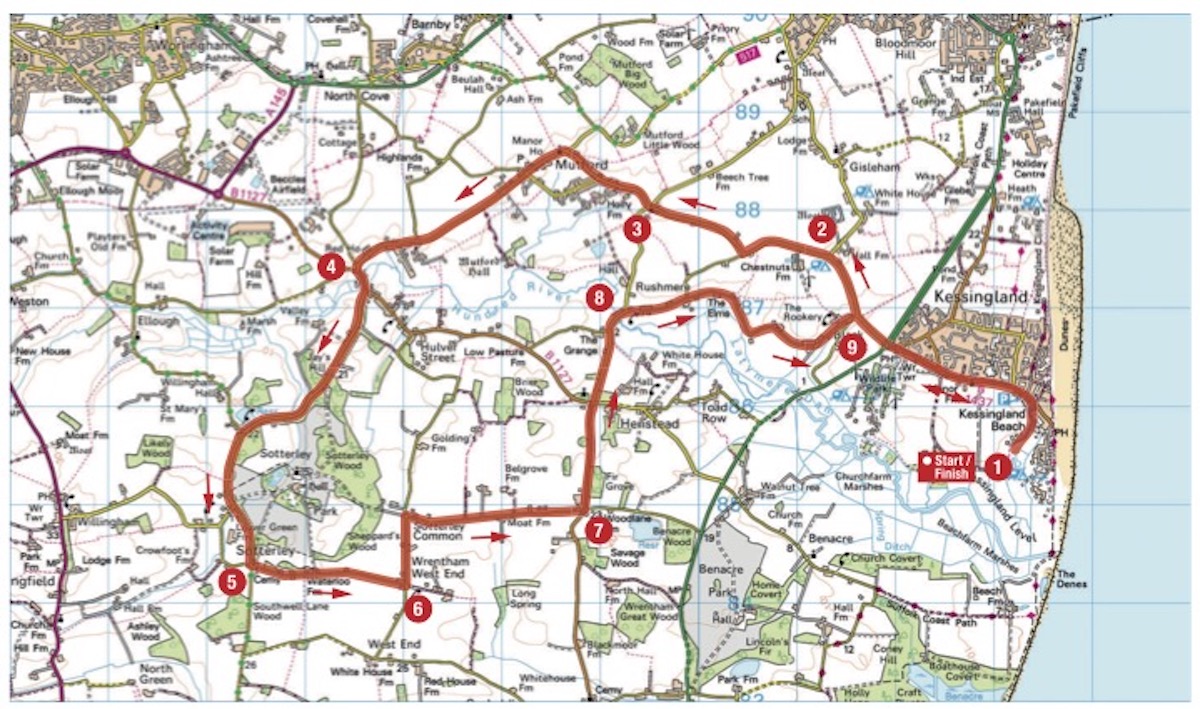 1 Turn left out of White House Beach Club Campsite (main site, not beach-side pitches) and follow the road for 2km through Kessingland to a large roundabout. Go straight over, signposted to Mutford, Rushmere and Gisleham, and follow the road for another kilometre, looking out for a turn on the left as the road bends sharply right.
2 3.2km – Turn left, signposted to Rushmere and Mutford, and continue to a T-junction with a church immediately to the left.
3 5.2km – Turn left then immediately right along Chapel Road, signposted to Beccles and Hulver. Continue for 1km to another T-junction and turn left, signposted to Hulver and Sotterley. Continue to a T-junction with the B1127.
4 8.8km – Turn left towards Hulver, and then take the first right, by the village sign, signposted to Stoven, Willingham and Sotterley. Continue on this road for almost 4km to a war memorial on the left.
5 12.5km – Turn left by the memorial, signposted to Wrentham and Henstead, and look out for the octagonal chapel on the right. Continue to a T-junction.
6 14.1km – Turn left, signposted to Hulver and Beccles, and in 700m turn right to Henstead and Lowestoft, and continue to a crossroads.
7 16.7km – Turn left at the crossroads along the B1127 and at the next crossroads go straight over to Carlton Colville and Rushmere, and after about 1km look out for a road on the right.
8 18.8km – Turn right, signposted to Kessingland and South Lowestoft, and continue for almost 3km to a T-junction.
9 21.6km – Turn right at the junction, signposted to Wrentham and Kessingland, go straight across a roundabout and along Whites Lane, retracing the way to the Club site.
About the route
Start/finish: White House Beach Club Campsite, Beach Road, Kessingland, Lowestoft NR33 7RW
Distance: 24km/15 miles

Time: 2 hours
Level: Suitable for all although care is required on the first roundabout.

Terrain: Asphalt all the way.

Landscape: Arable farms and woodland.
Refreshments: None.
White House Beach
Suffolk