Cycle route from Coniston Park Coppice Club Campsite
When all else fells
Jonathan Manning guides us through the wide forest tracks at Grizedale in the Lake District, which provides excellent mountain biking with sublime views
Despite its outstanding beauty, finding a cycle route in the Lake District can be tricky. There are the punishingly steep hills, of course, plus narrow roads that are frequently a bit too busy with, er, wide caravans and motorhomes! The gradients are no gentler off-road, and there's always the concern that a bridleway will evaporate into a footpath, or take a sudden turn into a quagmire.
Happily, there are solutions to these quandaries to suit every level of rider in the form of dedicated trail centres, where the routes are lovingly prepared for mountain bikers and offer a ride for everyone from toddler to adrenaline-junkie, via recreational off-roader, e-biker and downhill dynamo. All of which brings me neatly to Grizedale Forest, a Forestry Commission site with a series of fabulous, waymarked trails, just a couple of miles from Coniston Coppice Park Club Campsite and a host of CLs dotted throughout the neighbouring fells.
The bold and technically skilful can point their front wheels along the red and black runs, rewarding stiff climbs with white-knuckle descents, jumps, berms, rock gardens, board walks and a host of other challenges whose names are only comprehensible to committed mountain bikers. But if, like me, you'd like to be confident that your ride will finish with a coffee and cake in the Visitor Centre's café, rather than in a ward of Westmorland General, there are also a couple of green level trails to try. These aren't physically easy – there are long, sustained ascents – but the tracks are wide and free of obstacles, which makes the uphill manageable and the downhill deliciously fun.
This ride follows the route of the Hawkshead Moor Trail on the western side of Grizedale Forest. Green waymarker arrows point the way, and if in doubt simply stick to the forest road, a reassuringly wide gravel track. Diversions signalled by small red arrows spell doom for the unwary! There's the choice to ride clockwise or anti-clockwise from the Visitor Centre. Clockwise gets most of the climbing out of the way in the first couple of miles, while anti-clockwise saves the lung-busting uphills for the end.
Either way, the views are stupendous as the conifer forest eventually gives way to a spellbinding vista over Coniston Water and the gnarled Old Man of Coniston beyond, just one peak on a sawtooth horizon of fell tops. In pursuit of delayed gratification, I head clockwise to get the thigh-burning climb out of the way as early as possible, leaving me free to soft-pedal or coast as soon as the track turns flat or tips downhill, catching glimpses of distant fells through the trees. There's no traffic, so the only look-out is other riders equally distracted by the views.
For riders not sure whether their fitness will allow them to get around this 10.5-mile trail, the bike hire centre, Biketreks, at the Visitor Centre rents out e-mountain bikes to provide a battery boost against gravity. And if you're feeling strong when you loop back to the start of the trail, there are several more green level trails to fill your afternoon or lure you back the next day.
Directions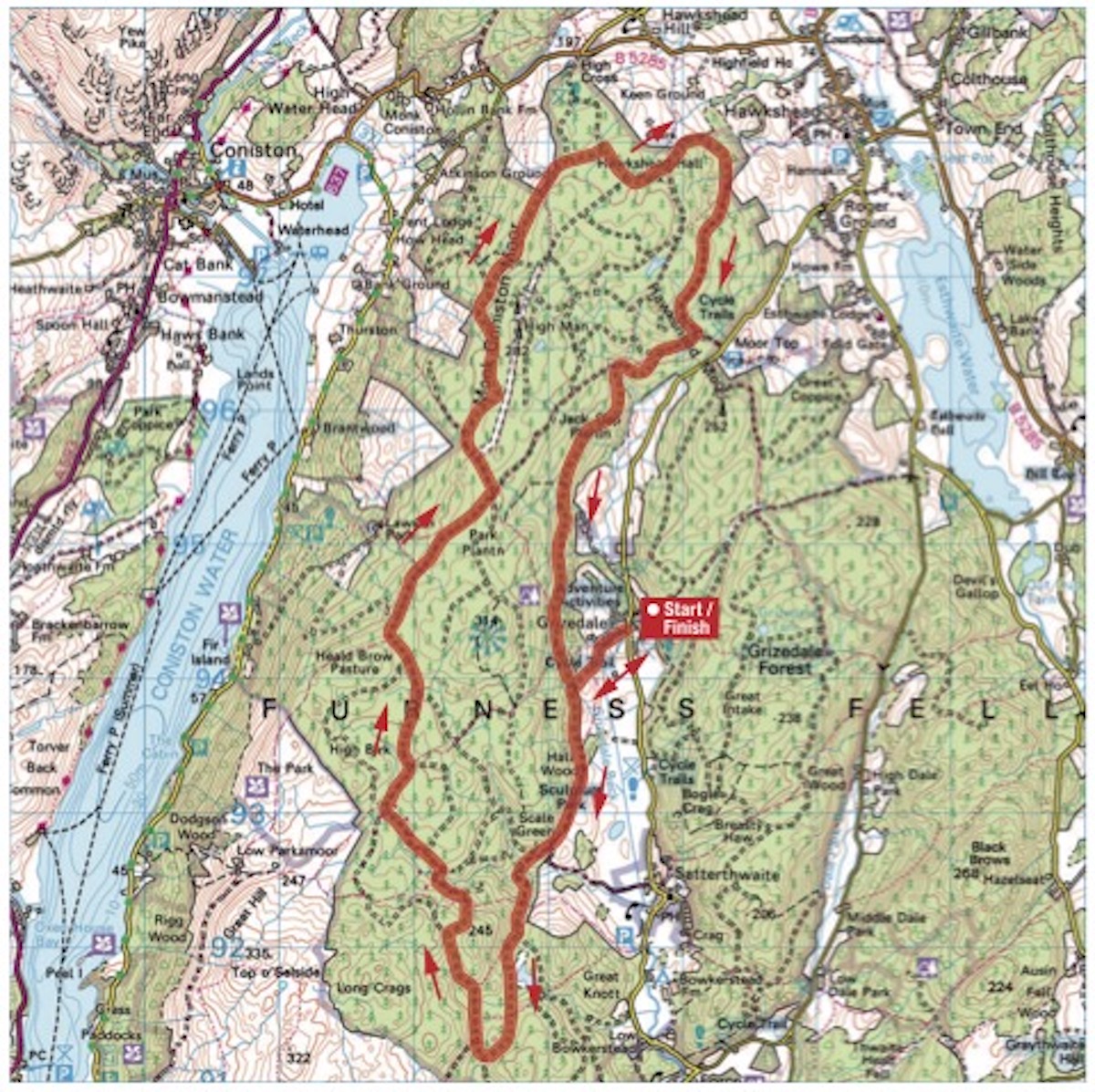 From the Grizedale Forest car park, cross the road and take the lane immediately before the Visitor Centre complex. In 250m turn left at the gate, marked by purple, green and orange waymark arrows. After 500m, turn left and follow the green waymark arrows for the rest of the ride as they guide you in a long loop back to this point, from where you turn left to return to the Visitor Centre.
About the route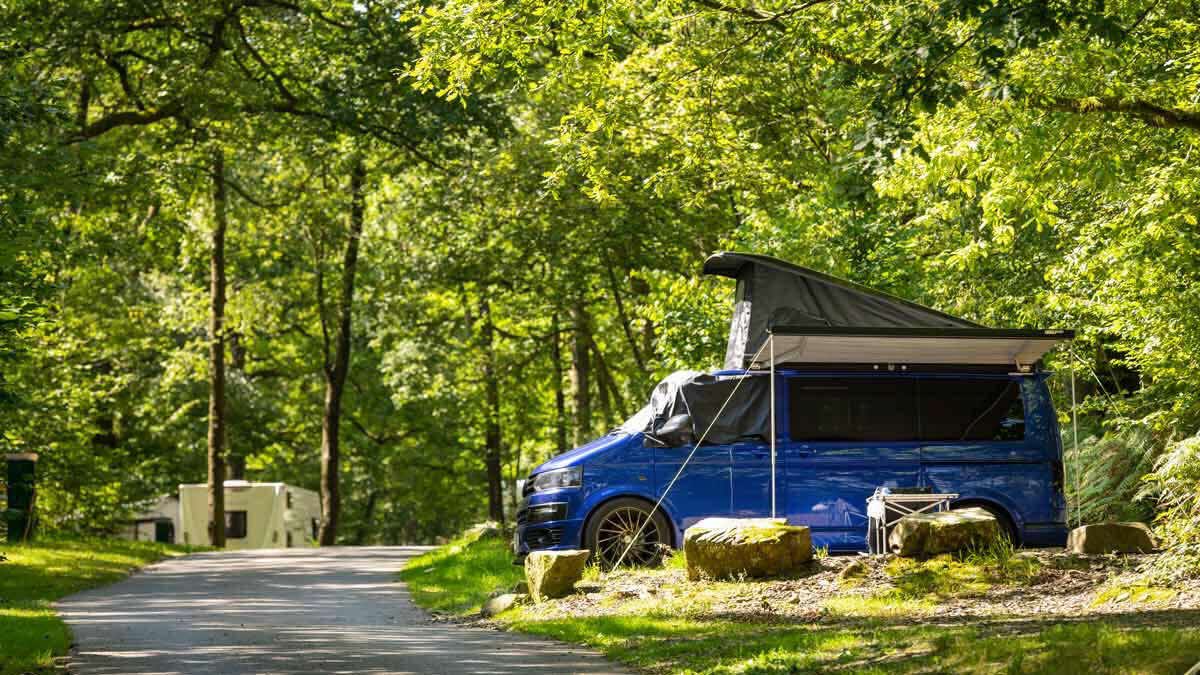 Start: Grizedale, Forestry Commission Visitor Centre, Grizedale Forest, Hawkshead, LA22 0QJ
Distance: 17km / 10.5 miles
Time: 2 hours

Suitable for: Fitter mountain bikers and e-bikers (or just push your bike up the hill for the first mile and enjoy the rest of the ride).
Landscape: Forest and far-reaching Lake District fells.
Terrain: Forest tracks of gravel and hard-packed mud.

Refreshments: Café at Grizedale Visitor Centre
Stay: Coniston Park Coppice Club Campsite, Park Gate, Coniston LA21 8LA; Keen Ground Farm CL,

Hawkshead LA22 0NW

; Beckthwaite CL,

Coniston LA21 8EL

; Crosslands Farm CL,

Rusland, Ulverston LA12 8JU

; Outgate Fell CL, Outgate, Ambleside, Cumbria, LA22 0NH.
You can download this route from our dedicated Strava page here.