Cycle route from Daleacres Club Campsite
Ride the Fifth Continent
Jonathan Manning pedals through a landscape much-hyped in The Ingoldsby Legends on the flat and quiet roads of Romney Marsh
There's more than a hint of the signwriting on Del Boy's famous yellow Reliant Robin van – "New York, Paris, Peckham" – in the opening lines of The Ingoldsby Legends written by Richard Barham in 1837. "The World, according to the best geographers, is divided into Europe, Asia, Africa, America and Romney Marsh," wrote the clergyman. Elevating the marsh to a continent-sized pedestal requires a bit of poetic licence, but there is, nonetheless, something extraordinary about Romney Marsh, which stretches across the drained and reclaimed coastal wetlands of Kent and East Sussex.
This easy, flat ride rises and falls so little it fails to cross a single contour line on its exploration of the eastern end of the so-called Fifth Continent in which the Daleacres Club site nestles. Ashford and Folkestone are less than 10 miles away, but there's no sense of the rush and freight of Channel crossings in this landscape that was once renowned as a haven for smugglers.
Instead, there's an overwhelming feeling of solitude, with narrow, quiet roads threading their way between huge fields below vast skies. The route follows a section of National Cycle Network 2, which stretches from Dover in Kent to St Austell in Cornwall, and on this section it's only headwinds not hills that provide the challenge for cyclists.
The endless horizon is broken only by church towers. Look out for the 12th century All Saints church in Burmarsh, which stands 4m below sea level, and for the leaning tower of St Peter & St Paul's in Newchurch – a church that has been 'new' for at least five centuries.
While it's tempting to scan the epic skyline for weather systems rolling in, the real interest lies close at hand in the wildlife-rich marsh, sliced and diced by ditches. Bumble bees and butterflies flit between wildflowers, herons stand motionless by water, the occasional buzzard circles languidly on thermals, and coveys of partridge burst from the hedgerows.
Modestly tucked by the roadside is a Commonwealth War Grave, honouring Pilot Officer Arthur Clarke of 504 Squadron, killed in action here during the Battle of Britain on 11 September 1940. It's a sobering contrast to the peace that now reigns throughout Romney Marsh.
You can download this route from our dedicated Strava page here.
Directions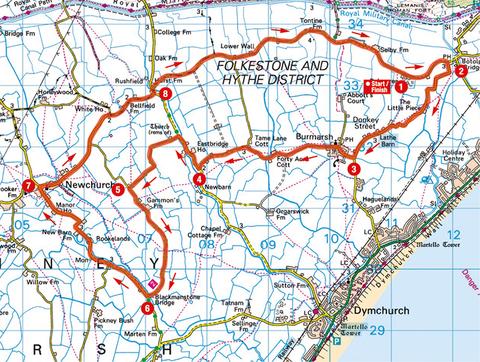 1. From Daleacres Club Campsite turn right and continue for 850m to a turn on the right.
2. 850m – Turn right along Donkey Street, signposted to Burmarsh and Dymchurch. Continue for 2.5km to a T-junction.
3. 4km – Turn right at the T-junction, signposted to Burmarsh, soon passing the Shepherd & Crook Inn. Continue for almost 3km to a T-junction.
4. 6.3km – Turn right at the junction, signposted to Aldington and Ashford, then in 700m turn left along National Cycle Network 2. Continue to a T-junction with a white house on the right.
5. 8.4km – Turn left along NCN2 and continue to a T-junction with a Gammons Farm Lane sign on the bridge.
6. 10.5km – Turn right and continue into Newchurch to the first road on the right.
7. 13.4km – Turn right in Newchurch, signposted to Hythe and Dymchurch, and continue for 2.5km to a T-junction beside a large white house.
8. 16km – Turn left at the T-junction to Aldington and Ashford, then immediately right along Lower Wall Road. Follow this road for 4km back to the Club site.
About the route
Start/finish: Daleacres Club Campsite, Lower Wall Road, West Hythe, Hythe, Kent CT21 4NW.

Distance: 13 miles/21km.

Time: 1.5 hours.
Level: Suitable for all cyclists.

Terrain: Asphalt all the way.

Landscape: Flat arable land and sheep pasture.

Refreshments: Shepherd & Crook, Burmarsh.
Daleacres
Kent