Cycle route from Nunnykirk Club Campsite
Wild and wonderful
Jonathan Manning blows away the cobwebs in the rugged Northumberland countryside
Tucked away in remote Northumberland hills, Nunnykirk Club Campsite is an idyllic base for cyclists. Library-quiet roads radiate in all directions offering access to rugged countryside where you are likely to see more curlew than cars.
This route skirts gorse-edged moorland, crosses rivers and streams, dives through woodland and passes tiny stone villages. The brooding Simonside Hills sit on the northern horizon, and there are far-reaching views in all directions.
As with financial advice, be warned that what goes up can also come down, with each exhilarating descent paid for by a taxing climb. This is a lumpy landscape, so e-bike riders should make sure batteries are fully charged!
The steady swoosh of wind turbines at Wingates also give away the fact that the route is highly exposed in places and best saved for when the weather forecast is favourable. However, the rewards for riding it are rich. While some routes head to a specific viewpoint or attraction, this one is an immersive experience in a wild and wonderful part of the country.
You can download this route from our dedicated Strava page here.
Directions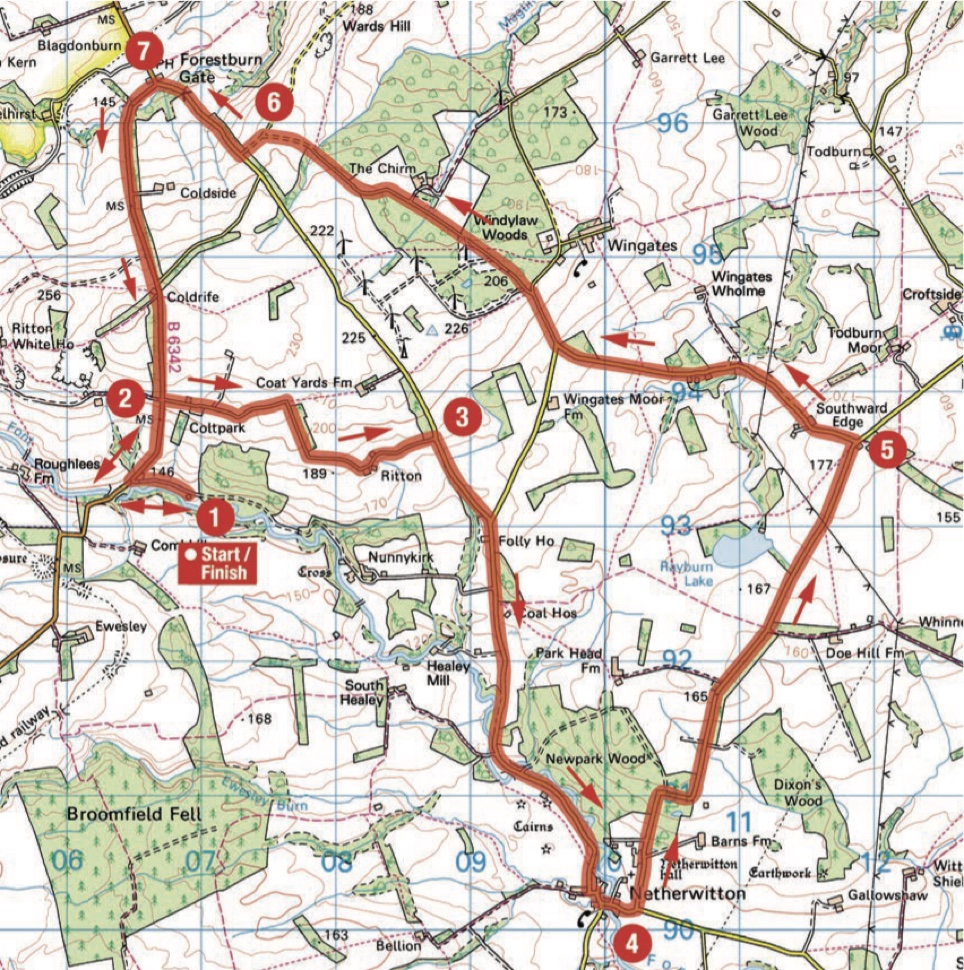 1. From reception at Nunnykirk Club Campsite, follow the drive to the B6342, and turn right to climb a hill (it's a tough start to the ride!). In 700m look out for a crossroads just before the top of the hill.
2. 1.1km – Turn right at the crossroads, signposted to Ritton and Coltpark. Continue for about 2.5km to a T-junction.3. 3.5km – Turn right at the T-junction, signposted to Netherwitton and Morpeth. Enjoy the long descent to Netherwitton, cycle through the village, cross a bridge and driveway to St Giles church, and look for a left turn immediately after leaving the village.
4. 7.8km – Turn left, signposted to Longhorsley, with a fine stone wall on the left. Continue for about 4km, largely climbing, before looking out for a turn on the left, opposite a cottage on the right, and in line with a series of wind turbines.
5. 11.9km – Turn left, signposted to Wingates, and at the top of the hill turn left, signposted to Rothbury, passing the wind turbines on the left. Continue to a T-junction on open grazing land, with stupendous views ahead.
6. 17.3km – Turn left at the T-junction, and in 200m at the next T-junction turn right downhill, signposted to Rothbury. Continue to a T-junction with the B6342 (The Gate pub on the corner).
7. 18.3km – Turn left at the junction and enjoy the largely downhill 3km return to the Club site, which is on the left side of the road.
About the route
Start/finish: Nunnykirk Club Campsite, Nunnykirk, Morpeth, Northumberland NE61 4PZ.
Distance: 21.8km/13.5miles.
Time: 90 minutes.
Level: Suitable for fitter cyclists and e-bikers. This is a hilly route.
Terrain: Asphalt all the way, with some long ascents and descents.
Landscape: Farmland, woodland and moorland.
Refreshments: The Gate pub, Netherwitton (on B6342 at Point 7).