Try an introductory open-water swimming lesson
Taking the plunge
The UK has seen a boom in the popularity of open-water swimming. Jonathan Manning dips his toe in the water with an introductory lesson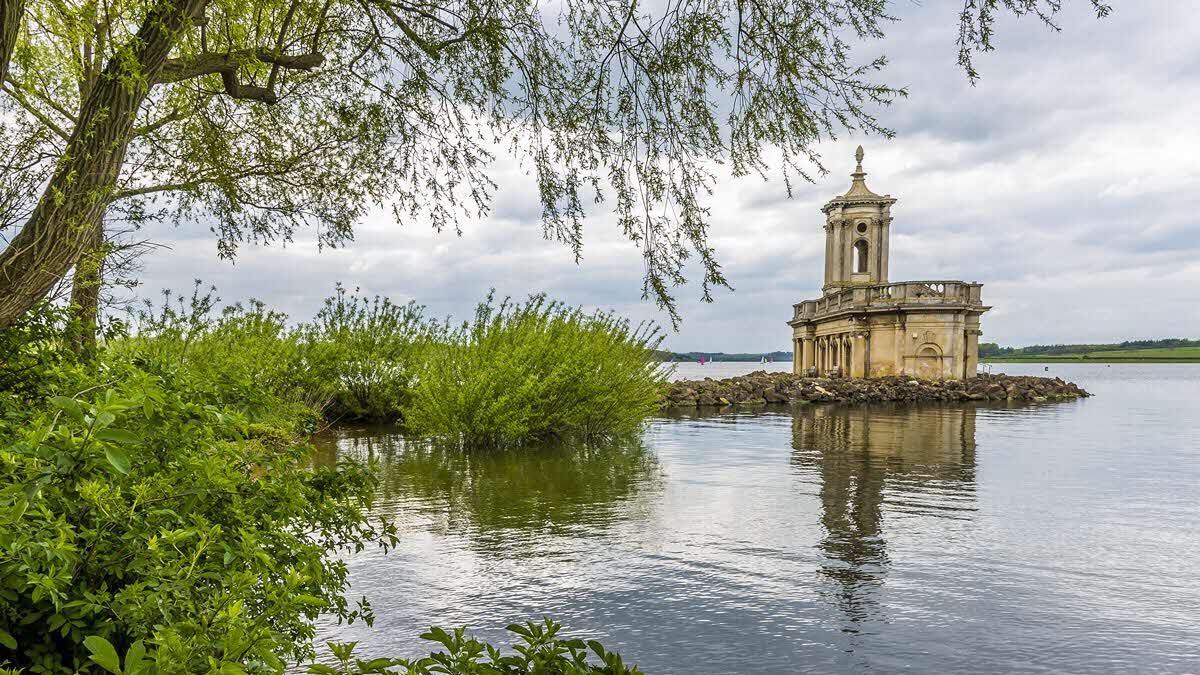 Rutland Water
It turns out that the first challenge of swimming in Rutland Water – the picturesque reservoir that services the East Midlands – has nothing to do with fears of cold water, unknown depths and tendrils of weed brushing my feet, but the difficulty of pulling on a wetsuit. I slowly wiggle my legs into the clammy suit, shuffling the rubber up inch by inch until it's over my waist, before finally squeezing its cling film-like grip over my shoulders. Open-water swimming may provide mindful moments out in a river, lake or sea, but its preparations are far from glamorous.
And just in case I'm not feeling self-conscious enough already, I'm wearing a bright orange swim hat and I've clipped a fluorescent pink swim float around my midriff.
Mary Hardwick, coach and director of Inspire2tri, gently ribs 15 of us (13 women, two men) about our collective appearance as we prepare for our first experiences of open-water swimming. The aim of this introductory class is to build our confidence to swim in a less controllable, more natural environment than our local pools. Two or three of the group have their eyes on a first triathlon, but the majority of us simply want to tap into the zen calmness of swimming without the smell of chlorine filling our nostrils.
The only pre-condition is that we consider ourselves to be confident pool swimmers, capable of swimming 200m non-stop – although we won't be counting lengths on this occasion, and the only butterfly we'll see is a red admiral. As we tiptoe across gravel to the water's edge, one of Rutland's ospreys flies overhead – you don't see that at your local leisure centre.
At the end of a hot July day, the water temperature has nudged up to about 18˚C – perhaps warmer in the shallows – and, insulated by the wetsuit, it's easy to stride into the reservoir. At this point Mary reminds us to bounce up and down 10 times and pull open the neckline of our suits, letting water sneak its chilly way down our spines. Involuntary squeals from the group signal compliance with the instructions – in a couple of minutes our bodies will have warmed this thin layer of water, but it's a very long 120 seconds. Two women have bravely decided to wear only swimsuits.
Perched on a kayak, Mary issues simple directions to swim either breaststroke or front crawl out to a white buoy. There's no rush or race, and we string out between Mary and a rescue boat bringing up the rear, hi-vis ducklings shepherded by attentive parents.
In theory, swimming should be swimming wherever the location, and just a question of staying afloat and propelling our bodies, but in practice this feels very different. The knowledge that the bottom is 30m below my feet preys on my mind. And when I tread water at the buoy, I'm spooked by the sight of white flashes below me until I realise that they're my own feet – I've seen Jaws too many times! Sharing an environment with insects, fish and weed has the potential to kick-start a bout of the heebie-jeebies no matter how relaxing this is supposed to be. Do trout and pike ever attack humans?
But the positives soon become apparent. For a start, the wetsuit adds so much buoyancy that swimming front crawl has never been easier. Plus, I realise that I'm comfortably warm – even my bare hands and feet. Better still, when I hug the float to my chest and bob in the water, the amazing peace of being out in the reservoir, with birds above and only the gentlest ripple on the surface, starts to create a magical experience. Being alone with my thoughts in the vast expanse of Rutland Water creates the same humbling feeling I have when gazing up at a star-filled night sky – a reminder that I'm just a tiny speck in a vast universe. This is so far removed from the lanes and shrieks of an indoor pool that it's a different activity altogether.
Boom time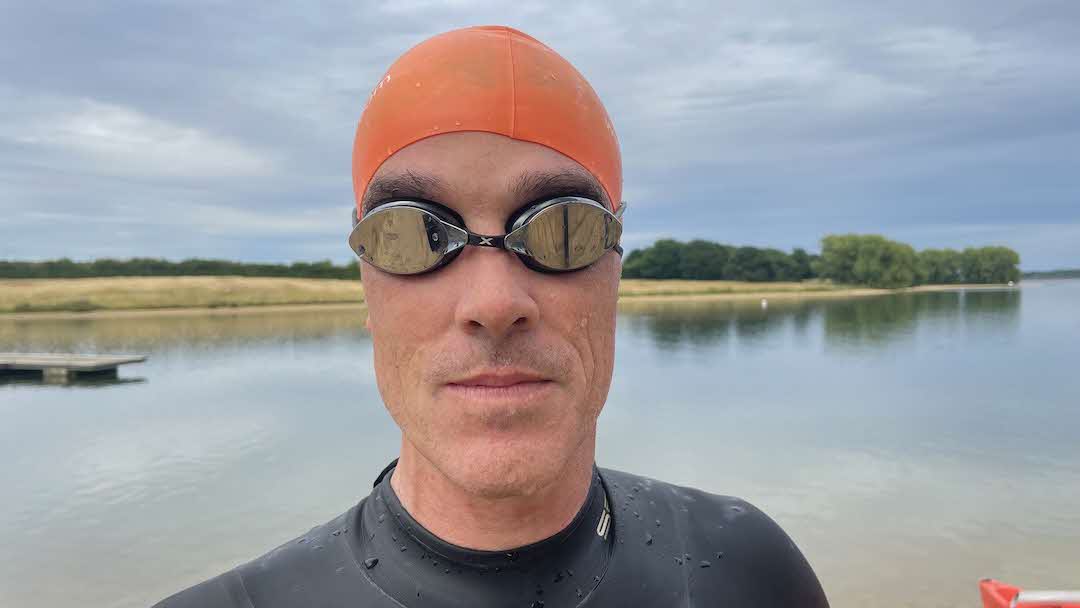 Figures from Sport England indicate that in 2017/18 more than 4.1 million people swam in lakes, lochs, rivers and sea, and this number was driven higher during lockdown, when public pools closed. Two-thirds of outdoor swimmers say the activity is essential or very important to their mental health. Open-water swimming events are starting to pop up with the frequency of 10Ks for road-runners, although many swimmers never intend to race.
Once all of us have reached our destination, Mary points to a second buoy farther out in the reservoir as our next target, and off we set. For the crawl swimmers she recommends sighting – checking we are on the correct path – every few strokes, and using a landmark on the far shore as a navigational guide. If waves were to pick up, the buoy might disappear from our meniscus-level line of sight. There's no tide or current, but without the black painted lines of a swimming pool floor to guide us, it's surprising how easy it is to veer off course. Meanwhile, the breaststroke contingent swim serenely as the crow flies towards the marker.
Upon arrival at the second buoy, the shed where we entered the reservoir looks tiny on the shoreline. We're about 300m from dry land, which for me would be an intimidating distance without the comfort blanket of other swimmers and the rescue boat (Swimming England states that you should never swim alone in open water). But towing a float means we can stop for a breather whenever required, and in less than a quarter of an hour we're back at our start point. In total, we've spent about 45 minutes in the water – it's longer than I've ever swum without putting my feet down, but the time has flashed by. I'm delighted to have taken the plunge into open-water swimming.
Stay safe
According to the Royal Life Saving Society UK, around 85% of accidental drownings occur at open water sites (these include lakes, rivers, canals, reservoirs and quarries). So it is vital that you consider your safety and that of others before having a go. Simple advice on the RLSS UK website includes:
Think about the water temperature and the weather
Plan your exit before you get into the water
Consider currents, tidal flow and wind direction
Use a recognised venue, preferably lifeguarded
Wear a brightly coloured swim hat
Have warm clothes ready for afterwards
Swim with a friend or open water swimming group
You can find lots more information by visiting rlss.org.uk and clicking on the 'Water Safety' tab at the top of the page. Here you will also find information on 'cold water shock' and how you can acclimatise at home prior to taking the plunge. The Royal National Lifeboat Institution website (rnli.org) also contains plenty of safety advice.
Test the water
An hour's Introduction to Open Water Swimming course costs £18 at Rutland Water.
Info: inspire2tri.com
Stay: Rutland Caravan and Camping Site AS
Three other open-water swimming destinations
Windermere
Where better to get a taste of open-water swimming than the beautiful Lake District? A 3½-hour course (£49) at Derwentwater provides a perfect introduction.
Info: swimwildside.com
Stay: Borrowdale Club Campsite
Brighton
If you fancy getting to grips with swimming in the waves, a one-hour, 1:1 course (£70) with an instructor on a paddleboard will help build your sea-swimming confidence.
Info: swimtrekcoaching.com
Stay: Brighton Club Campsite
Cotswold Water Park
Improve your skills in open water, or even build your confidence for a first swimming event or triathlon, in a two-hour workshop (£40) near Cirencester.
Info: southwestswim.co.uk