Following the Thames from source to sea
Following the Thames from source to sea
Club member Philip Moon traces the River Thames – by boot, boat and bike – from a field in Gloucestershire to the Essex coast
Philip Moon ready to start his adventure on the River Thames
The dark and dingy days of last year's winter lockdown gave me plenty of time to dream and scheme. An idea – a fantasy at first – evolved into a plan: to follow the River Thames from its source in Gloucestershire to Shoeburyness in Essex by boot, boat and bike. A journey of some 215 miles, I decided to break it down into a series of stages over the spring and summer months.
For the first two stages, undertaken in April and early May, I based myself at the Club's fantastic Cotswolds site at Burford.
Stage 1
Kemble to Buscot
The official source of the Thames is marked by a stone in a field somewhere near Kemble in Gloucestershire. There wasn't a trickle of water to be seen there, but I soon found a puddle, then some swampy bits and finally a definite stream began to emerge, which I was able to follow on foot to Cricklade, my end point for Day 1.
In theory you can canoe to Buscot from Cricklade, but I'd heard reports that the river might be blocked by fallen trees, so I decided to stick to shanks' pony for Day 2. The weather was lovely and, as I approached Lechlade in the late afternoon, the riverside pubs were crowded with people enjoying their newly restored freedoms. On I plodded past St John's Lock, the first lock along the Thames, towards my end point in Buscot. Along this stretch are the first of the pillboxes that were built on the north bank of the river as a line of defence during the Second World War – thankfully they were never put to use.
For this stage I'd had the benefit of my wife's support as chauffeur. For most of the rest of the way, I'd be on my own, which would involve some nifty shunting around, either using public transport or taking my car to the end point and then cycling back to start my day's walking or canoeing.
Stage 2
Buscot to Oxford
I had intended to canoe to Oxford, but the weather was poor so I opted instead to walk for the first two days of this stage. En route I encountered a woman walking her dog, and I explained what I was doing. "Gosh," she exclaimed, "I hope I can do things like that when I'm old!" She must have thought I was at least 80... whereas in fact I'm just a very wrinkly 69!
Hurrah! On Day 3 I finally made it on to the river with my canoe. Apart from the weather, the most daunting aspect was negotiating the locks. When they are open you can simply 'lock through'; otherwise you have to get out and 'portage' (carry your vessel) around them.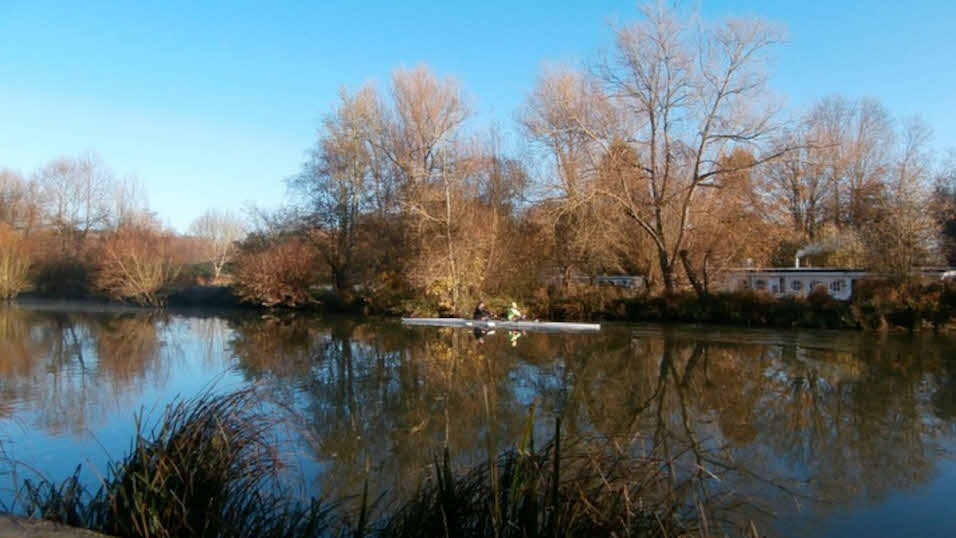 Rowers at Iffley, near Oxford ©VisitBritain
Finding the best place to land and relaunch isn't easy. I prefer a gentle sloping bank for both – alas not always available. Eventually I developed a technique for scaling ladders and hauling my canoe up after me. This involved wedging my paddle (attached to the boat by a cord) through the top of the ladder and heaving myself out and up – a task both precarious and difficult as in recent years my power:weight ratio has swung decidedly towards 'weight'. Relaunching was often worse and could involve a drop of up to a metre if the water levels were low. Anything more than 18in had me terrified.
Stage 3
Oxford to Wallingford
Two days' canoeing to Wallingford at the end of May went quite well. With sunny spells and a gentle breeze (mainly from a friendly direction), it was a predominantly pleasurable experience!
Stage 4
Wallingford to Maidenhead
In early July I took to the river again, this time using the Club's Henley Four Oaks site as my base. It started badly and I didn't manage to launch until 5pm; it was getting dark by the time I reached Pangbourne at the end of Day 1. I was wet, cold and a touch despondent. However, I was not the first to arrive in such a state, for it was here that Jerome K Jerome's Three Men in a Boat abandoned their Thames trip in favour of a train back to London and the comforts of home.
The next day I decided to take it easy and walk the stretch to Reading, but Days 3 and 4 were spent in the canoe, making good progress via Henley on to Maidenhead. Summer brought more boats and greater numbers of people enjoying themselves. A group of 30-something women, elegant in long, sleeveless dresses, sat on the rear deck of one craft chatting happily and sipping bubbly. They kindly offered me a glass. "Is this a hen party," I enquired, "or just the normal way of spending a Friday afternoon?"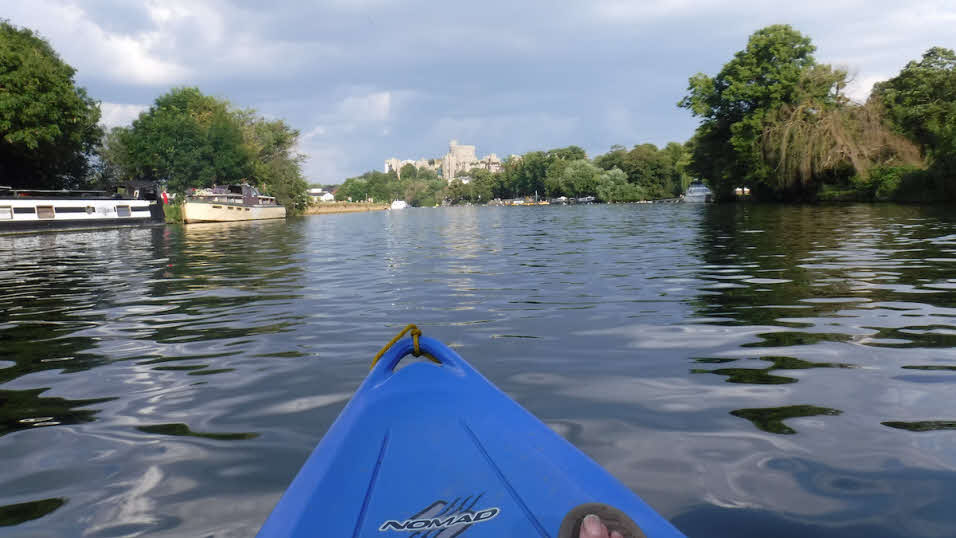 Stage 5
Maidenhead to Teddington
For the next stage I based myself at a non-Club site in Chertsey, which was situated right on the bank of the Thames. This time I was lucky enough to be accompanied by my friend John, who acted as wingman and ferried me about as necessary.
In late July the weather was incredibly hot. I watched with some consternation as my legs turned from beigey-white through rosy pink to roaring red. But after so much rain in the preceding weeks I wasn't going to complain.
Day 1 took me through Windsor to Datchet. The Royal Standard flying over the castle indicated that the Queen was in residence. Unfortunately there wasn't time to drop in for tea.
Day 2 started with a problem. I'd lost the key to the padlock with which I'd secured the canoe the night before. Directed to the nearest
DIY store to buy a pair of bolt croppers, we were interviewed by a manager to ascertain that we weren't planning a burglary! Despite our masks, we were allowed to make the purchase. Cutting through the padlock chain turned out to be alarmingly easy.
That day ended at Chertsey. The site had its own launching and landing facility, but it was down a backwater that turned out to be heavily silted. On stepping out of the canoe, I sank up to my thighs in mud and rotting vegetation, ripping one of my sandals apart – unpleasant, but not disastrous.
The next day took me on past the magnificent Hampton Court Palace and on through Kingston upon Thames to Teddington Lock. Again, it was a glorious day, and, as I approached Teddington on the outskirts of London, the banks were alive with youngsters enjoying a dip.
Stage 6
Teddington to Shoeburyness
From Teddington, the Thames is tidal. I had heard warnings about the dangers: 'Only for experienced canoeists'; 'Carry a VHF [very high frequency] radio'; 'Watch the tides'. Discretion being the best cover for cowardice, my final stage would be by boot and bike. An afternoon's walking took me the 12 miles or so from Teddington through Richmond, Kew and Barnes to Putney, from where I took a Thames Clipper across the capital to my hotel for the night, close to Tower Bridge.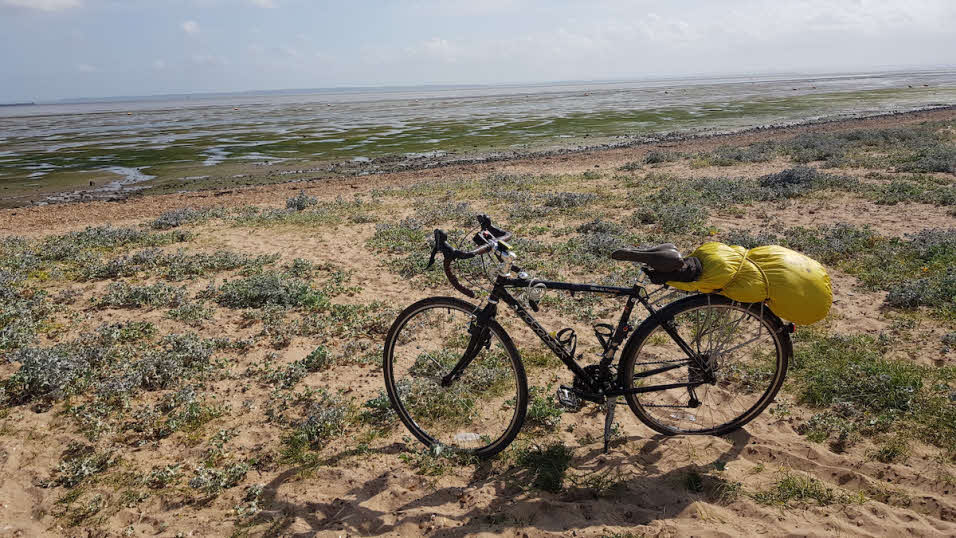 Made it! Philip's bike on the sweeping sands of the Thames estuary at Shoeburyness
Next morning, it was another short Clipper trip to Greenwich to begin my cycle ride to Gravesend in Kent. Beyond Woolwich the posh riverside residences give way to more industrial sites and smells. From Gravesend I caught the passenger ferry across the river to Tilbury in Essex – free passage with myoldfolks'buspass!
It was then a short hop by train to get me back on a cycle route at Leigh-on-Sea, with just eight miles remaining. On I pedalled, through Southend where the invigorating smell of sea air gives way to the sickly aroma of candyfloss, and finally to the more genteel Shoeburyness – my final destination, where the river flows into the Thames Estuary: a very different landscape from the start of my journey.
'Source to Sea': I'd made it. My mind turned to future trips. Perhaps the Dordogne...