Cycle route from Bourton-on-the-Water Club site
Cycle route from Bourton-on-the-Water Club site
A ride through heavenly Cotswold villages from Bourton-on-the-Water Club site which combines picturesque scenery with challenging climbs.
Beware! Those honey-stone cottages of the Cotswolds may appear to offer a fairytale welcome but the roads that thread these dreamy villages together, like gems on a necklace, rise and fall with the brutal pitch of South Atlantic waves.
This ride connects some of the most achingly gorgeous settlements in this Area of Outstanding Natural Beauty, all boasting with houses and streets that could make the lids of chocolate boxes look plain. But there is a price to pay for all this loveliness – a frequent battle with gravity.
The good news is that what goes up must come down, so there are some effortless descents on which daredevils can pick up thrilling speed. Plus, the roads are quiet, apart from the stretch to and from the Club site on the outskirts of Bourton-on-the-Water.
The popular Cotswold Farm Park, run by Adam Henson of BBC Countryfile fame, sits at the halfway mark, with its wide collection of rare breed animals (you must pre-book if you intend to visit the farm park). The breakfast roll served in The Ox Shed is also particularly good for hungry cyclists, and you don't need to pay to enter the park to use the café (check cotswoldfarmpark.co.uk for latest visitor information).
The honeyest of honeypots comes soon after in the unfortunately named Lower Slaughter, an impossibly pretty village, where a terrace of stone houses flank the clear-running River Eye. On quiet days it's a perfect spot to sit and dangle your toes in the water from the flagstone footbridge, although quiet days in such a perfect setting are few and far between. A steady climb then leads on to Upper Slaughter, another stunning pocket of golden architectural beauty on the banks of the river.
Throughout the route far-reaching views open out, many of them framed by limestone walls and broadleaf woodland, making this a wonderful ride. E-bike riders will be grateful for the extra support of a motor pushing them uphill, while everyone else will have 'to put on their climbing legs'; it's worth it.
You can download this route from our dedicated Strava page here.
Directions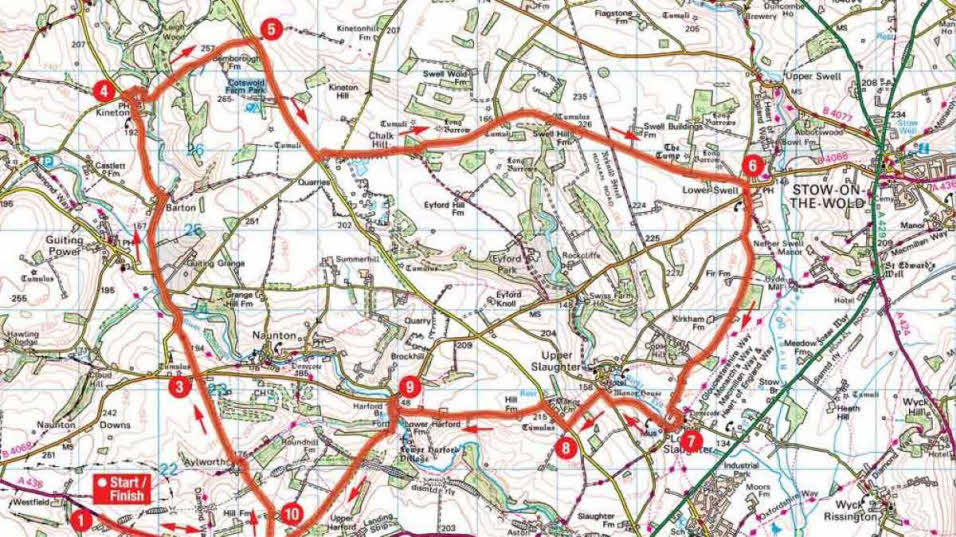 1 From Bourton-on-the-Water Club site turn right along the A436 and keep going for 2km.
2 2km – Turn left, signposted to Aylworth. Continue ahead for 2.5km to reach a crossroads.
3 4.5km – Go straight over the crossroads, signposted to Guiting Power and Winchcombe. Continue to a T-junction and turn right, signposted to The Hollow Bottom, Guiting Power and Winchcombe. Keep on this road for 4km, riding through Guiting Power, to reach Kineton. At the far end of Kineton look out for a turn on the right to a ford.
4 8.5km – Turn right. Caution, it is a steep descent to the ford. On the far side of the stream – there is a footpath to the side to avoid getting wet feet – start the steady climb to a T-junction.
5 10.5km – Turn right at the junction, following signs to Cotswold Farm Park, which is about 800m on the right and has a café which is free to enter. From the farm park turn right and then take the next left, signposted to Stow and Lower Swell. Continue for 5.5km to reach a T-junction in Lower Swell.
6 17.9km – Turn right, signposted to Cheltenham B4068, and in 50m turn left, signposted to The Slaughters. Stay on this road to reach Little Slaughter. Ride through the village until level with the church on the left.
7 21.3km – Turn right opposite the church, along the left side of the River Eye, signposted to Upper Slaughter. In just over 1km turn left, signposted to Guiting Power and Winchcombe (alternatively, Upper Slaughter makes a very pleasant diversion, then return to this point). Climb the hill to reach a T-junction.
8 23.1km – Turn right, signposted to Naunton and Guiting Power and in 500m, just before the road bends sharply to the right, turn left towards Lower Harford. Continue downhill for about 2km to a crossroads.
9 25.6km – Just before reaching the crossroads turn sharp left, almost back on yourself (NOT along the B4068), signposted to Lower Harford. Ride through a ford (again there is a raised pavement to the side). Stay on this road for 2.5km to reach a T-junction.
10 28.2km – Turn left, signposted to Notgrave and Cold Ashton, and in 20m turn right along the A436, signposted to Cheltenham, and continue for 2km to reach the Club site on the left.
About the route
Start/finish: Bourton-on-the-Water Club site, Cheltenham Road, Bourton-on-the-Water, GL54 3BU.
Distance: 19 miles/30.4km. Time: 2.5 hours.
Level: Suitable for fit, adult cyclists, due to steep hills and rapid descents.
Terrain: Asphalt all the way, although the surface is broken in places. A road bike, hybrid or e-bike is ideal.
Landscape: Hilly!
Refreshments: The Halfway House, Kineton; The Old Post Office tea room, Guiting Power; The Farmers Arms, Guiting Power; Cotswold Farm Park Ox Shed café, Guiting Power; The Golden Ball Inn, Lower Swell; The Slaughters Country Inn, Lower Slaughter; River Café, Lower Slaughter