Cycle route from Fields End Water Caravan Park
Cycle route from Fields End Water Caravan Park
An ideal route for  hill-phobic riders on picturesque roads which slice  their way through the flat lands of Cambridgeshire from Fields End Water Caravan Park.
For those cyclists who dread the prospect of having to toil up hills, this ride will be an absolute tonic. Heading through the contour-free Cambridgeshire Fens, the highest point of the route is just 11m above sea level. It doesn't get flatter than that!
The far-reaching landscape is reclaimed from the sea with ditches, dykes and pumping stations continuing the drainage mission today, pushing water 'uphill' to local rivers and onwards to the coast. At first glance it's a vast, featureless panorama. There are few trees and no woodland or hedges; just fields that stretch like prairies towards the horizon.
But it's also a region of epic skies and amazing light, a hybrid waterscape-landscape that polarises at each end of the spectrum. Sweeping, uninterrupted views give an exhilarating sense of space, brought to life by weather systems that march across the rich, black soil.
Spotlights of sunshine and curtains of rain glide over this arable world with nothing to impede them. Blades of a new army of wind turbines spin endlessly in the breeze. At a micro level, roadside cow parsley, poppies and purple tufted vetch provide takeaway feasts for pollinators, while damselflies skitter across the lily pads on the dykes. Cycle for too long with your mouth open and you'll swallow an unwanted meal of invertebrate protein.
Some of these roads feature in the Tour of Cambridgeshire, a road race and time trial that act as qualifiers for the amateur world championships, as well as a sportive ride where recreational cyclists who form groups will be delighted at their average speeds.
For everyone else, this is a ride to save for a still, sunny day. Riding solo at the mercy of fenland wind is a gruelling challenge, and there's no shelter along the arrow-straight roads. What's more, on a grim day there's not much to cherish – flat land below flat grey skies with no relief between rider and horizon. But on a calm, bright morning this big sky country offers a unique experience, with vistas so wide you'd swear you can see the curvature of the earth.
You can download this route from our dedicated Strava page here.
Directions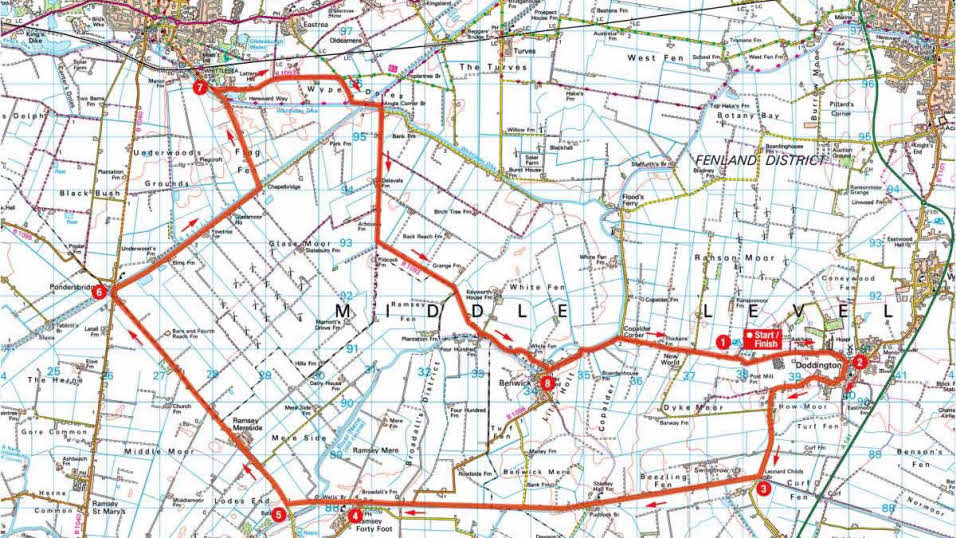 1 From the gates of Fields End Water Caravan Park turn left and continue into Doddington to a T-junction opposite The George pub.
2 2.2km – Turn right at the junction, signposted to Chatteris. Continue for 3.4km and look out for a turning on the right, just before a flat bridge over a wide dyke.
3 5.7km – Turn right immediately before the dyke, along Forty Foot Bank, signposted to Benwick and Ramsey, with the water on your left. Continue for 7.5km to reach Ramsey Forty Foot.
4 13.23km – When the road bends sharply to the left, turn right just before the bridge, signposted to Ramsey Mereside and Pondersbridge, and continue with the dyke on the left. Keep going for 1.4km to a T-junction.
5 14.6km – Turn right at the junction, signposted to Ramsey Mereside and Pondersbridge, and continue for 5km, eventually reaching Pondersbridge and passing a small church on the left, before a T-junction.
6 19.75km – Turn right at the junction, then right again in 150m along Glassmoor Bank, with a dyke immediately on the left. Continue on this road, which eventually turns 90º left over Chapel Bridge, to a T-junction.
7 25.3km – Turn right at the junction, signposted to Benwick and Doddington. Stay on the road for 10km to reach Benwick and then a T-junction.
8 35.6km – Turn left, signposted to Doddington and March. In just under 4km, Fields End Water Caravan Park is on the left.
About the route
Start/finish: Fields End Water Caravan Park, Benwick Road, Doddington, Cambridgeshire PE15 0TY.
Distance: 39.3km / 24.6 miles.
Time: 2½ hours.
Level: Suitable for adult cyclists. There are no hills whatsoever but the route is exposed to strong winds and traffic can be very fast on the section alongside Forty Foot Drain.
Terrain: Asphalt all the way. A road bike, hybrid or e-bike is ideal.
Landscape: Flat, flat, flat! Arable fields, dykes, ditches and the River Nene.