Cycle route from Moreton-in-Marsh Club campsite
Triple Crown
Jonathan Manning discovers three gems on this ride through the Cotswolds. The first is the pretty villages like Kingham, followed by Squat Diddly Farmshop and then Chastleton House.
Depending on cultural preferences there are three highlights to this ride through the Cotswolds. The first is the astoundingly pretty countryside and villages; the second is Squat Diddly Farmshop on Jeremy Clarkson's farm; and the third is Chastleton House, a stunning early 17th century Jacobean manor run by the National Trust.
The landscape certainly has star qualities, with rolling hills, ancient woodland and gorgeous, honey-stoned properties (don't check the house prices unless there's a defibrillator to hand!).
Journalist and broadcaster Jeremy Clarkson made a wildly popular and entertaining television series last year about running his farm, and given his famous petrolhead attitude while presenting the BBC's Top Gear, there's a delicious tease in caravanners visiting his farmshop by bicycle. The shop – complete with Cow Juice vending machine – located at about the half-way mark on this ride, is a small barn selling local produce, including particularly good bread. There's also a bar serving beers, ciders and rosé, with outside tables. Even on a Thursday in late March it was exceptionally busy, although it's important to check opening times as it's only open Thursday to Sunday in spring.
Riding on leads to Chastleton House, built on the wealth of the wool trade between 1607 and 1612, and restored by the National Trust in the 1990s. The garden is particularly beautiful, and there are refreshments served in the church next door.
And for cyclists who just want to ride, this is a fabulous route along quiet roads with lovely views. Only the final mile or so back into Moreton-in-Marsh is on a busy A-road.
You can download this route from our dedicated Strava page here.
Directions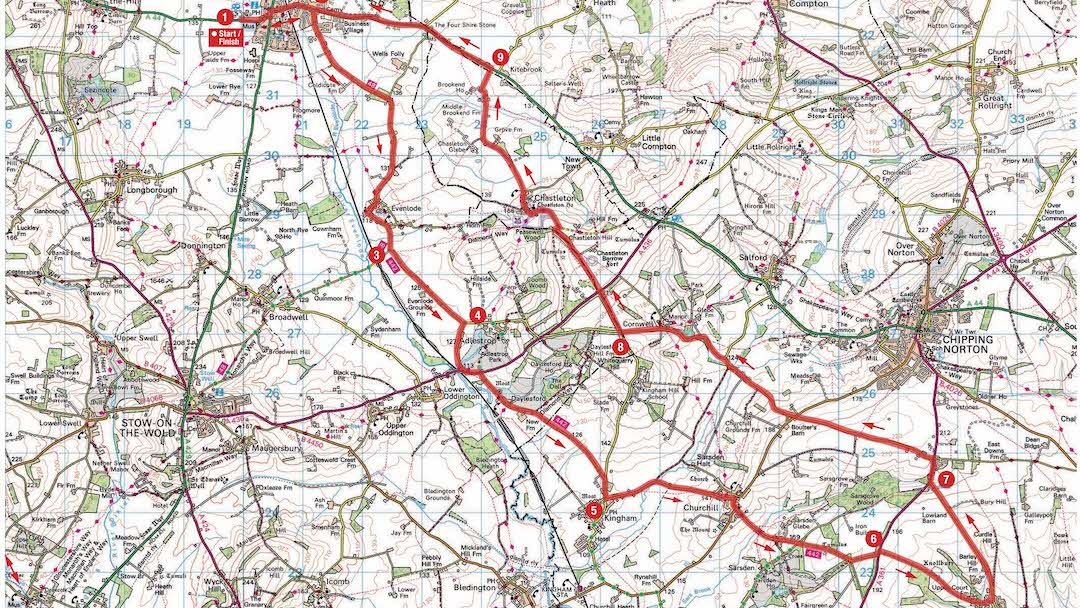 1. From Moreton-in-Marsh Club site turn left towards Moreton then in 500m at the roundabout turn right towards Stratford and Oxford, then in 100m turn right, signposted to Oxford and Cotswold Business Park. Continue for 700m, looking out for a turn on the right to Evenlode.
2. 1.3km - Turn right along Evenlode Road, and continue through the pretty village. About 800m after leaving the village, look out for a turn on the left.
3. 6.3km - Turn left, signposted to Adlestrop, Chipping Norton, and NCR 442 to Kingham and Oxford. Continue for almost 2km, eventually looking out for a turn on the right.
4. 8.1km - Turn right, signposted to Stow-on-the-Wold and Chipping Norton. Continue to A436, turn left to Chipping Norton, then almost immediately right to Kingham. Continue past Daylesford Organic (good café) and ride on to Kingham.
5. 12.5km - Turn left in Kingham along Churchill Road, signposted to Churchill and Chipping Norton. At the T-junction in Churchill turn right to Kingham Station and Sarsden then in 200m by the church turn left to Sarsden and Merriscourt. Continue to reach a T-junction.
6. 17.6km - Turn left along the A361 then immediately right, signposted to Chadlington. Pass the Tite Inn and at the T-junction turn left towards Chipping Norton. In about 1.5km on the left is the Squat Diddly Farmshop. Continue to the T-junction with the A361.
7. 22.1km - Turn right at the junction, signposted to Banbury and Chipping Norton, then in 400m turn left, signposted to Cornwell. Continue for 2.5km to an offset crossroads and go straight ahead, signposted to Cornwell. Continue through Cornwell then look out for a turn on the right (at a crossroads), signposted to Chastleton.
8. 28.6km - Turn right to Chastleton, go straight across the first crossroads and continue to pass the National Trust's Chastleton House and keep going to reach a T-junction with the A44.
9. 34.3km - Turn left, signposted to Moreton-in-Marsh and Evesham, and ride back into Moreton. Turn left at the first roundabout and right at the second roundabout, and in 500m the Club site is on the right.
About the route
Start: Moreton-in-Marsh Caravan Club Site, Bourton Road, Moreton-in-Marsh, Gloucestershire, GL56 0BT
Distance: 38.9km/24.3 miles
Time: 2.5 hours

Suitable for: Fitter cyclists (a few hills) plus a brief spell on the A44.
Terrain: Tarmac all the way, mostly very quiet.

Landscape: Lovely rolling hills dotted with pretty villages.

Refreshments: Daylesford Organic café; The Kingham Plough, Kingham; The Chequers, Churchill; The Tite Inn at Chadlington; Diddly Squat Farmshop, Chadlington; Chastleton House.