Cycle route from Sandringham Estate Club site
Cycle route from Sandringham Estate Club site
A ride by royal appointment from Sandringham Estate Club site which follows peaceful roads through the Norfolk countryside and visits the Queen's country retreat.
This is a ride by royal appointment – well almost. It starts within Sandringham Estate and in days gone by you might have seen the Queen riding here, albeit on horseback rather than a bicycle.
Even without the royal link this is a lovely route that explores the gently rolling countryside and flint-walled villages of north Norfolk. Any inclines are modest and the roads are library-quiet in terms of traffic.
Any noise is likely to come from the fields, where vast skeins of pink-footed geese feast on the remains of the sugar beet harvest through the winter, and the skies that echo to the call of curlews and buzzards. This area, so close to the Wash and the RSPB reserves at Snettisham and Titchwell, is a birdwatcher's paradise.
The route itself is a convenient figure-of-eight, so any riders looking to shorten their time in the saddle canturn back early. There are, however, cafés and pubs to sustain those seeking an energy boost, although this is certainly not a strenuous ride.
The highlight is the chance to stop off at Sandringham House, where members of the royal family traditionally spend Christmas. The estate church will be familiar to those who watch television on Christmas Day. The main dilemma is whether to stop at Sandringham on the way out or the way back – it's less than a mile from Sandringham Estate Club site.
You can download this route from our dedicated Strava page here.
Directions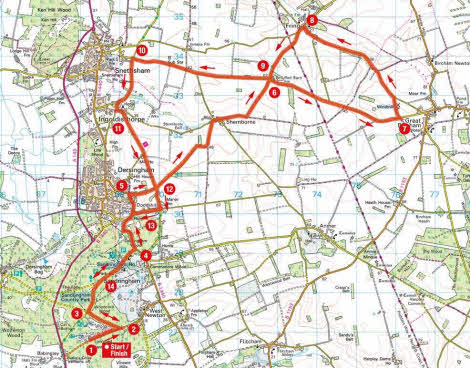 1 From Sandringham Estate Club site turn left and continue for 900m to a turn on the left.
2 0.9km – Turn left on Common Road and continue on road through woodland for 1km to a crossroads.
3 1.8km – Turn right along Donkey Pond Hill and right again in 800m at a T-Junction. In 800m the entrance to Sandringham House is on the right while there's a café in the car park to the left. After visiting, continue for 500m to a T-junction with some black wrought iron gates on the right.
4 3.9km – Turn left, signposted to Hunstanton. Continue into Dersingham, passing St Nicholas's Church on the right.
5 5.6km – Turn right immediately after the church, signposted to Shernbourne. Keep on this road, passing through Shernbourne, for 5km to a crossroads.
6 10.7km – Turn right at the crossroads, signposted to Bircham (for a shorter ride, turn left and follow the instructions from point 9). Continue for 3.5km.
7 14.3km – Turn left, following a sign to Bircham Windmill. Pass the windmill on the right and continue to a T-junction. Turn left and continue into Fring to a T-junction.
8 17.9km – Turn left, signposted to Shernbourne, and ride for 1.6km to the same crossroads as point 6.
9 19.5km – Turn right and continue for 3.5km to a crossroads just before the village of Snettisham.
10 23km – Turn left along St Thomas's Lane, following National Cycle Route 1, and continue for 1.5km to a T-junction in Ingoldisthorpe.
11 24.6km – Turn left along Shernbourne Lane and look out to the right for sweeping views of The Wash. Continue for 2.2km to a crossroads.
12 26.8km – Go straight over the crossroads, following Admiral's Drive, and in 500m turn right along Doddshill Road. Continue to a T-junction.
13 28km – Turn left towards Sandringham. At the turning by some iron gates (point 4), turn right. Continue past Sandringham House to a fork in the road.
14 30.6km – Turn left at the fork, along Donkey Pond Hill, and continue to a crossroads with a gatehouse on the left. Turn left and at the T-junction with the B1439 turn right. Sandringham Estate Club site is on the right in 900m.
About the route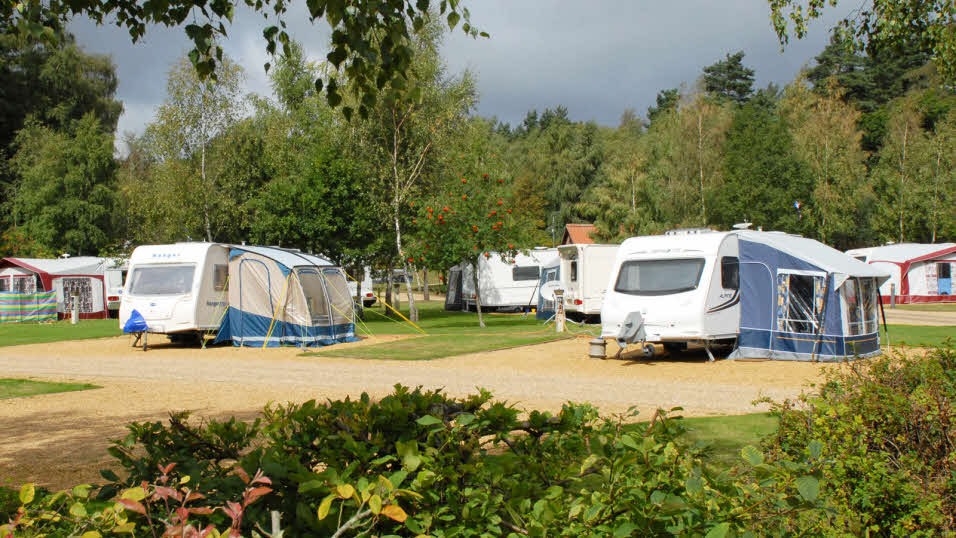 Start/finish: Sandringham Estate Club site, Glucksburg Woods, Sandringham, Norfolk PE35 6EZ.
Distance: 20.5 miles/33km
Time: 2 hours.
Level: Suitable for all cyclists. This is a leisurely ride along quiet lanes through gently rolling countryside.
Terrain: Asphalt all the way. A road bike, hybrid or electric bike is ideal.
Landscape: Fabulous woodland, arable fields and attractive villages, with coastal views in places.
Refreshments: The Cake and Coffee Shop, Sandringham; Petals Tea Room, The Feathers and The Coach & Horses, Dersingham; Bircham Windmill Café.