An evening fishing trip into the North Sea
Catch of the day
A sunset fishing trip provides immense fun and a delicious dinner for Jonathan Manning
Muscular, tiger-striped, and with a sharply forked tail, the mackerel is every inch an ocean-going predator.
A streamlined build helps to make it supremely fast, but there's a fatal flaw in its performance – it tastes fantastic. Barbecued fresh with a squeeze of lemon and pinches of salt and pepper, the mackerel is simply too delicious for its own good, which explains why it's the most commonly landed species from UK waters.
Having over-wintered in deeper water, mackerel return to the shallows in early May to spawn. Feasting on sand eel and small fish, huge shoals of mackerel can form, presenting anglers with the opportunity for pulse-raising sport.
Aggressive and hungry, mackerel can be caught from piers, breakwaters and even beaches, although there's nothing quite like being in the thick of the action from a boat. Which explains why 10 of us are waiting on the quayside at Wells-next-the-Sea in Norfolk – pictured above, and within 45 minutes' drive of Incleboro Fields, Seacroft and The Sandringham Estate Club campsites – for an evening fishing trip into the North Sea.
Fishermen disembarking ahead of us following day voyages talk about the tope and bass they've caught, but when someone asks whether they've seen any mackerel a smile spreads wide across their faces. "They're everywhere; you'll catch loads," they reassure us.
Our skipper, John, gives us a safety briefing, offering life jackets, pointing out the lifeboats and warning us against going for a swim (apparently some people find the churning green waters off the Norfolk coast irresistible for a dip). Then he fires up the engine and steers along a channel through the mudflats into the open sea.
Overhead, a little egret glides lazily downwind, its fishing for the day over, while a curious seal pops its head up close to the boat. A German teenager on board points excitedly and I make out the German word for 'dog' – hund – in the water; the seal does indeed have the large eyes and wide forehead of a Labrador. If the large local colonies of plump seals can find enough to eat in these waters, then hopefully there will be plentiful fish for us, too.
Taking the bait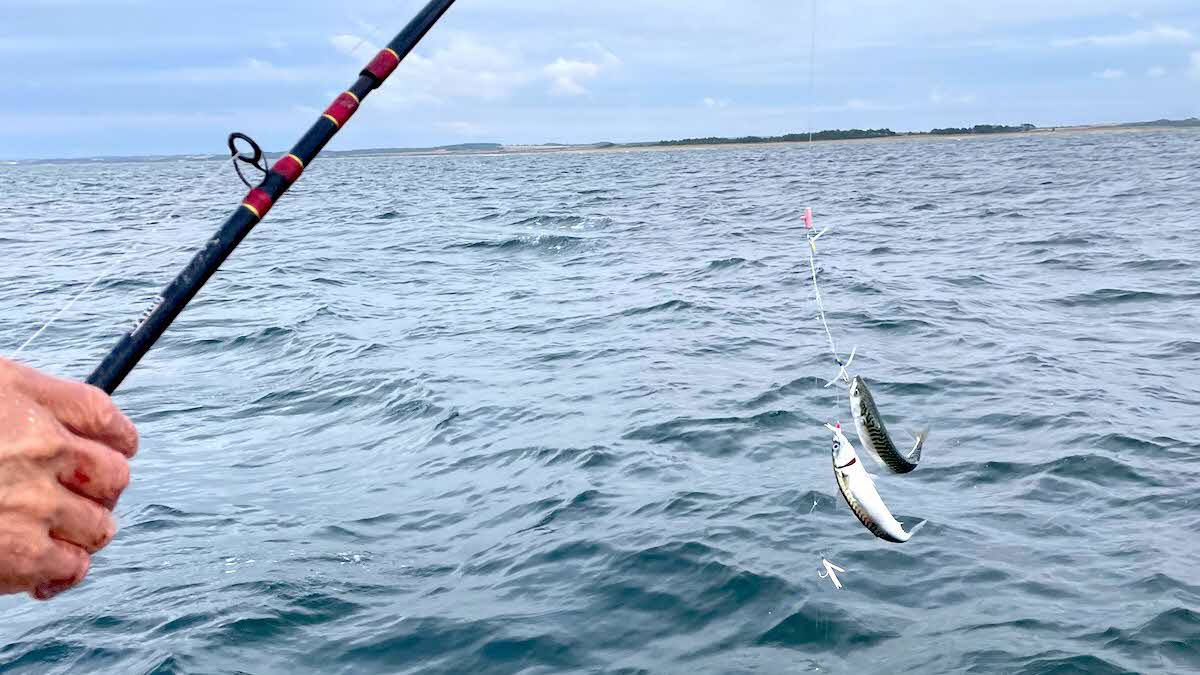 Barely a quarter of an hour later the motor falls silent, the boat pirouettes 90˚, and John gives brief instructions about how to fish for mackerel, covering the lever that releases the line off the reel, how to jiggle the feathery lures – and wallop! As demonstrations go, there's none more effective than catching half a dozen fish while you're explaining what to do. This isn't subtle fishing. There's no careful matching of a fly to a specific species of insect that's hatching from the bed of a chalk stream, no patient staring at a float for the slightest bite-signalling dip. Mackerel feed voraciously and hit hard, a rat-a-tat-tat on the half-dozen lures dragged through their midst by a heavy lead weight. Judging by the simple white lures, they're not picky eaters either!
On the first cast each of us catches at least one fish, if not several, although only one specimen exceeds the 30cm test that means it can be kept. The rest are unhooked and returned, the green and black bars on their backs merging instantly with the sea, and only the flash of their white bellies giving away their escape routes. Opportunistic gulls swoop low then bob behind the boat, but there's nothing for them to scavenge.
These first few moments set the pattern for the evening. The boat drifts, lines tighten, rod tips bend and more fish fight vigorously against being hauled up. The sails of an army of wind turbines signal at us through the sunset, and at times the sky looks as if it has been painted by J M W Turner. The fish keep biting. Word goes round the boat that the bigger mackerel are deeper – we're only fishing in 40ft of water – but it's very difficult to reach them as smaller fish launch themselves suicidally at lures plunging to the seabed.
Decades ago, as a pre-teen, I made my own mackerel lures from tinfoil and loose feathers gathered from the cage of my sister's budgerigar. The same sense of excitement that I had on those childhood fishing expeditions floods back each time a fish seizes a lure and sends a violent jolt through the rod.
Mackerel have been recorded swimming 50 metres, the length of an Olympic pool, in just 10 seconds, and it's a race to reel them in before they circle around neighbouring lines in a maritime equivalent of a chaotic maypole dance. More than once I winch up a bird's nest of a tangle.
During brief lulls in the action, members of the party discuss their other exploits – catching pike on light tackle; overnight carp adventures; wading for salmon – but none of these experiences rivals the immediacy of discovering a shoal of ravenous mackerel.
Bass lines
Occasionally, red spots on the boat's echo sounder suggests bass may be lurking below the mackerel, although the only other species we land is a horse mackerel, which John describes as 'bony and horrible'. They're instantly returned to swim another day.
As the number of fish in the crate grows, discussion turns to the best way to cook our bounty, proof that the best cure for any fledgling seasickness is just to catch fish. "Barbecue, fish pie, curried mackerel – there are so many fish it's going to be like turkey after Christmas, finding a new way to cook them every day," says my neighbour. What's more, at above £8 per kilo in the shops, we'll all have landed enough fish to cover the cost of our trip.
Above all, whether chargrilled, pan-fried, roasted or smoked, it will taste better than any fish that has been flown on ice from the other side of the world or prised out of a tin. These fish are as fresh as any we will eat, with the unbeatable satisfaction that we've claimed this catch of the day ourselves.
Gone fishing
A three-hour mackerel fishing boat trip with Off the Hook, with all equipment provided, costs £45.
Info: fishnorfolk.co.uk, 07562 239169
Stay: Incleboro Fields Club Campsite
Plenty more fish...
A selection of fishing experiences within reach of Club campsites
Whitby, North Yorkshire
Forget that Whitby is home to some of the best fish and chips in the country, and catch your own dinner, with a three-hour trip (£30) or two-hour evening trip (£20) in pursuit of mackerel. Provided by Whitby Coastal Cruises.
Info: whitbycoastalfishing.co.uk, 07981 712419
Stay: North Yorkshire Moors Club Campsite
Exmouth, Devon
Join a two-hour Exe Fishing family-friendly mackerel fishing trip with all tackle provided, for £17pp (£6 for spectators).
Info: exefishing.co.uk, 07928 273421
Stay: Putts Corner Club Campsite
St Justinians, Pembrokeshire
A 90-minute trip (£32) with Blue Shark Charters into Ramsey Sound in pursuit of mackerel is on offer; all equipment provided.
Info: fishing-pembrokeshire.co.uk, 01437 721721