Touring with grandchildren
Forever young
Philip Moon is kept on his toes during an enjoyable weekend with the grandkids at Ferry Meadows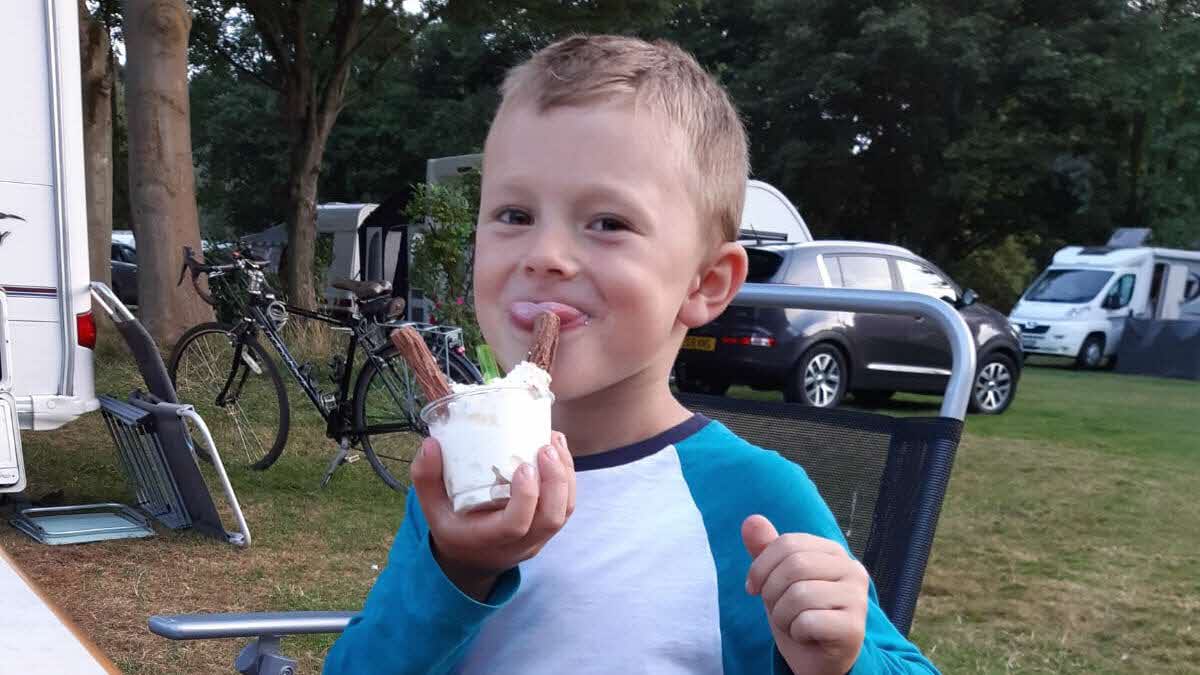 The great thing about grandchildren, everyone says, is that you can enjoy them and then give them back. Well, what better way to enjoy them than to take them caravanning? And that's exactly what Nanny Ericka and I did last summer for a super, activity-packed weekend at the Club's fantastic Ferry Meadows campsite, in Nene Park near Peterborough.
One pleasant Friday afternoon we prised the kids – Izzy and Mike, aged eight and six – away from their computer screens, bundled them into the back of the car, picked up our caravan and set off down the A1. Their parents waved us a happy goodbye and set off themselves for a very welcome (and well-deserved) kid-free weekend at some swanky hotel.
We'd deliberately chosen a 'short-haul' trip (only about 50 minutes door-to-door), thus minimising the number of times a plaintive "Are we nearly there yet?" could be wailed from the back seat, and reducing the likelihood of sibling war breaking out.
Fun and freedom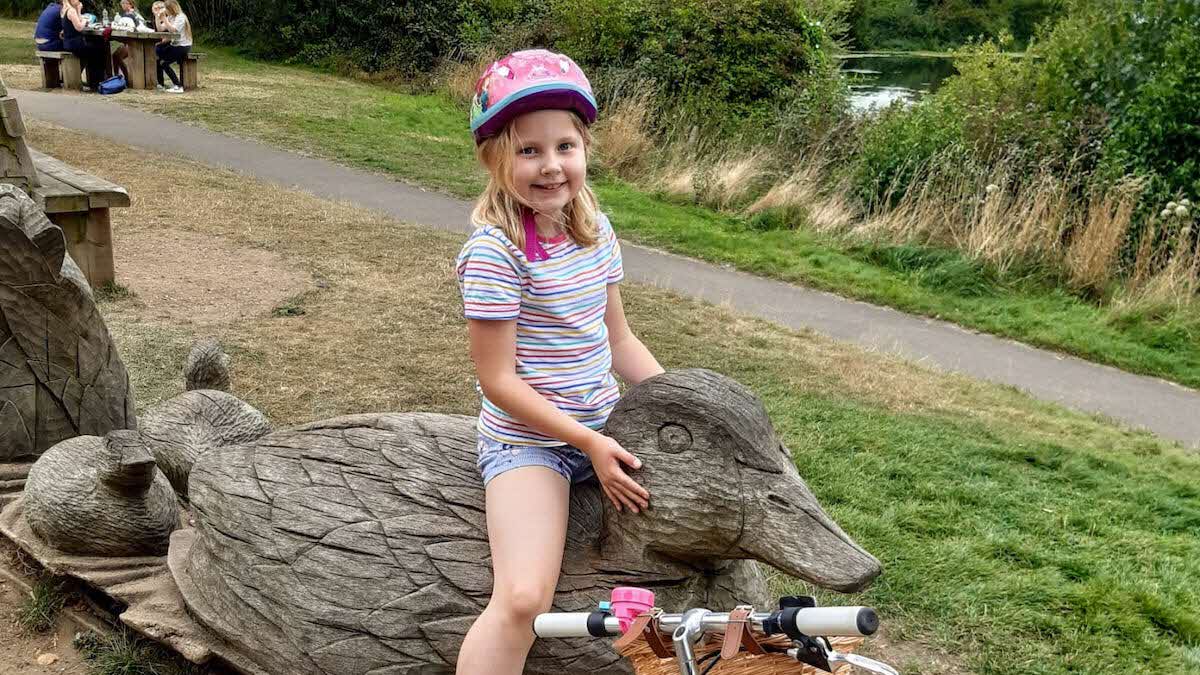 On arrival at Ferry Meadows, we pitched the van while Izzy and Mike set about exploring nearby. Off they went, swinging on the swings, playing football and making friends. They were enjoying a freedom familiar to older generations but now very often constrained for modern children.
Once we were settled, and I'd had my statutory cup of tea and piece of cake, it was time to gather up the kids, impose some structure and set off on our bikes for the lakes that make up Nene Park – a complex of flooded gravel pits linked by handy, traffic-free pathways.
We interrupted our ride to scale some climbing apparatus. Izzy ascended confidently to the top and then got stuck. "Help!" she cried; a brave grandpa was required. I looked up, just a little concerned for my own safety, and gulped. A kindly young mother offered: "Do you want me to go?" "No, no," I said briskly. "It's my job." So, up I climbed, hoping that this was not to be an occasion on which pride would literally go before a fall.
Order restored, it was time for dinner – a barbecue, which featured my staple: well-charred sausages. Izzy and Mike were excited, even impressed, and declared that they were nearly as good as Daddy's. After dinner, as the light dwindled, we sat down for a game of cards. The kids were amazed at how much fun they could have without their tablets.
Riding the rails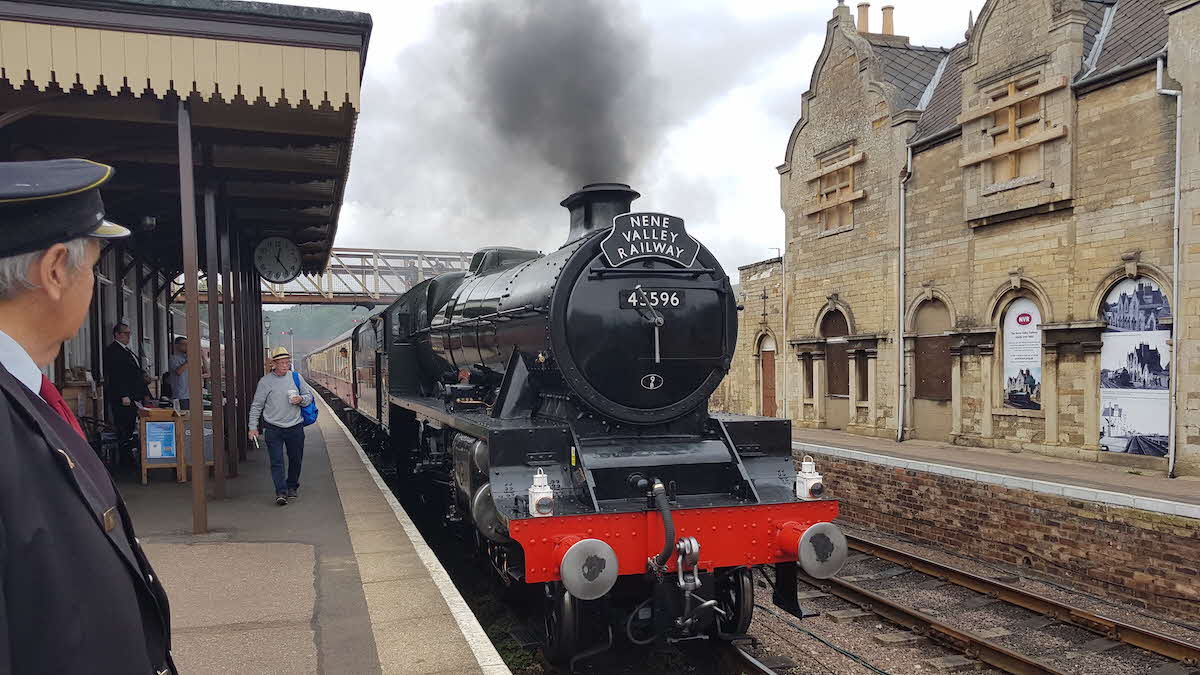 Nene Valley Railway
Saturday was a special day, as the Nene Valley Railway runs through Ferry Meadows and Jubilee Class 45596 Bahamas would be in steam. We walked the short distance to Overton station and waited with great excitement as the magnificent loco chugged into view. The sight, sound and smell provided a wonderful dose of nostalgia for Nanny and me, while for the kids it was a novel experience that brought their storybooks to life.
We climbed aboard and rode up and down the 7.5-mile run to Wansford, enjoying the freedom of our Rover tickets.
The afternoon was wet, but no matter – we were going boating on one of Ferry Meadows' lakes and we'd get a lot wetter! We hired a large Canadian canoe for an hour. "Let's go round the barrels!" Izzy cried. A great idea, and off we set, though I noticed that most of the propulsion came from my efforts, while Mike trailed his paddle in a desultory manner.
Canoeing complete, we enjoyed ice cream at the café before getting back on our bikes and returning to our 'van. The rain had stopped, and once again the children took advantage of their freedom with new-found friends.
On Sunday it was time to pack up and go. We returned the kids to their parents with great joy, but we'd also had great joy in introducing them to the delights of caravanning. Our next will be to Henley Four Oaks Club Campsite – not too far from where the kids live, and with the prospect of enjoying some time boating on the Thames.