Recommended devices when reviewing your caravan's security
We actively encourage owners to take extra precautions when it comes to security, and have some recommendations for you to consider when reviewing your caravan's security
An unfortunate reality is that leisure vehicles are a tempting target for thieves. Although advances in base-level security make modern motorhomes more difficult, although not impossible, to steal, caravans are certainly more susceptible. Recently we have seen increases in thefts due to the increased demand for outfits and the lack of supply at dealerships. This is why we actively encourage owners to take extra precautions when it comes to security.
The Club is a member of the Caravan Safety and Security Group, an industry-wide body working with insurers and police to target crime. Being a member helps us understand theft trends and the techniques used by thieves, as well as enabling us to provide useful advice when it comes to deterrents.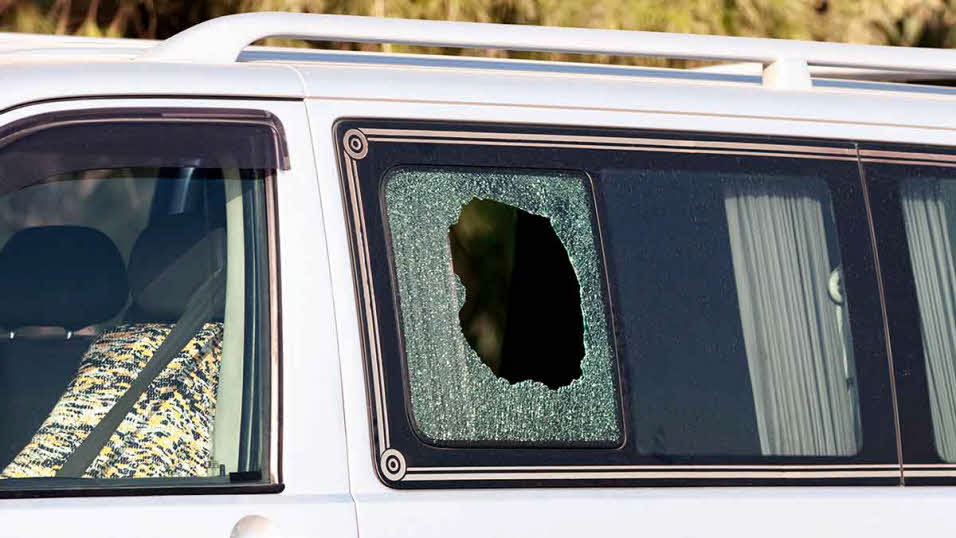 Here are a few recommendations for you to consider when reviewing your caravan's security:
Trackers
These can be effective, especially professionally-monitored ones which can activate a police response. Cheaper, unmonitored systems can also be useful, especially if your caravan is stored remotely as these systems alert you directly. With thieves becoming wiser at defeating trackers, the Club is currently looking into this sector to see where your money can best be spent.

Alarms
The question is, will an alarm really get attention? The answer depends on where you store your caravan.
Some alarms can be set up to alert you remotely by a mobile phone message, which can be effective if you're not around to hear the siren. If you're usually at home and also store your caravan at home, then an alarm could certainly warn you of any interferences with your caravan immediately.



Wheel locks/clamps
Using accredited wheel locks or clamps on your outfit can deter casual thieves and delay more professional criminals.


Hitchlocks


Using accredited products can help, but to be really effective it needs to

lock the caravan onto something, for example onto a towcar whilst parked, or a security post whilst in storage.


Storage
Secure storage sites such as those run by the Club and those accredited by CaSSOA (especially their 'Gold' or 'Platinum' sites) are ideal, although availability near to you could be limited. The standard of other sites varies wildly, so be sure to check out their features carefully.
If space permits, home storage is cheap and convenient. Do try to keep your caravan out of sight from the main road though, and preferably make it difficult to access, for example in a back garden behind a locked gate, as thieves do tend to target what they can see. Use mechanical security devices, for example an accredited hitch lock and security post and a wheel lock or clamp. Ideally fit an alarm or tracker to your outfit and consider installing automatic security lights and CCTV to the outside of your home.



Accreditation schemes
Mechanical and electronic products can be accredited following assessment and 'attack testing' at independent test houses. When purchasing a mechanical product, look for 'Sold Secure' (preferably 'Gold' or 'Diamond' level) or the Dutch SCM MP03 accreditation. Both involve caravan-specific assessments relating to techniques and tools used by caravan (not car) thieves.

For electronic products, 'Thatcham Category 7' or (better still) 'Category 6' have been the relevant tracker standards, but an 'S7' category has replaced former categories.

Do make sure that the electronic products you buy are optimised for caravan use, for example they don't use too much energy, thereby preserving battery power whilst in storage. Currently, we aren't aware of a caravan-specific alarm accreditation scheme.


Registration
Almost all UK caravans sold since 1992 are registered with CRiS, the Industry's voluntary registration scheme. All registered caravans will have visible and discrete markings with a unique identification number. Recent models from 2016 onwards have an embedded electronic tag. The scheme makes it easy to check valid ownership at the time of sale, and makes it easier for the police to return stolen tourers to their rightful owners, which is why it's very important to make sure your caravan's registered details are up to date.


You can find more information on the Club website that lists the security devices we have on offer. Plus, we provide a discount on our Caravan Cover if certain security devices are used.
You may also be interested in