Thinking of changing your caravan?
Thinking of changing your caravan?
Sammy Faircloth offers advice to members considering a new home-from-home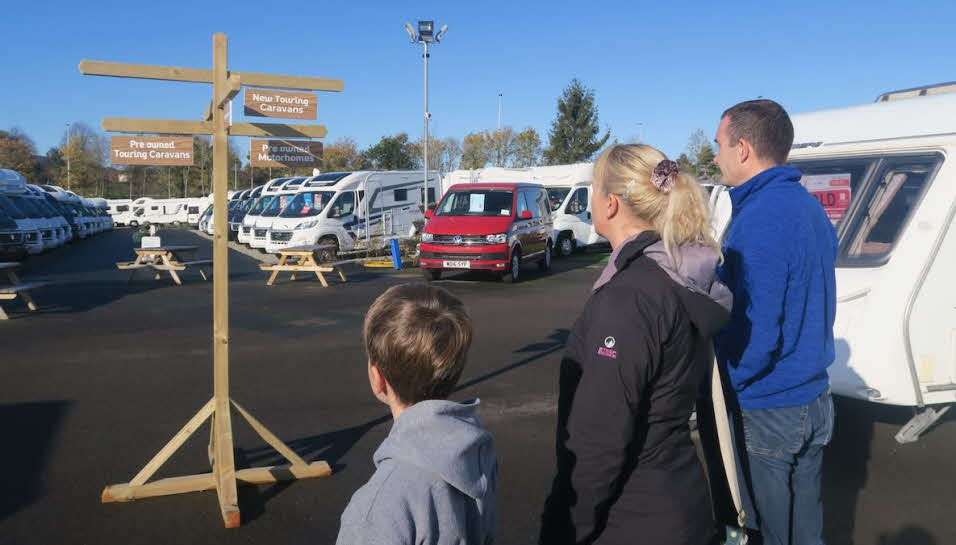 Do your research before heading to the dealer forecourt
As a family with teenage children, we found that we had outgrown our beloved Bailey Orion 460-5 and set about the task of finding a replacement that met our needs. It wasn't a quick process – after a year of searching we stumbled upon the perfect match following a visit to Salop Leisure's coffee shop in Shrewsbury.
So, what steps would I recommend that you consider before you part with your hard-earned cash? Here are some thoughts...
Research
The most important thing is to agree on what you are looking for and set a price. We sat down as a family and discussed our 'wish list'. Our children have caravanned since they were toddlers but their needs have changed since they became teenagers, so it was important to listen to them in the hope that they will continue to holiday with us. For starters, their height and weight increase meant that bunk beds were no longer suitable.
Visiting a dealership will offer you the opportunity to look at the very latest models, but also some good pre-owned options too. If you are searching for a brand new leisure vehicle, then visit one of the many national shows (when they're up and running). You'll be amazed at the variety for sale.
Vehicle match
We wanted extra space and were looking for a larger caravan, but if your children have fled the nest you may be considering a downsize. Whatever you opt for, don't forget to visit the Club's online towcar and caravan matching service (camc.com/outfitmatching) to ensure that your potential vehicle combination is safe and legal.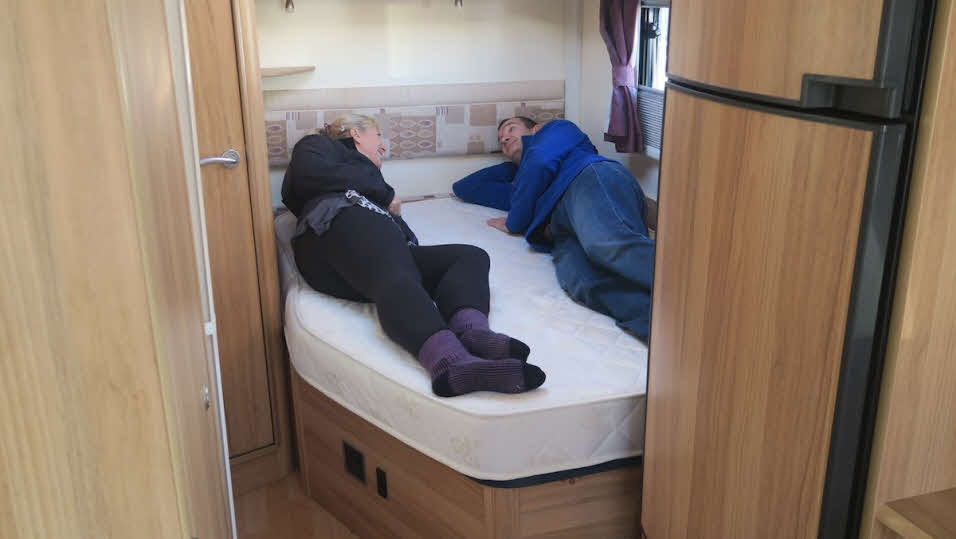 Fixed bed or convertible sofa - what is your priority?
Layout and internal features
Layout is perhaps the most important feature to consider when choosing a leisure vehicle. The 'fixed bed' has become a very popular option and was certainly on my 'wish list' – but unfortunately we could not find a layout that could accommodate a fixed bed and single beds for the kids (the single beds in the tourers we studied were too short).
Always make a point of trying the beds to check that they meet your expectations; my husband, Nigel, is 6ft 2in, so it was important to make sure that his feet didn't dangle over the end of the mattress!
Think about the location of the washroom and consider the features within it. The washroom was important to Emily – she wanted a decent-sized mirror, good lighting and storage for her make-up and skincare products!
If you have a young family, you might not want your bed to be next to the washroom (little people might disturb you in the night on their way to the toilet). I'm a big fan of central bathrooms, particularly for families, as no one has to walk past anyone else to get to the toilet.
As with beds, make sure you sit on toilets and stand in shower cubicles to check for leg/head room.
Kitchen equipment needs careful consideration. We love to cook in our caravan, and with four mouths to feed we needed a large fridge. A drainer next to the sink and roomto prepare meals are also high on my list of priorities. Think about the position of the hob – is it next to the entrance door, where it might prove dangerous to young children?
Upholstery can also sway a decision. Remember, there are some great companies out there that can re-upholster your cushions and curtains if you don't like the pattern or if elements are damaged. If you have younger children, or like to take your pet away with you, you might want to steer clear of lighter fabrics or leather.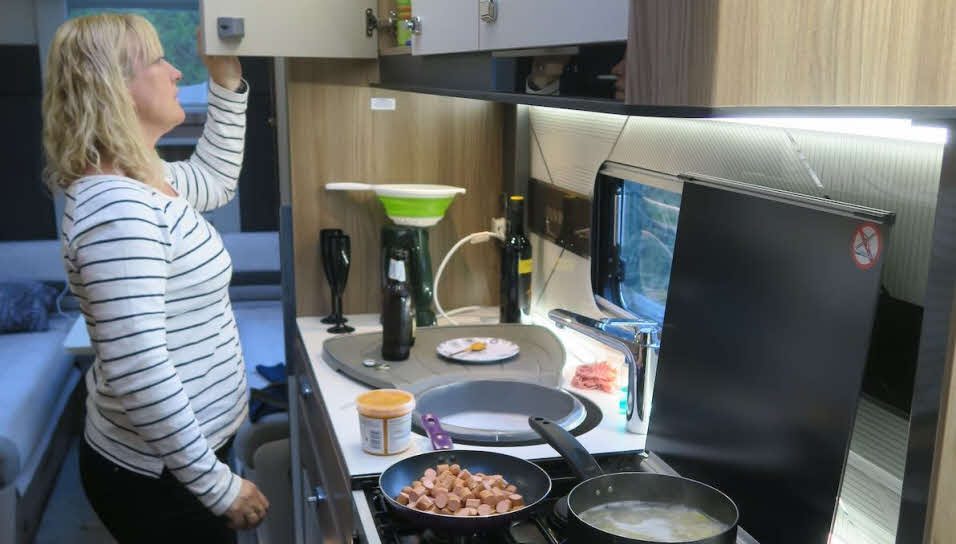 How important is the kitchen to you? Do you need lots of preparation space?
External features
On modern caravans and motorhomes, it is becoming commonplace to find an external barbecue point and external 230V socket as standard. We love to cook outdoors, so these are definitely things we look for. On some exteriors, you may also find an aerial point for a portable satellite dish connection (great for those of you who like to watch television in the awning).
Look out for external cold-water shower points on some motorhomes and campervans. These are ideal for washing muddy paws, bikes or dirty boots before entering.
Don't be put off if any of the above features aren't included, as they can be fitted retrospectively.
High on Nigel's list was a bike rack. These are often offered as additional extras on motorhomes but are less common on caravans. Fortunately, our new Swift Conqueror 565 came with brackets to accommodate a bike rack.
I would advise against loading heavy e-bikes onto the back of a caravan to avoid any extra risk of snaking (where the tourer shifts from side-to-side).
Final thoughts
There's loads more advice for potential buyers out there – see camc.com/advice or try Club Together (camc.com/clubtogether) where other caravanners will be happy to share their tips and experiences.
To sum up, do your homework before purchasing a pre-owned or new leisure vehicle. I have heard stories of people spending large amounts of money on a particular model only to change it a few months later as it was not meeting their needs.
As a family, we knew what we wanted from our caravan, so we took our time. We love our new Swift Conqueror 565 as it ticks all the boxes. Well… almost!