Karen Wright shares some of her favourite sites – and recipes!
Taste of France
Great British Bake Off star Karen Wright shares some of her favourite sites – and recipes!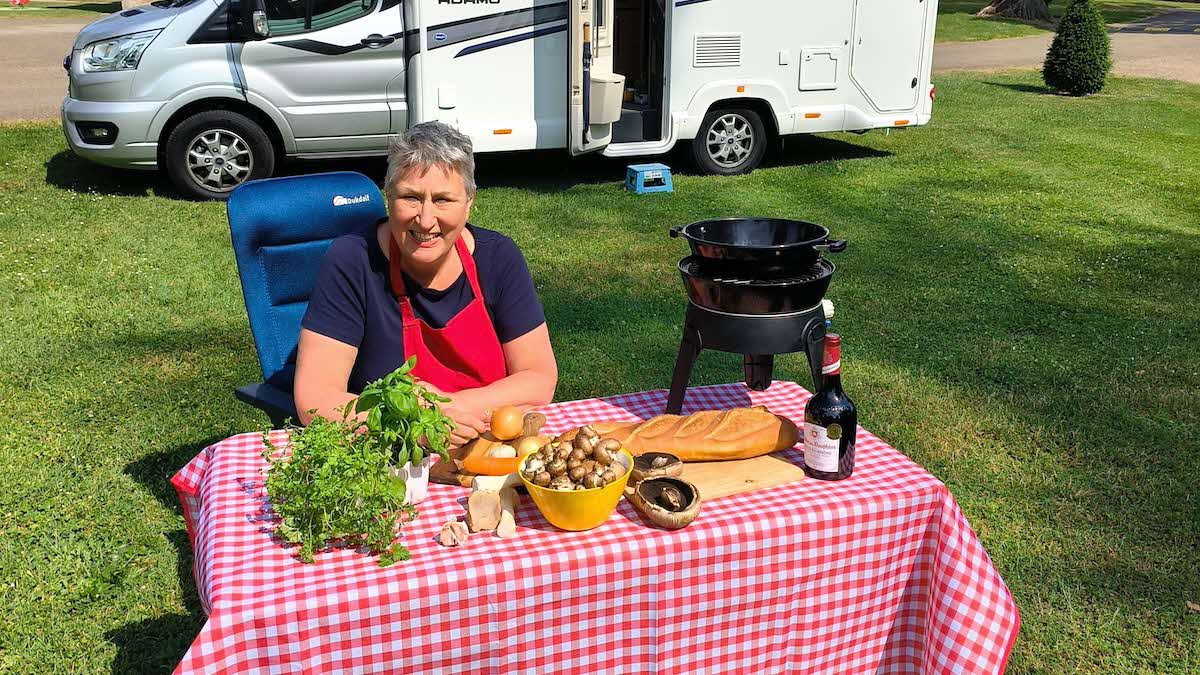 Wright – who competed in The Great British Bake Off in 2018 – has been touring Europe, discovering foodie delights and cooking tantalising meals using locally sourced ingredients. Here, she offers her take on three French sites and shares some of her favourite recipes.
"Post-Brexit, we are no longer allowed to take any meat, dairy or fish products into Europe. But in the 30 days I was away I never found myself without an ingredient I needed – all the campsites we stayed at had a shop of some sort. Some had huge supermarkets and I didn't need to go anywhere else – I did, of course, as I love supermarket shopping abroad! Here's just a taste of the sites we visited – you can read more about my gastronomic odyssey in the November magazine..."
La Belle Etoile, Île-de-France
(Club ref: P23)

Price: from £21.47 per night (2-30 September 2023)*

Offer: book 7 nights or more, get 1 night free (31 August-30 September 2023)**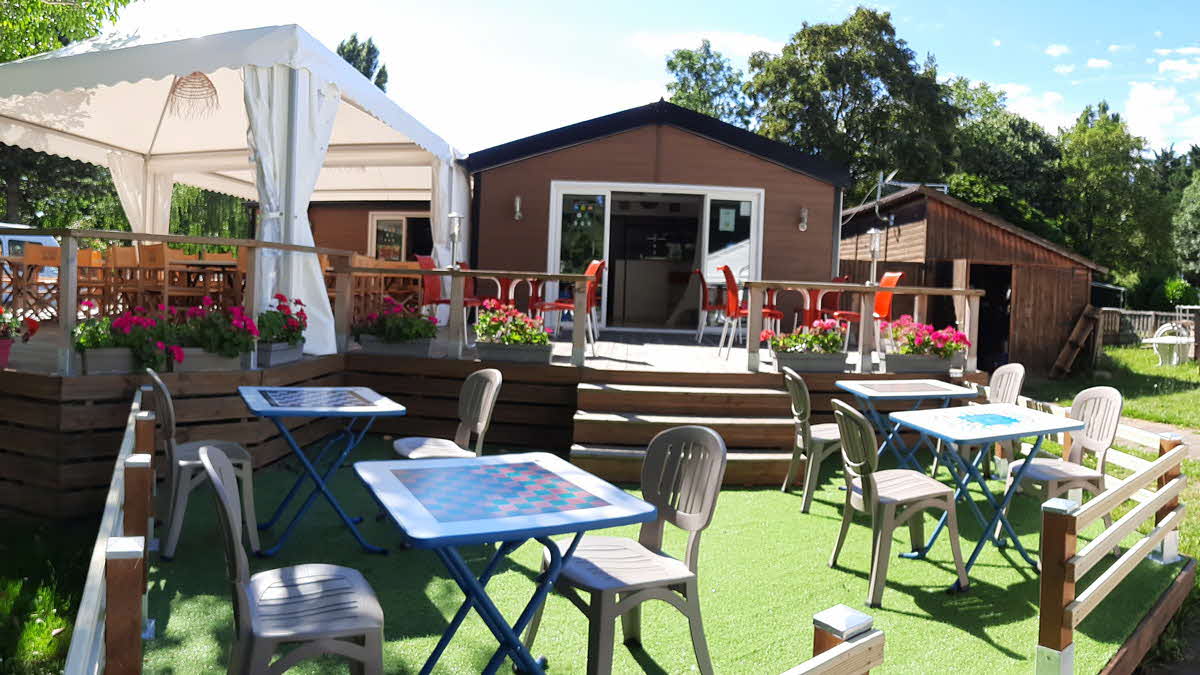 A peaceful, green campsite on the banks of the River Seine. A 20-minute walk takes you to the train station, from which you can get to Paris, Disneyland and more. It has a small but perfectly formed, covered pool, a snack bar and a small shop. I made classic onion soup at this site – it took 20 minutes in the motorhome and we served it with crusty French bread and local Brie cheese – simple, rustic and perfect. The key is to spend the first 10 minutes just gently softening the onions in butter, so they yield their natural sweetness. The soup can be vegetarian if you use vegetable stock. If you omit the butter and use more oil, it can be made vegan.
Recipe: Onion soup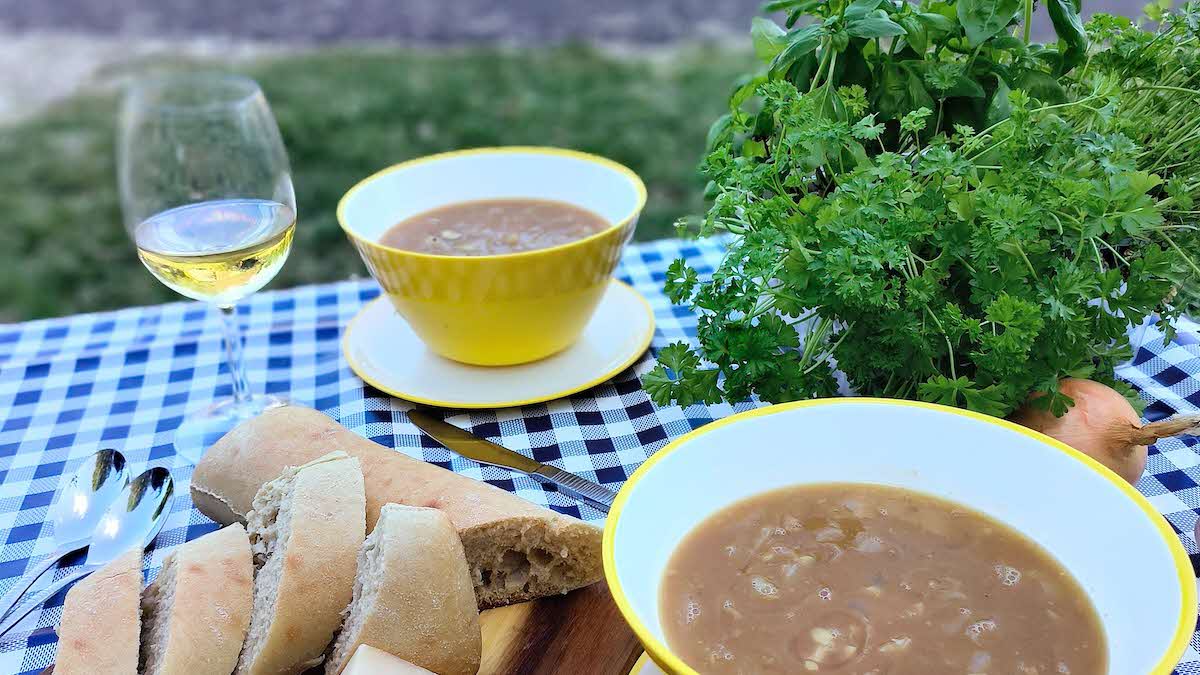 Ingredients
Large knob of butter and a splash of oil
Four onions finely sliced into rings
Three crushed garlic cloves
1 tsp sugar
1 tsp Dijon mustard
1 tbsp plain flour
200ml white wine
One litre of beef stock (see note above)
Salt and pepper
Method
Melt the butter and oil in a large pan on a gentle heat. Add all the onions and mix and cook very gently for about 10 minutes until the onions are very soft and sticky, stirring all the time. Add the garlic, sugar and mustard and stir in the flour. Add the wine, bubble it up, then lower the heat a bit and add the beef stock. Season to taste and then cook for about 10 more minutes until the soup has reduced by about half.
Le Château de l'Epervière, Bourgogne-Franche-Comté
(Club ref: L12)
Price: from £24.14 per night (3-29 September 2023)*
Offer: long-stay rates apply for stays of 7 nights or more (3-29 September 2023)**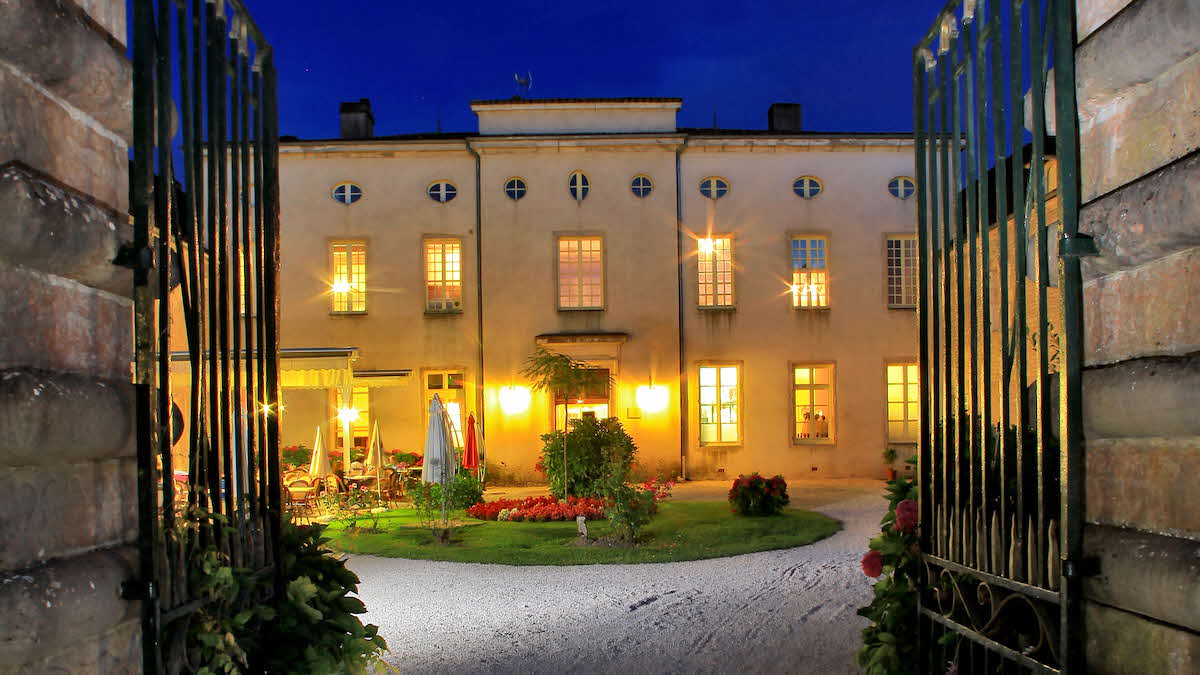 My all-time favourite campsite – but I'm biased as I worked for a season there in 2009. There are good indoor and outdoor pools as well as a bar and shop. Bike hire is available and wine tasting sessions are held twice a week. The restaurant in the château (pictured above) is fantastic, serving regional specialities such as boeuf bourguignon, oeufs en meurette and coq au vin. I make my version of the bourguignon campsite-friendly and vegan by swapping out the beef for mushrooms.
Recipe:
Mushroom bourguignon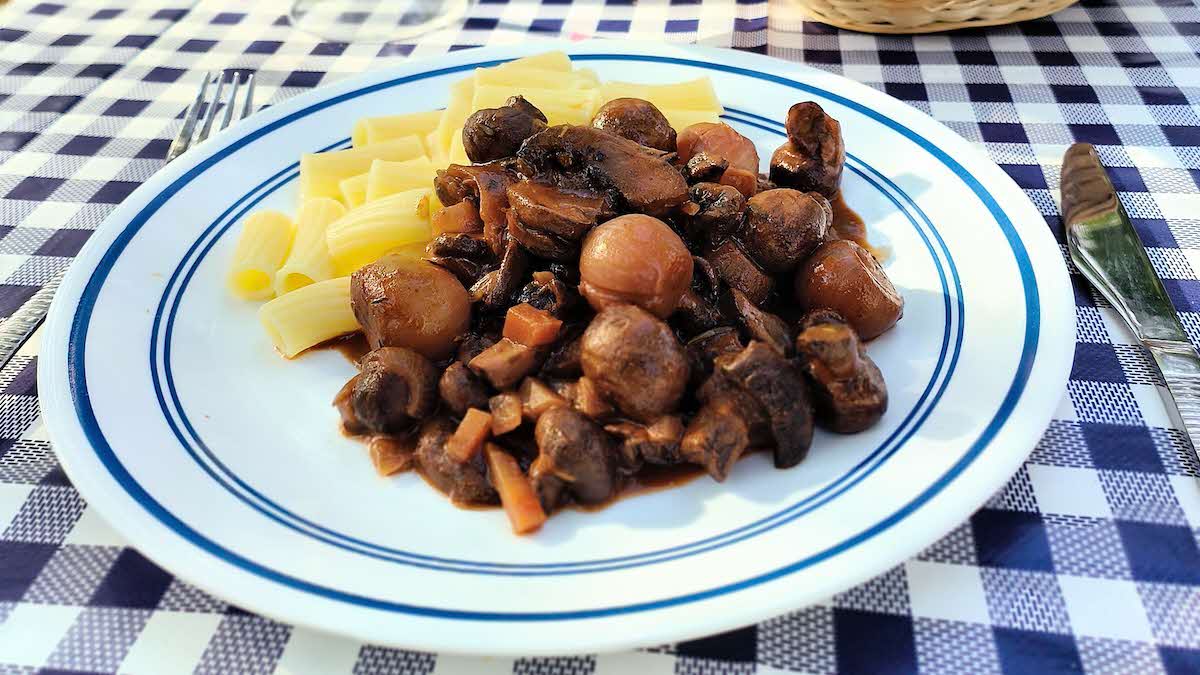 Beef Bourguignon is my signature dish! I developed my version after living on a campsite in Burgundy for six months and sampling the 'real thing' in the campsite restaurant many times. A beef version takes many hours to simmer and become tender and delicious, so I have created this mushroom version, which also happens to be accidentally vegan!
If you can only get large shallots, you will need to modify the recipe, either splitting them or using less, if they are large, they take longer to cook. I have been known to just half or quarter an onion if I can't get shallots at all. For the stock I use a cube or the new style stockpots with water!
Leftovers make a tasty 'Oeufs en Meurette' for breakfast!
Ingredients
2 tbsp oil (I used garlic infused)
1 finely chopped onion
1 carrot, chopped into small dice
4 handfuls of mixed variety mushrooms chopped chunkily (at least 15)
4 large garlic cloves crushed
2 tbsp tomato purée
2 tbsp plain flour
1 tbsp dried thyme
1 tbsp Dijon mustard
8 (or more) small shallots (ideally the size of a small, pickled onion
Half a bottle (or more) red wine (Burgundy preferably)
250ml vegetable stock
Salt and pepper to taste
Large handful chopped parsley.
Method
Heat the oil in a large, lidded frying pan. Cook the onion on a gentle heat for about five minutes to allow the sweetness to develop and become caramelised slightly.
Add the carrots, garlic, mushrooms, purée, thyme, mustard and the shallots and cook for a few minutes to allow the mushrooms to release their juices and then sprinkle over the flour (which will thicken the sauce).
Continue to cook until the mushrooms have wilted a bit then add the wine and stock. Bring to the boil and then reduce to a simmer with the lid partially on.
When everything is starting to become very saucy, remove the lid and continue to cook gently to reduce the consistency to a glossy thick sauce. When the shallots and carrots are tender, season to taste with salt and pepper and scatter over the chopped parsley.
This goes well with pasta, rice, mash or gratin potatoes or, of course, a lovely crusty baguette!
Les Portes d'Alsace, Grand Est
(Club ref: J06)

Price: from £18.97 (30 September-29 October 2023)*

Offer: book 7 nights or more, get 1 night free (27 August- 29 October 2023)**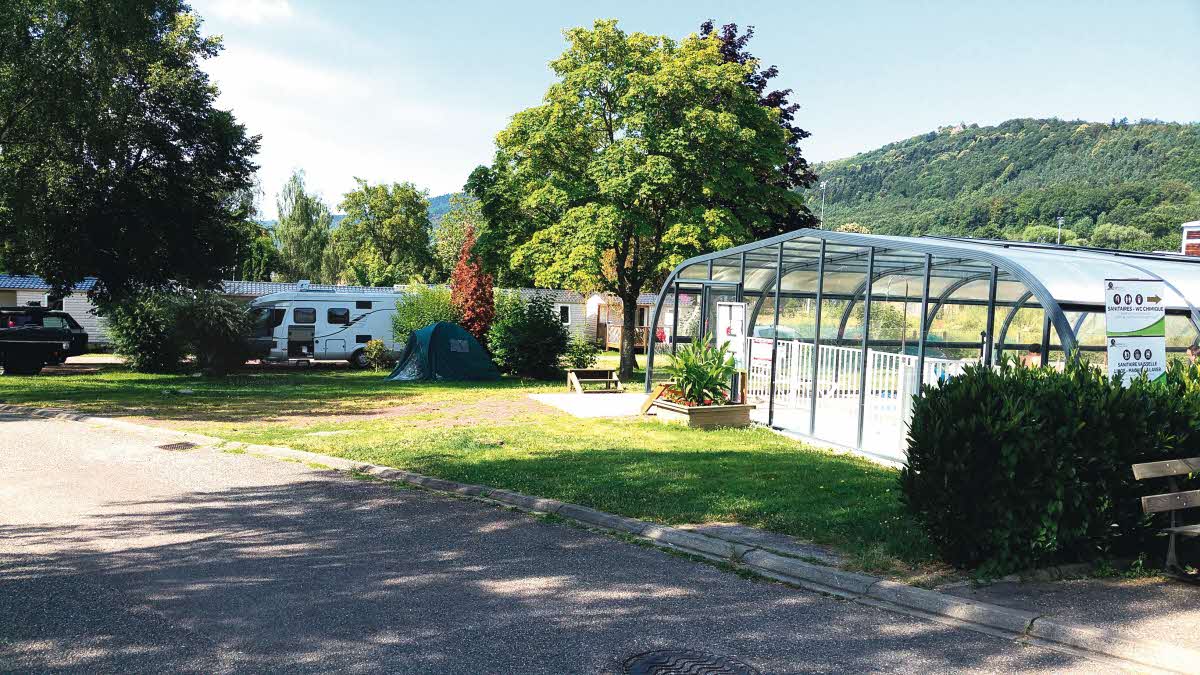 A superb campsite offering great facilities including a covered pool and bar/snackbar. Food vans regularly visit the site – when I was there, there was a man with a crêpe van, a lady selling homemade paella and a local cheesemonger. I made two regional dishes on my visit – coq au riesling and tarte flambée.
Recipe:
Coq au Riesling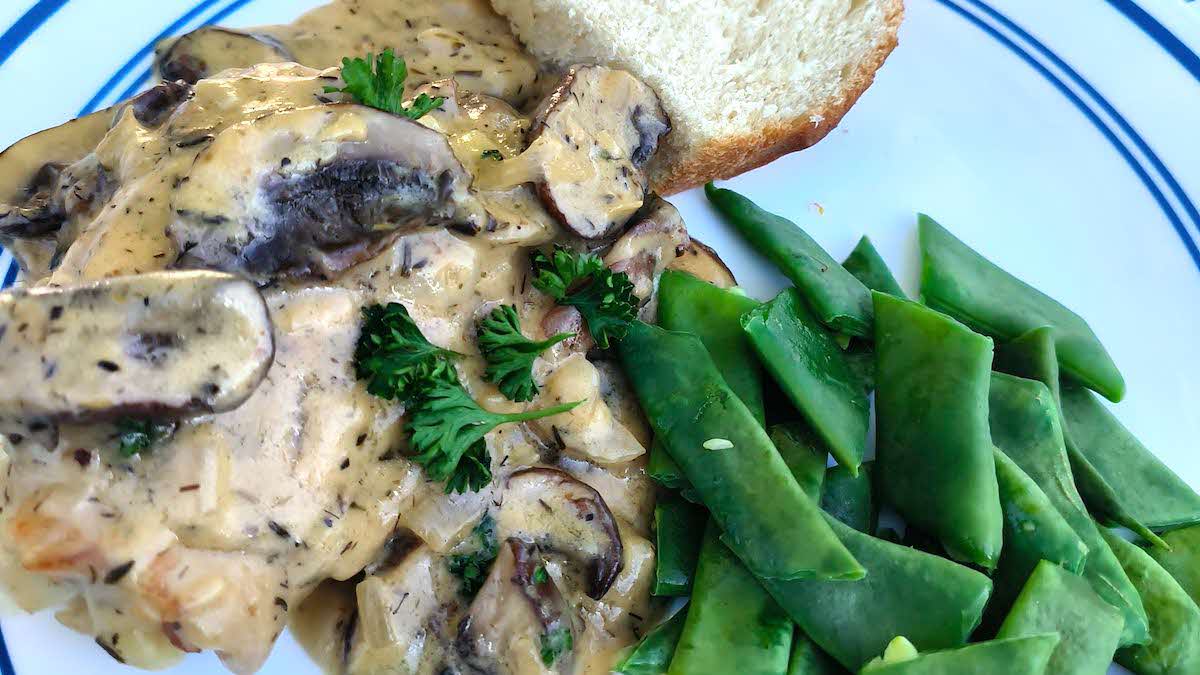 Like chicken chasseur, this is the Alsace version. Made with Riesling white wine, mushrooms and cream. Generally, the chicken is cooked with skin and on the bone but to make it more campsite friendly here I used boneless and skinless chicken thighs, if you can't find that in the French supermarkets you can use chicken breast. For browning the chicken, you can give it a quick burst on the gas BBQ if you have one, otherwise just do it in the pan as it says in the method. If you can't get Riesling any dry white wine will do fine.
Ingredients
1 tbsp of oil or butter
4 chicken thighs
1 sliced onion
4 cloves crushed garlic
1 tbsp thyme
1 tbsp Dijon mustard
1 tbsp plain flour
Handful sliced mushrooms
250ml chicken stock
250ml Riesling wine
100ml double cream
Salt and pepper
Method
Heat the butter or oil in a large pan and brown the chicken. Then add the onion and mushrooms and cook until soft, add the garlic, thyme, mustard, and flour. Give it a good mix and then add the stock. Simmer until the stock has reduced and the sauce is thick, it will take about twenty minutes. Add the wine, bring to a boil then reduce to simmer and reduce again. Stir through the cream and season with salt and pepper to taste. Garnish with parsley.
Recipe:
Tarte flambée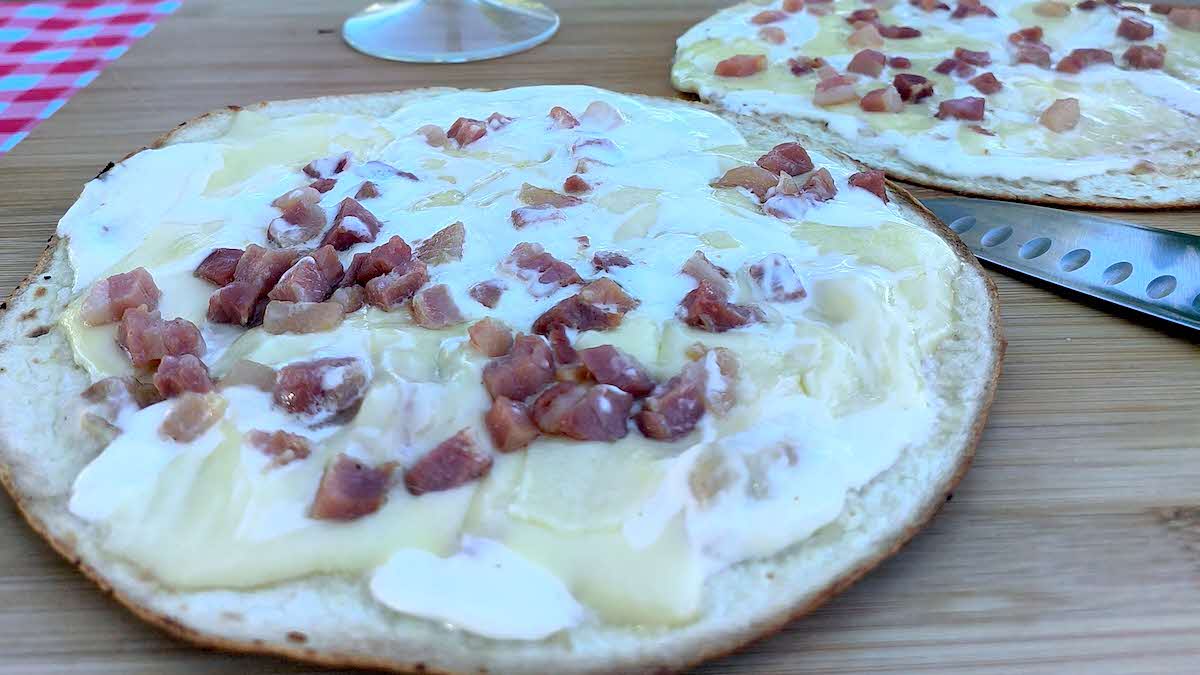 The French version of pizza, tarte flambée is very popular in the Alsace region although you can find it in the chiller cabinets of supermarkets all over the country. Normally it is an unleavened bread base, topped with Emmental cheese, lardons and crème fraîche and oven baked. For my cheats version I used a tortilla wrap which is toasted gently in a frying pan. So crisp and scrumptious!
Ingredients (Serves 1)
A little oil
Tortilla wrap
Handful smoked lardons or chopped bacon
Grated or finely sliced Emmental cheese, a piece about the size of a pack of cards
2 tbsp full fat crème fraîche
Method
Cook the lardons in the oil until brown and crispy then remove to a plate and set aside. Gently warm the tortilla on both sides in the pan.
Spread a tablespoon of crème fraîche on the wrap, then add cheese, a little more crème fraîche and a bit more cheese. Scatter the lardons on top.
Gently cook until the cheese has melted taking care not to burn the bottom of the wrap, so cook on a very gentle heat.
*Price based per night on an electric pitch and two adults.

**Terms and conditions apply. All offers are subject to availability and can be withdrawn at any time.