How to keep your awning in top condition
How to keep your awning in top condition
An easy to follow guide to cleaning and protecting your awning to ensure it lasts for years to come.
The summer holidays are long over, and so many of us are thinking about putting our caravans or motorhomes into storage. While we all know to drain the water system and turn off the gas before winter, preparing the awning for an extended lay-off is often overlooked. After a summer of touring, I like to give ours a thorough clean and reproof, then pack it away safe in the knowledge that it will be ready to go in the spring.
GRIME TIME
Your awning can gather all sorts of nastiness during a summer season. Dampness can encourage mould to grow, which is not just unsightly, but can be almost impossible to remove. Similarly, sap from trees can be quite sticky and, if not treated immediately, will stain the fabric. You also want to remove any nasty deposits left by birds or squirrels! If you've taken trips to hot countries with low rainfall during the summer months you may find excessive dust has become embedded in the fabric. Of course, British summers can throw all sorts of weather at us, so make sure any leaves or loose debris are swept off before getting stuck into the cleaning.
CLEANING PRODUCTS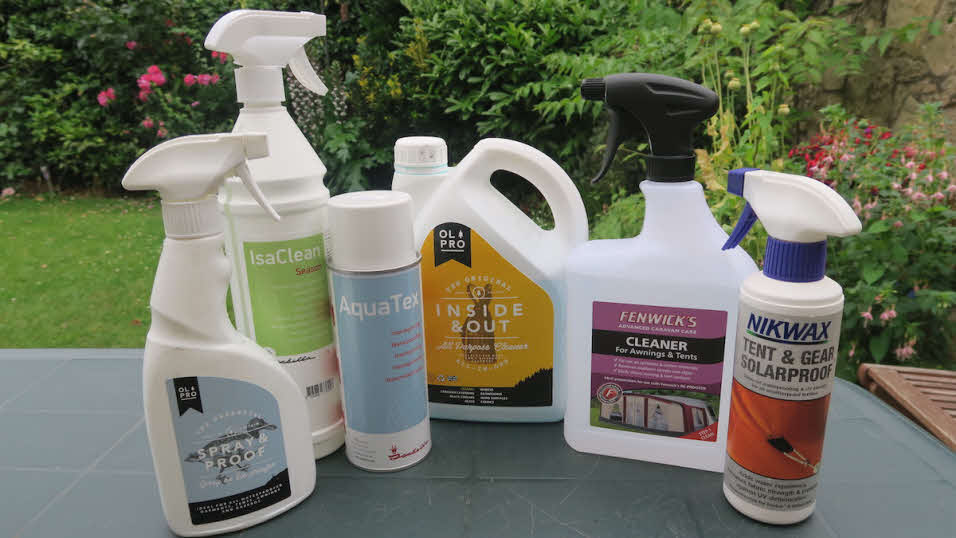 Awning fabric can be sensitive to domestic soap powders and cleaning detergents, so it is advisable to use specialist cleaners. Some awning manufacturers recommend simply cleaning with warm water and a soft brush.
THE CLEANING PROCESS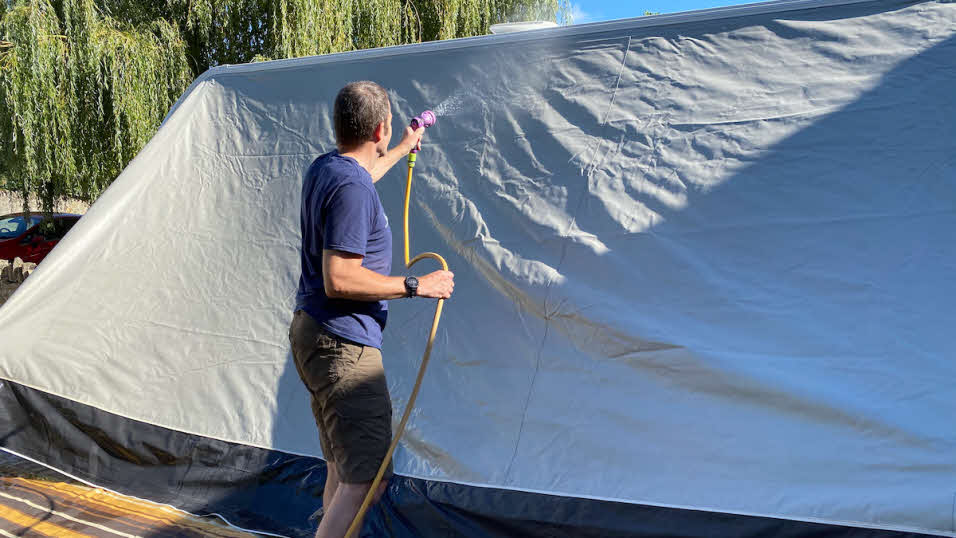 The cleaning process can vary from product to product. For the purposes of this article, I will be focusing on how we clean our Isabella awning using an intensive cleaning product – IsaClean Season – which is intended for use on very dirty canvas.
Be careful when cleaning plastic windows on awnings as they can be damaged easily. Look out for specific awning window cleaning products, like IsaClean Window. If in doubt, just use warm water and a microfibre cloth. It is also important to clean the skirt and draught skirt as they tend to get quite muddy, particularly during wet periods. We always try to do this before we leave a site (if the weather allows), as mud left in situ can cause stains.
REPROOFING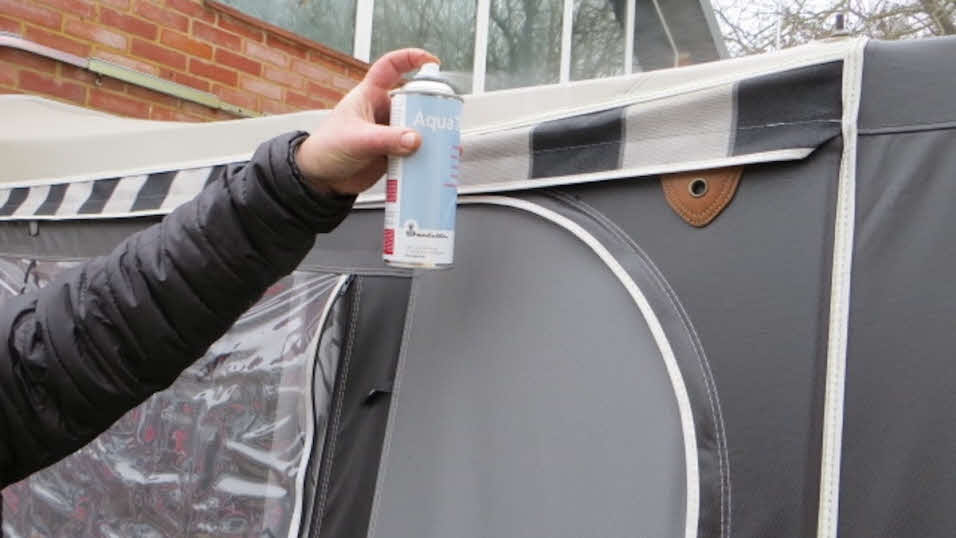 Once the canvas is clean, it is a good idea to treat it with a water reproofer, as the repellency capabilities of awnings can wane with time. Always check the instructions: some reproofers (such as Nikwax Tent & Gear SolarProof, which also boasts UV-blocking characteristics) can be applied to damp fabric, while others (such as AquaTex reproofer spray) need to be applied when the canvas is dry.
FINAL THOUGHTS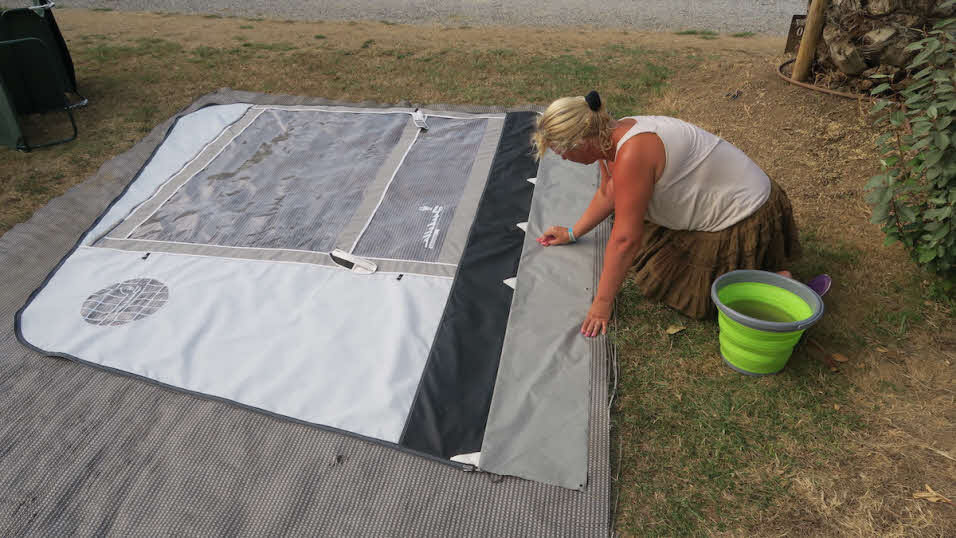 It's also a good idea to give the groundsheet a thorough clean. I use an all-purpose caravan cleaner diluted in a bucket of water and apply using a stiff brush. This is followed by a good soaking with the hose.
Awnings are important additions to your outfit, offering much-needed extra space, but they can be quite costly accessories. It makes sense to protect your asset and maintain its waterproofing/UV protection, hopefully prolonging its life. My late father's porch awning is testament to this – it is over 30 years old and still waterproof and functional!
Step-by-step guide to cleaning your awning
Stage 1: Feed the awning onto your tourer and allow it to drape down the side, rather than laying it on the ground.
Stage 2: On windy days, secure the awning by pegging it out or tying it to a fixed object with the guy ropes.
Stage 3: Before soaking the canvas with water, use a soft brush to remove loose grit, dirt and dust.
Stage 4: Spray with water and give it a thorough brush down using a wet brush.
Stage 5: Spray with cleaning product, then use a wet brush to rub it in and create a foam. Repeat if necessary.
Stage 6: Rinse off until all the residue has gone.
Stage 7: Leave to dry thoroughly.