A practical guide to winter touring
A van for all seasons
Sammy Faircloth offers a selection of top winter touring tips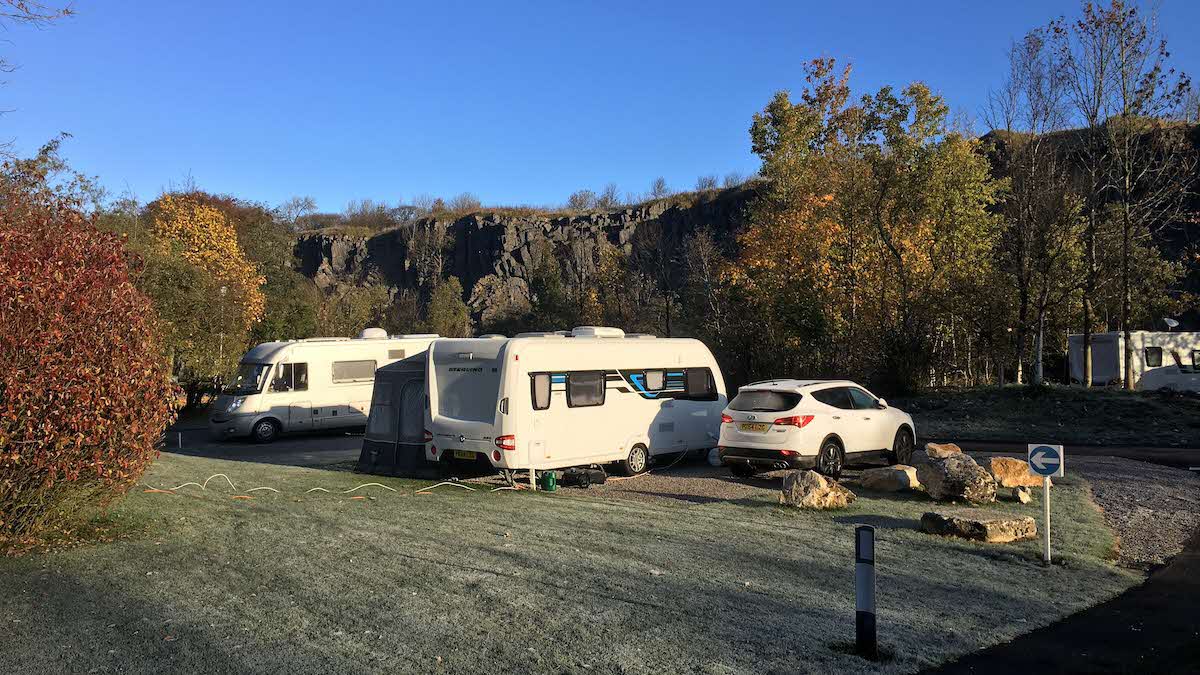 Although we might tend to associate touring with the summer months and warmer climes, with a bit of forward planning there is no reason why it can't continue into autumn and winter. Modern leisure vehicles contain exceptional insulation and heating systems, providing warmth and comfort in harsher conditions. There is no shortage of places to stay, either: 50 Club and Affiliated campsites open all year round, providing plenty of options for winter breaks.
As a family, we have had some super trips away in the caravan during the colder months. We have adorned it with ghouls, skeletons and pumpkins for Halloween; at Christmas we have pitched up at Ferry Meadows Club Campsite in Cambridgeshire, where caravans were bedecked with lights (rivalling the 'Santa Express' that steams past the grounds); we have rung in the new year with the site staff and other hardened campers at Tredegar House Country Park Club Campsite in Wales; and have enjoyed many ski holidays in the Scottish mountains. There is something magical about looking out the window, in the warmth of your caravan, sipping a cup of tea and embracing the view on a frosty day.
The trick to touring in winter is to plan ahead. Let's look at some of the key considerations that will help to make the experience as comfortable as possible.
Awnings
Dressing the caravan for Halloween!
A porch awning is definitely more useful than its full-sized cousin in winter. It's quick to set up, keeps the winds from the caravan door, provides shelter when removing muddy wellies, and is a great space to hang wet clothing. Bear in mind that condensation will quickly develop in enclosures made of proofed-nylon fabric as clothes begin to dry – a roof lining will help to reduce this build-up. It is advisable to brush heavy snow off the awning exterior to reduce pressure on the structure.
Tyres
Snow chains are a requirement in some countries
While 'winter tyres' are not mandatory in the UK, they are recommended or compulsory in many European countries at certain times or when conditions require (you may also need to carry snow chains). You can find out more at caravanclub.co.uk/advice-and-training/taking-care-of-your-outfit/overseas-winter-equipment. If you are travelling abroad be sure to check the law in the countries you are visiting. Winter tyres required in Europe should be marked with a symbol depicting a three-peak mountain with a snowflake (3PMSF). 'M+S' ('mud and snow') tyres are not necessarily 'winter' tyres (though most are) and those with just this marking will only qualify under EU winter tyre laws until September 2024. Tyres do not need to pass specific tests to carry the M+S rating, but must do to have the 3PMSF marking.
'All-season' tyres are also an option for lighter snow conditions and some of these also carry the 3PMSF marking indicating their winter suitability. Winter and all-season tyres don't just have deeper treads. They feature different rubber compounds which enhance grip and stopping distances even on dry roads when the temperature is below 7˚C. That makes them a good choice even for UK use, where significant snow is relatively rare. You can find out more about winter weather tyres at tyresafe.org/winter-tyre-safety.
Thankfully we don't tend to see much snow in the UK; the only time I towed in snow was during a freak weather event last year. In such conditions, reduce your speed and allow plenty of room between yourself and the vehicle in front. If you're dealing with really heavy snow, fit snow chains to the driven wheels of the tow vehicle, but not to the caravan tyres.
Screen covers
Internal screens are good for insulation and easy to install
The cabs on motorhomes and campervans are single-glazed, so, when you're pitched up it makes sense to fit a silver-coloured thermal screen cover in order to avoid losing precious heat. Internal screens are great for warmth, while external covers also help prevent frost build-up and condensation.
Gas and electricity
Stock up on propane gas
Stock up on propane gas (generally sold in red canisters) which can be used in much lower temperatures than butane (generally available in blue containers), which is only effective above 0˚C.
The shorter days and lower temperatures associated with winter increase our demands for heat and light, and TVs are usually switched on for longer, which typically puts pressure on electric hook-ups. It is important to understand that just because an individual pitch occupier can draw up to 16A on a Club campsite, it doesn't mean that all pitches can provide that amount of power simultaneously.
Some owners use domestic appliances like 230V fan heaters to boost the heat produced by the caravan's system. However, these items are greedy consumers of power; even using a fan heater on its lowest 1kW setting will consume nearly 4.5A (1,000W ÷ 230V = 4.35A) so be mindful of this before plugging in. Try to use heating on the minimum power you need, rather than always the maximum power it can provide. Turn it down when possible and off when not required.
Water containers
The simplest way to prevent fresh-water containers from freezing is to move them indoors at night. Alternatively, cover them with old blankets, or purchase an insulated bag (approximately £30). If you keep the fresh water container topped up, it is less likely to freeze. Remember to empty waste-water containers regularly too.
Fridges
A fridge vent cover helps prevent over-cooling when temperatures drop
It is common in colder conditions for some refrigerated items to freeze solid. To prevent over-cooling, install a cover on the exterior vent of the fridge to modify the passage of air across an appliance's rear-mounted cooling unit. These should be attached as per the instructions when air temperatures fall below 6-8˚C. These covers can also be used to prevent damp and water ingress when the vehicle is in storage.
Other considerations
Attention to smaller details will make a winter trip much more comfortable. Make sure you remember:
plenty of warm clothes and bedding
to dry wet coats, gloves and boots in the shower cubicle

a torch for that dark walk to the toilet block
a spare portable heater in case the onboard heater fails
storm straps and rock pegs for the awning (these can also be used on caravan corner steadies, as nights in the mountains can be a little wild)
plenty of games, books and puzzles to provide entertainment for long winter nights.
Final thoughts…
My aim here has been to encourage fair-weather tourers to step out of their comfort zone and give out-of-season touring a try. With a bit of planning, there are many opportunities for cosy, relaxing winter breaks in beautiful settings across the UK and farther afield.