Practical advice for overseas touring
Away days
Nervous about heading abroad? Sammy Faircloth has some top tips and info on saving money with the Club
As a family, we love hitching up and heading south to the warmer climes of France or Spain. However, our European travel plans were necessarily put on hold in recent years, so we embraced the 'staycation'. I have to confess that while I have thoroughly enjoyed my recent travels in the UK, I am itching to cross the Channel again. With this in mind, I would like to share my experiences of travelling abroad with a caravan or motorhome and hopefully encourage 'newbies' to venture farther afield as well.
Driving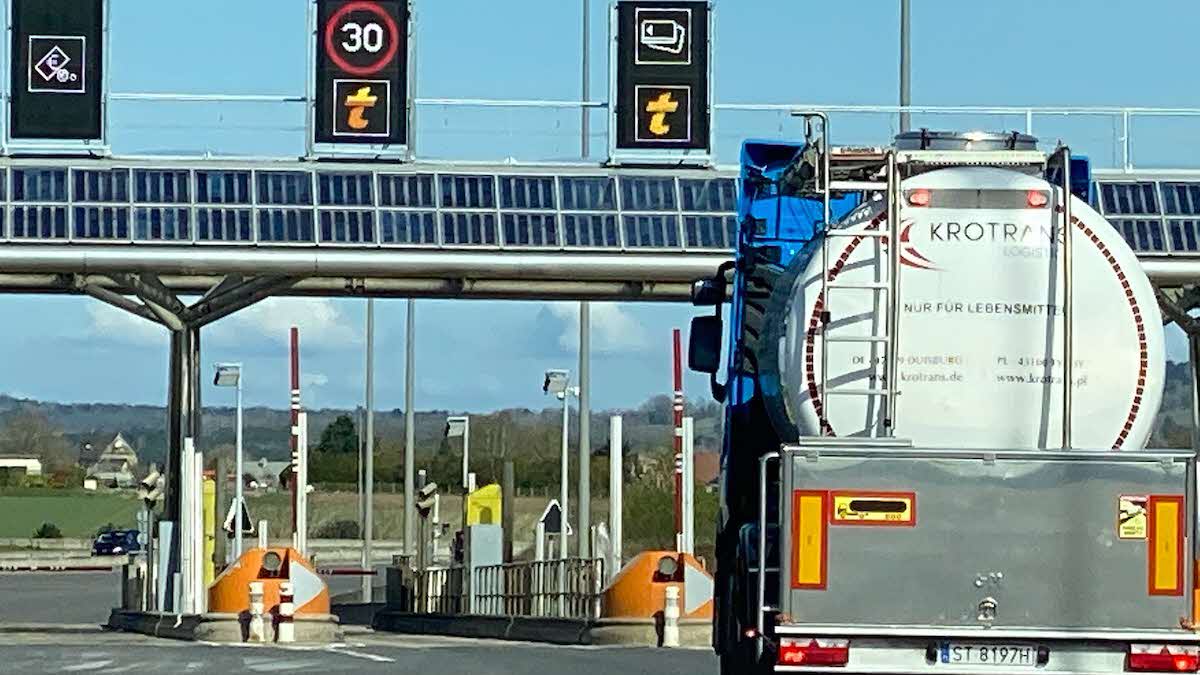 These fast-track 't' lanes at motorway tolls are reserved for customers with a tag
It may sound obvious but once you arrive in mainland Europe, you must remember to drive on the right-hand side of the road (the exceptions are Ireland, Malta and Cyprus). It is advisable to check the driving laws for the country you are visiting beforehand, and identify which items and documents you need to carry with you.
Visit camc.com/overseas-holidays/useful-information/driving-tips and camc.com/overseas-holidays/useful-information/compulsory-and-legal-requirements for more information.
In many European countries payments are required to drive on major roads – you can normally pay by cash or card at toll booths. If you plan on visiting France, Spain or Portugal I would recommend purchasing an Emovis tag. A tag ('Liber-t' in France or 'VIA-T' in Spain and Portugal) allows you to enter a special lane in the toll payment area – the barrier will lift automatically on recognising the tag. Watch out for height restrictions!
Payment is taken via Direct Debit, usually a month later. The tag, which is especially useful when you are travelling alone, saves a lot of hassle and facilitates a smooth journey. As an added bonus, Club members can save €10 on the Emovis tag application fee – visit camc.com/emovis to find out how and to check on restrictions regarding caravans and motorhomes.
Plan your route well in advance and look out for low emission zones which are becoming more common – there's more information on the Club website.
Following Brexit, there are additional rules for UK citizens who want to drive in Europe, and these vary from country to country. As of 2 August 2021, a Green Card is no longer required for travel in EU countries (and some other European countries), but you do need to carry proof of insurance, proof of MOT (if the vehicle being driven is over three years old), the log book (V5C) for your vehicle, your driving licence and your passport. 'GB' stickers now need to be replaced with 'UK' stickers. See camc.com/overseas-holidays/useful-information/documentation-and-insurance for more details.
Note that the rules surrounding taking your pet abroad have changed post-Brexit. You'll need an Animal Health Certificate for each trip as Pet Passports are no longer valid – again, there's more information on the Club website.
Electricity and gas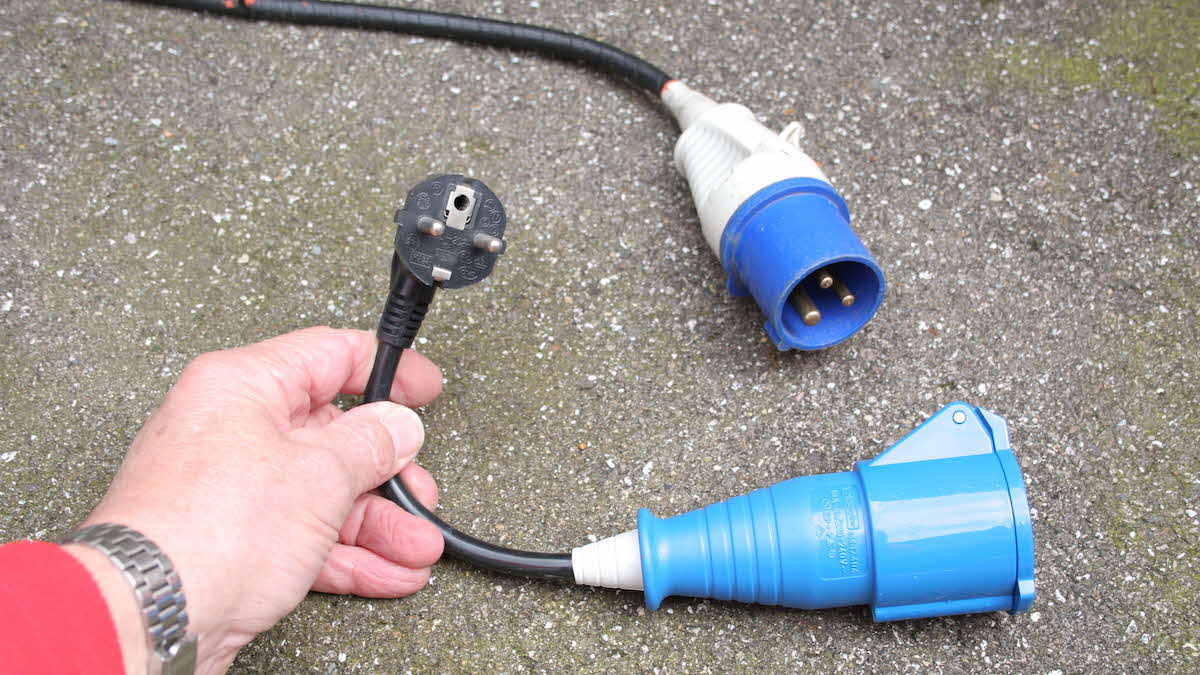 A short adaptor lead allows you to couple to a foreign supply pillar (where necessary)
Before you set off for your campsite, consider the European hook-up system. In many European countries, connections are made using the same three-pin plug as in the UK (EN60309-2), but some countries still use other connectors (perhaps similar to their local domestic ones). If any of these countries are on your itinerary, purchase an adaptor beforehand or hire one from the campsite.
In some countries, such as Germany, you will find there is a daily flat rate for electricity, or meters are used to calculate your usage. Check with the site beforehand to avoid any unexpected costs.
Calor gas (butane and propane) bottles cannot be exchanged abroad (Campingaz or LPG tends to be used in Europe). My advice is to take a full bottle with you – if it does run out, you will need to take the empty bottle home. Some ferry companies and Eurotunnel restrict the amount of gas that you are allowed to carry (note that Eurotunnel does not permit vehicles that are powered by LPG), so check in advance of travelling.
Final thoughts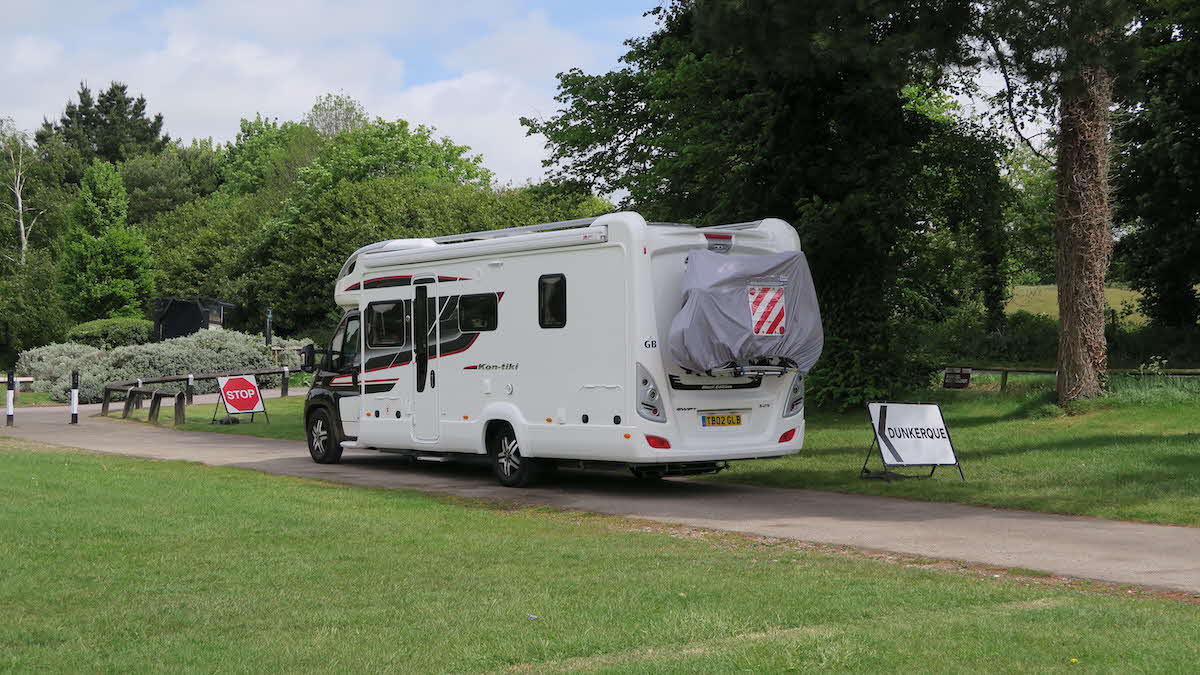 It is important to do your research. For example, while Covid restrictions are generally easing, you should check requirements at your chosen destination by visiting gov.uk/foreign-travel-advice. While I have provided some general tips for travelling abroad, it is really important to check the rules and regulations of the individual countries that you intend to visit.
Remember, the Club works with more than 300 European sites, and offers European and worldwide overseas tour packages. With much of the planning done for you, these are a great option for a stress-free away trip. For more information visit camc.com/overseas.
Overseas checklist
This is by no means an exhaustive list – but take the following with you wherever you are travelling...
✔ warning triangle
✔ reflective jackets for all passengers
✔ spare set of bulbs
✔ first aid kit
✔ maps or sat-nav (ideally set up for caravan/motorhome)
✔ headlight deflectors if needed
✔ spare wheels for car and motorhome/caravan
✔ full, valid driving licence and passport
✔ proof of insurance, proof of MOT and log book (V5C)
✔ adaptor for hook-up
The Avtex Tourer sat-nav (available from the Club Shop) makes travel easier in the UK and Europe